Many businesses in Chicago are unhappy with their current outsourced IT support because of slow response times, solutions that break soon after they're implemented, or an overall lack of expertise in areas they want to expand into (e.g., meeting specific compliance regulations).
Not only is it costly and time-consuming to switch providers, but it can also be challenging to sift through all the options and find the right outsourced IT support for your needs.
This guide is designed to help you narrow down your options by focusing on quantifiable factors (e.g, average response times) and specific details (e.g., whether or not they offer security operation center services). We cover five outsourced IT providers in Chicago, starting with a deep-dive into our managed IT services at Ntiva.
Outsourced IT Support Options
Ntiva provides fast support for all issues, big or small, to companies in Chicago, all of Illinois, and across the U.S. We offer a wide range of advanced IT services from meeting IT compliance regulations to cloud services. To see how we can help you reduce downtime and improve efficiency, book a consultation.
Ntiva: 75% of Issues Resolved with One Phone Call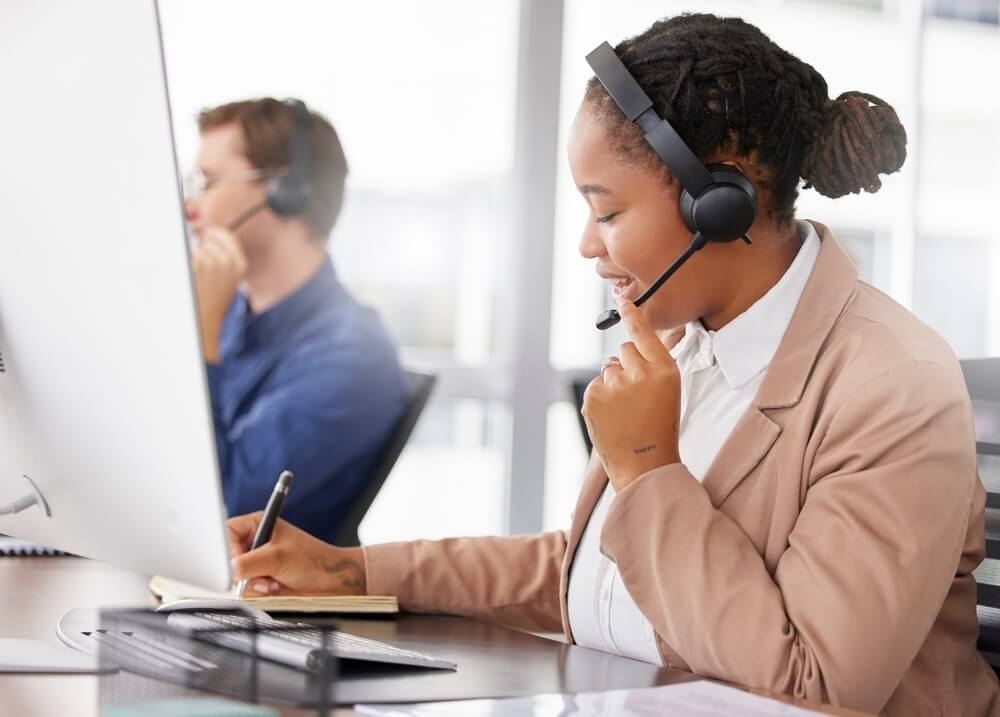 Nearly every MSP claims to provide fast, effective IT solutions and to be people focused—here's how Ntiva delivers.
Fast response times
All calls to our help desk are answered 24/7—in less than one minute, on average.


You get to talk to a technician right away (instead of a non-technical rep who creates a ticket for you), which means 75% of issues are resolved during the first phone call.


Calls are answered first-come, first-served (rather than by priority).


All technicians are based in the United States to mitigate miscommunication.


Ntiva technicians arrive onsite within 24hrs, when needed (and often within the hour).
Effective, long-lasting solutions
We have dedicated departments and teams for different IT solutions/services (e.g., Microsoft, Apple, cybersecurity), so you'll be working with dedicated specialists (rather than a jack-of-all-trades).


We invest in ongoing training so our technicians are constantly improving their skills (for example, we're in the process of switching over to Microsoft's new partnership certification program).


We use Apple-native and Microsoft-native tools so that issues that are fixed only need to be fixed once.
People-focused
We charge per user (not per device) to ensure all of your employees' needs are met.


We look for ways to help you cut costs (even when it means we get paid less).
We'll dig into each of these topics in the following sections. Then, we'll briefly cover our most popular managed IT services. Want to get started? Book a consultation.
Responsive Helpdesk and Onsite Support
Most IT help desks run something like this: a non-technical representative answers the phone, writes down the details of the issue you're experiencing, and creates a ticket for you. (Oftentimes, you'll either wait several minutes before someone answers, or you'll be put on hold until someone is available.)
Typically, they'll also ask, "How many people is the issue affecting?" and, "How much of an impact does the issue have on productivity for those people?". Based on your answers, they'll assign the ticket a priority level. Then, your ticket enters a queue for technicians to address based on priority level.
If your ticket was assigned a high priority level, you may receive a call back that same day. If it's assigned a low priority level, you may wait weeks or months to get a call back (if you ever do). Either way, we think that's too long to wait to start troubleshooting any IT issue. From our view, fast response times from a help desk only count if you're able to start troubleshooting your issue right away. That's why we handle things differently at Ntiva.
When you call Ntiva's help desk, you'll be greeted by an experienced technician (based in the U.S) in less than one minute, on average—day or night. Regardless of whether the issue is big or small or how many people it affects, you'll be able to start troubleshooting the issue immediately. 75% of issues can be resolved on your first phone call.
We'll resolve as many IT issues as possible remotely to help you save the expense of an onsite visit. However, if you do need onsite support, we're happy to send someone out. Our technicians often arrive onsite within the hour (depending on your location within Chicago), and at the very least, they'll arrive within 24 hours.
Read this case study to learn how Ntiva helped a real estate company get up and running within 45 minutes after their main server went down.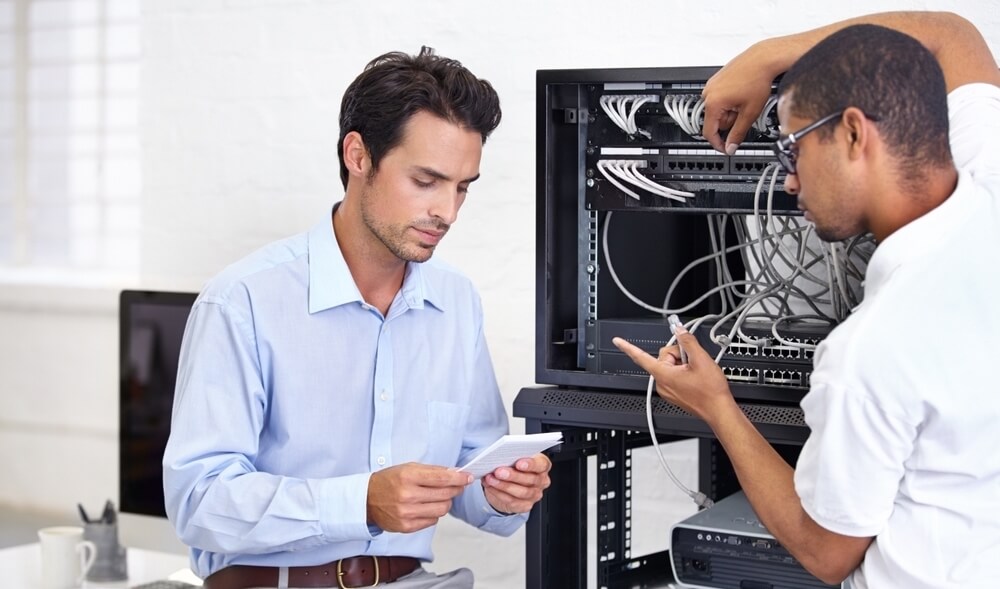 Long-lasting IT Solutions
There are two key elements to providing effective, long-lasting IT solutions:
Having the right training and expertise.
Using the right tools.
Dedicated Departments and Advanced Training
Many managed IT service providers (MSP) expect their employees to wear many different hats. For example, they might expect every technician to be able to handle cloud services, hardware issues, compliance requirements, and more. While this approach may work for simple problems (i.e., password resets), it often doesn't work as problems get more complex. That's because the more complex the problem, the more expertise you'll need to fix it, and no one has the time to become an expert in all areas of IT.
At Ntiva, we have dedicated departments for Apple products, Microsoft products, cloud solutions, security, and more. This allows our technicians to truly become experts in their field.
We also invest in ongoing third-party training to ensure we're able to help you stay ahead of the technology curve. For example, Microsoft recently released new training material on Azure and other cloud products. Several of our IT staff were able to take this training to ensure our clients get the most out of their Azure platform.
In our nearly 20 years of managing IT, we've shown time and time again that we grow with our clients and their needs.
Here are just a few of Ntiva's certifications:
Dell EMC Gold Partner
Formerly a Microsoft Gold Partner (in the process of recertifying under Microsoft's new partnership program)
SOC 2 Type 2
CMMC consultant
And many more

Using the Right Tools
Using the right tools for the job is necessary for many different types of IT issues, but we'll use Microsoft vs. Apple tools as an example.
A lot of MSPs try to use Microsoft tools to fix issues with Apple products. While this may sometimes work, eventually you'll run into an Apple issue that can't be fixed with Microsoft tools. Plus, these fixes will likely break on a regular basis unless you use Apple-native tools.
For example, Apple is known for their strict security settings. Because of these settings, most Microsoft remote access software doesn't work on Apple products. An IT team may be able to find a way to get past Apple's security settings for a time, but as soon as Apple releases a new security update, the solution will need to be rebuilt. Without a working remote access tool, your IT support won't be able to provide remote support for your Apple products.
Ntiva technicians always use the right tool for the job, including Microsoft-native and Apple-native tools.
Read this case study about how Ntiva helped a Chicago-based nonprofit manage an IT environment made up of both Microsoft and Apple solutions.
People-Centric Service
Some IT companies will charge you per device. However, we think of ourselves as supporting people, not devices. Devices don't call in asking for help, people do. That's why we charge per user.
Plus, we take the time to get to know our clients. We know what role you play in the company, what your goals are, what your struggles are (and how we can help), and much more. Because of this (and the quality of service we provide) many of our clients have been with us for 10+ years.
We're focused on building long-lasting relationships and dedicated to helping you find the most cost-effective IT solutions—even if it means our monthly fees go down. For example, we were able to help this nonprofit cut their IT spend down from over one million dollars to about $450,000 per year.
A Full Suite of Advanced IT Outsourcing Services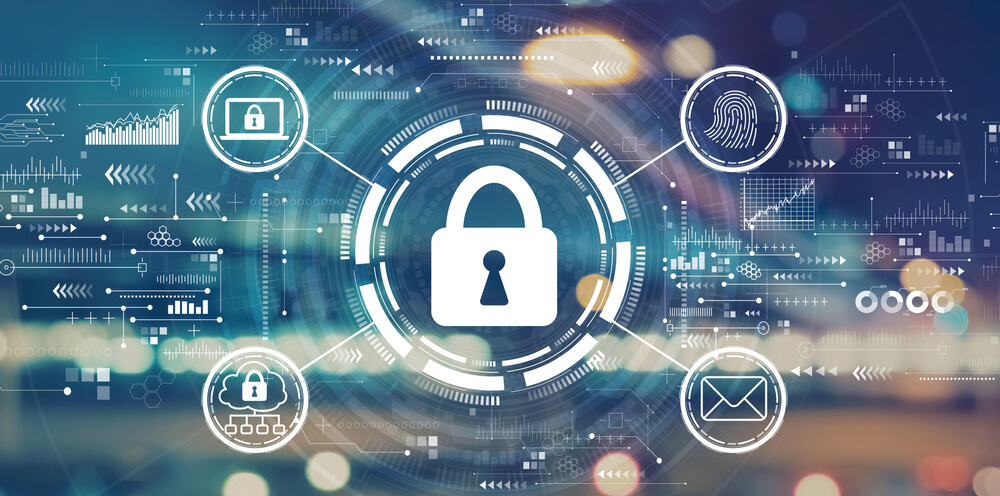 Many MSPs specialize in a few areas of IT support and only lightly cover other areas. With Ntiva, you'll have access to a wide range of advanced IT services, including (but not limited to):
View our pricing page for more details (we also offer custom plans to fit your business and technology needs).
Here's what some of our customers have to say about Ntiva's services:
"What I've learned over the last year and a half is that there's a big benefit to outsourcing IT. Ntiva's business is to know what's on the leading edge of technology and the best practices we should adopt."
- MC Jones, Principal Investigator, MxV Rail
"The BPI assessment was a low-risk investment that turned out to yield high rewards for our company. We discovered that there were a lot of inefficiencies and wasted time. The ATD Information Center platform ended up saving us at least $330,000 in manual staff time in a 3-year period."
- Donald Steadman, All-Tech Decorating
"Ntiva's comprehensive approach to addressing our vulnerabilities and implementing the necessary measures has given us peace of mind in knowing that our organizations are well-protected and well-organized. We are grateful for their partnership and highly recommend their services to any organization seeking top-notch technology solutions."
- Ron Hegyesi, CEO, IPEC Holdings
"Ntiva takes a sincere interest in their projects, asking for and incorporating feedback for improvements. Their work is high-quality, which is why the partnership has lasted for so long. They're a friendly and welcoming company, making them a great partner."
- Director of Network Programs, Health Care Services Corporation
Ntiva serves companies in many industries including manufacturing, legal, GovCon, nonprofit, financial services, and more. To learn more about how Ntiva can help you cut costs, improve efficiency, and minimize downtime, book a consultation.
Four More Options for Outsourced IT Support in Chicago
Infiniwiz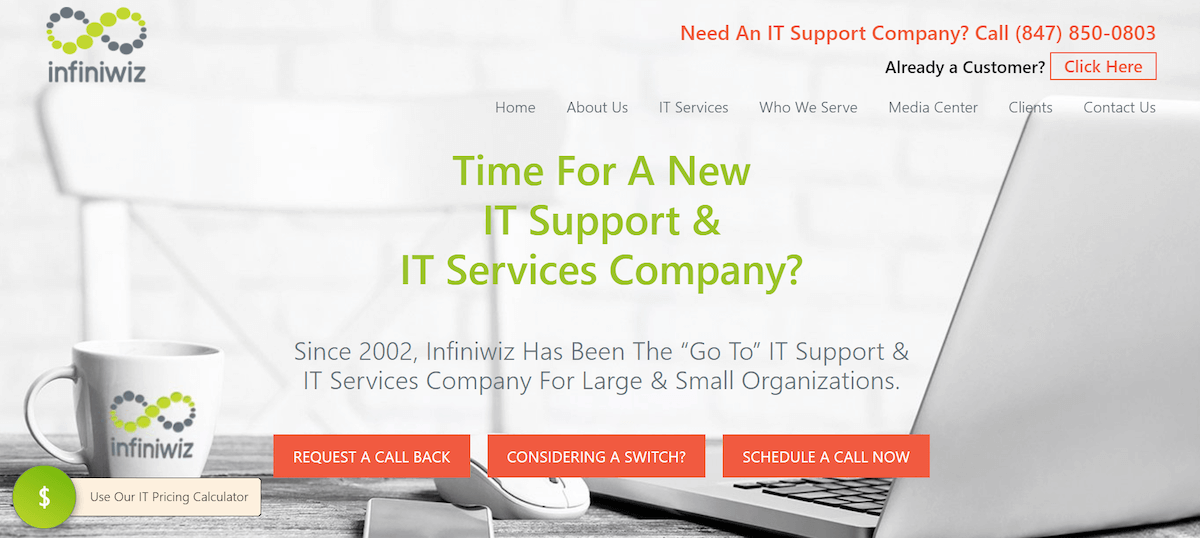 Infiniwiz is a managed IT and IT consulting company. Their SLA response times range from 15 minutes to 24 hours depending on the priority level assigned to your ticket. For critical issues, they advertise a response time of 15-60 minutes.
Besides daily IT support, they also provide:
Consulting with IT experts
Cybersecurity services
QuickBooks desktop support
Data center
Hosted desktop
Software development
Structure cabling
VoIP
The industries they serve include:
Accounting
Healthcare
Nonprofit
Manufacturing
Further reading: 10 Top IT Outsourcing Firms in 2023 (How to Choose)
MXOtech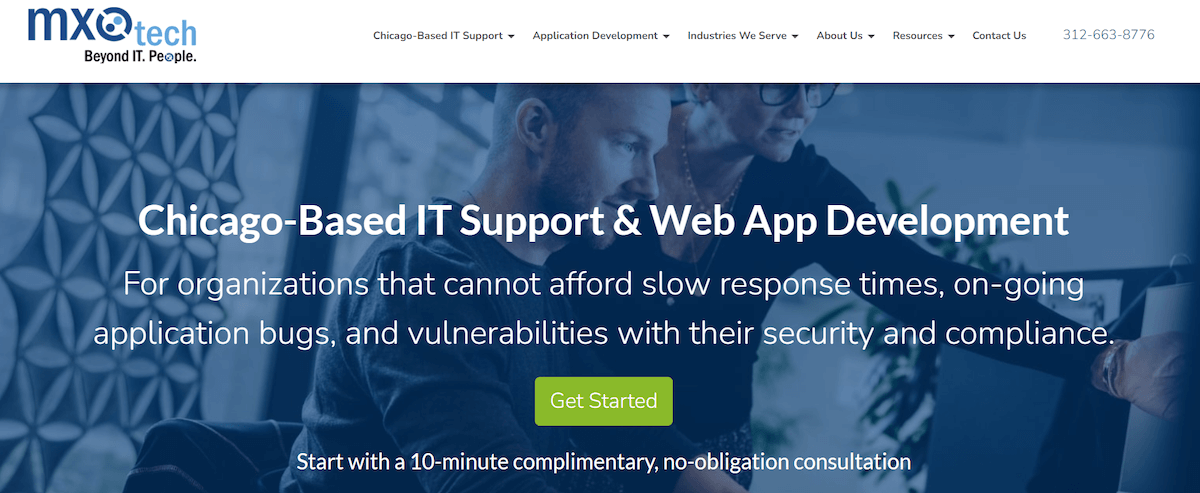 MXOtech offers managed IT services and computer support for Chicago businesses. They provide a 24/7 live help desk staffed by local reps with a guaranteed response time of one hour.
In addition to their help desk, they also offer:
Application development
Co-managed services (to support your in-house team)
Disaster recovery and business continuity
Security services
Strategic planning
Cloud services
The industries they serve include:
Nonprofits
Manufacturing
Energy & utility
Healthcare
Architecture, engineering, and construction
XL.net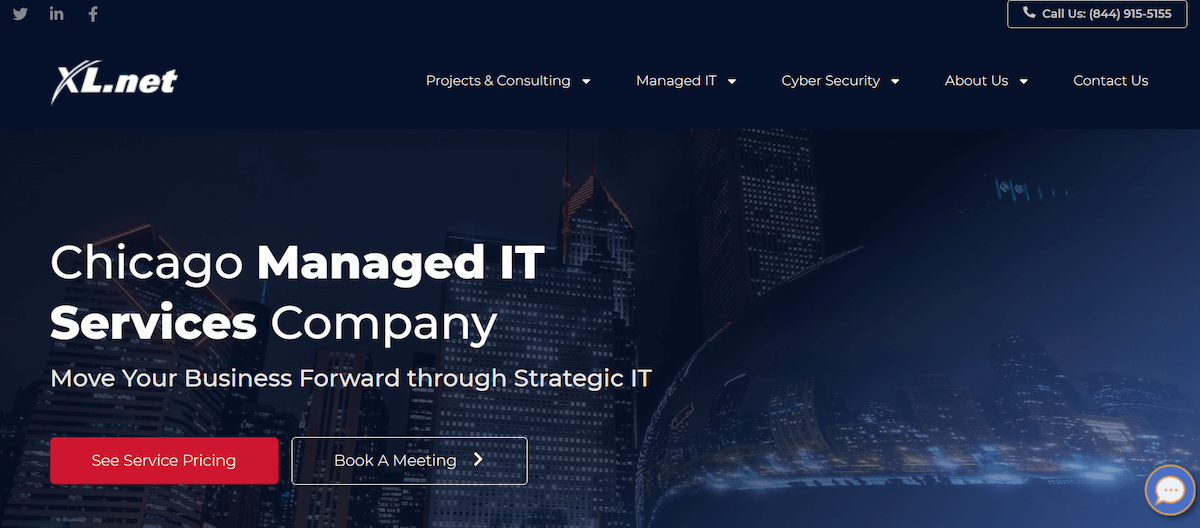 XL.net is an IT outsourcing and IT security services company. They advertise that their help desk support is staffed by live agents and available 24/7. They also advertise that they answer 99.3% of all calls (although they don't specify how long it takes for them to answer those calls, whether or not you'll be talking to a technician right away, or if you'll be talking to a local agent).
In addition to the help desk, they also provide:
IT project management
Virtual CTO
Infrastructure assessments and audits
Compliance support
Network monitoring
They serve small to midsize businesses in the Chicago area.
GO Technology Group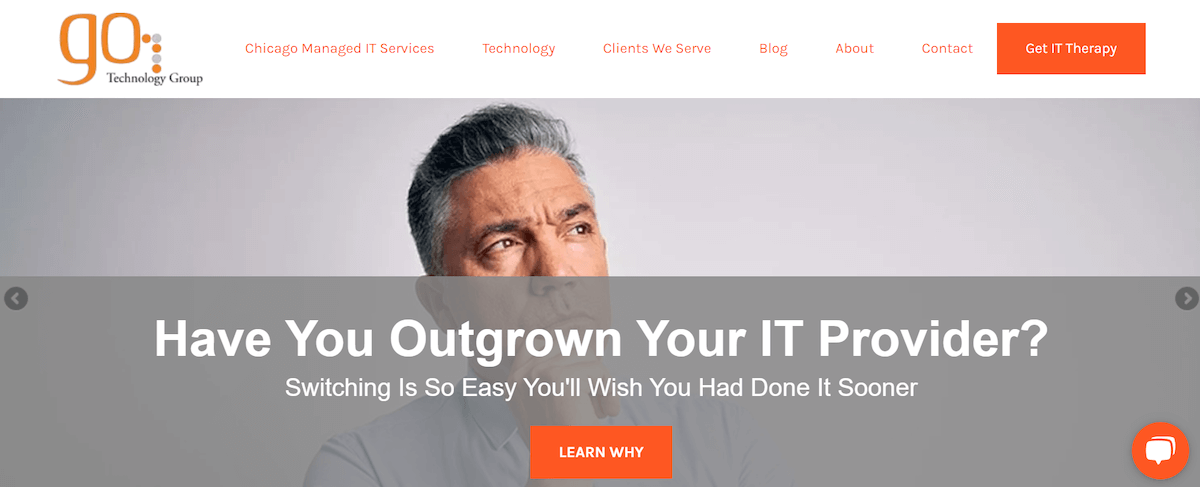 GO Technology Group is an IT consulting services company and managed service provider. Their average response rate is less than 15 minutes and they maintain open communication with you while resolving the issue.
In addition to their IT support services, they also offer:
IT assessments
Cloud services
Backup systems
Ransomware protection
VoIP systems
The industries they serve include:
Law firms
Local government
Private schools
Medical offices
Professional services
To learn how Ntiva can help you get the most out of your IT and prepare for future needs, book a consultation.