Complete Vulnerability Testing
Cyberattackers are adept at finding your network's weakest points to access your systems.
But what if you could find those vulnerabilities and fix them before they could be used against you?
Ntiva's vulnerability assessment services are designed to do just that. By conducting regular scans of your network, we can quickly spot weaknesses and remediate them to keep your systems secure. As an experienced IT services provider, we bring our expertise to your systems to keep your company safe.
Know Your Cybersecurity Vulnerability – Before They Do
To protect your business from malicious actors, you need a regular, reliable assessment of your network security. Ntiva's technicians and security experts know how to find — and fix — the vulnerabilities that put your business at risk.
What Is a Vulnerability Assessment?
A vulnerability assessment scans your network for weaknesses like missing security patches, insecure settings, and unneeded services. Once those vulnerabilities are identified, Ntiva will fix the problems that caused them to improve your system's security.
Vulnerability Testing & Assessment Benefits
Outsourcing your IT services is one of the most cost-effective ways to add new capabilities to your organization without hiring new full-time staff. Outsourced IT ensures you get the expertise that you need to keep your organization safe and secure.
Here are some of the benefits of outsourcing vulnerability assessments: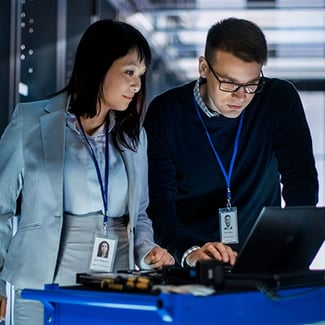 Types of Vulnerability Services Offered
If you're trying to protect your networks through patching alone, your systems could be in danger. Why? Because such updates are simply no longer enough to deter cyberattackers.
Instead, you need a proactive approach that identifies weaknesses before a malicious actor can take advantage of them. Security vulnerability scanning is the best way to do it.
Here are the vulnerability services Ntiva can offer.