Your IT strategy can help you get the most out of your business, which is why strategic planning is crucial for modern organizations. An IT strategy details how you're going to use IT within your organization to your benefit. Companies use IT strategy consulting services to help create a comprehensive IT strategy that allows them to achieve goals and align technology with their business plan. With Ntiva, our IT experts provide strategy consulting services to bring your IT systems into the future. With 24/7 help service 365 days a year, you can get the support you need, when you need it.

Create Business Value With an IT Strategy
Your IT strategy is part of your overall business strategy, but it specifically deals with how your organization uses technology in IT and business processes. Your IT strategic plan outlines your business IT needs — from cutting IT costs to adopting the latest best practices and improving IT support response times. This includes specific actions you can take to reach your IT strategy goals. IT strategy consultants can help you create a comprehensive roadmap that allows your business to reach the goals you've set out in your business plan.
Why Choose Ntiva for IT Strategy Consulting
At Ntiva, our goal is to help businesses have access to IT support when they need it. By providing IT consulting services, you can get information and support to ensure your organization's technology and systems are up-to-date. Here's why companies of all sizes choose Ntiva for IT strategy and consulting services:
IT Strategy Services from IT Experts with Business Acumen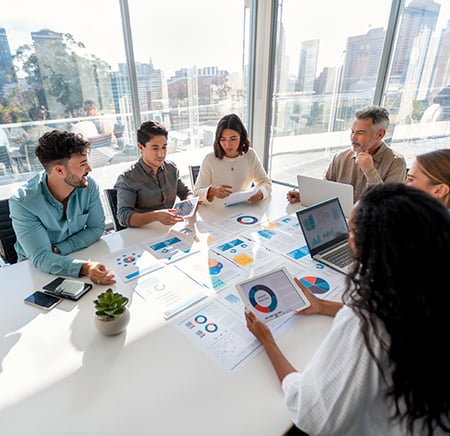 With the rapid changes in IT and technology, strategic planning is key to developing an IT strategy that works for your business. As one of the top IT consulting services, Ntiva can help you remain up-to-date with the latest IT best practices to get the most out of your business. Ntiva stays abreast of the latest developments in IT strategy, IT budgeting, and risk assessment and compliance, helping you to develop an IT strategic plan that aligns with your business. Here are some of the IT strategy consulting services Ntiva offers:
Helping companies undergo digital transformation to become more efficient
IT budgeting
IT assessments
Security risk assessments
Cloud & data migration
Governance, risk & compliance
Cloud solutions
Owning a business can come with several risks. Ntiva provides IT strategic consulting to help minimize risks and prevent costly tech-related issues. Data breaches are a great example of the types of risk that IT strategy planning can help mitigate. Data breaches can lead to significant financial loss for both your business and your customers, as well as make people wary of your organization's reputation. With all of the potential security risks you face as an online business owner, Ntiva's IT management services can help. With non-stop cybersecurity protection, you can rest assured knowing sensitive data remains in good hands.
Technology is constantly evolving, especially when it comes to IT strategy. As a business owner, you have to make sure your company is keeping up with the latest trends in IT strategy and cybersecurity. Ntiva stays up-to-date with the latest technology, so you can plan for the future without investing too much time in IT strategy planning. The better you prepare for the future, the easier it will be to transition and adopt new and emerging technology.
IT strategy isn't just about using the right technology, it's also about making sure you have the right personnel to get the most out of that technology. IT strategy consultants with Ntiva can help you strengthen your team by identifying gaps in your workforce that may be compromising your IT strategy. Figuring out where you're lacking in terms of employees and filling those gaps can help you build a stronger team that's better equipped to move your IT strategy forward, which includes adopting new technology and staying up-to-date as time goes on.
Up-to-date technology is one of the most essential parts of perfecting your IT strategy. While strategic planning is helpful, your IT strategy is only as effective as your ability to adapt. With the right IT strategic consulting from Ntiva, you can stay in the know about all the newest IT and cybersecurity technology, so you can use that technology to bolster your IT strategy and keep your business from falling behind.
Staying up-to-date with the latest technology is one of the biggest challenges for organizations with poor IT strategies. Our consulting services are an easy way to keep up with the latest technology and make sure you're identifying and fixing any potential issues with your IT strategy.
How Do IT Strategy Services Work?
What is strategy consulting? You might be confused about what exactly an IT strategy is. Below, we break down the key components of an effective IT strategy to help you understand how Ntiva can help your business:
Budgeting:

There are many components to running an effective IT strategy, which means you need a strong budget in place. Ntiva can help you create a budget that works for your business and its needs, so you can allocate resources to IT professionals, maintenance of systems, and more.



IT Service Management:

IT service management involves making decisions about how IT services are delivered and who delivers them. IT service management can be handled by in-house IT talent or outsourced.



IT Infrastructure:

Infrastructure includes the software and hardware you use, such as operating systems, databases, cloud services, and more.



Security and Compliance:

IT regulations are created to make sure every company is keeping its customers safe. Staying compliant is a crucial part of protecting your company from data breaches and cyberattacks, but it can also help protect you from the fines that you may incur if you're not compliant.



IT Personnel Management:

You need the right team to deploy your IT strategy, so building and managing a talented IT team is an essential part of IT strategy planning.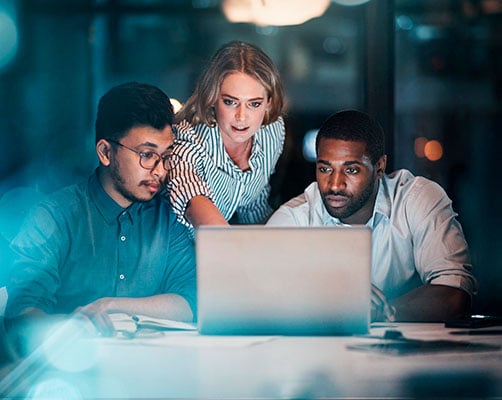 These individual parts are all equally important components of how to develop an effective IT strategy that guides your business. With a budget, infrastructure, and the right personnel, you can deploy your IT strategy to bring your business to the next level.
We Serve Multiple Industries and Companies, From Low-tech to High-tech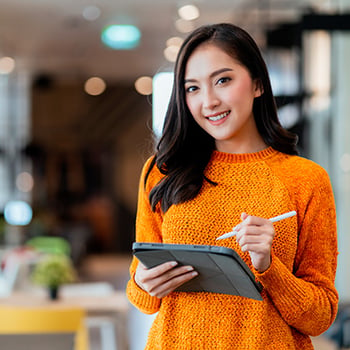 Many business owners mistakenly believe that IT strategy consulting is reserved for tech-focused companies that remain on the cutting edge of cloud computing and other modern technology. The truth is that Ntiva works with a wide range of companies and industries to provide IT strategy consulting services, including both low-tech and high-tech organizations. Here are some of the industries Ntiva provides IT strategy planning for:
GovCon

Nonprofits

Legal

Finance

Healthcare

Private Equity/M&A

Manufacturing
Even if your business primarily operates in a brick-and-mortar setting, nearly every business has a website and collects data from its customers. Ntiva can help you create a comprehensive IT strategic plan that allows your business to look toward the future and protect against data breaches and cyberattacks.
The Benefits of Having IT Strategy Services
IT strategic consulting can help you create a comprehensive IT strategy plan even if you don't have experience with IT. When you work with IT strategy consultants, you can easily align your IT strategy with your business plan.
How Do Strategic IT Services with Ntiva work?
Ntiva provides comprehensive IT strategy planning, consulting, and managing services. You can start with an IT consultation, during which our IT consultants will evaluate your business to find the best IT solutions. With managed IT services, Ntiva can take care of your new tech deployment as well. All you have to do is get in touch with Ntiva and an IT expert can take care of the rest.