Managed IT & Security Services for Government Contractors - NIST, DFARS, CMMC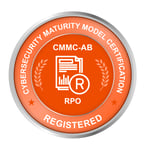 Federal government contractors, especially those that sell into the DoD, face a challenging environment. This is especially true for contractors who need to meet the stringent federal regulations for the DoD's new Cybersecurity Maturity Model Certification (CMMC.)
Ntiva is now a CMMC-AB Registered Provider Organization (RPO). This means we are accredited to provide CMMC consulting and support to Organizations Seeking Certification (OSC) in the Defense Industrial Base (DIB). We do NOT conduct CMMC audits as this would be in conflict with our services.
We provide a wide range of technology services to our government contractor clients, with cyber security services being an important focal point. We routinely deploy the safeguards needed to comply with NIST, DFARS and CMMC including:
NIST, DFARS, CMMC Assessments and Remediation
Intrusion Detection and Response
Advanced Endpoint Protection
Microsoft Office 365 Gov
Business Continuity/Disaster Recovery
IT User Policies
Security Incident Response Plan
Multi Factor Authentication
Security Awareness Training
Consult with an Ntiva Security Specialist!