Dependable Cloud Security Solutions
To stay competitive, businesses are increasingly turning to cloud technology for its flexibility, speed, and reliability.
But just as more organizations have turned their attentions to this new frontier, they're also facing new risks.
Data loss, poorly configured access management, and data breaches are all potential security threats to your systems. Attacks on your systems can lead to lost productivity and downtime. A lack of good security protocols could also pose compliance or regulatory challenges.
And if cyberattackers were to succeed in accessing your systems and data, it could be damaging both to your business and reputation.
None of that should dissuade you from migrating to the cloud. It should make you pause to consider the importance of a dependable cloud security solution. Here's how Ntiva can help.

What Is Cloud Security Service?
Cloud computing systems require their own set of security measures, which work together to not only protect your company's data but to maintain regulatory compliance. These measures consist of an organization's procedures and policies, as well as the controls and technology that dictate how cloud systems are accessed, how users are authenticated, and how information is secured.
As a managed IT service provider, Ntiva offers these kinds of security services more efficiently and at a lower cost than an in-house IT team could provide.
Managed Cloud Security Service Benefits
From small businesses to enterprise-level organizations, companies of all sizes enjoy big advantages when they hire a managed services provider to oversee their cloud security. By outsourcing these services you'll save money — while still enjoying 24/7 protection.
Here are six benefits to working with a managed service provider.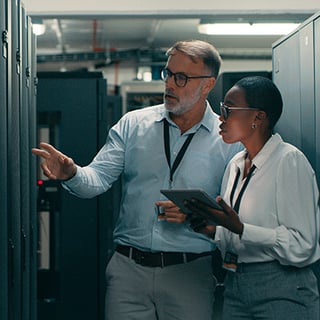 Types of Cloud Security Support Offered
Businesses choose to work with Ntiva because they trust our expertise. When it comes to cloud security, we provide services that enhance your security posture, prepare your employees to recognize threats, and help you recover quickly from incidents or outages.
Every security plan we create is tailored to the individual needs of the organizations we serve, but they do share a few things in common. Here are a few types of the cloud security support that we offer.
How Does Cloud Security Managed Services Work?
Cloud technology has come a long way. These days, you can generally trust that your cloud provider is offering you a very secure environment.
Unfortunately, they can't protect your data when it leaves the cloud to interact with your other systems.
That where cloud security managed services come in to help fill the gap. These services function by focusing on four key dimensions:
Human Error
Cloud security works to remove as much potential for human error as possible through automation and other digital tools.


Digital Protection
Data storage and networks are safeguarded against cyberattackers seeking to steal information from your systems.


Impact Mitigation
When an incident does happen, cloud security helps ensure the impact on your systems is minimal.


Data Recovery
If data is lost, either through human error or a malicious attack, cloud backup and recovery systems are in place to restore it.


With those four dimensions in mind, let's look at some more specific examples.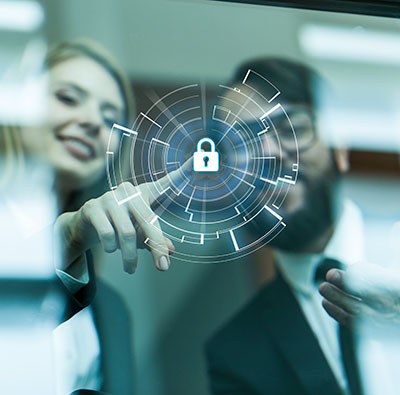 There are several tools designed to address the technological vulnerabilities of your system. Encryption, for instance, is a powerful and effective way to safeguard your day by making it unreadable to anyone who lacks the right key. You can also protect your data as it moves between systems by using tools like virtual private networks, a common technique in cloud security.
Just as physical offices use keycards to control access to certain areas, there are digital tools to verify the identities of your users and manage their access to data. These safeguards might include everything from your password policies to your use of multi-factor authentication, among other restrictions.
Help desk support is focused on incident management. When something breaks for a user, the help desk is there to help fix it.
A service desk, however, offers additional support in the form of taking service requests and answering user questions or requests for more information. Both offer support for your users, but the one that's right for your organization really depends on the needs of your users.
Governance polices are focused on identifying threats, preventing them, and/or mitigating their effects. They include things like user training as well as policies outlining acceptable user behaviors. These aren't just good for your data — they also help keep your users safe from potential digital threats.
When disaster strikes, you need a plan in place to ensure business continuity and data retention. The key here is having updated and accurate backups to ensure no data is lost. It's also important to regularly test your business continuity plan, along with the backups themselves. (You don't want to wait until disaster strikes to find out you're not as prepared as you thought.)
Some industries, including healthcare and finance, are under heavy government regulations aimed at protecting private information. For these industries, any cloud security measures must also comply with these regulations.
Cloud Security Services from Ntiva
Ntiva's managed services include cloud security services tailored to the unique needs of your company. You can begin the process by talking to one of our consultants today!
Once you're ready to get started, we'll launch our discovery process. During this phase we'll learn about your challenges, your operational goals, and the needs of your organization. All of this helps to shape our approach and ensure we provide 24/7 cloud security that aligns to your operational goals.
For more detail on how this works, check out our four-phase onboarding process for new clients. This allows us to collect the vital information and knowledge we need to help prepare your business for success. Once this process is complete, you'll be ready to put our cloud security services to work for your organization.