Businesses looking to switch managed IT service providers typically experience one of these struggles:
Poor

response time

is the main reason why companies get frustrated with their current IT service provider. Many IT service providers will prioritize tickets by the percentage of your company the issue impacts, the degree to which the issue affects productivity, or some other arbitrary reason which means some tickets are left unanswered for days, weeks, or months.


Support lines are answered by non-technical reps

who simply put you in another holding queue. When your call does get answered, you may get a technician who does not fully understand your problem and needs to yet again escalate your issue (causing even more delays).


Lack of strategic advice

is another big frustration for many companies. Smaller MSPs may not have the breadth and depth of talent to be able to cover all of your needs, especially if you're a growing business looking for the latest technology trends.


Cybersecurity

is limited

to installing basic antivirus and perimeter-based detection software, leaving you vulnerable to ransomware attacks and unable to maintain industry-specific security standards (e.g., HIPAA or CMMC).


Lack of Apple expertise

which means the teams or divisions that use Apple products don't have adequate support. Even if the majority of your company currently uses Microsoft, Apple products are becoming more and more popular, especially as the work-from-home trend seems here to stay. Everyone on your team deserves proper IT support.
At Ntiva, we strive to solve these issues by providing:
A 24/7

help desk

line answered by

experienced, U.S. based technicians

(in less than one minute on average). If the issue is top priority for you, it's top priority for us.
Dedicated Account Managers

who offer quarterly business reviews, backed up by a large Professional Services team that includes vCIOs, vCISOs and more.
A large team of security professionals

who can advise you on the most advanced security solutions that are backed up by our 24/7 SOC, anti-phishing prevention training for your employees, custom audits and Backup and Disaster Recovery (BDR) plans. Our team can also help you build IT solutions for staying compliant with HIPAA, NIST SP 800-171, CMMC, CIPA, and more.
A large staff of Apple-certified technicians and Apple-native tools.
In this guide, we provide an overview of Ntiva and take a deep dive into each of the features mentioned above. Then, we'll briefly cover four other managed service providers (MSP) to aid your search.
From day-to-day support to software and hardware updates to long-term strategic information technology (IT) consulting, Ntiva can help. To see how we can help you use technology to grow and protect your business, book a consultation today.


Ntiva: 24/7 Technician Support for Microsoft and Apple
For more than 15 years as a managed service provider (MSP), Ntiva has served organizations in many different industries including government contracting, healthcare, nonprofit, education, legal services, financial services, manufacturing, and more.
Ntiva services include:
Responsive remote and on-site support
Networking monitoring and management
Managed workstations (for both PCs and Mac)
Data backup and disaster recovery
Hardware and software procurement
Advanced antivirus and cyber-attack protection
Business continuity planning
Risk assessment and proactive prevention
Unified communications system and management
vCISO consulting
Procurement-as-a-service
We also provide a comprehensive, four-step onboarding process to set you up for the best experience possible (you won't be charged during this time).
Next, we'll dig into a few of these services and show how Ntiva has helped other companies use technology to achieve their business goals and stay secure.
Resolve Issues Quickly with Our 24/7 U.S.-Based Technician Help Desk
Most IT help desks work something like this: A non-technical representative answers the phone and asks you a few general questions about your issue. Then, they create a support ticket, assign a priority level to it, and assure you a qualified technician will call back. If your issue affects a lot of people in a major way, you'll get a quick response.
However, if your problem only affects you or only affects the team in a minor way, you may end up waiting days, weeks, or months before getting a call back (if you ever do).
Additionally, many MSPs will have a low-level technician manage your ticket upfront and only send in expert technicians when needed. This often creates even more delays because the more experienced technician needs to be contacted and brought up to speed before moving forward on solving the problem.
At Ntiva, we believe every problem should be solved in a timely manner, no matter how big or small it is. That's why we have experienced technicians answering our support line.
Our technical experts answer the phone in less than one minute, on average, and are able to resolve 75% of issues on the first call.
Finally, all of our technicians are based in the U.S. to help mitigate language barriers.
Maintain Security Standards with Advanced Antivirus Software, Phishing Prevention Training for Employees, and More
Many MSPs will only help you install and maintain a few simple security features like antivirus software, perimeter-based detection, or multi-factor authentication. This leaves huge gaps in your security. For example:
Most antivirus software is definition-based, meaning you enter descriptions of the type of viruses that should be blocked and all other activity is let through. Experienced hackers can usually find a way to work around these descriptions and infiltrate your software.


Most data breaches occur because an employee accidentally opens or downloads a malicious link sent via email. Ongoing, formal training is the best way to help your employees recognize warning signs and prevent cyber attacks.


Without adequate backup and disaster recovery services, you may not be able to recover your data after a cyber attack or natural disaster. This could mean the difference between recovery or failure as a company.
It's also difficult to comply with various regulations like HIPAA, CIPA, or CMMC unless you have a full team of security experts working 24/7 to scan for vulnerabilities and prevent and respond to attacks.
Ntiva provides enhanced, 24/7 cybersecurity services including:
Managed Endpoint Detection and Response (EDR) backed by 24/7 SOC: Rather than use description-based logic to fend off viruses,Ntiva's EDR uses AI to recognize activity that could be a virus—even when your devices are outside the office firewall. If anything suspicious is found, our Security Operations Center (SOC) experts are immediately notified. They analyze the activity and look further for undetected attacks.


Phishing prevention training: There are many phishing prevention trainings available, however, the day-to-day process of implementing these trainings is a lot of work. It typically involves creating fake emails and sending them as tests, training employees when they fail, creating reports, and much more. Many businesses have difficulty maintaining proper phishing training. Not only does this make you more vulnerable to cyber attacks, but insurance companies often ask for detailed proof that you kept up with proper phishing prevention training before paying the claim. Ntiva takes on this responsibility from start to finish so your employees will be better able to spot and stop cyber attacks. Plus, we document everything so that it's easy to back up your insurance claim.


Virtual Chief Information Security Officer (vCISO): This service makes top-tier security experts available to you on an as-needed basis. They will help you develop and implement strategies for aligning your IT with long-term business goals, customer expectations, and security regulations.


Cloud backup and disaster recovery plan: We help you build a business continuity and disaster recovery (BC/DR) plan and provide off-site digital storage space for all of your company's data. This helps ensure the future of your business in the event of a security breach or natural disaster.


An independent school in Maryland experienced an emergency outage that caused their core network switching to fail. This left them without access to both internal servers and hosted applications and it caused all devices to do a factory reset.
They reached out to Ntiva and we sent a technician onsite to restore the outage right away. Then, we helped them build a BC/DR plan which included backing up their data on the cloud and forming a long-term partnership with our team.
Optimize and Secure Your Microsoft and Apple Products
When comparing different MSPs to determine who will be able to provide the best support, most companies consider how many years of experience the technicians have. While this is a great place to start, you'll also want to consider the size of their support teams and the tools they have on hand.
The size of the MSP is important for two reasons:
To ensure quality support as you evolve. Most companies have plans to expand or invest in more technology in order to keep up with industry demands. In either case, you'll eventually need more tech support than you do now. You'll need an MSP with enough staff to scale with you.


To ensure you have the support you need when you need it. For example, some MSPs will advertise that they have a department of Apple-certified technicians, however, the entire department will only consist of one or two technicians. If those technicians are unavailable (e.g., on vacation, sick leave, with a different client, etc.), you'll have to wait to solve the problem no matter how critical the issue is.
Businesses often overlook what types of tools their MSP can use for diagnosing and fixing technical issues but the tools they use will affect the service they can provide. For example, many MSPs will advertise that they can support both Microsoft and Apple when in reality they only use Microsoft-native tools and security software. While you can solve some issues by using Microsoft tools on Apple products, these solutions are more likely to fail. Eventually, most companies experience an issue that can't be solved without Apple-native tools.
Ntiva has a department of more than a dozen Apple-certified technicians with over 20 years of experience. Our staff utilizes Apple-native tools to ensure your Apple products are fully-supported and secure.
PMMI, the Association for Packaging and Processing Technologies, was working with a mix of Microsoft and Apple products and needed an MSP with expertise in both areas. For many years, they worked with two separate vendors—one with expertise in Microsoft products and one to support their Apple products.
When they found Ntiva, they were impressed by the support they received for both their products (Microsoft and Apple) and pleased to be working with just one provider.
Lay the Foundation for Long-term Success with a Comprehensive Onboarding Experience
We know that onboarding a new MSP is a big investment of time and effort, and it can take several weeks (or months) before you're able to take full advantage of the services they provide. That's why we've taken special care to get you up and running quickly and ensure as smooth of an onboarding process as possible.
Ntiva onboarding has four stages:
Service definition: During this phase, we go over all the details of our SLA and gather details about your business and expectations.


Data collection: During this stage, our IT professionals go onsite and evaluate and document all of your IT infrastructure and software.


Internal review and planning: This stage happens internally on our side. We take the information gathered in the previous stages and develop strategies to fill gaps in your IT and security. We also take note of any areas where we can suggest more cost-effective ways to achieve the same or better results as what you already have in place.


Orientation meeting and service handoff: This is the transition stage where we present our findings and solutions, schedule recurring strategy sessions, and begin the service.
Onboarding typically takes 45-60 days to complete but you won't be charged during this time.
Get the On-Site Service You Need, When You Need It
Many MSPs will charge you a recurring fee for access to on-site help. However, nearly all technical issues can be resolved remotely, which means you'll be paying for a service that you may or may not use.
For example, if we return to the case study about the independent Maryland school, they needed an on-site technician initially to help restore their servers. However, they were able to use Ntiva's remote help desk for ongoing IT support.
At Ntiva, we believe you should only be charged for services that you actually use, which is why we offer on-site support on an as-needed basis. This keeps your monthly rate down while ensuring you always have the support you need.
We have a physical presence across the U.S. and partner with many local IT providers to ensure you get fast, on-site support whenever you need it.
You can read our customer success stories here.
Whether you're looking to outsource your entire IT support needs or to augment your in-house IT team, we can help. If you think Ntiva could be the right MSP for your business, book a consultation today.
Four Other MSP Options
Dataprise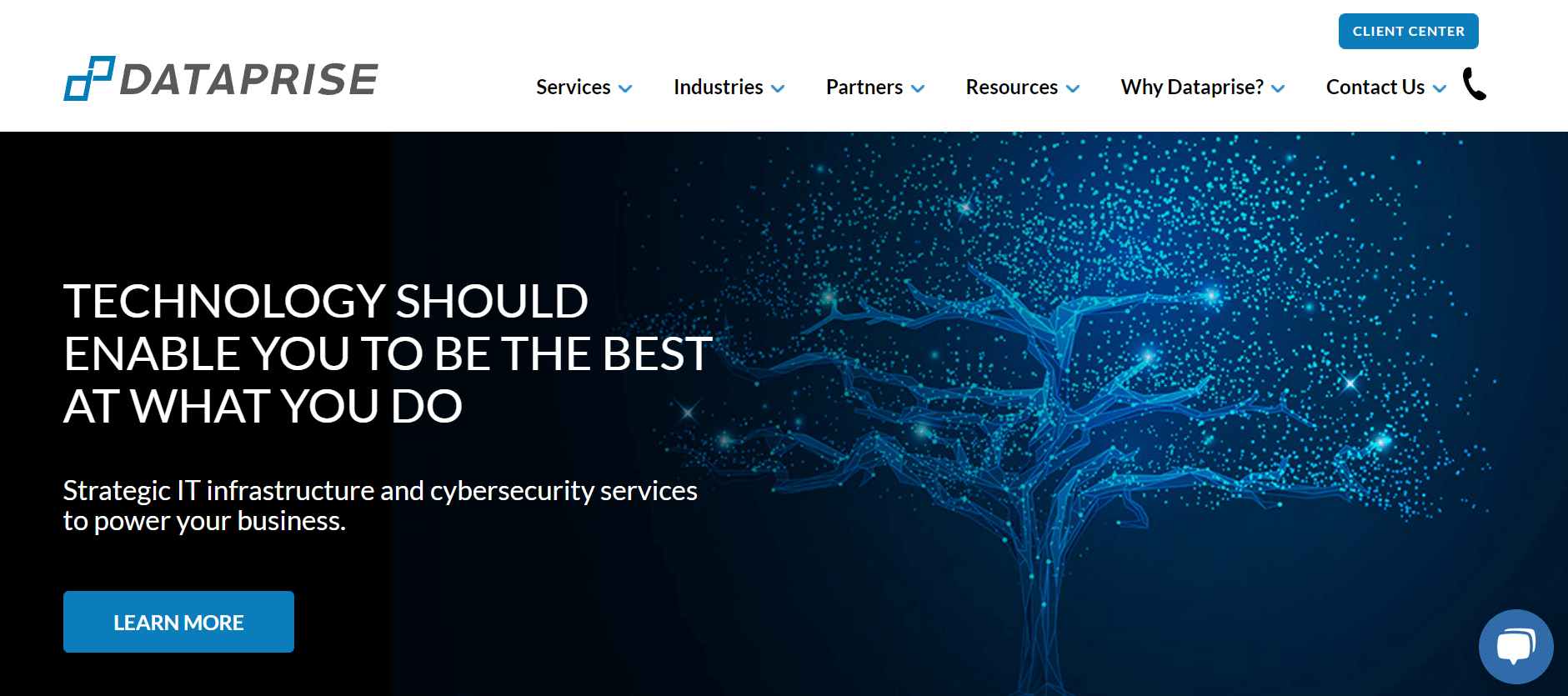 Dataprise is an MSP with a focus on IT infrastructure and cybersecurity. Their main services include:
IT infrastructure management
Managed cybersecurity services
Disaster recovery planning and assessment
Communication technology solutions
IT service desk (with separate lines for end-user, global service, and line of business application support)
On-premise support
Cloud migration, integration, and data center
IT professional services to align technology and business goals
Dataprise has headquarters in Maryland but they also have a physical presence in several major cities including New York City, and Dallas, Texas.
You can read case studies for Dataprise here.
Burwood Group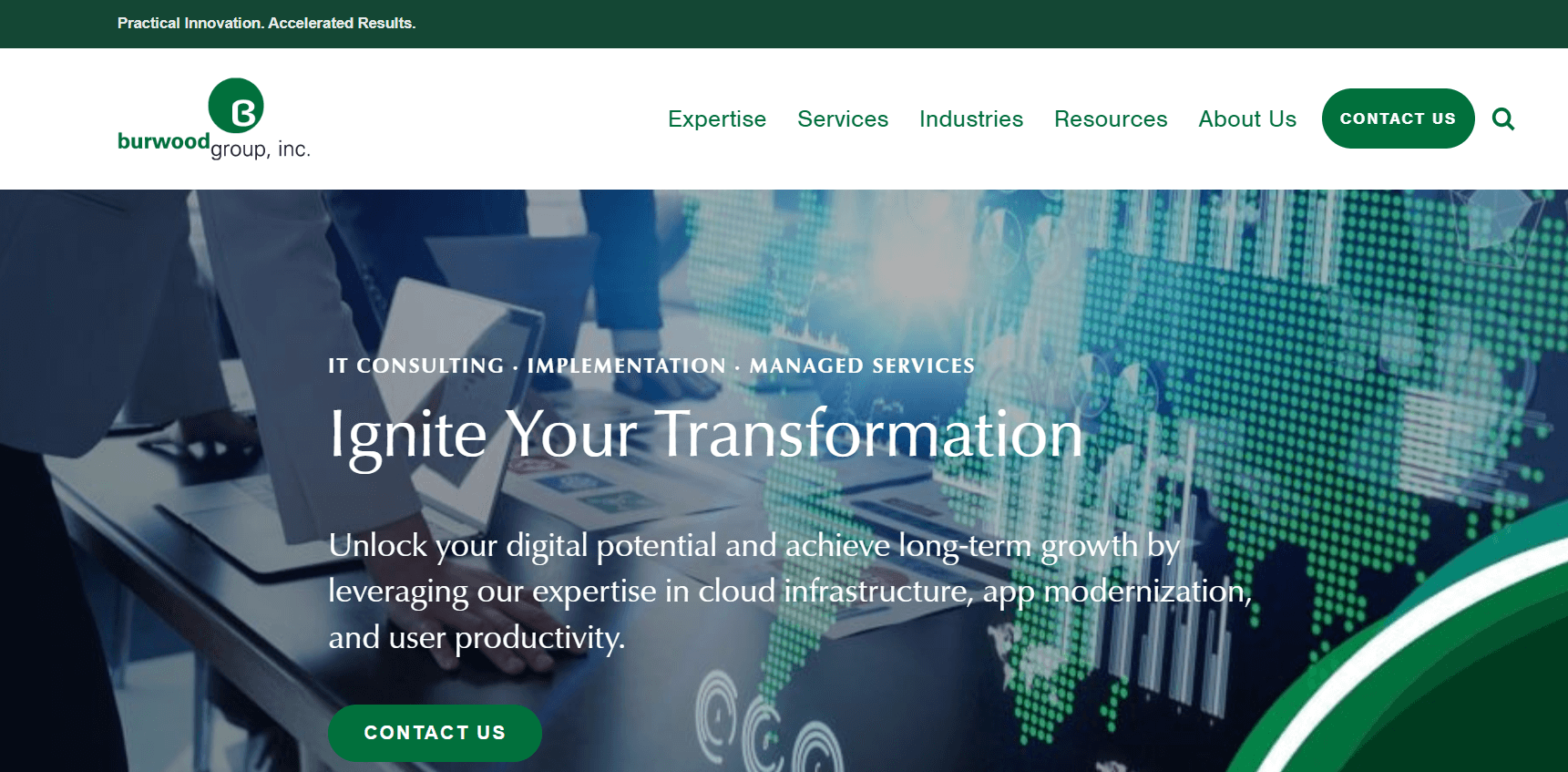 Burwood Group is an IT consulting and integration firm whose main services include:
IT strategy consultations
24/7 IT support services (for troubleshooting IT issues)
Cloud services (including support for Microsoft Azure and Google Cloud solutions)
Application development and modernization
Cybersecurity consulting services
DevOps support
They have locations in Chicago, St. Louis, North Carolina, Southern California, and Southern Illinois. However, they also offer remote support across the nation.
You can read case studies for Burwood Group here.
Electric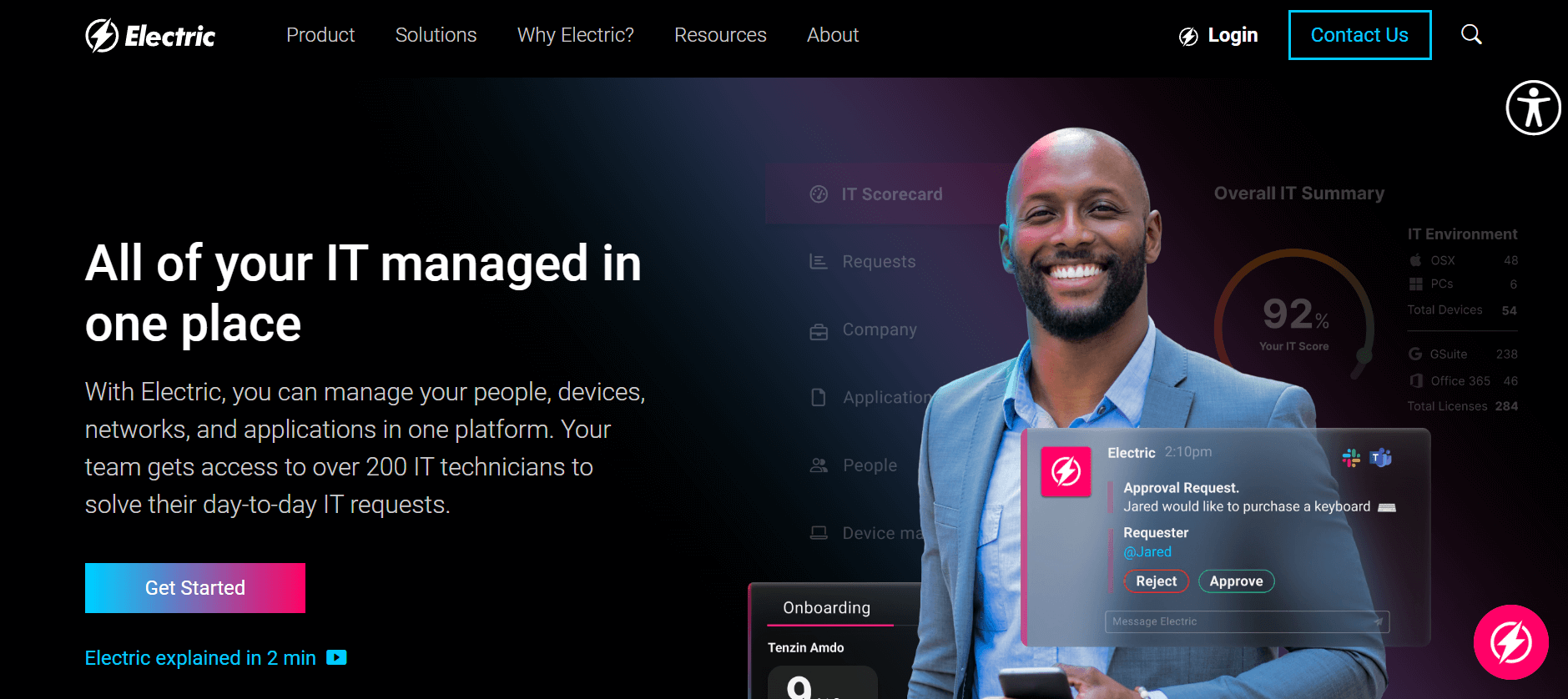 Electric is an IT services company that focuses on day-to-day IT needs for small and medium-sized businesses. Their main services include:
24/7 IT support via Slack and Microsoft teams (with six minute response times on average)
Employee onboarding and offboarding
Cloud environment licensing management
Security guidance and breach prevention
Security policy tracking
Device management dashboard
Network monitoring
You can read case studies for Electric here.
All Covered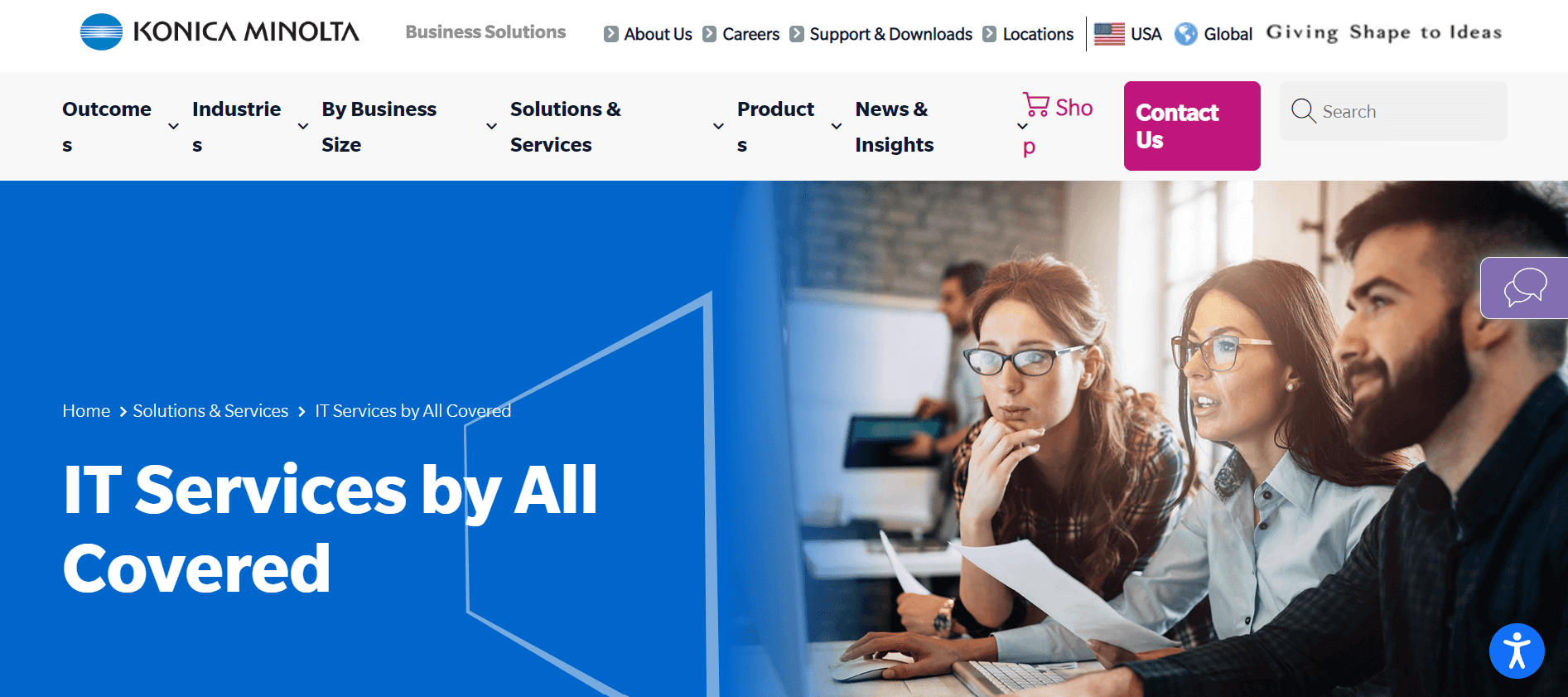 All Covered is the nationwide technology services division of Konica Minolta. Their main services include:
Cloud-based solutions (including bandwidth and connectivity control)
Print management (with an emphasis on reducing downtime)
End-to-end device life cycle management
Network infrastructure monitoring
Information and IT systems security
Application development
Information management (powered by AI and robotic process automation)
You can read case studies for All Covered here.
Ntiva provides fast, 24/7 IT support, advanced cybersecurity solutions, and expert consulting to help you align your IT environment with your business goals. To learn more about how Ntiva can help you save costs, increase productivity, and get the most out of your technology, book a consultation today .

Want to learn more about Managed IT Services for your business? See Ntiva's Managed IT Services.
Managed IT Services and Support
Managed Backup & Disaster Recovery Service
IT Support for Employee Onboarding & Offboarding
IT Help Desk Services and Support
Managed IT Procurement Services
Network Monitoring & Management
Managed Remote IT Support Services