Reliable On-Site IT Service
There have never been more options for remote IT support than there are today. However, while remote IT support offers tremendous benefits to organizations like yours, it can never fully replace the need for on-site technicians. That's why Ntiva offers the best of both worlds — the flexibility and service of remote IT support, coupled with the benefit of an in-person technician who can fix problems a remote session can't.
Why Choose Ntiva for On-Site IT Support?
What Is On-Site IT Support?
Sometimes the IT support your company needs can only be provided in person. In situations like those, Ntiva provides you with access to a network of experts to offer on-site services. These services range from support for one-off IT projects, physical installations and cabling, hardware support, and other hands-on services that can't be delivered by a remote IT support provider.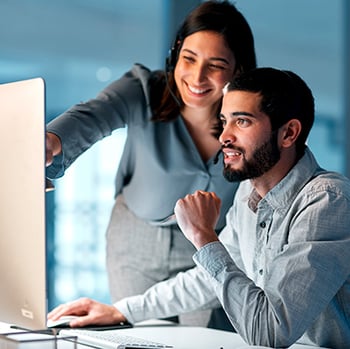 On-Site IT Service Benefits
Outsourcing your IT support is one of the most effective ways to improve service while also reducing your costs.
But for many people, the phrase "outsourcing" calls to mind a remote call center that accesses your systems from halfway across the world. What do you do if you need in-person help?
The truth is, you don't have to choose. Ntiva offers on-site IT support as part of our managed services. Here are just a few of the reasons you'll appreciate having on-site support as part of your outsourced services package.
Types of On-Site IT Services Offered
What kinds of on-site IT services does Ntiva offer? Just about any support that your end users need! While remote IT support can be a big help to your organization, on-site IT works especially well for the unique problems that your employees may experience. Here are just a few examples of the types of service an on-site IT technician can offer.
How Does On-Site IT Support Work?
Ntiva's managed services include on-site IT support tailored to the unique needs of your company. You can begin the process by talking to one of our consultants today!
Once you're ready to begin, we'll launch our discovery process. During this phase we'll learn about your challenges, your operational goals, and the needs of your organization. All of this helps to shape our approach and ensure we provide on-site support in a way that best aligns to your needs.
For more detail on how this works, you can review the four-phase onboarding process we provide to all new Ntiva clients. This process allows us to collect the vital information and knowledge we need to help prepare your business for success.
After onboarding is complete, you'll be all set to enjoy on-site IT support designed to help your organization succeed.
How Do End Users Experience On-Site IT Support?
If you've never outsourced your on-site IT support, you may be wondering what the experience will be like for your end users. Here's what a typical help request might look like: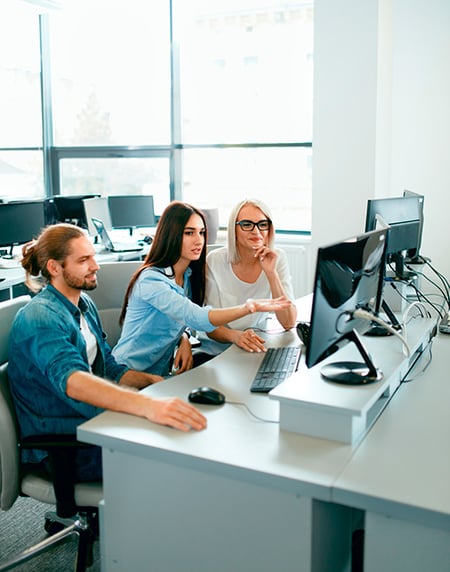 The end user requests help.
Whether it's a forgotten password, system lockout, or hardware failure, the first step for your end user will be to request help from IT support.


We dig into the problem.
To make sure your end user gets the right help, we'll ask a few clarifying questions to identify the problem they're experiencing.


We send in an expert.
Once we understand the nature of the problem, we'll send in our on-site IT technician to pay a personal visit to your end user.


The expert resolves the issue.
Once our on-site IT technician diagnoses the problem, the next step is to fix it. Our experts are trained to help get your end users up and running again in no time.


Our support team follows up after the fact.
To make sure that no new problems arose, we'll follow up with your end users to check in and ask if they need anything else. From start to finish, the productivity and success of your team members will be our top priorities.