Dark web monitoring can help keep data protected, so you can ensure sensitive information is kept secure. What is dark web monitoring? These services monitor the dark web for information that's being sold or traded. Ntiva's dark web monitoring services for businesses protect you from threats you might not have recognized. Use our dark web scanning services today to identify threats and keep your business in good standing.
Constant Protection, Quick Alerts, and Comprehensive Coverage
In addition to managed IT and IT consulting services, Ntiva offers dark web monitoring for business and individual use. We can contact you as soon as we learn your information is being shared on the dark web, so you can take action to protect your information before it's compromised further. We can even search many of the hidden corners of the dark web to ensure we're detecting compromised information as early as possible.
Protect Your Business and Data with Dark Web Monitoring
Ntiva offers some of the best dark web monitoring services by combining machine-based cybersecurity tools with the knowledge and experience of our team. Using a tool to perform a dark web scan for business can only do so much to detect information being sold or traded on the dark web. At Ntiva, we combine industry-leading technology with the knowledge of our experienced team to conduct scans of the dark web to keep you protected. Our cybersecurity services are designed to help you determine when your information is compromised on the dark web as soon as possible. That way, you can act fast to protect your business.
What are Dark Web Monitoring Services?
With dark web monitoring solutions from Ntiva, you get human and AI-powered monitoring that protects your information. Ntiva searches far and wide to discover compromised information in every corner of the dark web, including private chat rooms. Once we find compromised data, we notify you so you can protect your information, including:
Driver's license or ID numbers
Insurance ID numbers
Addresses
Email addresses
IP addresses
Phone numbers
Bank account numbers
Credit card numbers
Account usernames and passwords
Date of birth
Mother's maiden name
And more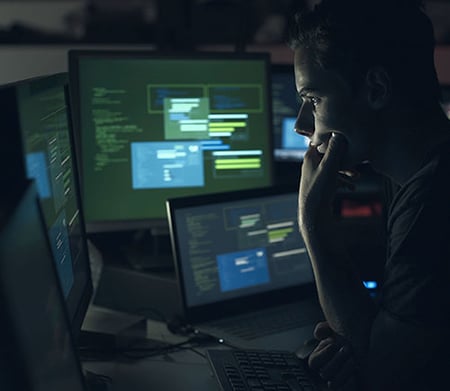 In order to offer the best protection for your business, Ntiva goes above and beyond to scour the dark web for any information that may have been shared. Check out some of the areas we monitor with our dark web monitoring services:
Private chat rooms

Private websites

Unindexed websites

Black market websites

IRC (internet relay chat) channels

Dark web social media platforms

Peer-to-peer networks

A collection of more than 640,000 botnets
Dark Web ID–Ntiva's Solution for Dark Web Scanning
While people play an important role in monitoring the dark web to protect your information, Dark Web ID is Ntiva's premier machine-based cybersecurity tool that assists with dark web monitoring. Dark Web ID allows Ntiva to combine human and machine efforts to monitor the dark web for information 24/7/365. Constant monitoring is crucial to making sure you're detecting data breaches as early as possible. Dark Web ID is powerful on its own, but it's even more powerful in the hands of a capable team. At Ntiva, our team uses Dark Web ID to help protect your information all year long.
How Does a Dark Web Scan Work?
A dark web scan begins with collecting and analyzing information, including potentially leaked data and attack chatter. The next step is assessing the risk and alerting the affected business or individual, at which point your cybersecurity provider can also offer expert advice to improve security.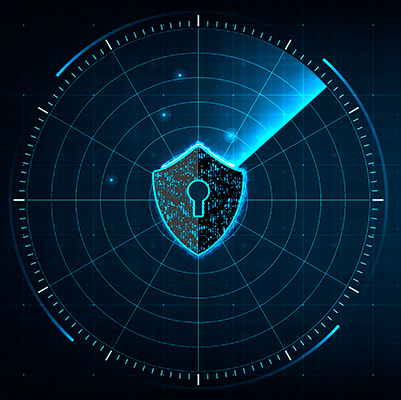 Collect Data:

The first part of a dark web scan involves collecting data from across the dark web. This is where choosing comprehensive dark web monitoring companies like Ntiva really benefits you. Ntiva uses Dark Web ID combined with human expertise to search every corner of the dark web, including TOR, ZeroNet, and popular paste sites. The goal is to collect any potentially sensitive information that may have been leaked on the dark web.



Scan Data to Identify Leaks:

Once we've collected data through scanning the dark web, we use artificial intelligence to inspect that data to identify potential leaks. We scan scraped data for your leaked data as well as any talk about potential data breaches or cyberattacks.



Assess Potential Risks:

After identifying leaked data or a potential attack against you or your business, we then assess the risks. If we pinpoint any chatter about a possible cyberattack involving your company, our team will recommend actions you can take to strengthen your cybersecurity to protect your data. We'll work with you to provide security recommendations if we detect leaked data that's already compromised.



Send Alerts and Take Action:

Once completing our dark web scan and our analysis of the information we pulled from it, we'll send out alerts to let you know about any illegal activity on the dark web that involves you or your business. These alerts are the final key to our dark web monitoring services, and we notify you as soon as possible so you can protect yourself from fraudulent activity.
Be Proactive Against Attacks and Leaks
The dark web is becoming increasingly popular year after year, and there are tens of millions of corporate usernames and passwords available on the dark web. As long as the dark web exists, it will be a threat to your business and any private data you may have. Dark web monitoring services can help you keep an eye out for any dark web activity that's related to your business, whether people are discussing a potential attack in a chat room, selling your passwords on a black market website, or leaking customer credit card information.
Millions of passwords, emails, IP addresses, and intellectual property credentials exist on the dark web. Criminal activity against corporations and executives owning this information has increased in recent years and will continue to increase.
With Ntiva, understand your digital footprint on the dark web and how to manage existing and potential risks.
Your digital footprint is the collection of information about you that's available on the internet. If you've ever signed up for a website using a username and password, that becomes part of your digital footprint. Most people have a relatively large digital footprint, which continues to grow as you add email accounts, social media accounts, and shopping accounts to your collection of web activity. Dark web monitoring allows you to manage potential risks involving your digital footprint by keeping an eye out for information that's being shared illegally. Constant monitoring with fast alerts helps you protect your digital footprint from the vast array of threats on the dark web.