Many IT support companies that claim to support Apple devices fall short in two key ways:
They only have one or two technicians with expertise working on

Apple devices. If those technicians are out of office or unavailable, you may not be able to get the support you need when you need it—no matter how urgent the issue is.


They use

Microsoft

tools to fix Apple issues.

While Microsoft tools can be used to find a solution for Apple products, those solutions are rarely a long-term fix. Eventually, the solution will break or there will be an issue that can't be solved using Microsoft tools.
These issues are often resolved if you choose a managed IT service provider (MSP) that's listed on Apple's certified consultant list. However, even among certified Apple managed service providers, there are differences in the service you will receive.
For example, some Apple-certified MSPs offer a 24/7 help desk run by non-technical representatives. These reps simply create a ticket for you and have a technician call you back, which causes delays. At Ntiva, we have experienced technicians answering our help desk so that you can immediately start troubleshooting the issue (more on this later).
In this article, we dig into the IT services Ntiva provides for Apple devices and share case studies to show how other companies have benefited from these services. We also provide an overview of additional IT services that make it possible for you to manage all aspects of IT—from Apple and Microsoft devices to regulatory compliance—with one provider.
Note: You can view Ntiva's profile on Apple's list of certified consultants here.
Table of Contents
Ntiva provides advanced IT services for Apple and Microsoft products. To learn how Ntiva can help you manage your entire IT network, meet compliance regulations, and more, book a consultation.
Easily Update and Manage All Apple Devices from One Platform
Whether you have 50 or 500+ employees, it can be a huge headache to manually install or upgrade software and apply specific settings on each company device.
For example, if you decide to upgrade to the newest version of Adobe Illustrator company-wide, you would have to go into each device individually, enter your Apple ID, install the upgrade, and make sure it's working properly.
Ntiva helps you avoid all of that manual work by helping you set up an Apple Business Manager (ABM) account and giving you access to mobile device management (MDM). With these two accounts, you can manage all of your Apple devices—from software downloads to app restrictions—in one place.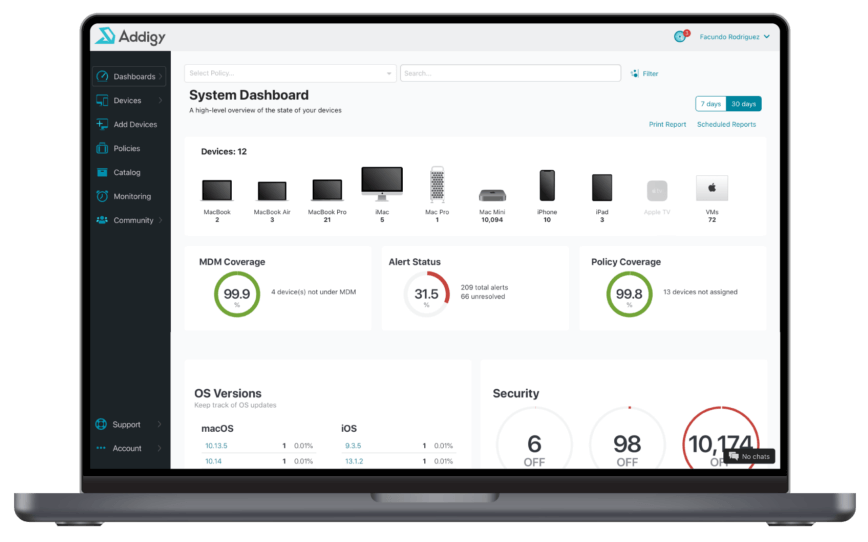 Source: Addigy platform
With your ABM account, you're given a business ID that you can use to buy mass quantities of software without raising any red flags. You can also use ABM to upload software to all your Apple devices at the same time.
For example, you can buy 400 copies of Adobe Reader from the Apple store and push that software out to all company devices from your ABM account.
MDM lets you remotely control settings and applications on each device. For example, if your employees are using iPads at a retail kiosk and you only want to allow access to certain apps, you can control those settings for all devices using your MDM account.
The MDM tool Ntiva uses—Addigy—also comes with a self-serve portal that gives your employees access to an app library that you control. This lets you give employees the flexibility to decide what tools they prefer to use while ensuring they only download appropriate apps.
Ntiva makes it simple for you to use and take full advantage of ABM and MDM by setting it up for you and showing you all the ins and outs of the tools.
Deploy New Devices with One-Touch Setup
Setting up a new device can be time-consuming and tedious. When it arrives, you have to do the basic setup (e.g., choose your language, timezone, etc.) and then contact your MSP to download the appropriate software, implement the right security settings, and more (or handle it yourself).
Ntiva allows for zero-touch deployment by providing you with a custom Apple ecommerce store where you can purchase new devices that arrive pre-configured to your organization's specifications.
For example, let's say you want all iPhones to have the Zoom and Salesforce apps installed. You also have specific security features that need to be applied to each one. If you purchase a new iPhone from your personalized Apple ecommerce store, it will arrive with all of that software already installed and all settings already applied.
This allows you to start using new devices anywhere (e.g., to a remote employee at their home) without the end-user having to do any additional setup or call the IT help desk. Not only is this convenient, but it also increases security because all company restrictions and security settings will already be in place when the user powers up the device for the first time.
View Your Entire Apple Environment from a User-friendly Dashboard
Your ABM account will provide an overview of all your Apple devices, however, it's somewhat limited. For example, while you'll easily be able to see information such as the model number or storage left on each device, ABM doesn't provide any insight into the security of those devices.
To solve these limitations, Ntiva gives you access to Vision-Bot—our proprietary Apple device management application.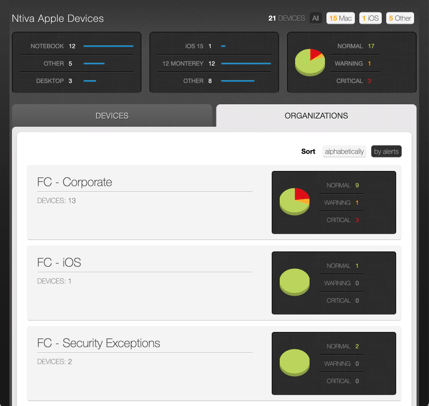 Vision-Bot lets you monitor your entire Apple ecosystem (from mobile iOS devices to Mac to Apple TVs) and easily see at a glance:
Security.

For both individual devices and your network as a whole, Vision Bot gives you a portrait of security gaps using graphics and summary data. Vision-Bot will also make recommendations for how to fix those security gaps.


Health.

Vision-Bot monitors the condition of your Apple devices (e.g., age, warranties) and identifies potential problems for you (and labels those problems according to severity). You can view this information in easy-to-understand, color-coded health reports.

Note: Vision-Bot will even identify which

Apple devices

are at the end of their

lifecycle

and ready for recycling so you can trade them in for cash or new products.


Inventory.

Vision-Bot makes it really easy to manage thousands of devices while keeping track of important information such as what applications are installed, hard drive usage, exact RAM configurations, and more for each device. You can view this information by device, department, user, and more.
It's really easy to find any report you need in Vision-Bot with the search feature. Simply start typing in a username, device, serial number, IP address, etc., and jump directly to a specific section. Plus, every device detail page includes a direct link to the device in Jamf Pro or Robot Cloud.
You can also receive weekly email summaries of any device, user, etc.
Finally, Vision-Bot allows for seamless integration with Jamf Pro, Druva Cloud Backup, and Apple Time Machine.
Get Long-Lasting Solutions for Every IT Issue with Apple Devices
Many MSPs that offer Apple support have a small team or aren't using Apple-native tools.
If your MSP only has one or two technicians in their IT department with Apple expertise, you'll likely run into situations where they're out of office (e.g., after normal business hours) or unavailable (e.g., helping another client). You could end up waiting days before your issue is resolved—which is unacceptable for critical issues.
Additionally, if your MSP isn't using Apple-native tools, you'll likely experience a problem that can't be solved using other tools. For example, technicians will only be able to remote-in to your computer if they're using an Apple-native tool, which means they won't be able to offer remote support without Apple tools. Plus, many companies also find that solutions created without Apple-native tools are more likely to break.
At Ntiva, we have over a dozen experienced Apple-certified technicians available 24/7. Our IT team has access to many different Apple-native tools and always uses the appropriate tool for the job.
Our 24/7 help desk is answered by experienced technicians (all based in the United States) so that you can start troubleshooting your issue right away. Calls are answered in less than a minute, on average, and 75% of IT problems are resolved on the first call.
Finally, we have offices all over the country and partner with many IT support companies to provide you with local support. Our technicians can arrive onsite in most locations across the United States within the same day (and often much faster).
Further reading: 24/7 IT Support Services

Secure Every Device with Advanced Cybersecurity Solutions
While Apple devices are known for having more advanced default security settings than other brands, these settings are still rarely enough to keep your devices and company information secure.
For example, most cyberattacks are targeted at employees. The goal is to trick employees into sharing sensitive information or providing access to the company network. The only way to prevent this type of data breach is to properly train your employees—security software on your devices isn't enough.
Plus, most security regulations (e.g., HIPAA, CMMC) require additional security measures such as a 24/7 security operation center (SOC).
Ntiva has been helping companies of all sizes in different industries secure their IT network and meet compliance requirements for over 20 years. Ntiva offers many advanced security services including:
Phishing prevention training.

We handle everything from creating training material to sending out tests to documenting all training activities for you. This documentation will be required by your insurance company if you ever submit a claim.


24/7 SOC.

Our cybersecurity experts watch your network around the clock and immediately take action if anything suspicious is found.


Endpoint

detection and response (EDR).

EDR replaces the need for antivirus software by using AI and machine learning to identify all forms of cyberattacks. If anything is found, our SOC team is immediately alerted.


Virtual Chief Information Security Officer (vCISO) services.

Ntiva makes top-level security experts available to you on an as needed basis, so you can get the advice you need without the cost of a full time security officer.


Further reading: 6 Top Managed Security Service Providers (MSSP): 2023 Guide
Manage Your Entire IT Network from Apple to Microsoft with Ntiva
Many companies end up working with multiple MSPs in order to get the range of support that they need (e.g., Apple support, Microsoft support, compliance IT support).
Our clients don't have to worry about managing multiple MSPs because they can manage all their IT needs with us. We hold certifications with Apple, Microsoft, Dell, and more.
Ntiva's IT support services include:
24/7 U.S. based help desk support run by experienced technicians
Advanced cybersecurity services to meet an regulatory requirements
A wide range of cloud services
Application development
Onboarding and offboarding protocols
Procurement
IT consulting
Whether you're looking to outsource all or just some of your IT business needs, Ntiva can help. Book a consultation to learn more.

Want to learn more about Managed IT Services for your business? See Ntiva's Managed IT Services.
Managed IT Services and Support
Managed Backup & Disaster Recovery Service
IT Support for Employee Onboarding & Offboarding
IT Help Desk Services and Support
Managed IT Procurement Services
Network Monitoring & Management
Managed Remote IT Support Services