Reliable IT Infrastructure Services
Your stakeholders depend on your networks and digital services to be up and running 24/7. That can only happen if your IT infrastructure is able to keep up with the demand in a constantly changing environment.
Ntiva provides cloud IT infrastructure as a service (IaaS) to our clients so they can enjoy the peace of mind that comes from having a solid foundation for all their IT functions and services. We have the experience and expertise you need to implement a reliable infrastructure solution that won't let your stakeholders down.
What Is Managed Infrastructure as a Service (IaaS)?
Your IT systems and networks all run on a centralized IT infrastructure that requires regular upkeep and monitoring. Trying to manage this infrastructure yourself can require a serious investment of time, energy, and resources — often at the expense of other priorities.
But with managed IaaS from Ntiva, you'll have an expert team working around the clock to protect your IT infrastructure, leaving your team free to focus on more profitable ventures.


"We invested in the technology to bring the performance up. We were missing a partner who could help us with our monitoring, and provide us with technical depth."
– Mike Dipirro, CTO, Home State Bank
Benefits of IaaS
No matter how large or small your organization, you depend on your IT infrastructure to ensure your stakeholders can access your systems and digital services. Outsourcing your infrastructure services with Ntiva helps you guarantee these resources are always available when your stakeholders need them.
Here are six benefits of working with a managed service provider.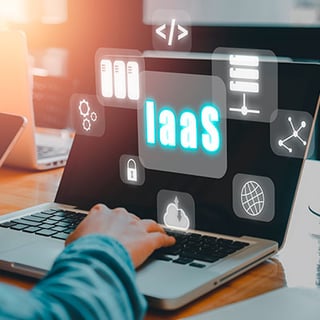 Types of Managed Infrastructure Support Offered
Why do organizations choose to work with Ntiva for IaaS? Because of our reputation, expertise, and experience. We understand what it takes to support and maintain the IT infrastructure that enables the rest of your networks and systems to run.
While every organization is unique, there are a few things they all have in common when it comes to IaaS. Here are a few of the managed infrastructure support services we offer.
How Does Managed IT Infrastructure Services Work?
Ntiva's managed IT infrastructure services are designed to meet the unique needs of your organization, with consideration for your users, stakeholders, and overall business objectives. You can start the process by talking to one of our consultants today!
Once you're ready to begin, we'll launch our discovery process. During this phase we'll learn about your challenges, strengths, weaknesses, and what you expect from your managed services provider. This information helps to shape our approach and ensures that address your most pressing needs to strengthen and support your IT infrastructure.
For more detail on what it means to hire Ntiva, check out our four-phase onboarding process for new clients. This phased approach helps us to collect the vital information and knowledge we need to equip your business for the best possible outcomes. Once this process is complete, you'll be ready to put our cloud security services to work for your organization.