Close Your IT Security Gap with Cybersecurity Services
Cyber threats are everywhere, and are constantly changing.
It's almost impossible for most businesses to maintain a fully staffed, full time, on site IT security department that can provide the cyber strategy and protection needed today.
That's where Managed Cybersecurity Services comes in.
24/7 security monitoring, management and remediation provided by a dedicated team of cyber experts
Layered protection, starting with a security assessment and offering high availability SOC, SIEM and more
Access to skilled cybersecurity consultants including Virtual CISO services and cloud security services
Predictable monthly spend without the worry of recruiting and maintaining cyber professionals
82% of IT professionals said they have either already partnered with, or plan to partner with, a managed security service provider (source: wikipedia)
Ntiva provides a wide range of cybersecurity consulting and fully managed cyber security services that can protect your business from unrelenting attacks around the clock.
Reach out to us and set up an exploratory call to see how we can help you with your cyber needs!
Learn How Ntiva Delivers Managed Security Services


Should You Be Concerned About Cybersecurity?
To answer that question, it's helpful to first understand why cyberattacks happen. Most hackers and cyber criminals are motivated by the potential for monetary gain. But some are in it for the thrill alone, while others focus on political reasons. Here are the top reasons behind most cyberattacks:
1. Steal sensitive information that can be used or sold for profit.
2. Extort the business (e.g., ransomware attacks).
3. Disrupt services.
4. Make a statement (often political).
One thing is certain: Hackers are becoming more innovative, more professional, and more ruthless.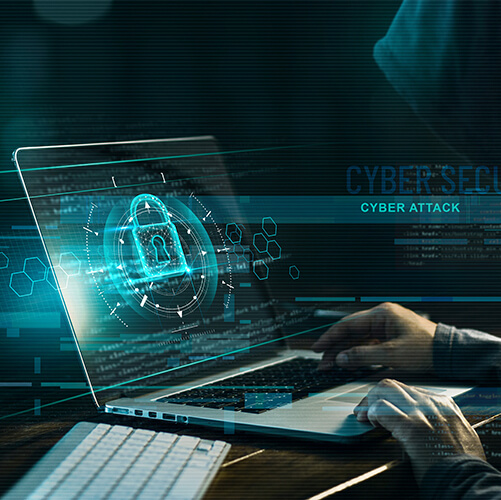 Emerging Cybersecurity Risks
In 2019, ransomware caused a breathtaking $11.5 billion in damage. The average cost of a ransomware attack was estimated at $141,000—up more than 200% from 2018.
Cyberattacks powered by artificial intelligence (AI) and machine learning are also increasing. Hackers armed with these disruptive technologies are able to develop smart malware that can pinpoint vulnerable targets with lightning-fast speed and startling accuracy. AI and machine learning can enable hackers to bypass spam filters and get around anomaly detection engines.
And this is where things get tough. Most businesses don't have the resources to effectively combat cyberattacks, especially as these attacks constantly change and evolve. And hiring an in-house cybersecurity team is out of reach for the average company, especially in light of the current cybersecurity skills shortage.
If all of this concerns you, it should. And while you might initially focus on protecting your hardware and software, there are many ways hackers can break into your systems, including:
Clearly, a comprehensive approach to cybersecurity is warranted. That said, many businesses still fall short of building the security strategies needed to fully protect their systems and sensitive information. Ntiva's cyber security services fill that gap.
Common Cybersecurity Mistakes
Many small and medium-size businesses lack the resources or time to be more proactive about security. Or they may believe (mistakenly) they don't have enough valuable information to steal. This leads them to make some classic blunders.
Here are the top five most common cybersecurity mistakes we see companies make:
Inadequate security training. Did you know the #1 tactic hackers use to gain access to a small business is malicious email? Employees are typically the weakest link in the security chain. It's therefore essential to educate staff on cybersecurity best practices.


No acceptable-use policy. Do your employees know what they can and cannot do on company devices and networks? Many businesses don't bother to develop clear policies around internet usage, email usage, software installation policies, password policies and downloading attachments—which leaves employee devices vulnerable.


Not keeping software and systems up to date. It sounds so simple, but many companies neglect to keep operating systems updated. (Including the IRS, believe it or not. Read up on the risks of outdated technology.) Cyber criminals are famous for exploiting old software vulnerabilities. Businesses must be diligent about software updates and patch management.


Not managing access and admin privileges. All users should have the privileges necessary for doing their jobs—and no more. Viruses spread readily in an environment in which users have more access than is necessary. It may seem convenient to give some staff local administrative rights on their computers, but those rights can put the entire organization at risk.


Not having a backup and disaster recovery plan. If you experience a data breach, do you know what to do? How will you secure your network to protect data from further damage? How will you inform partners and customers? Every business needs a business continuity plan that includes an on-site solution for rapid recovery of data and an off-site (cloud) solution for a catastrophic situation.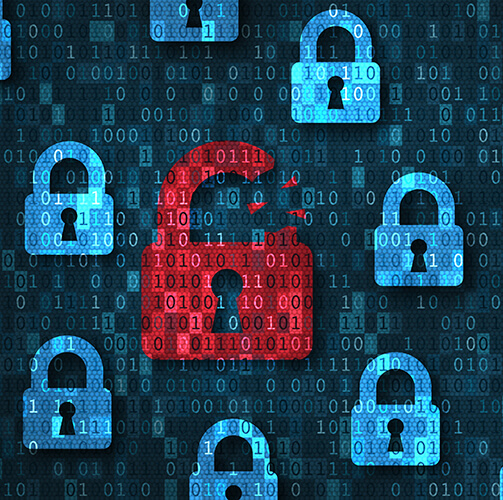 How Can You Improve Your Cybersecurity?
Understanding you have risks and vulnerabilities is one thing—but knowing how to build a comprehensive security strategy is quite another. Our cyber security consulting team can help you guard against IT security threats that are only getting worse, year over year.
If you're not sure where to start, we recommend every company prioritize these six cybersecurity tactics:
1. Upgrade your network security infrastructure, starting with your firewall.
2. Perform regular software updates and patches.
3. Secure the network edge.
4. Improve physical security.
5. Implement cybersecurity awareness training.
6. Conduct cybersecurity risk assessments.
Let's dive into each of these in more detail.
1. Upgrade Your Network Security Infrastructure, Starting with Your Firewall
Most legacy networks are not equipped to deal with the sophistication and frequency of today's cyberattacks. Assess your infrastructure thoroughly to determine network security viability, then create a prioritized plan to address any deficiencies.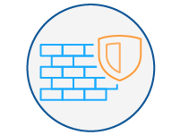 First and foremost, start with your network firewall. While legacy firewalls do provide basic packet filtering, inspection and VPN capabilities, they typically are unable to protect against current threats. Most legacy networks are not equipped to deal with the sophistication and frequency of today's cyberattacks. Assess your infrastructure thoroughly to determine network security viability, then create a prioritized plan to address any deficiencies.
Next-generation firewalls (NGFWs) provide more comprehensive threat protection, including application control, intrusion protection, antivirus, and deep packet inspection. A best-of-breed NGFW will perform all these functions simultaneously with no performance degradation, while also offering integrated security management and scalability to meet future requirements.
2. Perform Regular Software Updates and Patches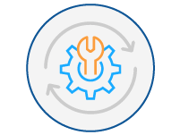 Aging software is especially susceptible to cyberattacks. If you're not convinced, consider the Equifax breach, which exposed the personal data of more than 140 million Americans. According to security solutions provider McAfee, "The hackers were able to access the credit reporting agency's data through a known vulnerability in a web application. A fix for this security hole was actually available two months before the breach, but the company failed to update its software."
All applications, operating systems, and security software should be reviewed regularly, and software updates and security patches subsequently applied. Identify any software that is no longer supported by the manufacturer or provider, so it can be upgraded or replaced.
3. Secure the Network Edge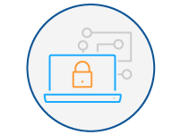 Many businesses make certain their data center standing at the core of their network architecture is secure. But what about branch offices, retail locations, and even the many connected IoT and mobile endpoint devices? In today's digital business environment, applications, workflows and information need to move seamlessly across environments—and your cybersecurity strategies must follow.
As the "network edge" becomes more fluid and harder to clearly define, focus on closing vulnerabilities wherever they may be. This means quickly detecting compromises and responding to those compromises in a rapid, comprehensive and appropriate way. To do so, you must have in place the right intrusion detection system and security incident response plan.
4. Improve Physical Security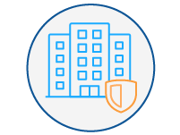 The International Organization for Standardization (ISO) provides an excellent reference resource for securing data and physical assets. ISO 27001 is the corporate security standard outlining best practices for information security management, including the protection of secure areas. Although it's natural to focus on the "cyber" aspect of cybersecurity, physical security is still critical. Restricting or denying access to computers, servers, and data centers is an integral part of protecting digital assets, as is educating users on effective physical security protocols.
These physical security measures should include:
Employing barriers to protect restricted or secure areas
Limiting entry information to authorized staff
Safeguarding sensitive equipment for hazards and natural disasters
Monitoring and controlling delivery and loading zones
Securing power
5. Implement Cybersecurity Awareness Training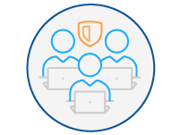 From phishing to pharming to inadvertent acts of negligence, employees are often your biggest risk vector. Therefore, one of the most effective ways to protect your organization is to create a culture of cybersecurity, where training is an ongoing process and your staff understand exactly which behaviors to avoid or embrace.
Simply telling employees how to create strong passwords and hoping for the best is not enough. Traditional classroom and computer-based training should be supplemented with less conventional approaches—multimedia, newsletters, daily email tips, and executive engagement.
6. Conduct Cybersecurity Risk Assessments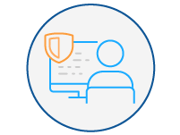 A structured risk assessment can help identify and address significant security gaps that may be putting your company's data, digital assets, and network at risk. A typical assessment involves defining the system, identifying threats, determining the potential impact, analyzing the environment, and finally calculating the associated security risk.
While an assessment can be performed on any application, asset, or process within the organization, multiple assessments may be too expensive and time-consuming to be practical. Instead, prioritize those systems or applications that are most critical to the business and represent the highest risk—then target those for review first.
Alternatively, some businesses choose to engage a partner with expertise in specialized information security services. The right partner should bring extensive experience to the table and should be capable of providing an objective view of your organization, as well as clear steps to remediate any issues they identify.
How Does Ntiva Deliver Cybersecurity Solutions?
Managed Security Services: Our Stand-Alone Package
As a small or medium-sized business, you might not have the resources you need to protect yourself from today's cyber threats. Ntiva understands SMB environments, risks, and budgets. That's why we offer an affordable, turnkey cybersecurity service to organizations that cannot afford to launch and operate a cybersecurity team in-house.
Our stand-alone managed security package delivers enhanced security protection, managed for you by a specialized team and backed by a Security Operations Center (SOC) around the clock. This plan includes: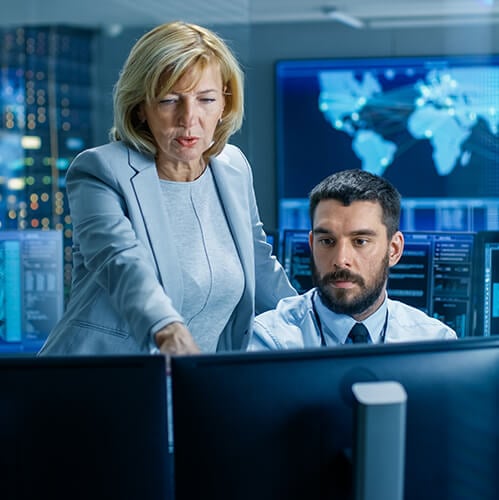 New Client Onboarding for Cybersecurity as a Service
At Ntiva, we pride ourselves on delivering an excellent customer experience from day one. To achieve this across a broad spectrum of industry verticals, our robust onboarding process includes four phases:
Phase 1: Service Definition
The definition of services is a crucial part of the onboarding process. We discuss every service outlined in the signed Service Agreement to ensure our team has an in-depth understanding of your business prior to on-site data gathering, process documentation, and ongoing support.
Phase 2: Data Collection
Our technicians visit your site to gather information about your IT environment and to begin the documentation process. Their extensive engineering checklist covers such things as network investigation, security assessment, backup verification, server room inspections, and policy documentation.
Phase 3: Internal Information Review
The primary goal of this phase is to ensure your IT environment will meet your needs now and as your business grows. We review the information collected in Phase 2 with your dedicated team alongside our specialized senior technicians if needed.
Phase 4: Orientation Meeting and Service Handoff
Your Ntiva team meets with you to review your new client manual. This review includes a discussion of all findings, including recommendations for additional changes. It also includes the final tailoring of support procedures if needed. We schedule any recurring on-site visits and set up the cadence for recurring meetings between you and your Account Manager.