Comprehensive Managed Data Center Service with Ntiva
The data center is probably the most important part of your IT set up — it's the digital brain of your organization, where data is collected, stored, processed, and distributed. Ntiva provides comprehensive managed data center services to ensure that information is safe, secure, and easy for authorized users to access.
The servers located in your data center can run email and instant messaging services, host websites, provide cloud storage, enable e-commerce transactions, and so much more. Because of that versatility, server maintenance is crucial to the proper functioning of your digital tools.
But what's the most cost-effective way of making sure these servers run at their optimal capacity?
The answer is Ntiva. We can manage your data center for you, and our experience will ensure that your data center remains secure, safe, and reliable. That way, you can keep your operations running smoothly — and profitably — while we take care of your servers.
Why Choose Ntiva for Your Managed Data Center Services
Here at Ntiva, we know the proper maintenance of a data center is vital. It's why we manage them on behalf of our clients, while also offering the option of moving their data centers into our state-of-the-art facilities designed to house servers, protect networking equipment, and provide storage.
Clients who use our facilities have the option of maintaining their servers themselves (co-location) or allowing us to take care of the maintenance entirely. If you're not sure which is right for your organization, or you'd like to learn more, we're always happy to answer your questions. Just contact us to learn more.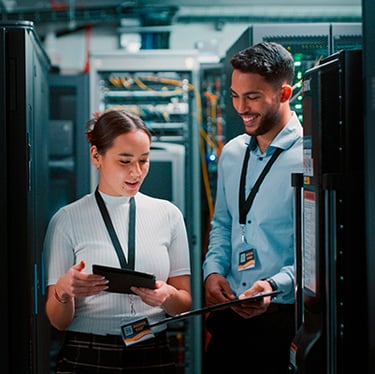 Types of Managed Data Center Support
Your organization relies on your data center for daily operations. Ntiva provides 24/7 monitoring and management to make sure your systems are safe, secure, and functioning well to support the success of your business. No matter whether your data center is on your site or ours, our comprehensive support services are designed to keep you up and running.
How Will Ntiva Work With Your Company?
Ntiva offers data center managed services designed to fit your needs and your budget. We'll begin with an initial consultation, during which we'll learn more about your organization, the challenges you currently face, and the strategic priorities shaping your business.
Following that, we'll begin a four-phase onboarding process that is designed to capture all the information and knowledge we need to support the project. This process is designed to be as thorough as possible, so that we can create a plan customized to the specific needs of your organization.
Once this onboarding process is complete, we'll create a plan for how we will provide and manage your data center services. Through implementation and beyond, we will continually look for ways to improve and refine our services so that you get exactly the support you need.
Your Servers are Safe and Secure With Ntiva