Reliable Help Desk Support Service
Do you need more help desk support? When your business is growing, there are times when your current IT support team just can't meet the long list of tasks that they are being asked to do. As part of our recurring Managed IT Services, Ntiva offers a U.S.-based service desk team that's on call 24/7/365.
No matter how big the problem (or how small), our help desk team is ready to serve your team to keep them happy and productive!
Why Choose Ntiva for Help Desk Support?
Our mission is to be a proactive IT partner, providing your business with what you need to succeed. That approach is reflected in the way we provide help desk support. Here's what sets us apart.
What Are Help Desk Services?
Your IT help desk should be a true technology partner, assisting your business and employees anytime IT needs arise. From answering questions and troubleshooting problems to helping you prepare for new changes in tech, your help desk partner should be the resource you turn to whenever you need some support.
What Is a Help Desk?
An IT help desk is staffed by a team of technicians for the purpose of providing support to your internal users. A remote help desk should provide employees with easily accessible, accurate, and quick IT support.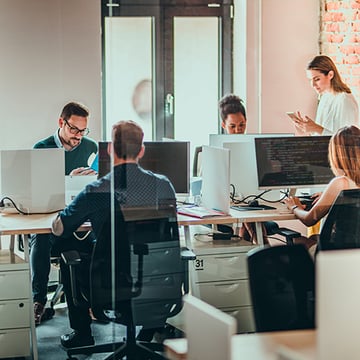 Help Desk Outsourcing Benefits
There are many reasons to choose an outsourced help desk for your IT support, from improving the closing rates on your tickets to saving your business time and money. Here are a few of the biggest benefits you'll enjoy by outsourcing your help desk services.
Types of Help Desk Support Services Offered
Companies rely on Ntiva for help desk services because they know they'll receive the support that they need 24 hours a day, seven days a week. Our technicians are expert problem-solvers, and they'll work with your users to resolve issues quickly and effectively.
Here are a few examples of the types of help desk support services Ntiva offers.
What Are the Costs of Outsourced Help Desk Services?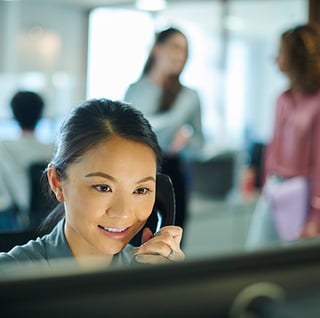 Ntiva's Complete Package starts at $84/month per user and offers a comprehensive plan for businesses that need around-the-clock support. Our Compliance Package starts at $99/month per user and includes enhanced security services for industries with advanced compliance requirements.
These packages come standard with our comprehensive onboarding program that ensures we can hit the ground running. Each package also includes core IT services like unlimited remote support, network monitoring and management, and backup and disaster recovery, along with cybersecurity services like endpoint detection and response and phishing prevention training.
Check out our full listing of the services each package includes.
Building out an internal help desk team probably costs more than you think. Beyond individual salaries, there's a significant amount of overhead and expenditures for benefits, training, equipment, and other expenses. The cost only continues to rise if you're trying to provide support to your users 24/7.
When you calculate the actual cost-per-ticket you pay to achieve resolution, you may be surprised to discover that outsourcing your help desk services saves your company money. You still get the expertise that you need, but without all the extra expense.
Want to learn more? Discover the cost savings of outsourcing your IT services.
Although the terms "help desk" and "service desk" are sometimes used interchangeably, there's a difference between these two kinds of support. As you think about the type of outsourced help you might need, it's important to keep them in mind.
Help desk support is focused on incident management. When something breaks for a user, the help desk is there to help fix it.
A service desk, however, offers additional support in the form of taking service requests and answering user questions or requests for more information. Both offer support for your users, but the one that's right for your organization really depends on the needs of your users.
When we talk about managed services, we're referring to outsourced services from a provider like Ntiva. For help desk services in particular, this means our help desk team will serve as the single point of contact for your users when they're in need of support.
When your users experience an issue, they can contact us at their convenience by email, by phone, or through a live chat. No matter when they need help, we'll provide around-the-clock support for problems big and small, from resetting their passwords to shoring up their cybersecurity.