Today, private equity firms encounter unique challenges that make it difficult for them to achieve their growth goals with merger and acquisition management.

One of these challenges? Technology. As firms grow, unaddressed technology issues significantly increase risk. This makes it vital to invest in the right technology stack, processes, governance, and a trustworthy partner to help you transform your IT infrastructure as efficiently as possible.
Ntiva is an IT services company that helps private equity and venture capital firms improve their scalability and operational efficiency with analytical and digital tools. Ntiva has extensive experience in the private equity industry, handling all IT-related needs while minimizing costs for their partners. The result? Robust IT solutions that help you overcome even your thorniest challenges.
Let's examine some of these challenges in detail, and how we can help you solve them.
Unique IT Challenges Facing Private Equity Firms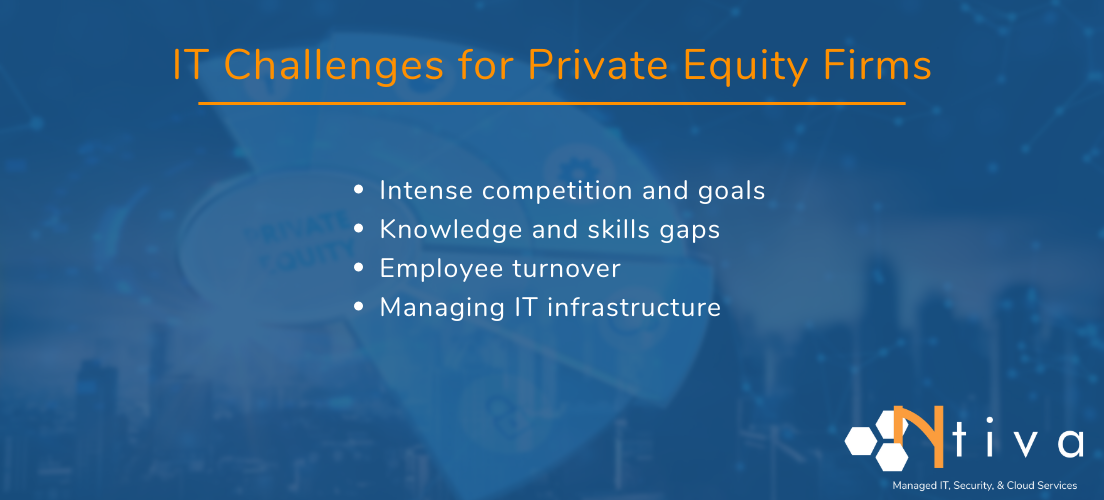 Today's rapid technological evolution continues to outpace most private equity firms' abilities to maintain on-premises IT environments effectively.
Many private companies in this industry lack the resiliency to upgrade and modify their IT infrastructure and take advantage of the latest technological innovations. This makes it difficult to maintain and manage these functionally deficient and costly IT environments, which, in turn, can hamper growth.
Here is a quick look at some of the unique challenges that can besiege private equity firms and their portfolio companies:
Challenge 1: Intense Competition and Aggressive Growth Goals
A significant challenge for private equity firms and their portfolio companies is the cutthroat competition among the key players in the private equity fund industry. Growing enthusiasm among investors has contributed capital of around $3 trillion over the past five years. As a result, there has been stiff competition in the private equity sector, making it difficult for companies to generate higher returns.
This makes it essential for your firm to strategize, gain insights, and expand smartly to accomplish your aggressive business objectives.
Your goal could be to achieve aggressive growth of assets under management and gross profit margins, and then exit the market within 10 years or less. But to do it right, you will need to grow two to four times faster than others in the same period while attaining higher EBITA with a lower headcount.
In short, aggressive goals and aggressive timeframes leave no room for IT-related roadblocks.
Challenge 2: Knowledge and Technical Skills Gaps
If your firm doesn't invest in bridging employees' skills gaps and inefficient processes now, you will have to pay for it in the future.
More than 80% of IT departments in North America have noticeable skills gaps that have grown by 155% over the last three years. While businesses do their best to adapt to the breakneck speed of progress in IT and digital technologies, they are having a hard time keeping up.
This can be a significant issue for human capital management and IT staffing, resulting in deployment and development delays while incurring considerable operating costs. These increasing costs add to your financial burden, while the skills gaps will continue to grow and debilitate your operations and processes unless you take corrective actions.
The remedy? Continual and strategic training. Educate your staff so they enhance their skillsets, improve productivity and can transition into bigger roles. Just remember that most IT project managers will tell you how difficult it can be to secure an IT budget and provide adequate training for all employees.
Challenge 3: Key Man Risk and Employee Turnover
High employee turnover harms your private equity firm's bottom line. With the constant hiring and training of new employees, you risk veering away from the core mission of your organization.
For private equity firms, unexpected employee turnover is detrimental, especially when the employee who leaves was the only person with key knowledge about specific aspects of the business. Addressing turnover is crucial early on, so you can review processes and identify the root cause, determine the associated costs, and put processes in place to mitigate this risk.
Challenge 4: Managing IT Infrastructure and Portfolio Companies
Another major obstacle for private equity investment firms is managing a uniform IT infrastructure across all platforms and portcos. It becomes very difficult to uncover and strategize around future IT limitations —and risks — when every portco is using a different setup.
Managing IT-related functions across your portfolio is demanding because you often have to make significant modifications that are expensive and an additional burden. But the risk of not dealing with these issues can be catastrophic.
That is why so many private equity firms turn to outside expertise.
How Can Outsourcing IT Help Improve Operational Efficiency?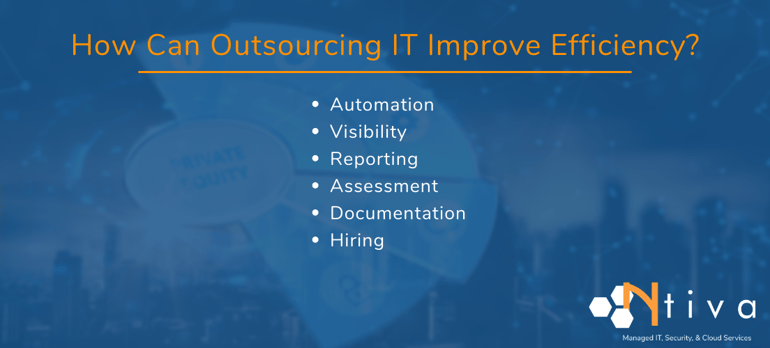 Ntiva is a leading managed IT service provider that helps businesses with cutting-edge technology support, customer service, and expertise. The ultimate objective of Ntiva is to help you increase efficiency.
As a private equity-backed organization, Ntiva has the first-hand experience needed to help your PE firm address and overcome portfolio challenges. Here's what Ntiva can do for you:
Enable process improvements through automation


Gain better visibility into your business processes


Deliver advanced reporting and analytics that help you with IT minimum and cybersecurity standards and improved decision making


Assess staff capabilities and performance when recruiting to determine knowledge/skills gaps


Eliminate key person risks by documenting your current state, putting the appropriate tools and processes in place to define and standardize, as well as create a backup plan


Hire your new company's internal IT staff to get the right employees working for you, supplemented with our experienced IT team
Fractional CIO Services
Orchestrating a strategic technology plan for a private equity firm is daunting for several reasons. Even if you have an internal team that is great at managing your IT infrastructure, their day-to-day workload likely gives them no time to even consider – let alone implement and analyze – the big picture.
Many firms choose the best of both worlds, working with a fractional or virtual CIO to provide in-depth insights and relevant solutions – without the executive-level staffing cost.
A seasoned fractional CIO oversees multiple companies with similar challenges and obstacles as yours and knows the right technologies to deploy for resolving specific problems. Apart from having technical proficiency, a fractional CIO also:
Provides processes and approaches to drive positive change


Sets vital initiatives, strategic priorities, and measures ROI


Offers valuable input on compliance and regulatory issues


Assesses your team's alignment and skills


Manages your technology path
To hit your growth or exit targets in your desired timeframe, you need to get your IT under control. IT infrastructure, networking, and security, if neglected, can significantly hamper your growth and efficiency. But with the right team of experts in place, your IT can be smoothly orchestrated, highly functional, and secure — adding even more wind to your company's sails.
Check out our guide, How to Choose a Managed Service Provider to help you make an informed decision for your private equity firm.
Want to learn more about IT Services and Support for Private Equity Firms? See Ntiva's Managed IT and Consulting Services for Private Equity Firms.