Managed Network Monitoring Solutions
Network monitoring and management is a crucial part of protecting your business from would-be threats. Ntiva's IT management services can help your business leverage IT tools to proactively identify and mitigate threats to your network. With 24/7/365 monitoring, you don't have to worry about downtime costing you money and causing your customers to lose trust in your company.
Ntiva takes a comprehensive approach to help businesses monitor networks and mitigate threats. We start with proactive monitoring and troubleshooting, which helps us discover potential issues at an early stage so we can minimize their impact. By identifying trends in your network, we can spot patterns that might indicate an upcoming network problem. We even offer help desk services to ensure you have all the IT solutions you need at your fingertips, which is why Ntiva is a top network monitoring company.
In addition to 24x7 network monitoring, Ntiva is committed to helping companies prevent downtime. Between lost sales and missed customer service queries, downtime can cost you money. Ntiva IT network monitoring helps you prevent downtime in several ways. First, we analyze data to discover patterns and indicators of potential problems. We also help prevent downtime by scheduling routine patches and system updates at convenient times, so you can update your systems without losing out on business.
Network management consulting from Ntiva helps you keep your network online, so you can always be prepared to help customers and make sales.
What is Network Monitoring & Management?
Networking monitoring and management is a service provided by IT companies with the goal of minimizing downtime and maximizing network security. This includes preventing downtime caused by network errors, outdated systems, and threats from hackers. Constant monitoring and data analysis help Ntiva keep an eye on your network at all times, stopping potential network problems before they arise.
Network monitoring and management involve a team of experts constantly monitoring your systems and network through security software. Cloud-based software minimizes the need for installing additional hardware, which means you can get quality cyber monitoring services without the expensive hardware.
Ntiva uses a wide range of tools and techniques to provide our remote network monitoring service. Data collection and analysis help us spot potential network problems before they crop up, but we also help you avoid downtime with streamlined and optimized network and system updates. In turn, these routine updates help keep your network and systems as secure as possible, so you don't have to worry about attacks that result from network vulnerabilities.
Here are some of the services that are included in Ntiva premium network service monitoring:
Data retention for up to one year
Forecasting using historical data to identify potential network issues
Constant monitoring of network devices, servers, storage, and applications
Insights based on forecasts and data analysis
Cloud-based security that minimizes hardware requirements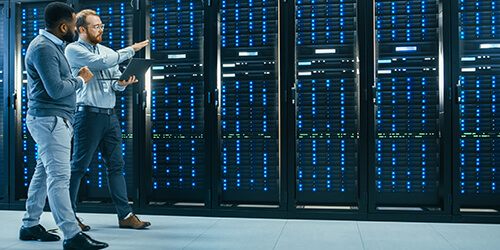 Benefits of Network Monitoring & Management
When you own a business, it's your job to make sure your network security and infrastructure are up to standards. Unfortunately, most business owners don't know the first thing about network service monitoring and how to protect a network. One of the biggest benefits of outsourcing IT services is the fact that you get stellar security without IT experience. Here are some of the benefits you can enjoy when you outsource network management services.
How Do Managed Network Monitoring Services Work?
Outsourcing network monitoring and management services to Ntiva starts with deciding on a budget and finding a service plan that works for you. We offer different network monitoring services for various businesses and industries, so you can get the services you need without paying for the ones you don't. We'll even work with you during the onboarding process to get a better understanding of your business and any regulations you must comply with.
At Ntiva, we make it our mission to provide streamlined IT solutions, including managed network monitoring and management. Even if you have next to no IT experience, we can help you figure out the best solution for your business. You can check out our managed IT services buyers guide to learn more about the services we offer and how they can help you secure your network and prevent issues.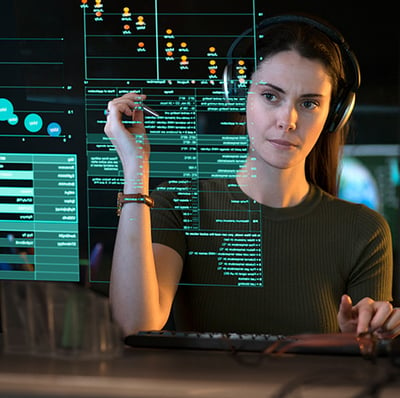 Network Monitoring & Management Services Case Study
When James Yount at Destra Capital needed help migrating the investment firm to Chicago with limited space available, Ntiva answered the call. Ntiva helped Destra Capital save space without sacrificing security by moving Destra Capital to a cloud-based solution. This allowed Destra Capital to trade in its company servers for a space-saving solution that utilizes thin client technology. The result? Destra Capital was able to easily make the move to Chicago, and the company is happy to use Ntiva network monitoring and management services to keep their company running smoothly.
Ready to Get Started with Network Monitoring?
If you need help boosting your ROI, avoiding downtime, and preventing security breaches, a network monitoring company is a perfect solution for you. Contact Ntiva today to learn more about our IT network monitoring services and how they can help your business.
See all of Ntiva's Managed IT Services