Our Support Makes Managing Servers Efficient
Ntiva offers comprehensive support to help you minimize downtime and more efficiently manage servers. With years of experience and hundreds of technicians waiting to help you at any time, Ntiva provides cutting-edge managed IT services and support for businesses of all sizes.
Ntiva can help you set up and secure servers, so your business can operate more efficiently and eliminate risks to your servers. By getting a better understanding of your business, the risks it faces, and its needs, our server administration services can help you keep a watchful eye on your servers and maximize efficiency.
What Are Server Management Services?
Server management services help keep your servers online, prevent security threats, and keep your servers up to date. Ntiva's 24/7 Server Management Services can help you avoid the potential security risks of managing a server in-house, many of which can cost your business a significant amount of time and money. With hundreds of technicians monitoring your servers and helping you keep them secure and up to date, Ntiva makes it much easier to prevent serious server problems.
We Support Multiple Platforms
Every business uses different tools to get the job done. Ntiva strives to provide comprehensive support for your server or data center regardless of the platform. Here are some of the many platforms Ntiva supports:
WordPress
Microsoft
Google Cloud Platform
Jenkins
Docker
AWS CloudFormation
CloudFlare
Webmin
OpenStack
Linux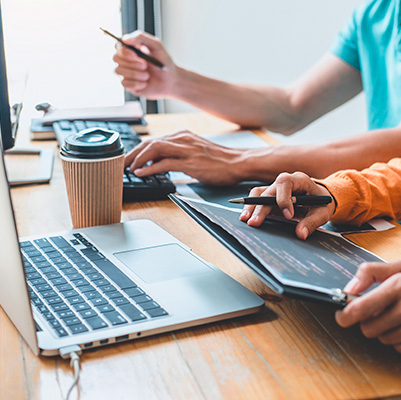 Supported Platforms

Let Our Experts Handle All Your Server Needs
The Ntiva Difference

As a business owner, IT can be one of the most difficult aspects of running a business. Many businesses struggle with IT services and server management because they don't have the right talent for the job. Ntiva has more than 18 years of experience as a server management service provider, including experience working with a wide range of platforms and business types. This means we have the knowledge and expertise to keep your servers up to date and prevent problems that result from poor server management. As one of the top 30 MSPs nationwide, Ntiva helps many businesses manage their servers and avoid IT-related issues.
There are many reasons for a co-managed IT partnership, especially when you partner with Ntiva. We provide 24/7 server management and monitoring across several platforms, which means you don't have to worry about taking care of updates and other routine tasks. If there's a problem with your network, Ntiva can alert you about the problem and troubleshoot to fix it. When it's time for an operating system or software update, Ntiva can ensure your server stays up to date without downtime and other common issues.
Ntiva has more than 350 technicians managing 60,000 devices, and we close more than 43,000 tickets each month. If you want to streamline IT and server management, Ntiva offers simple solutions for just about every platform and business.


Ntiva is Certified
Choosing the right server management service provider can be tough, especially if you don't know what to look for. Checking for certification is a good starting point when you're looking for the best managed IT services. Ntiva is certified to provide a wide range of IT services. Here are some of the certifications Ntiva has:
GDPR Compliance:

General Data Protection Regulation (GDPR) compliance means a company is in compliance with the standards regarding the collection and handling of personal data. Many modern businesses collect and store a lot of personal data, and GDPR compliance proves that you're handling that data the right way. GPDR certification means Ntiva can help your business maintain GDPR compliance.



Microsoft Gold Partner:

As a Microsoft Gold Partner, Ntiva is recognized by Microsoft for providing the highest level of customer care and IT services. This certification proves that Ntiva goes above and beyond to provide stellar IT services to customers.



DellEMC Partner Gold:

The DellEMC Partner program was created by Dell to recognize reputable IT service providers such as Ntiva. There are three tiers to the DellEMC Partner program, and Ntiva has achieved gold status.



Cisco Partner:

As a Cisco partner, Ntiva gets access to specialized training and other benefits that allow us to provide stellar IT services. Cisco partners are certified to provide valuable IT services, including server management services and more.



Apple Consultants Network:

Ntiva doesn't just provide IT services for Microsoft devices. Our knowledge and experience with Apple IT services have earned us a spot in the Apple Consultants Network, which means we're certified to provide comprehensive Apple IT services.
Certifications

How Do Server Support Services Work?
Ntiva provides server support services using a team of more than 350 technicians to monitor your network for any potential problems. If we spot a problem, we'll notify you if it hasn't been fixed in a short time period. In the meantime, Ntiva works to help you prevent these issues by helping you keep your server up to date. Routine operating system and software updates can prevent many of the IT-related problems that business owners face.
We know it can be difficult to make major changes to your business, so we make the onboarding process easy. We'll explain everything you need to know about our service support services and what your responsibilities are now that you're outsourcing server management. Ntiva makes the onboarding process as simple as possible, so you don't have to be an expert to get service from experts.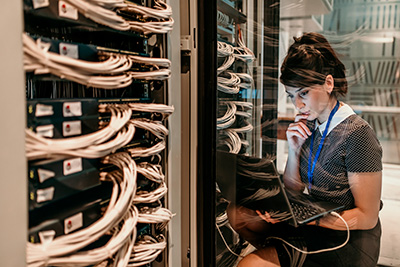 Server Management Case Study
What is a managed server service provider able to do for your company? In our case study on outsourced IT, our customer found outsourcing IT services like server administration and management gave them more time to focus on what makes their business unique.
Ready to Get Started with Server Management?
Ntiva can help you find solutions that work for your business without decreasing efficiency or affecting day-to-day operations. Contact Ntiva today to learn more about how a server management service provider can help your business.