Fully Managed Office 365 Business Support
As both a Microsoft Gold Partner and a Microsoft Cloud Solution Provider (CSP), Ntiva is able to offer a robust suite of Microsoft 365 solutions to your organization. These solutions are designed to boost productivity, improve workflows, and streamline your operations.
We take a tailored approach with our clients, and will help you select, deploy, and manage your Microsoft 365 platform so that you can focus on your core business functions.
Why Choose Ntiva to Manage Microsoft 365?
What Are Microsoft 365 Managed Services?
When you choose Ntiva for Microsoft 365 managed services, you get the support of a dedicated team of experts to manage your needs. That includes creating groups, securing email with updated spam filters, permissions governance, removing or adding new users, password reset requests, and much more. Your users get the support they need, and your team can stay focused on their key business priorities.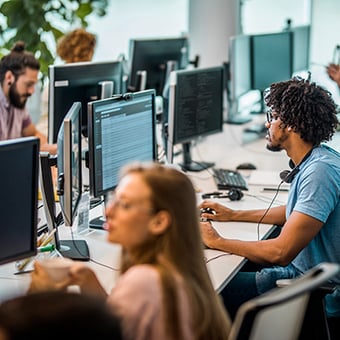 Microsoft 365 Managed Service Benefits
Working with a managed service provider gives your organization access to a full spectrum of IT services and support. Our team of experts is always on hand to help your organization get the most from Microsoft 365. Here are just a few of the major benefits you'll enjoy.
A Full Array of Office 365 IT Services
Microsoft 365 can be an incredibly powerful tool — but far too few organizations use it effectively. Ntiva helps companies implement and deploy this solution in a way that makes sense for their business. We also provide 24/7 support to ensure users never get stuck.
What makes Microsoft 365 the ideal solution for your business? Here are just a few of its main advantages.
Microsoft 365 Business Premium Apps and Services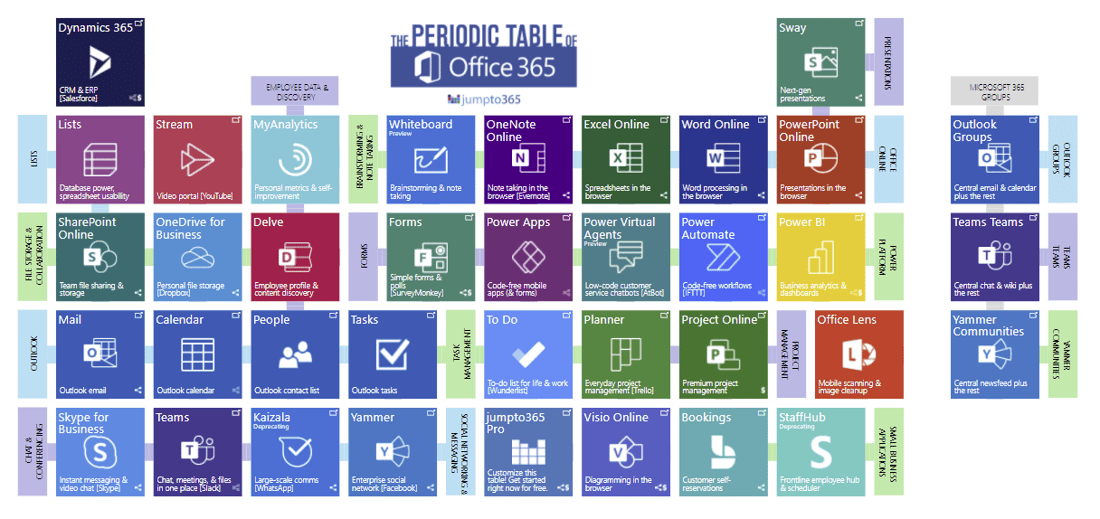 (image source)

Microsoft 365 is the most complete and secure cloud productivity and collaboration solution on the market today.
Integrated tools such as Teams, SharePoint, and OneDrive, along with Microsoft 365 Business Voice and built-in security features mean your employees can efficiently and securely collaborate across the organization, from anywhere and on any device.
However, many companies invest in Microsoft 365, migrate their email, and then only dabble with a few of the other applications on an as-needed basis, without understanding or taking advantage of the power of the full platform.
If you're confused by the diversity of Microsoft 365 applications and need help in selecting and utilizing the optimal set of apps for your business, we can help!
Learn more about these commonly used Microsoft 365 apps below:
What is the Pricing for Managed Microsoft 365 Support?
Ntiva offers two signature support plans, beginning at $84/month per user for our Complete plan. For companies with more advanced security requirements, we offer a Compliance plan at $99/per month per user.
This pricing is based on an assumption of 125 users. Both plans include core IT services such as unlimited remote support, backup and disaster recovery, managed workstations, and more. They also include cybersecurity services like managed endpoint detection and response, enhanced email security, spam filtering, and more. Customers on a Compliance plan will also enjoy additional cybersecurity services for industries with advanced compliance requirements.
Learn more about our plans and the services each one entails.
The Savings and Benefits of Choosing Managed Microsoft 365 Support
Outsourcing your IT support, including services for the Microsoft 365 suite, provides you with 24/7 access to a team of experts to monitor your networks, provide security, and solve problems more quickly than an in-house team can. Not only that, managed IT provides these services at a lower cost to your business than keeping your IT team in-house.

Check out the chart below to see how it compares.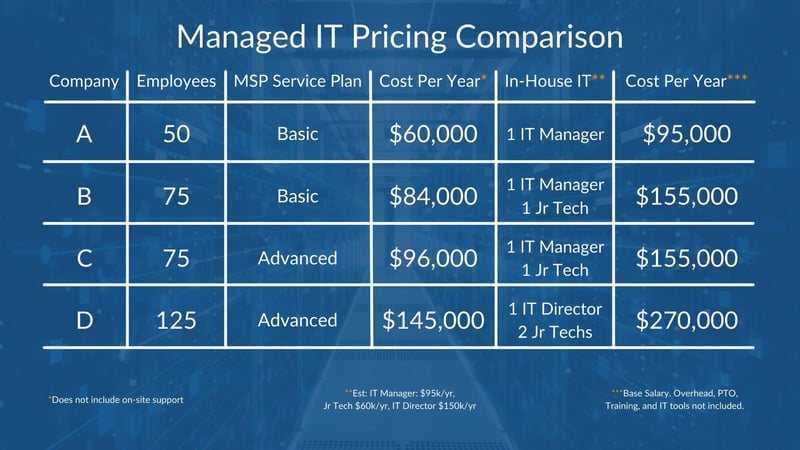 How Does Microsoft 365 Support Work?
Ntiva's managed services includes support for Microsoft 365, based on the unique needs of your company. Through our discovery process, we'll learn about your challenges, your operational goals, and the needs of your organization. This information then informs our approach, as we implement and deploy Microsoft 365 in a way that aligns with your needs.
To ensure we deliver an excellent customer service experience from day one, we also conduct a four-phase onboarding process for new Ntiva clients. This process allows us to collect the vital information and knowledge we need to help prepare your business for success.
Ntiva is a Microsoft Gold Partner
As a recognized Microsoft Gold Partner, you can count on Ntiva to provide the highest level of customer service and support when it comes to Microsoft 365. Work with us to get the most from your team and achieve your organizational objectives.