So many IT companies offer support in New York City and the tri-state area that it can be hard to know which provider you can truly rely on. Plus, not all companies offer both a responsive help desk and advanced IT compliance know-how.
For example, you may be able to find a managed IT service provider (MSP) with a responsive help desk, but they may not have the expertise to help you stay compliant with NIST (or any other regulation). Ideally, you'd be able to manage all your IT needs with one service provider and get individualized attention.
Ntiva has been helping companies in the tri-state area manage all aspects of their IT network from advanced cybersecurity to cloud storage for nearly 20 years. Our team is dedicated to building long-lasting relationships, which is why many of our clients have been with us for 10+ years.
"Bryles Research has been working with Ntiva for more than 11 years," says Scott Bryles, CEO. "They've been proactive. We are very happy with Ntiva's ability to provide strategic advice beyond the tactical "break-fix" service that many other MSPs provide."
In this guide, we provide an in-depth review of the services we provide at Ntiva, and share case studies to show what it's like to work with our team. Then, we briefly cover 9 more IT support companies in the tri-state area.
MSPs covered in this guide:
Ntiva technicians can reach anywhere in the tri-state area and across the U.S. Whether you're looking to augment your in-house IT team or outsource all of IT support needs, Ntiva can help. To learn more, book a consultation.
1. Ntiva: Personalized IT Solutions and Expertise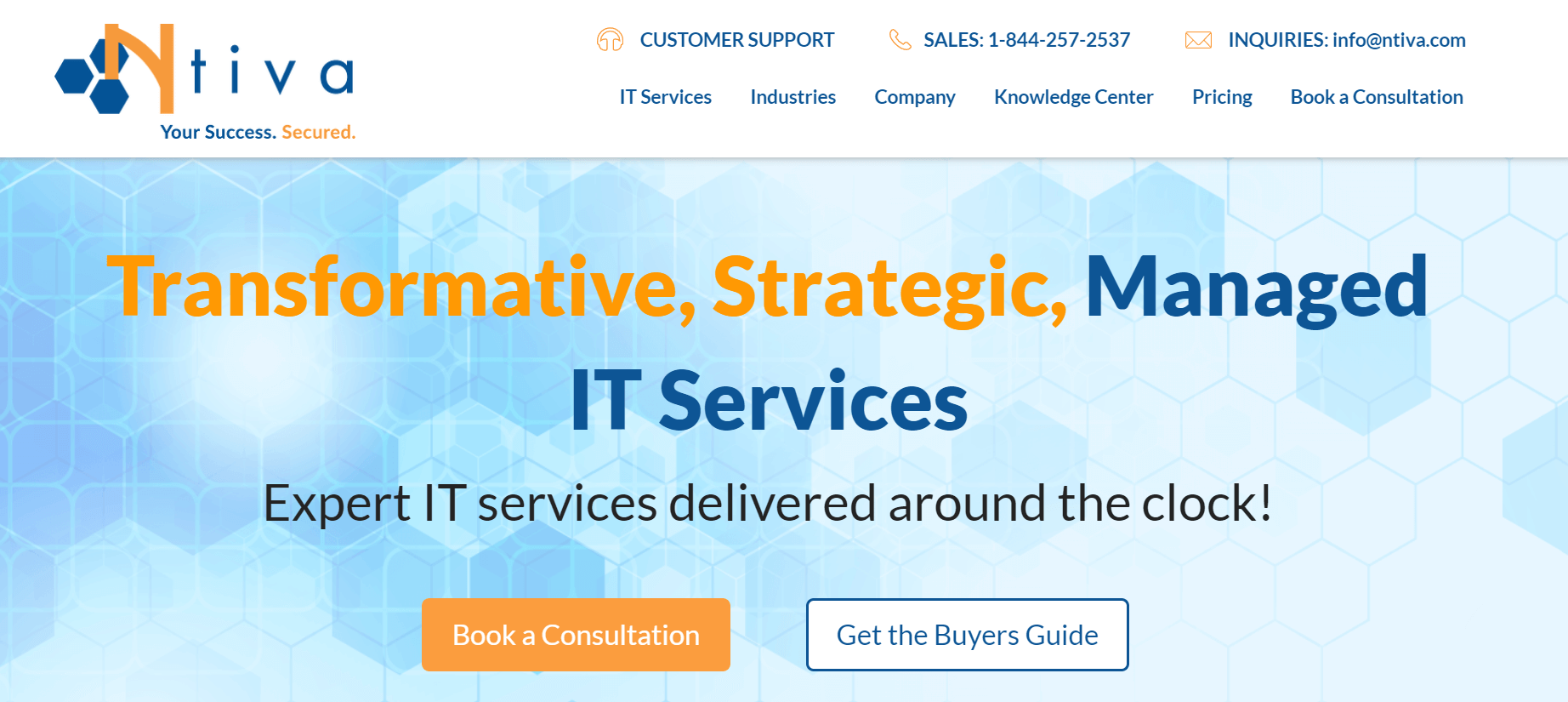 Ntiva has two New York locations—one in Queens and one on Long Island—which makes it possible for us to reach nearly anywhere in New York City in under 60 minutes (traffic permitting). We provide technology solutions and compliance support for companies in many industries including government contracting, nonprofit, legal, finance, healthcare, private equity, and manufacturing.
Many IT service companies only work within the contractual agreement. So, if you have an IT question about something that's not in the contract, you'll likely hear "Sorry, we can't help. That's not covered in the contract."
At Ntiva, we help in any way we can. Even if we can't directly work on the product (e.g., because the warranty stipulates that only the manufacturer can work on it), we'll get you in touch with the right people. Our team can facilitate three-way communication with outside vendors and resolve the issue on your behalf. (It's often much easier for our team to communicate and troubleshoot the issue with outside vendors rather than have your non-technical staff try to explain the situation and follow technical instructions.)
In the following sections, we dig into a few of Ntiva's foundational services and the services most used by companies in the tri-state area.
U.S.-Based 24/7 Help Desk
Most MSPs that offer a 24/7 help desk have three major downsides:
They're staffed by non-technical personnel who can create your ticket but can't solve the technical issue.
They assign tickets a priority level and address them accordingly.
They might not have U.S.-based staff, which can add language barriers to already complicated issues.
As a result, many businesses find themselves working with multiple technicians and waiting days or weeks before their tickets get resolved.
Ntiva solves all three downsides by having experienced technicians based in the U.S. answer the help desk line.
Our technicians are available 24/7 so that when you call in, you can start troubleshooting your issue right away. Calls are answered in less than one minute, on average, and 75% of issues get resolved on the first call.
Related: How to Compare Help Desk Managed Services (& See Ours)
CASEL, a 40-person nonprofit organization, was working with an MSP to augment their internal IT department. However, their IT service provider was slow to respond when issues arose and couldn't provide adequate support for Mac products.
Now, Ntiva provides CASEL with a responsive help desk, proactive IT support, and expertise for both Microsoft and Apple products.
"Even if [employees] put a ticket in, with the old provider, the issue was often not resolved. [It felt like] pulling teeth [to get them to do things.] Ntiva is great with managing both the Windows and Mac computers."
— David Terroba, Accountant, CASEL
Bonus: Full Support for Microsoft, Apple, and Dell Products
One consideration that often gets overlooked is whether or not the MSP you choose has the staff and tools to properly support all of your devices.
For example, many MSPs advertise Apple support, however, they only have one or two technicians with Apple expertise. If those two technicians are unavailable (e.g., out of office, helping another client), your issue will have to wait—no matter how urgent it is. Additionally, more often than not, MSPs try to use Microsoft tools to fix Apple products. These solutions are rarely a long-term fix, and eventually, you'll run into an issue with an Apple product that can't be fixed with Microsoft tools.
At Ntiva, we have over a dozen employees with Apple expertise and hundreds of employees Microsoft and Dell Expertise. All of our staff use the appropriate tools for the job (e.g., Apple-native tools on Apple products). Plus, we're listed as certified partners for Microsoft, Apple, Dell, and Cisco.

Fast Onsite Support (Often Within 60 Minutes)
While most IT issues can be resolved remotely, it's important to have onsite support available when you need it.
When you ask for onsite support, many MSPs will schedule a visit within the next day or two. At Ntiva, we send someone right away—day or night. If you're located in the tri-state area, we can typically have a technician onsite in an hour.
Additionally, many MSPs will charge you an ongoing fee just for the option of onsite support. Ntiva onsite support is always available at no additional charge. Instead, you'll only be charged if and when you need onsite support.
Mid-America Real Estate Group was hit with a broadcast storm at five of their locations that caused their main server to go down and wipe out their entire network. They reached out to an IT provider they had worked with previously and were told it would be up to five hours before they could get them up and running again.
Knowing that amount of downtime could ruin the business, they reached out to Ntiva. Our technicians went onsite and had them up and running within 45 minutes. They decided to form a long-term partnership with Ntiva to help avoid situations like this in the future.
"Rather than being reactive to trends or needs, we're being proactive! We're in a great place with Ntiva."
— Dan Hanson, Vice President, Mid-America Real Estate Group
All-in-One Cloud Service Support
When you work directly with a cloud service provider, you're limited to the services they provide. Many companies end up working with multiple cloud service providers to get the solutions they need (e.g., cloud security, data backup, virtual servers, and more).
On the other hand, if you work with an MSP, you:
Can leverage the expertise of IT consultants to help ensure you're choosing the best solution for your company.


Will have access to multiple cloud service providers (although some MSPs will only work with one or two cloud service providers, so your options may still be limited).


Can hand over the day-to-day maintenance of your cloud solutions.
Ntiva provides a very comprehensive suite of cloud solutions—from data backup storage to remote access desktop solutions—so that companies can consolidate all of their cloud management needs in one place.
Our cloud specialists can help you design a tailored-made solution that helps you cut cost and increase operational efficiency. We also help facilitate cloud migration and take over any ongoing maintenance tasks you choose to hand off.
Note: We cover Ntiva's backup and recovery services in a later section.
Finally, many cloud solutions use bandwidth pricing, meaning you're charged based on how much you use within a given timeframe. This can quickly add up and make it difficult to plan for the future. Ntiva's cloud services are offered for a flat-rate fee which makes it really easy to plan your budget and scale in the future.
Destra Capital was about to move their investment firm to a new location when they realized there would be no room for their physical servers in the new office.
Ntiva helped them quickly migrate to the cloud and continues to provide ongoing IT support and maintenance.
"Their help desk is very responsive … they worked their tails off to get us moved to the cloud in a timely manner. We are not going to look for a different solution—this is a permanent solution for us. It's easy to not have the servers anymore and have Ntiva monitor our systems and manage backup."
— James Yount, President and Senior Managing Director, Destra Capital
Advanced Cybersecurity for Compliance with CMMC, NIST, and More
Many MSPs offer a few cybersecurity services (e.g., antivirus software, ongoing security updates on devices), however, not all MSPs can provide the necessary security measures to truly keep your organization secure.
For example, many MSPs offer definition-based antivirus software. Definition-based antivirus software uses descriptions of known signs of potential threats and blocks any activity that matches that description. Any other type of activity is let through. This is an issue because it's impossible to include every type and variation of suspicious activity. Plus, cybercriminals are continuously thinking of new types of attacks to launch.
Additionally, few MSPs can offer the security services and expertise needed to meet regulatory standards (e.g., CMMC, NIST). For example, most regulation standards require a 24/7 security operations center to monitor your IT network. However, many MSPs are too small to run this extensive of an operation.
Ntiva is a managed security service provider (MSSP) in addition to an MSP, which means we have the tools, experience and bandwidth to meet compliance requirements and keep your IT secure.
Here are just a few of the security services Ntiva provides:
Endpoint detection and response (EDR): Ntiva's EDR replaces the need for simple antivirus software. It uses AI and machine learning to recognize potential threats, which means it can detect more threats while reducing the number of false alarms.


Security operations center (SOC): Ntiva's SOC monitors your IT network 24/7 for signs of threats and security weaknesses. Our team of security specialists also analyzes all of the activity identified by EDR to determine if it's truly a threat. If it is a valid threat, they scan your network for any additional signs of a breach. If anything is found, they immediately work to resolve the issue and restore your security.


Phishing prevention training: Many cyberattacks are aimed at employees with the intent to get them to accidentally release sensitive information or provide access to private networks. However, most MSPs leave you on your own to manage security training for you employees (which is often a huge undertaking). Ntiva provides and manages comprehensive phishing prevention training including sending out videos, test emails, and more. We even keep detailed documentation of all training activities (which is typically required by insurance companies in order to file a claim).

Finally, our staff of virtual Chief Information Security Officers (vCISO) are available on an as-needed basis.They're IT experts in security standards such as HIPAA, CIPA, CMMC, and more. Ntiva's virtual consulting services will help you meet these regulations and develop strategies for aligning your IT operations with long-term business goals—all without the cost of hiring a full-time CISO.
With Ntiva backing up your security, you can enjoy greater peace of mind and ensure you're meeting every compliance requirement.
Paradyme Management Inc., a leading technology development company, wanted to land contracts with large government agencies (e.g., DoD). However, in order to do that, they need to comply with NIST and CMMC standards. They wanted an MSP who knew government regulations inside-out and decided Ntiva was the perfect fit.
"One of the biggest advantages of working with Ntiva is they have a whole program for on-going cybersecurity education and training. The best cybersecurity measures in the world can easily be negated if your people aren't trained."
— Jocelyn Hsu, Chief Administrative Officer, Paradyme
Backup and Disaster Recovery
With thousands of companies and millions of people all competing for resources in New York, it's essential to have a thorough backup and disaster recovery (BDR) plan to ensure business continuity. However, not all BDR solutions are alike (e.g., cloud-based vs offsite physical data backup) and not all BDR plans will work for every company. That's why it's important to choose an MSP that will conduct a thorough investigation into your needs and budget and design a tailor-made BDR plan for your business.
With over 20 years of experience working with companies of all sizes in many different industries, Ntiva can help you design the right BDR plan to get you up and running right away if data loss happens. Your BDR plan will include where employees can find the necessary files to continue their job, who's in charge of each department in case of an emergency, how often data gets backed up, what data gets backed up, and much more.
We'll also take into consideration what the most cost effective and efficient solution is for your individual business.
Our team will handle the ongoing maintenance and data backup outlined in your BDR plan. And, in the event of a disaster, our team will respond immediately—day or night—to get you up and running as soon as possible.
A nonprofit organization was getting ready to host their biggest event of the year when one of their servers failed. They had a cloud-based data backup solution in place, however, they didn't have a detailed plan for how to recover that data. Plus, with the type of backup storage they had in place, it would take weeks to recover.
Ntiva technicians arrived onsite and were able to get them up and running in time for the event. After the event, Ntiva helped them update their data backup solution and create a more thorough BDR plan to help mitigate the impact of situations like this in the future.
If you think Ntiva could be the right information technology partner for your business needs, book a consultation today.
2. Power Consulting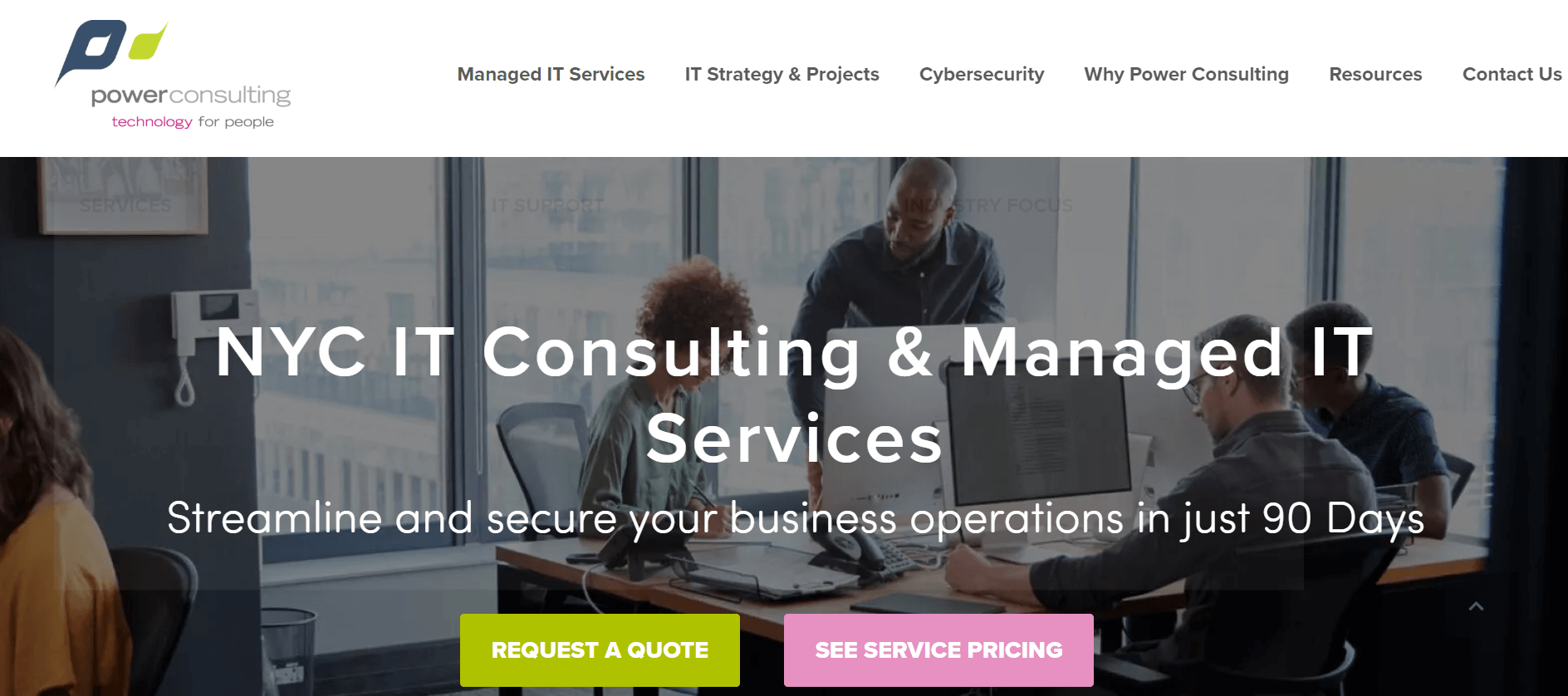 Power Consulting has an office on West 26th Street in New York, New York, however, they offer support to businesses anywhere in New York and New Jersey. They serve businesses in several industries, including law, finance, nonprofits, digital agencies, and education.
Here are some of Power Consulting's services:
IT management (e.g., VoIP phone setup, data center maintenance)
24/7 help desk support (+ onsite support)
IT systems monitoring
Network security services
Private cloud services
3. Red River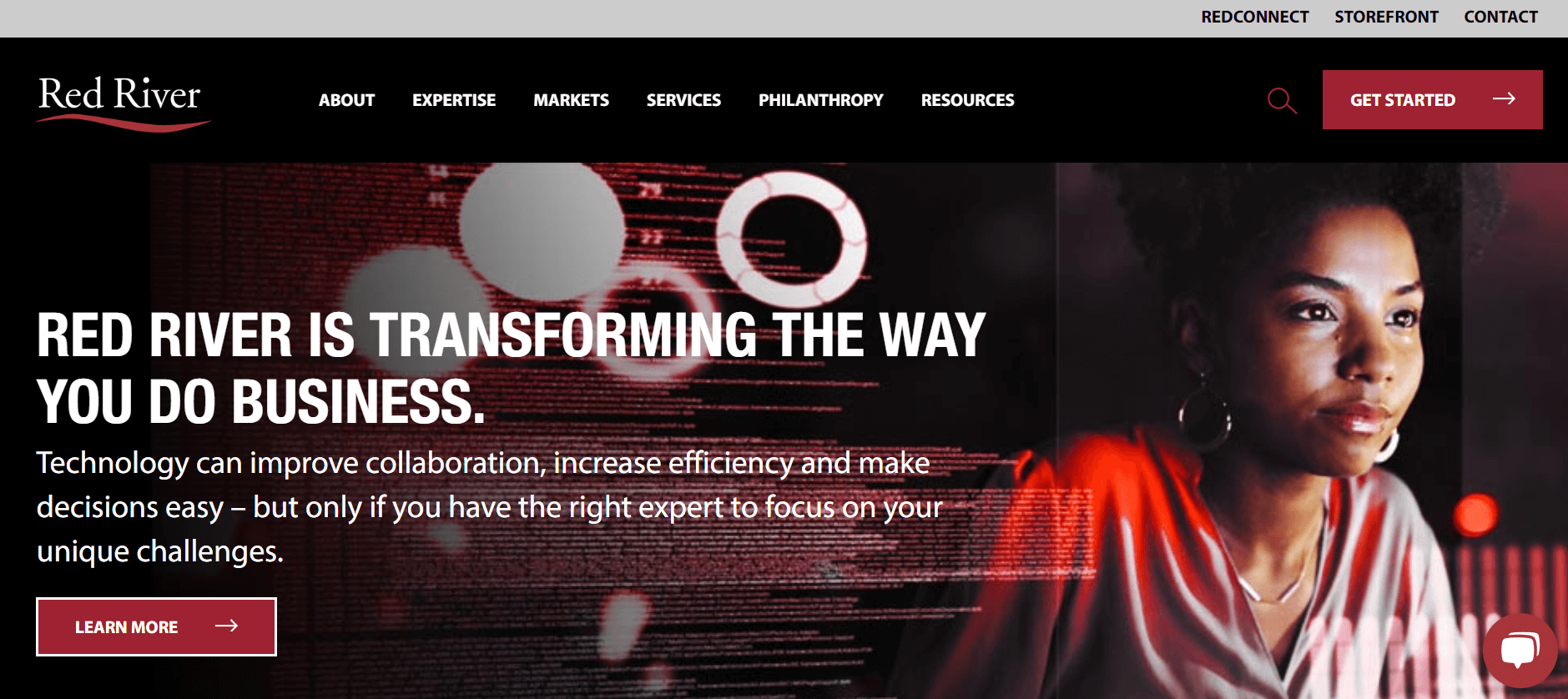 Red River is located in Claremont, New Hampshire, however, they offer IT support to businesses in New York, as well. They specialize in serving government and commercial markets.
Red River divides their technology services into three categories:
Professional — This category includes their IT strategy and residency services.
Managed — This category covers their full-service options such as Microsoft support and remote workforce assist.
Lifecycle — This category focuses on managing software updates and replacing outdated solutions.
4. Net at Work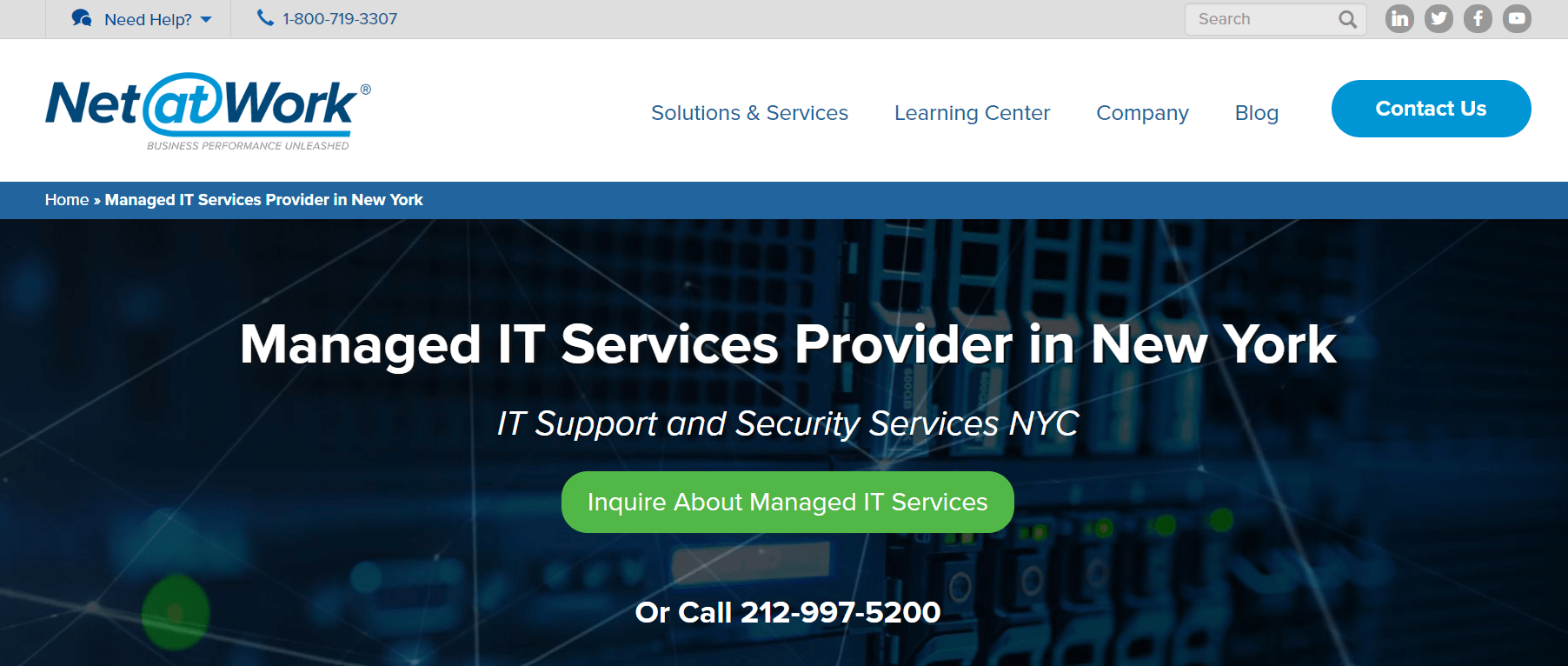 Net at Work has three New York offices: Buffalo, Rochester, and NYC. They also have an office in Totowa, New Jersey. They take a different approach to IT support by focusing on helping businesses choose the right business technology solutions and training them in those solutions.
Net at Work helps businesses in various industries find IT partners for:
ERP and accounting
CRM and ECM
Cybersecurity
Web solutions
Tax solutions
And more
5. Manhattan Tech Support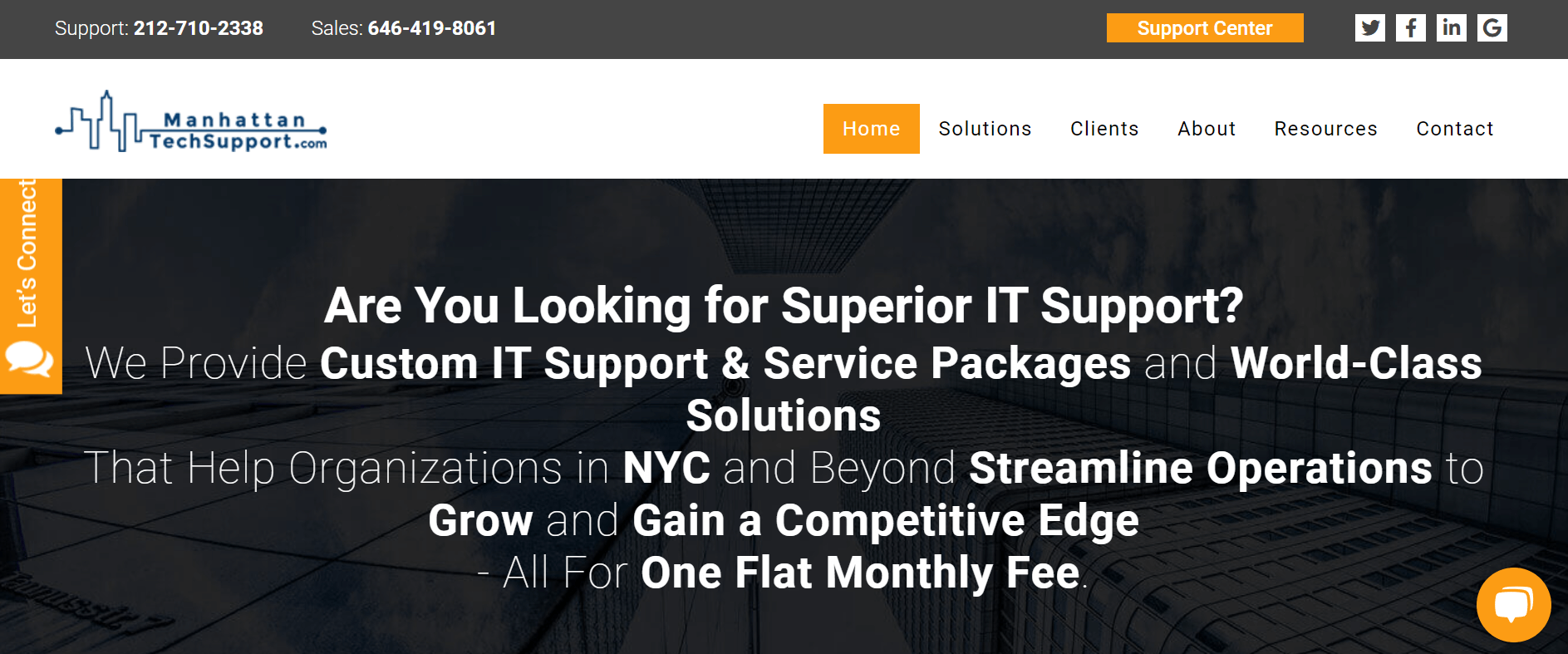 Manhattan Tech Support is located on West 39th street in NYC. They serve the following industries: finance, education, legal, real estate, construction, and healthcare.
Manhattan Tech Support services include:
Proactive network services (e.g., monitoring and maintenance)
24/7 help desk
Software development
Telecommunications
IT security services (including audits)
Business intelligence
IT strategy and consulting
6. Exigent Technologies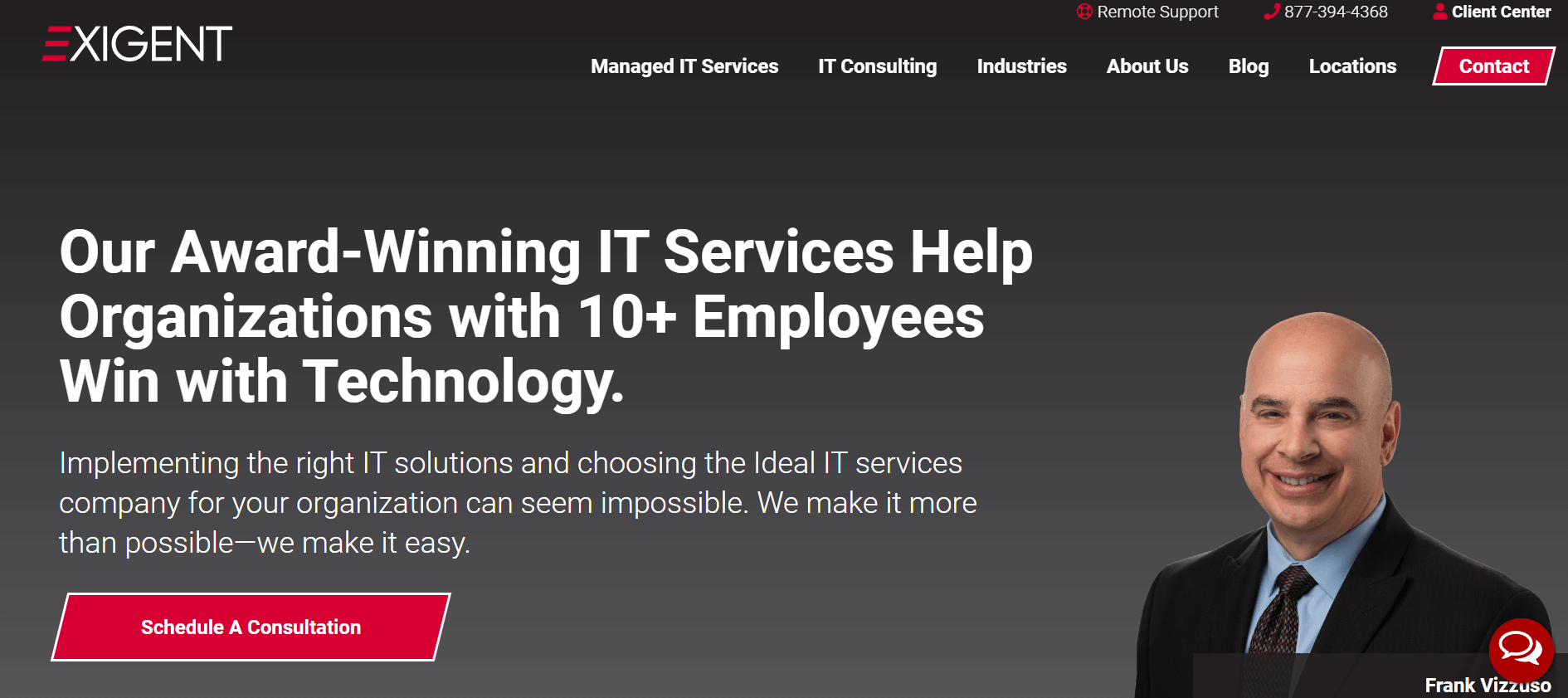 Exigent Technologies has locations in Morristown, NJ and Manhattan. They serve law firms and businesses in the healthcare, manufacturing, and nonprofit sectors.
Exigent Technologies offers many IT services including:
Firewall-as-a-service
IT system and security consulting
Microsoft 365 and Google Workplace backup solutions
BDR project management
Private cloud solutions
7. Netsurit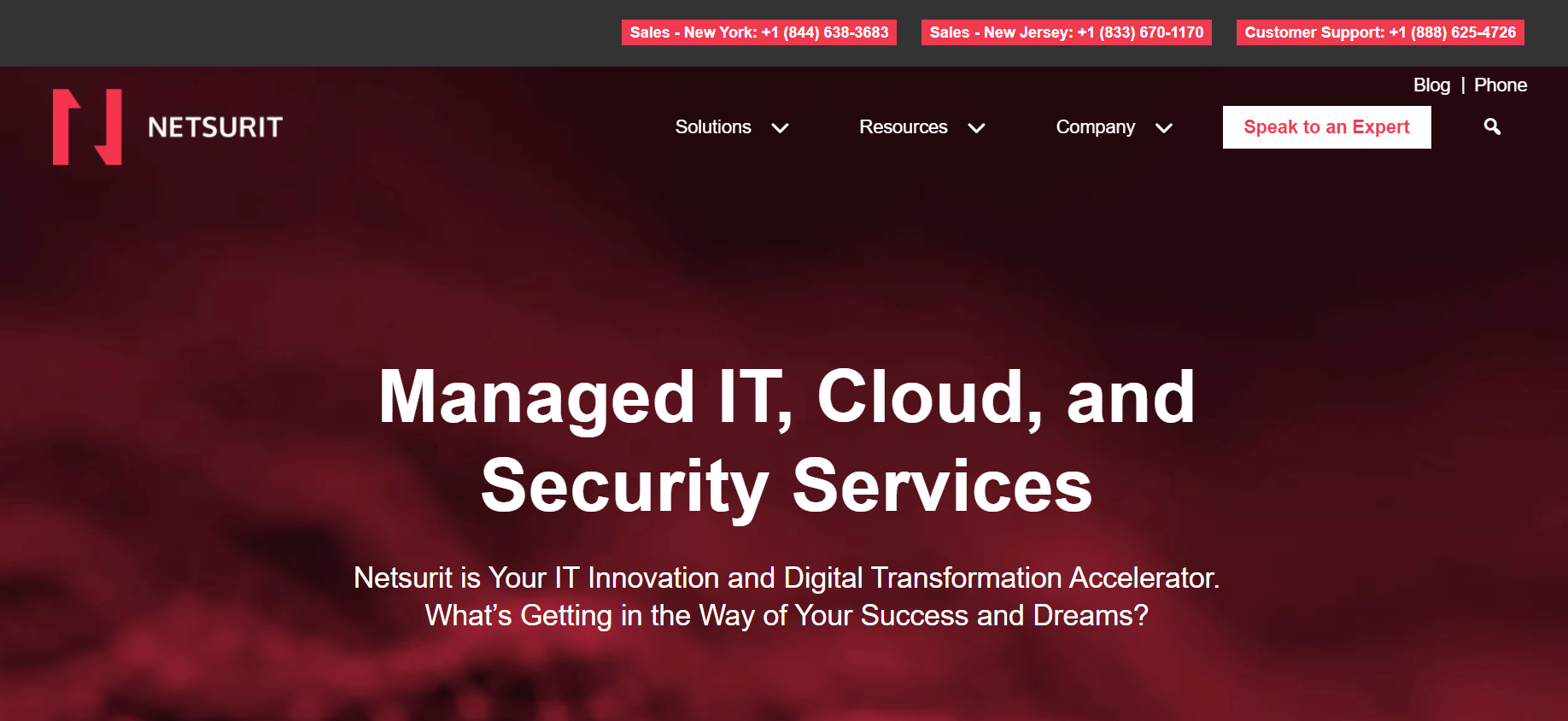 Netsurit has locations on West 30th Street in NYC and in Kenilworth, NJ. They focus on serving specific locations rather than specific industries.
Netsurit services include:
Digital transformation services
Support for ongoing IT innovations
Help desk
Network support and management
Cybersecurity tools
Proactive IT consulting
8. ETech 7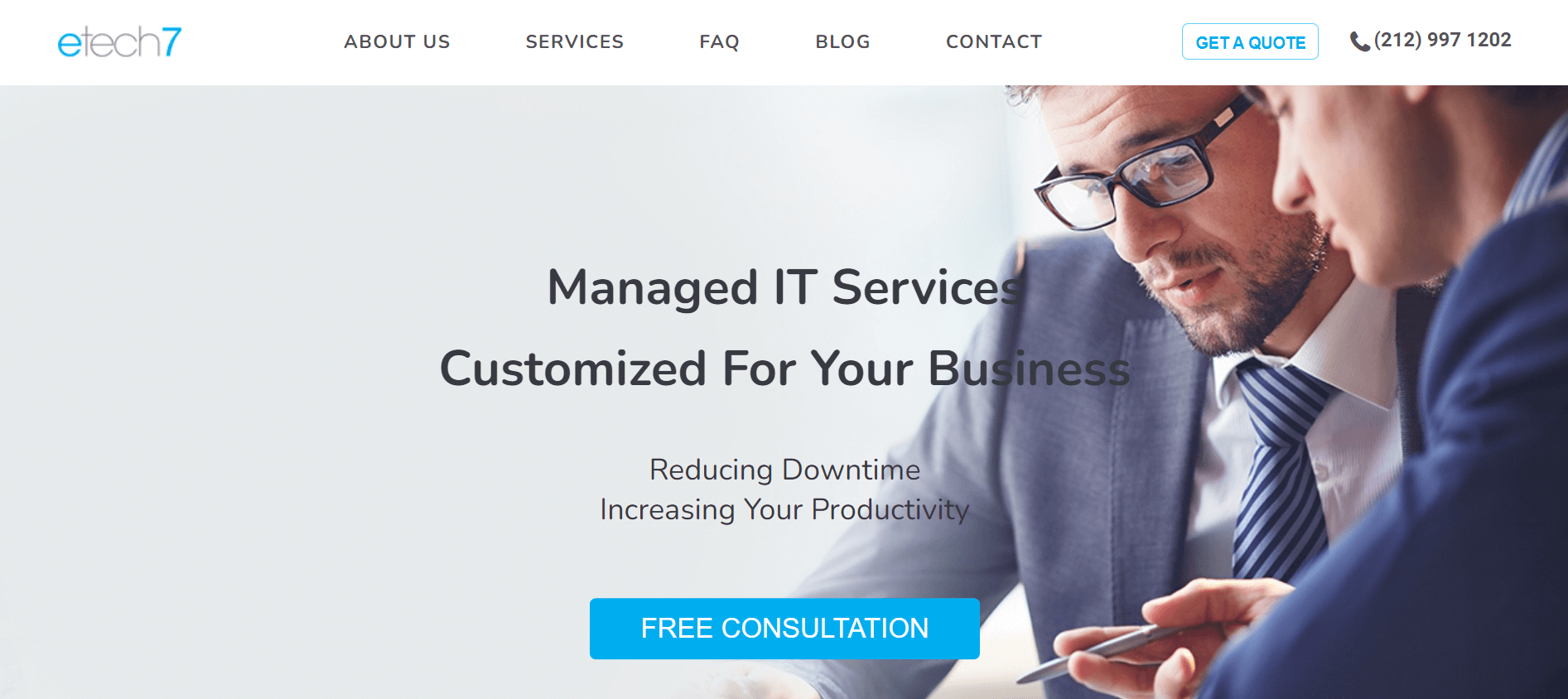 ETech 7 is located on West 47th Street in NYC. They serve the legal, financial, and healthcare industries from startups to enterprises.
ETech provides IT solutions and consulting for:
Data backup
Physical and cloud-based servers
Hosted applications
Securing sensitive data
Hardware configurations
9. SeaGlass Technology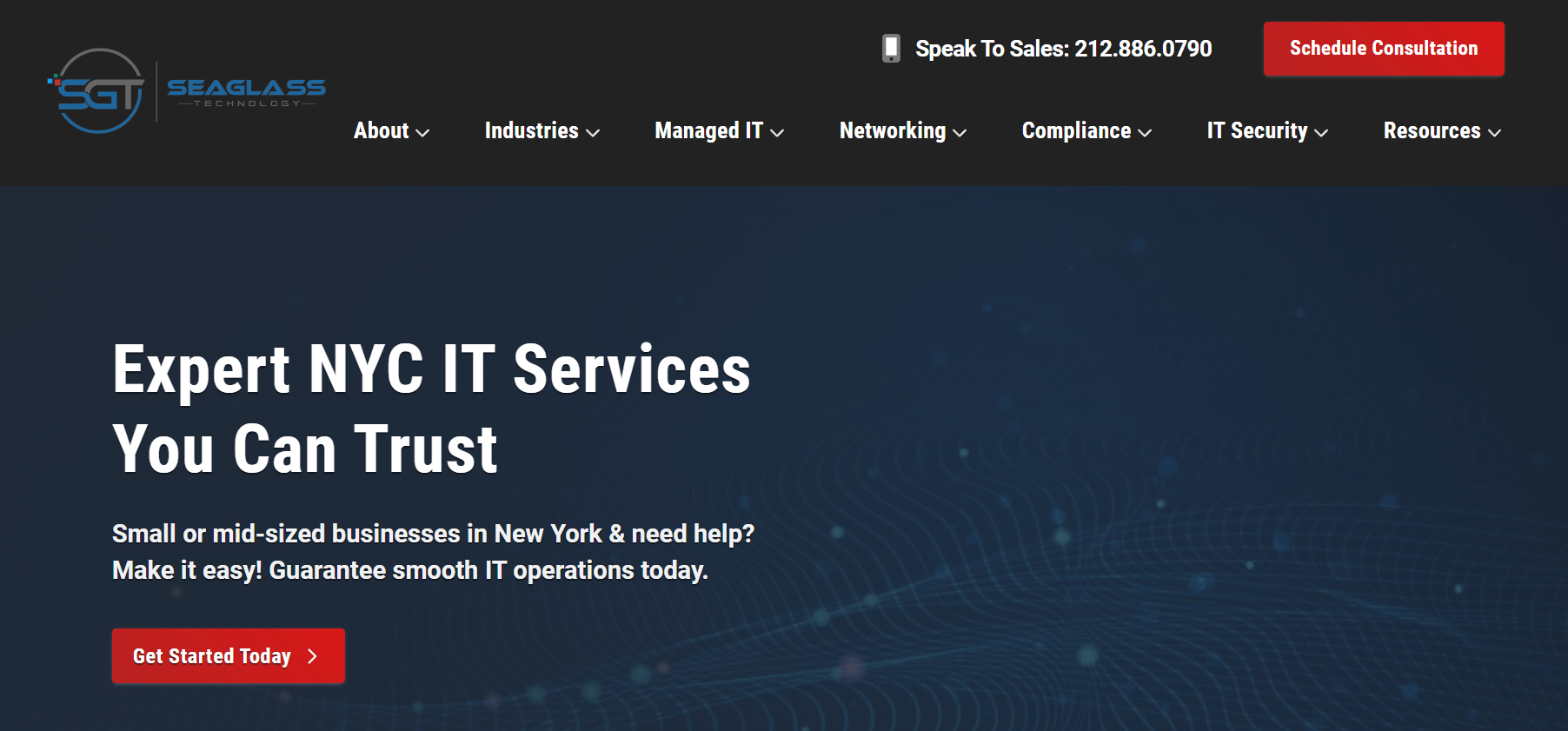 SeaGlass Technology serves a wide range of industries and is located on 7th Avenue, NYC. They serve small businesses and midsize companies in the New York area.
Some of their services include:
Data backup and disaster recovery
Remote network monitoring and management
Unified communications
Cloud services (e.g., migration, configuration, management)
Network installation
Structured cabling
CMMC consulting
SOC
10. GEM Technologies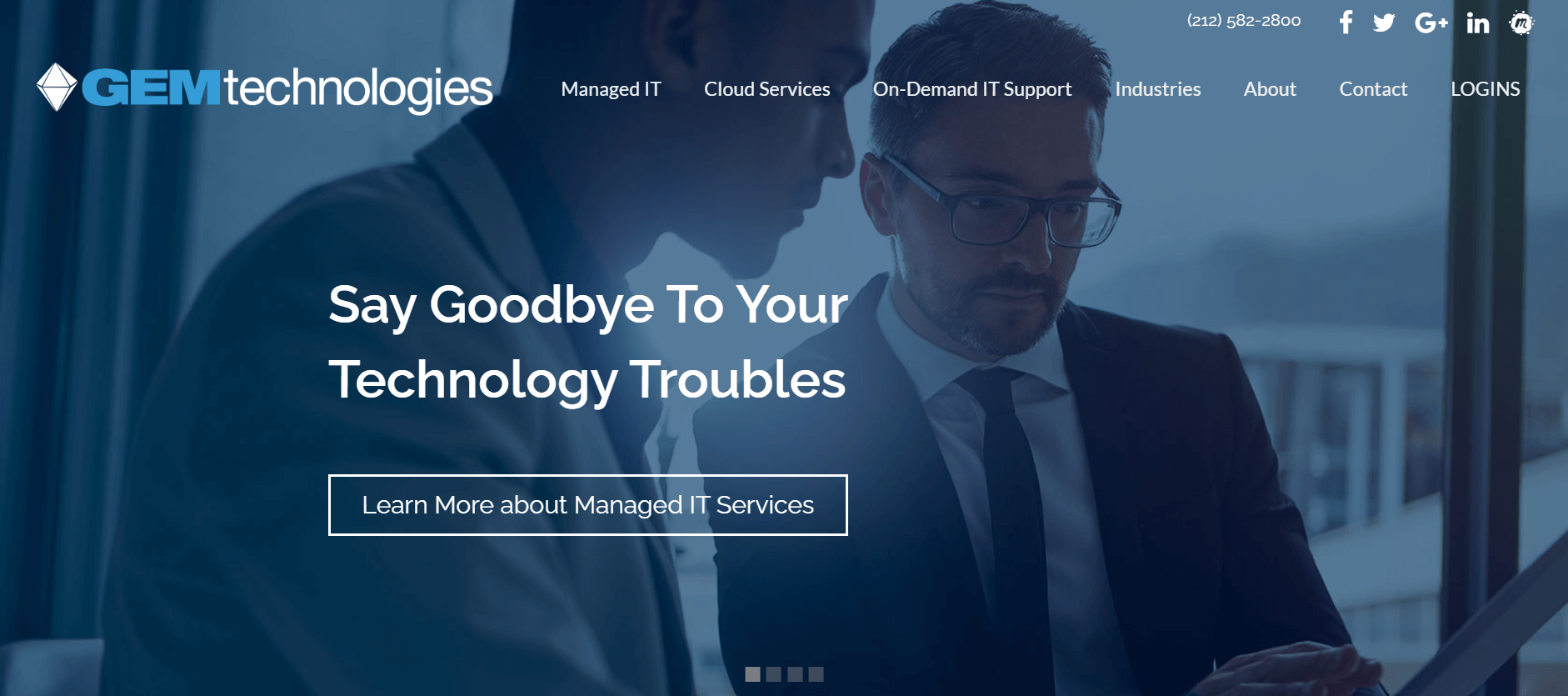 GEM Technologies is located on W 34th Street, NYC. They serve many industries including government and advertising/media.
GEM Technologies offers many of the services other MSPs provide including:
PC and Mac Support
Vendor management
Server colocation
Desktop-as-a-service
Mobility solutions
Automation of core business processes
Remote installation and patching of software
Get Personalized IT Support in the Tri-state Area with Ntiva
Ntiva offers many IT services, including:
24/7, U.S.-based help desk run by technicians
Responsive on-site support for the entire tri-state area
All-inclusive cloud services and solutions for a flat-rate fee
Advanced antivirus and cyberattack protection
Compliance consulting
Detailed data backup and disaster recovery plans
To ensure you're able to take full advantage of all of our services from the start, we take you through a comprehensive onboarding process where we:
Gain a deep understanding of your company culture and goals.
Thoroughly document all your devices, software, and hardware (e.g., license, warranties).
Assess your current IT position (i.e., security vulnerabilities, software systems, and IT infrastructure).
Design a detailed plan that outlines how various services will help you achieve your goals.
Set up all your IT devices and software for service.
If you're ready to see how Ntiva's IT support services can help you grow your business with IT while cutting costs, book a consultation today.