Most IT support companies offer a similar set of services:
IT help desk
Cybersecurity
Cloud solutions
IT consulting
Network monitoring and management
And more
However, what's included with each service and the quality of that service will vary between providers.
For example, most managed IT service providers (MSP) advertise 24/7 IT support. However, the help desk may be staffed by non-technical reps who simply create a ticket for you and have a technician call you back later in the day. This system may work for non-critical issues, but if the issue affects productivity, you'll need a faster response.
To help you understand some of the ways that MSPs can differ from each other, we start with an in-depth review of our IT solution, Ntiva, and how we're different from other MSPs. Then, we briefly cover five other IT support companies.
Whether you're looking to augment your internal IT team or outsource all of your IT support needs, Ntiva can help you improve productivity and cut costs. To learn more about Ntiva's advanced IT services, book a consultation.
Ntiva: Nationwide IT Support Company
Ntiva offers a wide range of advanced IT services and solutions all across the U.S. Here's an overview of how Ntiva is different from other providers:
Wide reach:

Ntiva has offices in New York, Chicago, Colorado Springs, and more. We also partner with hundreds of reputable IT companies to provide you with local, quality support—no matter where you're located.


Help desk

run by technicians:

Many MSPs have non-technical reps answering their help lines which means you won't be able to start troubleshooting the problem right away when you call. At Ntiva, we have experienced technicians answering our support lines. Your call will be answered within one minute, on average, and 75% of issues are resolved within the first phone call.


Microsoft- and Apple-certified:

Many MSPs only have one or two technicians with limited experience working with Apple products. Ntiva, on the other hand, has over a dozen technicians that specialize in Apple products. Plus, we're certified by Apple to support any Apple product. Ntiva is also a Microsoft Gold Partner.


Employee onboarding and offboarding:

We help you create and implement a thorough and efficient process for making sure new employees are set up with the right technology to do their job and ex-employees no longer have access to sensitive information.


Anti-phishing prevention training:

Most cyberattacks are aimed at employees, which is why proper security training should be a top priority. We provide comprehensive phishing prevention training

and

implement that training for you.


Advanced

security services

and features:

Most MSPs will offer simple security features such as antivirus protection or multi-factor authentication software. However, these services are rarely enough to truly protect your assets and meet security requirements. Ntiva has over 20 years of experience helping companies meet security standards (e.g., CMMC, NIST, HIPAA, and more).


Comprehensive onboarding experience:

The onboarding experience your IT support provides determines whether or not you can take full advantage of their services. Ntiva provides a comprehensive onboarding experience to ensure you're fully set up to take advantage of all of our services—and you won't be charged during this time.
In the following sections, we discuss a few of these advantages in more detail and provide an overview of other Ntiva services.
24/7 IT Technician Support (Remote or Onsite)
If a help desk is run by non-technical staff, it typically looks something like this: You call in and the representative creates a ticket based on some basic information such as what device is causing the issue and how many people the issue impacts. The ticket typically enters a queue where "high priority" tickets (i.e., issues that affect more people than just you in a major way) are attended to first. If your ticket is considered "low priority" (i.e., the issue only affects one device), you may end up waiting days or weeks before getting a call back (if you ever do).
At Ntiva, we believe every issue should be answered in a timely manner—no matter how many people it affects or to what degree. That's why our help desk is run by experienced technicians that help you troubleshoot the issue right away. We operate on a first-come, first-served basis while ensuring fast response times (and closing 1200+ tickets per month).
All calls are answered within one minute, on average, and 75% of issues are resolved during the first call.
Plus, all of our technicians are based in the U.S. to help ensure easy communication.
Although most issues can be resolved remotely, you'll also have access to onsite support whenever you need it—but you'll only be charged if/when you use the service. As we mentioned earlier, the Ntiva team is located throughout the U.S., so you'll have personalized, local support, no matter your location.
Learn more: Remote IT Support Services: 5 Factors to Evaluate an MSP
Finally, your team will have full access to our help desk software including detailed reports on what devices are causing issues, who utilizes the help desk the most, and more.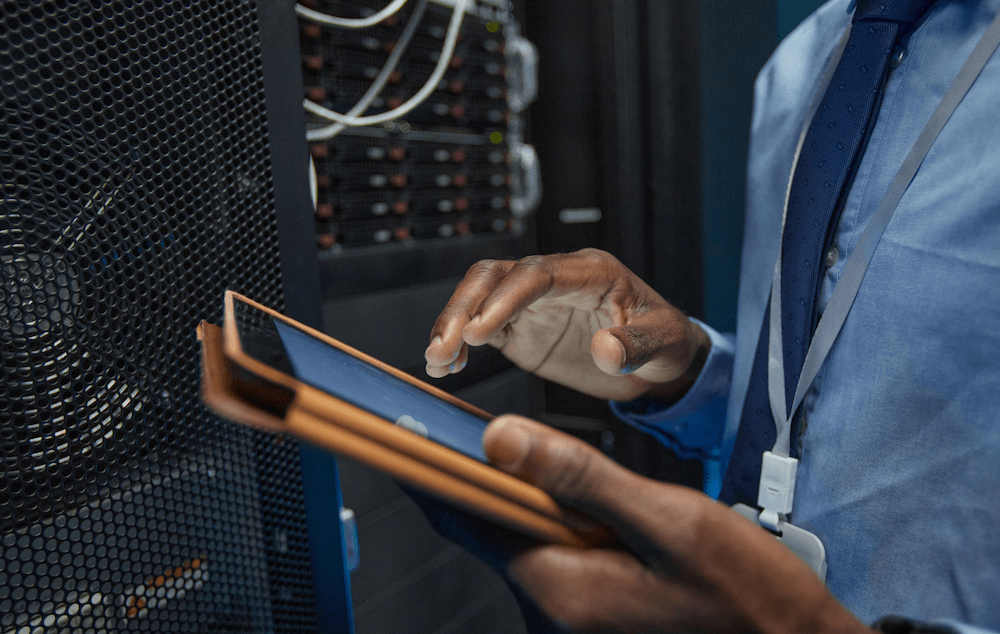 Certified Support for Microsoft, Apple, Dell, and Cisco Products
When considering whether or not an MSP can properly support all of your devices, there are a few things to consider:
The size of their team in each department.

Some MSPs only have one or two technicians that specialize in a particular type of device or brand (Apple products, for example). If those technicians are unavailable (e.g., working on another ticket or on sick leave), you won't be able to get your problem resolved, no matter how important it is. That's why it's important to verify that the MSP you work with has a large enough staff to support your business needs.


The certifications they maintain.

Using Apple products as an example again, some MSPs will say they can support specific devices simply because they have a few technicians who personally own Apple products. However, Apple products behave differently and require different solutions than most other products (Microsoft, for example). So, it's unlikely you'll be able to get the support you need unless the technicians are certified by Apple to support Apple products. Checking what certifications the IT staff maintains is a good indicator of whether or not they'll be able to properly support your devices.


The tools they use.

Most MSPs focus on supporting Microsoft products, so the tools they use are Microsoft-specific. If they try to use these tools on Apple products, more often than not the solution will eventually break (or not even work in the first place). That's why it's important to make sure that the tools your IT support team uses are made for the device they're trying to fix.
Ntiva has dozens of Microsoft-certified technicians and over a dozen Apple-certified technicians on staff and we're:
Plus, our staff utilizes Microsoft- and Apple-native tools to ensure effective solutions for every device.

Fully Managed IT Network for Optimum Performance
One of the best ways to manage IT spend and use technology to grow your business is to keep detailed accounts of your entire IT network (i.e., who's using what device, which devices are inactive, how many accounts are active for each piece of software, etc.).
This information gives you insight into gaps in your security, what software is or isn't working, where you're spending the majority of your IT budget, and much more. It also helps you keep track of when software licenses need to be renewed and when hardware needs to be replaced, so you can do so before affecting productivity.
Not all MSPs will help you with this. Many companies end up frustrated because their MSP can't give them a detailed overview of their IT infrastructure.
At Ntiva, we keep detailed documentation of what devices you own (e.g., laptops, mobile devices, operating systems, etc.), warranty expiration dates, which ones are operational, who's using what, what it's costing you, and more. We readily provide this information to you whenever you need it.
We also help you maintain your IT network by:
Monitoring your network and servers 24/7

to help ensure they're operating efficiently and securely. If an issue comes up, our team begins troubleshooting the issue right away to help you avoid costly downtime and security issues.
Keeping track of available software updates, license renewals, and more.

We also handle installing the updates for you. Not only does this help ensure your devices are operating at peak performance, but it also helps ensure tighter security (outdated security features are one of the first weaknesses that hackers look for). Plus, updates are scheduled whenever they're most convenient for your team.
Note: If you need help procuring additional software or IT infrastructure, we can help. We can also work with your team to find ways to cut costs and get the most out of your IT efforts. Our vCIOs are available to give you expert advice on an as-needed basis.
Advanced Cybersecurity Features to Meet Industry Regulations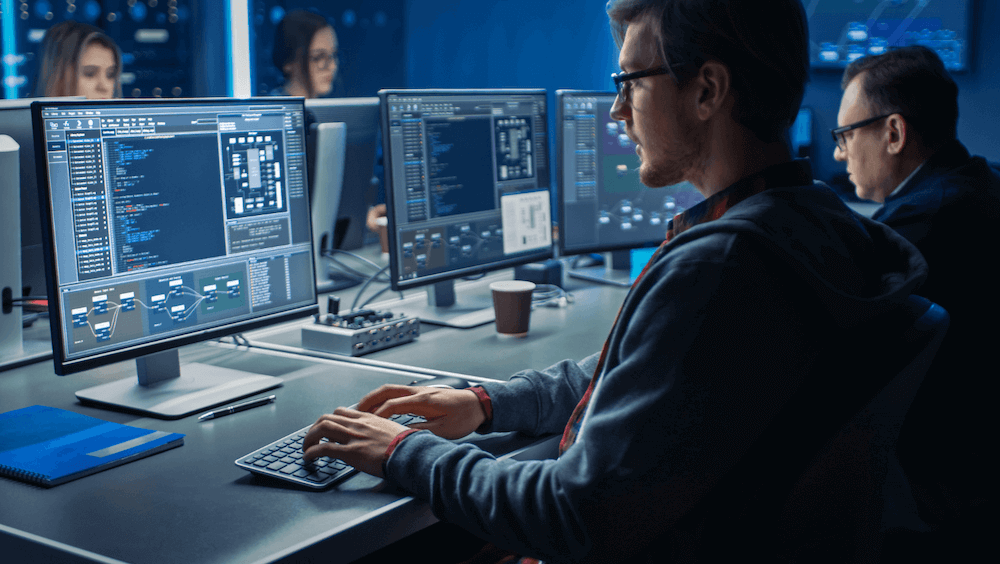 The right IT security services and features can help protect you against cyber attacks while meeting regulatory requirements (e.g., HIPAA or CMMC), however, not all MSPs offer the necessary security features.
For example, most MSPs only provide definition-based antivirus software, meaning you enter descriptions of the type of viruses that should be blocked and everything else is let through. It's very difficult to include every type of software virus, so experienced hackers can usually break through definition-based antivirus software.
Ntiva, on the other hand, provides advanced endpoint detection and response (EDR) to replace standard antivirus software.
EDR utilizes machine learning and AI to recognize activity that could be a virus. If anything is flagged as suspicious, our Security Operations Center experts are immediately alerted and begin analyzing the activity. Because Ntiva's EDR combines AI with human intervention, we're able to catch more attacks (even new types of attacks) with fewer false positives.
In addition to EDR, Ntiva provides a full suite of advanced security features including phishing prevention training, intrusion detection and response (IDR), ongoing security update management, and much more.
Plus, you'll have access to our staff of virtual Chief Information Security Officers (vCISO) on an as-needed basis. They can help you meet industry security standards (e.g., HIPAA, CIPA, CMMC, and more) and develop strategies for aligning your IT operations with long-term business goals—without the cost of hiring a full-time CISO.
Learn more: 6 Top Managed Security Service Providers (MSSP) Guide
Detailed Backup and Disaster Recovery to Ensure Business Continuity
Data backup is a tedious chore that nevertheless is essential to safeguarding the future of your company. You also need a detailed plan for how you will retrieve that data and get the company up and running again after a data breach, natural disaster, or other unforeseen event.
If you don't back up your data frequently enough and have a comprehensive recovery plan, you could end up with severe financial loss caused by downtime and lost data (and in extreme cases, be unable to recover).
At Ntiva, we've helped hundreds of companies plan for and recover from unexpected disasters. We can help you:
Know what to include in your backup and

disaster recovery

plan

(e.g., where employees can find the information they need to do their jobs, and who's in charge of recovery data for each department).


Find the most

cost-effective

solution for backing up your data

(i.e., cloud storage or physical servers).


Decide what data needs to be copied and how often

(our team can handle backing it up for you).
In the event of data loss, our team will respond immediately and help you get back to normal productivity.
Ntiva Case Studies
If you'd like to learn how other companies benefit from working with Ntiva, read these case studies:
Destra Capital was about to move their entire operation from Lisle, IL to Chicago, IL when they realized there wouldn't be room for their physical servers in the new office. They reached out to Ntiva and were able to quickly migrate to the cloud.
"Being a small company and having a bigger company like Ntiva, who provides us with our outsourced IT, was a great find. Their help desk is very responsive … They worked their tails off to get us moved to the cloud in a timely manner. We were under the gun. They came up with a great solution, quickly."
— James Yount, President and Senior Managing Director, Destra Capital
Paradyme Management Inc., a leading technology development company, wanted to land contracts with large government agencies (e.g., DoD). However, in order to do that, they need to comply with NIST and CMMC standards. They wanted an MSP who knew government regulations inside-out and decided Ntiva was the perfect fit.
"One of the biggest advantages of working with Ntiva is they have a whole program for on-going cybersecurity education and training. The best cybersecurity measures in the world can easily be negated if your people aren't trained. "
— Jocelyn Hsu, Chief Administrative Officer, Paradyme
Streetsense, a fast-growing architecture and design firm, struggled to offer technical support to all of their teams across multiple locations. By outsourcing many of their day-to-day IT operations to Ntiva and leaning on Ntiva's consulting services, they were able to expand more quickly and cut costs without compromising security or productivity.
"Every single company today is completely reliant on technology for growth and success. Companies who are technology enabled have a distinct competitive advantage."
— Ira Starr, Chief Administrative Officer, Streetsense
If you think Ntiva could be the right IT support service for your organization, book a consultation today.
IT Support Guys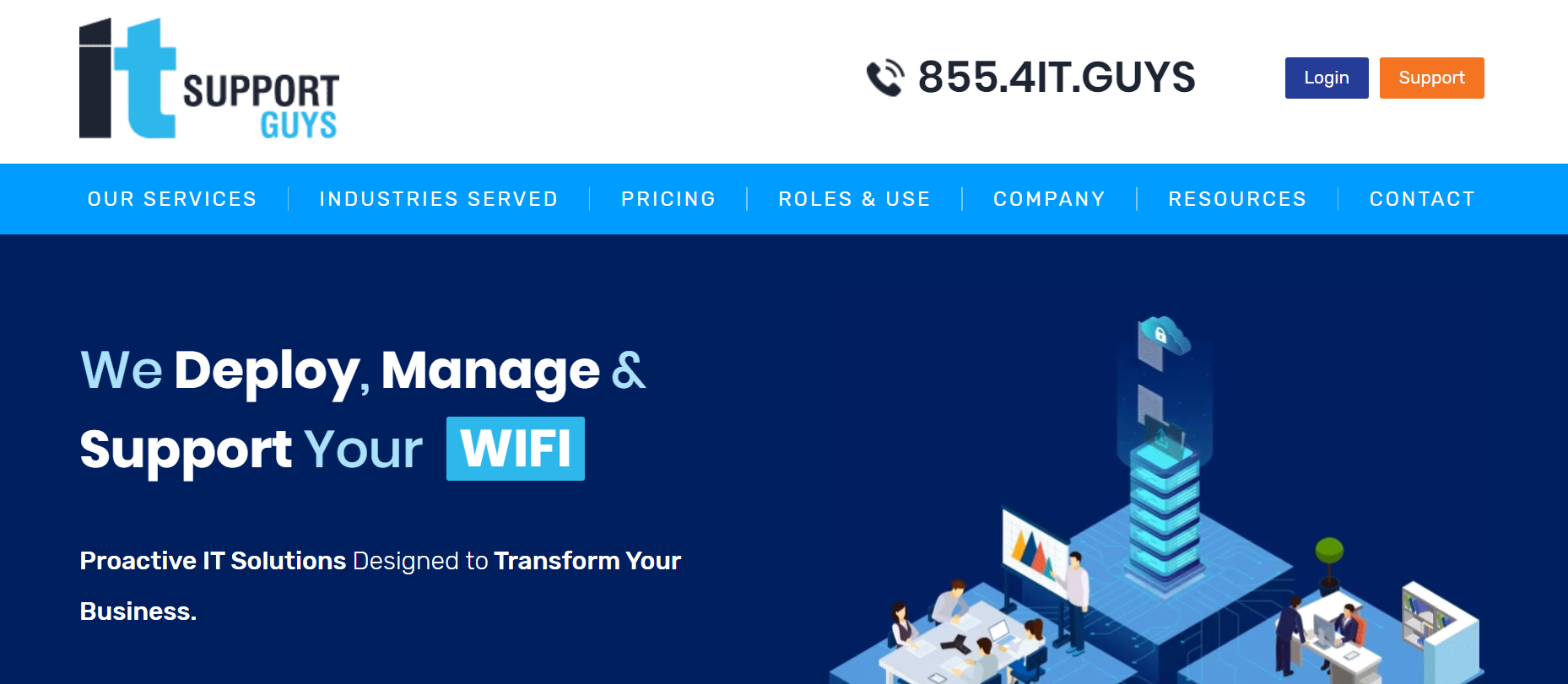 IT Support Guys serves small businesses and medium-sized businesses out of Tampa Bay, FL and Los Angeles, CA. Part of their main pitch is that they offer budget-friendly IT managed services, however, their pricing isn't readily available on their site.
Some of the services IT Support Guys provides include:
IT help desk support.
Cloud services (including file-sharing solutions).
Managed endpoint security and SEIMS.
Tech support for HIPAA, HITECH, CPAA, and PCI compliance.
VoIP.
And more…
They serve companies in consumer goods, healthcare, hospitality, legal cannabis, and more.
StratusPointIT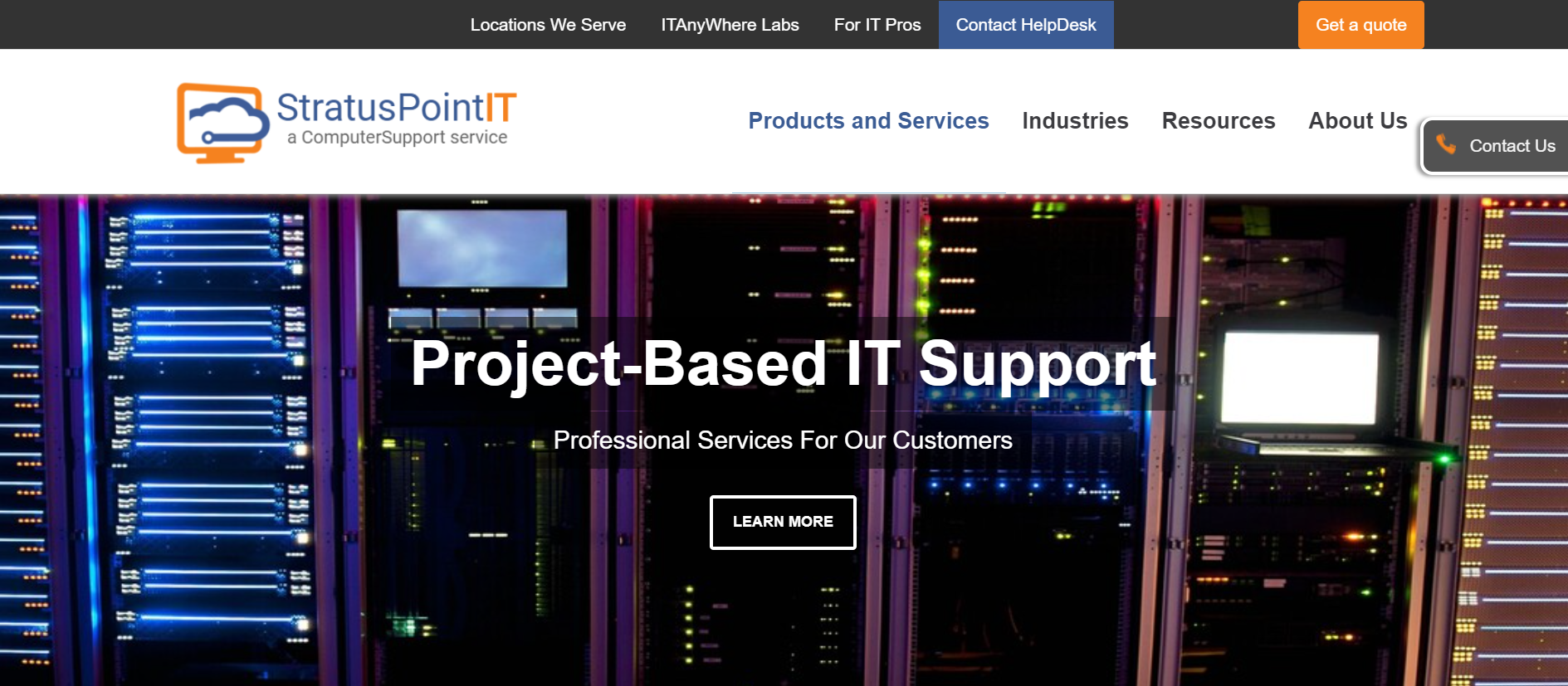 StratusPointIT offers IT management in five main categories:
Information technology support
Monitoring services
Backup services
Security services
Advisory services
Whether you already have an in-house team and are looking for supplemental IT support, or you're looking for an MSP to manage all of your IT needs, StratusPointIT can help. They advertise support for Microsoft IT issues, but they don't mention support for Apple products.
StratusPointIT has dozens of locations across the U.S. and they serve companies in many different industries including fitness, real estate, biotech, and more.
Electric IT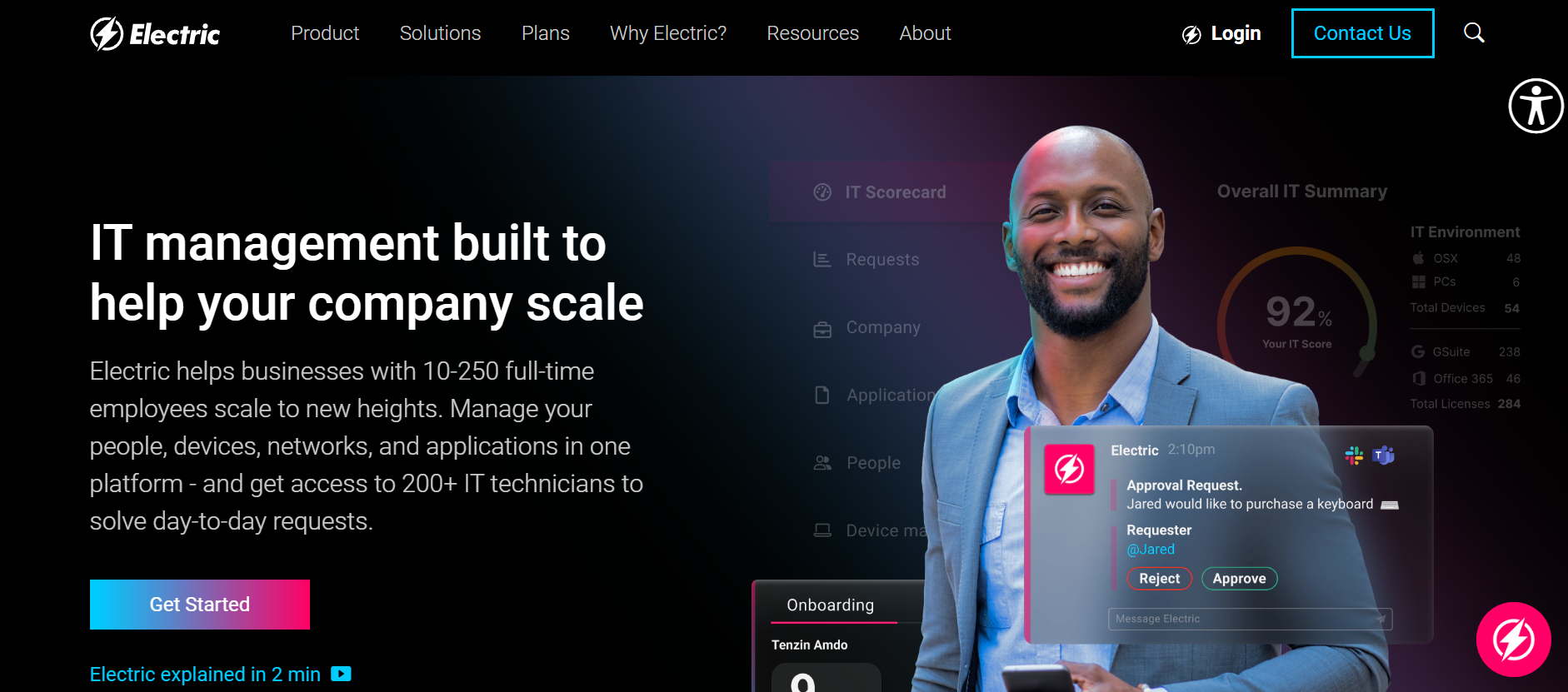 Electric IT is an IT services company geared towards small to midsize businesses that need additional IT support for day-to-day business operations. Their main services include:
24/7 IT support via Slack and Microsoft teams.
Employee onboarding and offboarding.
Cloud environment licensing management.
Security guidance and breach prevention.
Security policy tracking.
Device management dashboard.
Network monitoring.
And more…
Electric IT focuses on remote support, however, they also offer onsite support in 150+ cities across the U.S.
Hyperlink InfoSystem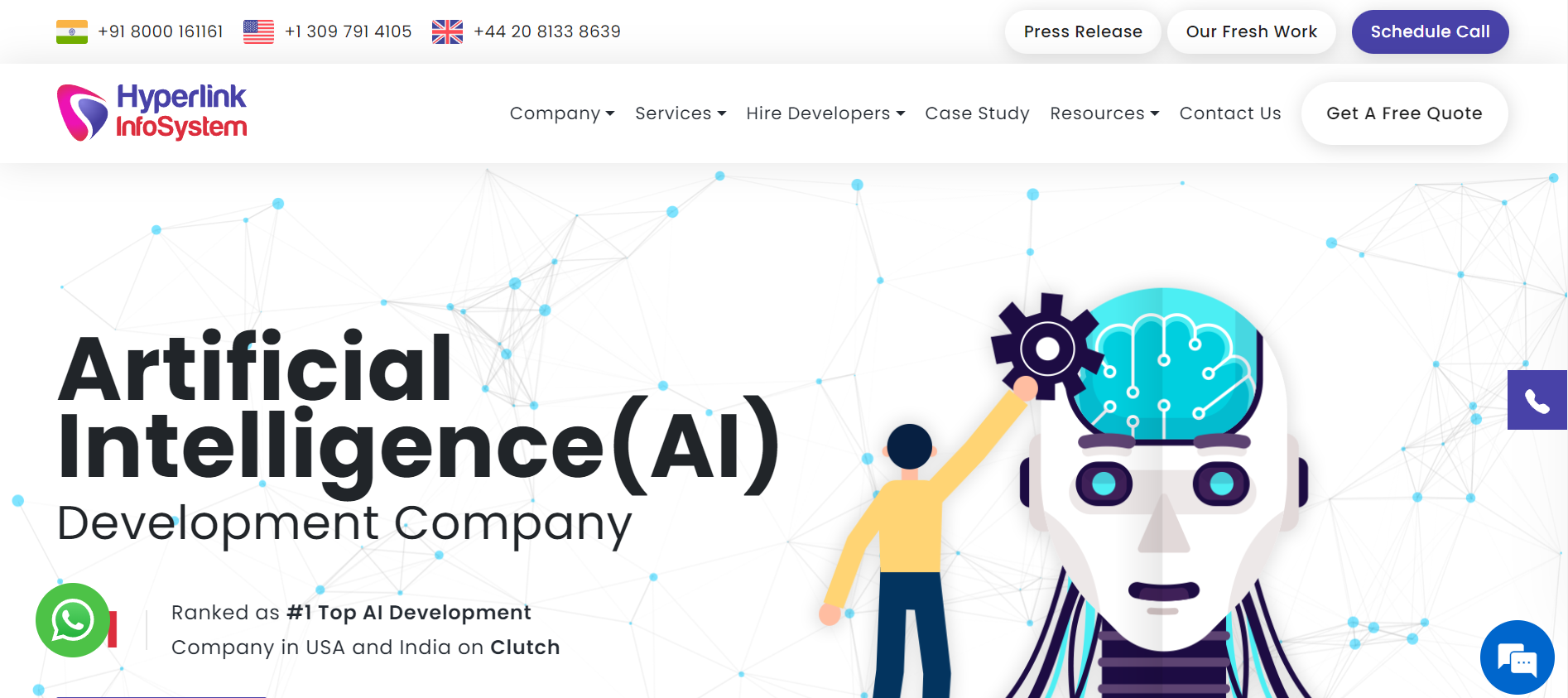 Hyperlink InfoSystem is a development company that helps businesses create custom software solutions. Rather than focusing on day-to-day IT operations, Hyperlink Infosystem offers support for the main IT building blocks of your company (e.g., your mobile app).
Their overarching categories of services include:
Mobile app development.
Web and CMS development.
Ecommerce development.
Blockchain development.
Game development.
AI.
IoT.
If you only need help with IT development, they could be the right technology partner for your company. However, if you need services such as a help desk, 24/7 network monitoring, 24/7 SOC, and software development, you're better off choosing an MSP like Ntiva.
Dataprise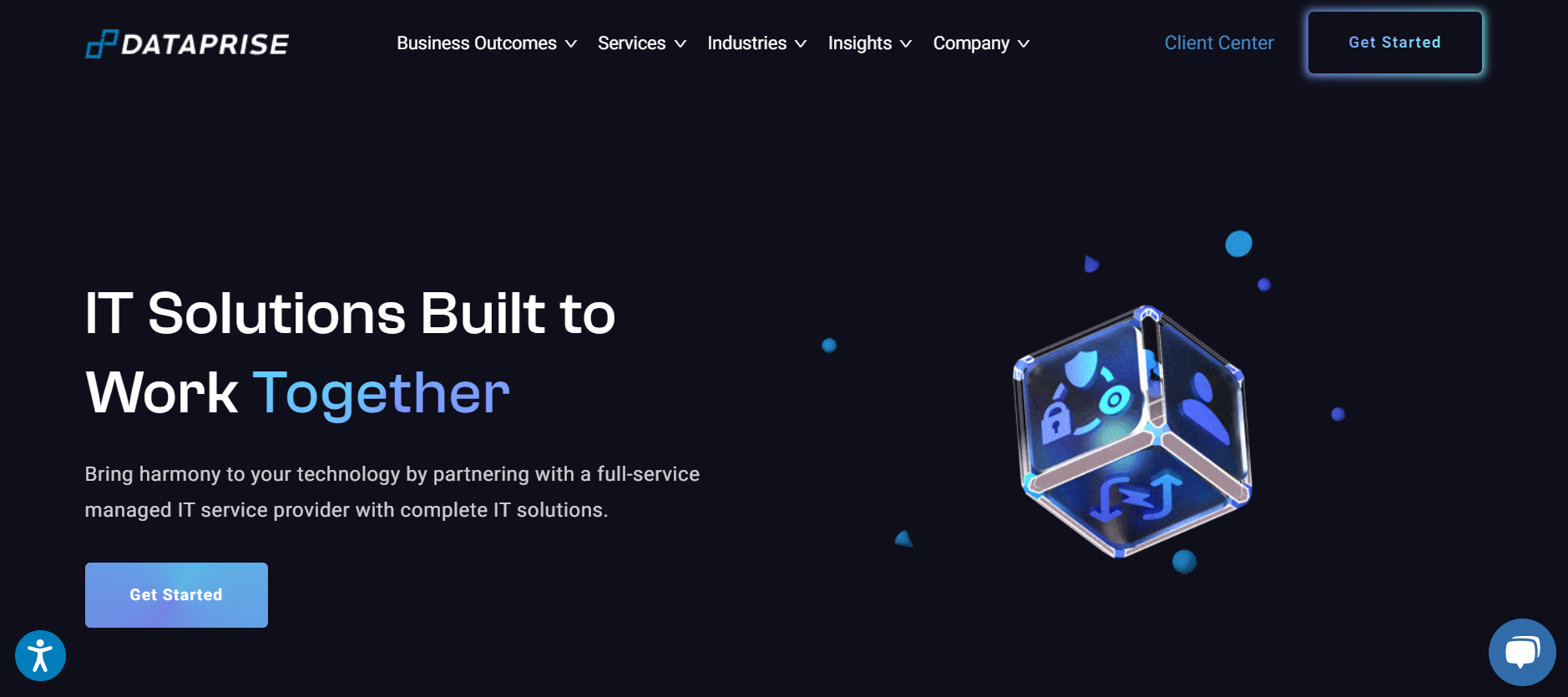 Dataprise offers many fully managed IT services with an emphasis on IT strategy and consulting. Although they have a menu of services like most MSPs (e.g., 24/7 IT expert support, disaster recovery, network security and more), they also categorize their services by the desired business outcome:
Achieve business resilience
Fully embrace the cloud
Power an 'anywhere workplace'
Dataprise is based out of Maryland but they also have physical locations in several major cities including New York City, NY, and Dallas, TX.
Get Responsive, Expert IT Support Anywhere in the U.S. with Ntiva
Ntiva offers many advanced technology solutions and proactive services to help you get the most out of your IT infrastructure. With over 300 employees and locations all across the U.S., we have the bandwidth to offer personalized support even as you grow.
Ntiva supports organizations in many different industries including government contracting, healthcare, nonprofit, manufacturing, and many more.
To learn how we can help you achieve your business goals by leveraging the right IT solutions, book a consultation today.
Want to learn more about Managed IT Services for your business? See Ntiva's Managed IT Services.
Managed IT Services and Support
Managed Backup & Disaster Recovery Service
IT Support for Employee Onboarding & Offboarding
IT Help Desk Services and Support
Managed IT Procurement Services
Network Monitoring & Management
Managed Remote IT Support Services