What Are Managed IT Services?
Managed IT services enable businesses to outsource part or all of their technology management with the goal of simplifying IT operations and reducing costs.
A Managed Service Provider (MSP) can take the burden of managing your business technology services off your shoulders.
This can range from completely outsourcing your IT needs, a one-time IT consulting project, to a co-managed IT services agreement with your existing in-house team.
Ntiva is one of the top 30 MSPs in the U.S., offering competitive pricing which is based on a flat-rate monthly subscription service including unlimited remote support provided by a U.S.-based help desk.
Reach out to us and set up an exploratory call to see how managed IT service and support from Ntiva can help YOUR business grow!
Learn How Ntiva Delivers Managed Services


How Do Businesses Allocate Their Managed IT Service Budgets?
In a Spiceworks survey of more than 1,000 companies across North America and Europe, the top technology concerns for businesses include the need to upgrade outdated IT infrastructure and improve security.
Here's how businesses are investing in managed service providers: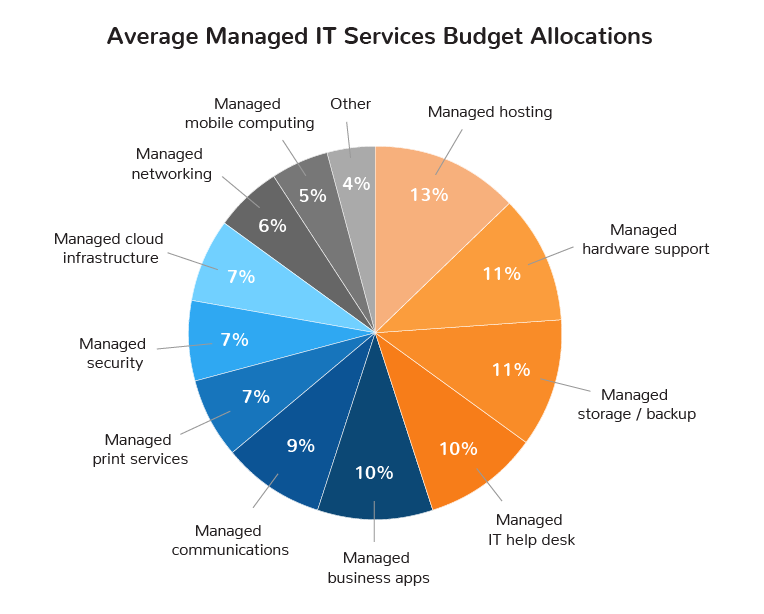 Should You Keep IT In-House or Outsource?
Businesses that outsource technology responsibilities to managed IT providers often see a huge improvement in their overall operational efficiencies with only modest impact on their IT budget. This is critical, because nearly half of IT executives feel their budgets are either somewhat or very inadequate to meet the needs of their business.
Before you decide whether to keep your IT in-house or choose to outsource IT services, you should weigh the pros and cons of each option.
On one hand, in-house technology services likely have an inside, intimate view of how your company operates. However, an in-house team is much more challenging to scale up or down. As your business grows, they can become overwhelmed. This can mean important routine tasks get dropped, or staff may adopt a break/fix mentality—waiting until a specific service is needed and hiring an expensive solution provider to fix it—all of which increases your security risk and hurts employee productivity.
Conversely, choosing managed services allows you to scale according to your needs, guaranteeing an ability to quickly ramp up during a crisis. But not all managed services providers offer the same quality of service, so research and verification are needed before signing up.
To explore the pluses and pitfalls more deeply, read this helpful article: In-House vs. Outsourcing IT: The Pros and Cons.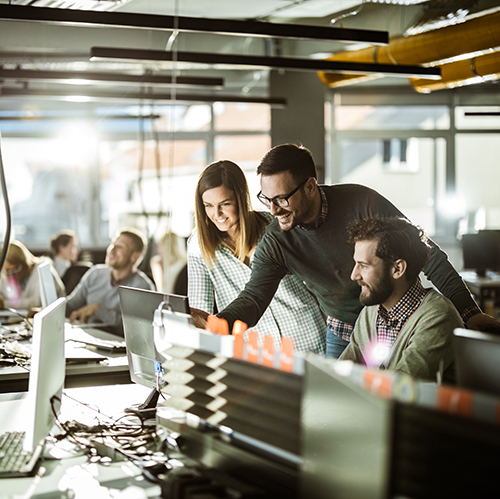 How Does Ntiva Deliver Managed IT Services?
Choose the Plan That Meets Your Budget
Ntiva offers IT service plans to suit your needs and your budget. With solutions starting as low as $57 per user per month, our fixed monthly plans cover solutions from 24/7 service desk, to network monitoring and management, to enhanced email security, to backup and disaster recovery management. Review our managed IT service pricing here.
We'll Guide You Through the Onboarding Process
At Ntiva, we pride ourselves on delivering an excellent customer experience from day one—and our comprehensive onboarding process is a key part of this experience.

Our onboarding process consists of four phases: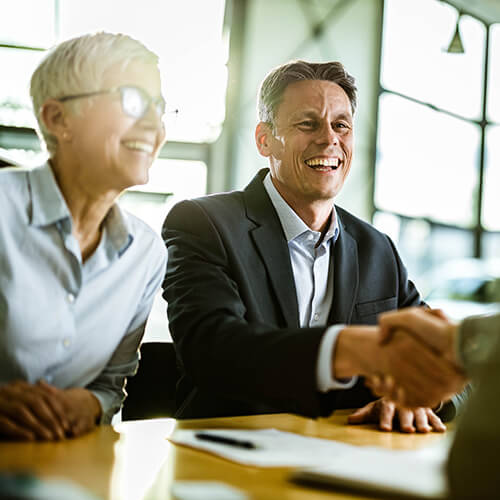 Phase 1: Service Definition
At the beginning of any client onboarding, the definition of services is a crucial part of the entire process. We discuss every service outlined in the signed Service Agreement. This process helps our team gain in-depth understanding of your business in preparation for the onsite data gathering, process documentation and ongoing support services.
Phase 2: Data Collection
Our technicians visit your site to gather information about your information technology environment and to begin the documentation process. They work their way through an extensive engineering checklist of discovery items and procedures, covering such things as network investigation, security assessment, backup verification, server room inspections and policy documentation.
Phase 3: Internal Information Review
The primary goal of this phase is to ensure that your IT environment will meet your needs and that you'll have the technology in place to help your business grow. We gather the information collected in Phase 2 and review it with your dedicated team (alongside our specialized senior technicians if needed).
Phase 4: Orientation Meeting and Service Handoff
Your Ntiva team meets with you to review your new client manual. This review includes a discussion of all findings, including recommendations for additional changes. It also includes the final tailoring of support procedures if needed. We schedule any recurring onsite visits and set up the cadence for recurring meetings between you and your Account Manager.