When set up (and supported) correctly, Microsoft Azure can help you cut costs, streamline workflows, support remote workers, and much more.
But without the right expertise to manage your Azure environment, you'll likely end up with broken systems and gaps in your security. Plus, you could miss out on key functionalities that you're already paying for.
Unfortunately, it can be difficult to find the right, qualified Azure managed service provider for your business. Many of them seem to offer the same services, but when you look closely at how they provide those services, there are differences which can make or break your ability to seamlessly use Azure to its full potential.
For example, technicians without true Azure expertise often fail to properly set up Intune — Microsoft's solution for cloud-based endpoint management that replaces the need for legacy multi-factor authentication processes.
If Intune isn't fully set up (or is set up incorrectly), it could be giving your employees access without stopping bad actors. It may even look like it's working correctly on the surface — your employees have to answer security questions, enter security codes, etc., and then are given access — however, a technician with expertise in Azure would be able to see that it's not blocking unauthorized traffic that may be trying to get through.
In this guide, we share seven factors to consider when choosing an Azure service provider. Then, we cover six options for your Azure managed service provider, starting with an in-depth look into Azure services at Ntiva.
Table of Contents
Ntiva provides advanced Azure support and IT solutions for companies in many industries. To learn more about how we can help you achieve your IT goals, book a consultation.
7 Factors to Consider When Choosing an Azure Managed Service Provider
The following factors to consider will be a good starting point for evaluating any managed IT service provider (MSP) you're considering working with. Once you've narrowed it down to a few options, you can learn more by setting up a meeting with their team.
Certifications.

In October 2022,

Microsoft overhauled their partner certification program. Before this update, they had two partner certification levels — Silver and Gold — which certified that the MSP could provide quality support and solutions for Microsoft products. Now, Microsoft is having MSPs earn certification badges for individual Microsoft solutions (e.g., infrastructure, data and AI, security). Many companies that were Silver or Gold partners are in the process of earning these new certifications. In the meantime, you can check to see if the MSP was a Gold partner (the highest level for Microsoft partners) before the switch and ask what certifications they're currently working on.


Years of experience.

How long an Azure expert MSP has been in business can be a good indicator of the quality of service you receive. Consider the age of the company, how many years they've been supporting Microsoft products, and the years of experience of the technicians you'll be working with directly.


Case studies. Case studies can be one of the best ways to determine if an Azure MSP can provide the services your business needs. Read case studies about the specific services you're interested in and case studies for your industry.


Headcount dedicated to Microsoft solutions.

Many companies advertise their ability to support various IT services. However, in many cases, they only have one or two teams who handle all services. In our experience, it's better to have a dedicated team (of 10+ technicians) for each field. That way, each team will be able to obtain more specialized expertise in their given area which means you'll experience better service. So, consider whether the MSP has a dedicated Microsoft team and how many technicians are on that team.


Resources provided to the Microsoft department.

Ongoing training and certifications are a must for any MSP that wants to stay up-to-date on Microsoft solutions. To find out if they stay up-to-date on the latest qualifications, you can ask about the latest certifications one of their technicians completed or their training goals for the upcoming year.


Multi-vendor device support.

Many companies with remote workers choose to let their employees use their preferred device. Azure was designed to accommodate Apple products in addition to Windows products, but not all MSPs offer equal support for Apple and Windows products. For example, many MSPs try to use Windows-based tools on Apple devices. While this may work in some cases, eventually the solution will break or you'll run into a problem that can't be fixed without Apple-native tools. Look for an MSP with dedicated tools and teams for each type of device you need support for.


Additional services.

It can be costly to switch MSPs or work with two simultaneously, which is why you'll want to choose an MSP that provides all the services you need now and may need in the future. Easy scalability is a key characteristic for an MSP.
Next, we'll compare 6 MSPs that support Azure, starting with Ntiva.
Ntiva: Advanced Azure Expertise Combined with Fully Managed IT Services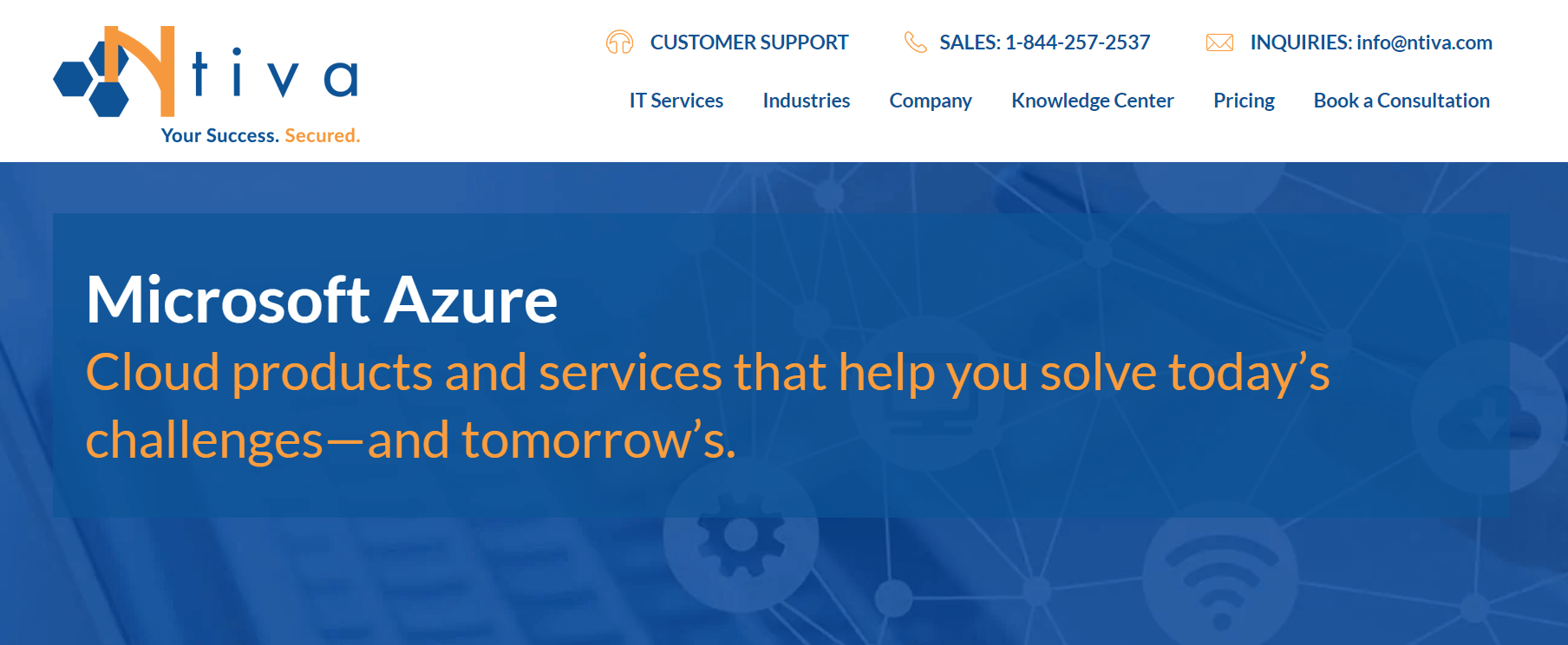 As an Azure expert managed service provider, Ntiva can help you:
Migrate to the cloud.
Build custom solutions.
Know what features you're already paying for and how to use them.
Integrate hybrid environments.
Cut IT costs and budget for the future.
In the following sections, we dig into Ntiva's Azure qualifications, cloud solutions, additional IT services, and case studies.
Certifications, Experience, and Industries Served
Ntiva has a dedicated Microsoft solutions team with team members who specialize in Azure. We held the Gold partner certification until it became obsolete and are currently working on several of Microsoft's new solution partner certifications, including:
Solutions Partner for Infrastructure (Azure):

This partner has demonstrated their "broad capability to help customers accelerate migration of key infrastructure workloads to Microsoft Azure".

[source]


Solutions Partner for Modern Work:

This partner has demonstrated their "broad capability to help customers boost their productivity and make the shift to hybrid work using Microsoft 365".

[source]
Ntiva has been supporting Azure since it was released in 2010. Plus, we have over 20 years of experience providing IT support to companies in many industries, including:
You can read about our case studies below.
You can find Ntiva on Microsoft's website here.
Cloud Security and Compliance
Microsoft provides multi-layered security with built-in tools and controls in Azure. Some of these features include:
Azure Active Directory (AD)
Intune
Advanced Information Protections (AIP)
Data Loss Prevention (DLP)
Microsoft Defender
Azure DDoS Protection
Although many of these features are built-in, they still require varying degrees of setup from users. With many of these features, only an experienced Azure technician will be able to properly set them up.
Although these features offer significant levels of security, they often aren't enough to keep your company entirely secure. For example, many cyber attacks are directed at employees. The idea is to trick your employees into sharing sensitive information or clicking on a malicious link. This lets cybercriminals bypass all the built-in security features.
Additionally, many compliance regulations (e.g., CMMC, NIST, HIPAA) require additional security measures in place such as a security operations center (SOC) that monitors your network 24/7.
Ntiva helps you fill in the gaps of Microsoft's security features with services such as:
Phishing prevention training for employees.

Ntiva manages all aspects of phishing prevention training for you from creating training material to sending out test emails. Plus, we carefully document each step of the process, which is often a requirement of insurance companies.


24/7 SOC.

Our team of advanced security specialists monitor your IT network around the clock and take immediate action as needed, so you can enjoy greater peace of mind.


Endpoint detection and response (EDR).

Many companies use definition-based antivirus software which uses given descriptions of suspicious activity to stop bad actors. The problem with this approach is that it's impossible to know ahead of time all the different forms of malicious activity so it's highly likely that the antivirus software will eventually fail to stop bad traffic. Ntiva's EDR uses AI and machine learning to identify suspicious activity when it appears. If anything suspicious is found, our SOC team is immediately notified.


Fractional CISO services for compliance.

This service provides you with experienced Chief Information Security Officers on an as needed basis. Our team can help you identify gaps in your security, find the best ways to fill those gaps, build a roadmap for the future, and meet compliance requirements.


Backup and Disaster Recovery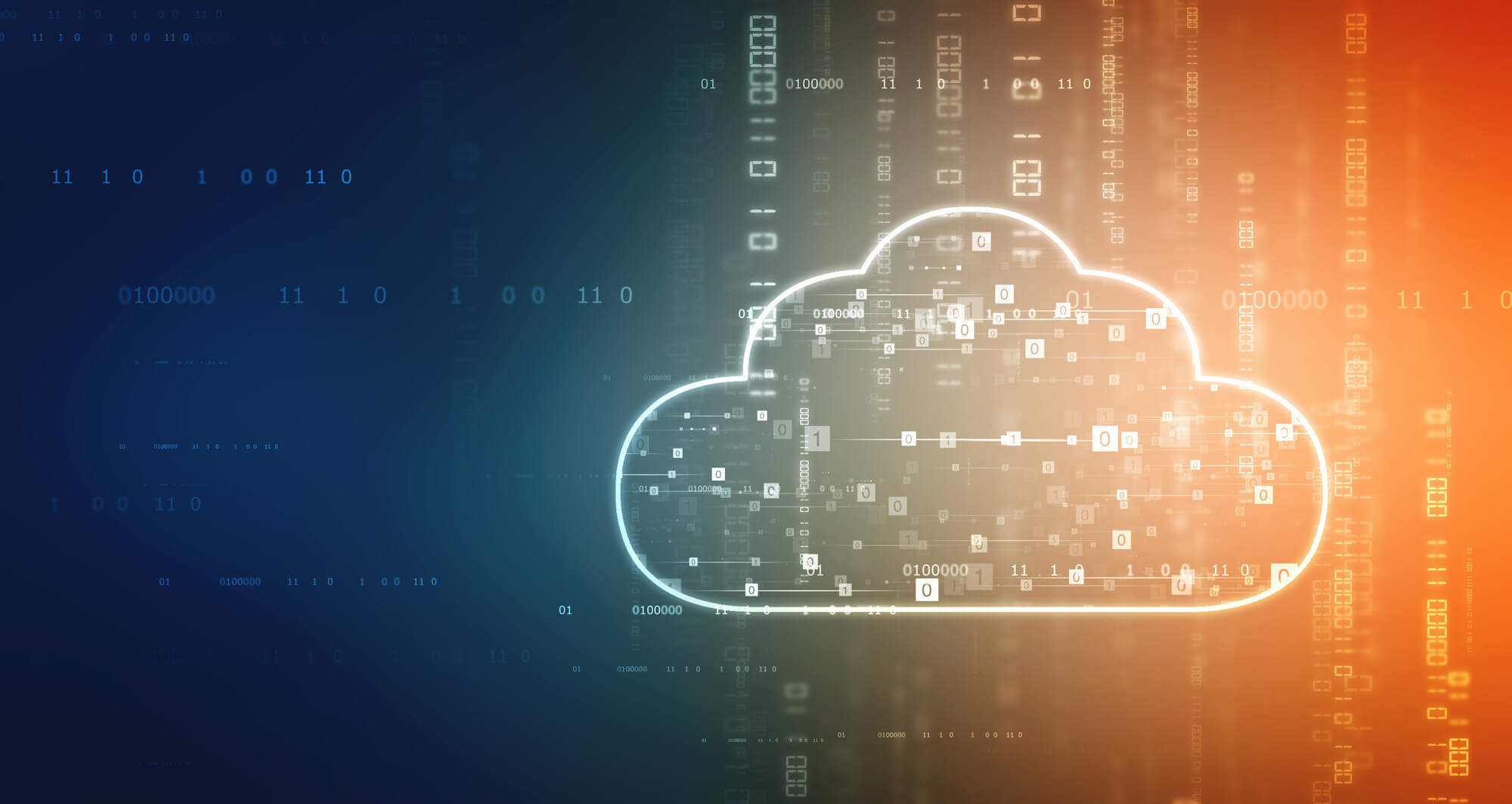 If you (or an employee) actively deletes a file stored in any of your Microsoft accounts, you will only be able to recover it within 30 days. This can be an issue for a couple of reasons:
Many compliance regulations require that you keep certain documents for a specific period of time (often several years).

If an employee is taking initiative and trying to clean out and organize old files, they may accidentally delete something that should have been kept for compliance reasons. If the mistake isn't realized right away, you could be penalized during an audit.


If a disaster (cyberattack or natural disaster) causes you to lose all of your data, it could take longer than 30 days to recover

if you don't have a detailed recovery plan in place. Anything that wasn't recovered within the 30 days would be lost permanently.
In any case, outlining the right data backup and disaster recovery (DB/DR) plan can save you huge amounts of time and money in the long run — and ensure that your company can actually recover after significant data loss.
Ntiva has many years of experience helping companies in many different industries create detailed DB/DR plans. In some cases, we've even helped companies enact those plans and witnessed them flourish after the disaster.
We can help you find the right DB/DR plan for your company and budget.
Additional Services and Pricing
Ntiva can help you get the most out of the entire Microsoft 365 platform, including SharePoint, Teams, OneDrive, and more. However, our services don't stop with Microsoft products. We provide a full suite of advanced IT services and solutions, including:
24/7 help desk.

While most

IT help desks

are run by non-technical representatives who simply create a ticket for you that enters a queue, Ntiva's help desk is run by experienced technicians. Your call will be answered within one minute, on average, and we'll help to start troubleshooting your issue right away. In fact, 75% of issues are resolved on the first call.


Onsite support.

Ntiva has locations all across the U.S. and partners with many smaller MSPs to provide you with local support at any location. Our technicians can arrive on the same day in most locations (and often within the hour).


Apple support.

Ntiva also has a dedicated department for

Apple managed services

(with over a dozen technicians) that use Apple-native tools. By using Apple-native tools, we can provide fast, long-lasting solutions for nearly any Apple issue.


Application development.

Our team can help you build any web, desktop, or mobile application that you need. We can also help you build and maintain integrations between various software solutions.


Managed

cloud infrastructure-as-a-service (IaaS).

You can outsource your data storage to our IT team and we'll handle all server management and maintenance.


And much more…
Many MSPs charge per device or charge by how much bandwidth you use in a given timeframe (for cloud solutions). This quickly adds up and makes it difficult to plan for the future. That's why Ntiva services are offered for a flat-rate fee based on how many users need support.

You can visit our pricing page for more information.
Case Studies
Bryles Research, a qualitative research company, was using an on-premise remote desktop server to access their files. The problem with this was that only one employee could access a file at a time and they couldn't access data from mobile devices. Plus, employees were downloading files, making changes, and not backing up the new version of the file.
Ntiva helped them solve all of these issues by migrating to more modern solutions using Microsoft 365 applications.
"Bryles Research has been working with Ntiva for more than 11 years. They've been proactive. Anytime I've had any kind of issue, they've been very good about addressing it. We are very happy with Ntiva's ability to provide strategic advice beyond the tactical 'break-fix' service that many other MSPs provide."
— Scott Bryles, CEO
Leading Authorities, Inc. Case Study
Leading Authorities, Inc., an event management agency, had employees working out of many different locations with many different devices. Their outdated systems and the disparate workforce was starting to affect productivity and was causing security issues.
Ntiva helped them update their systems including implementing a remote virtual desktop solution.
Destra Capital, a financial firm, was days away from moving their entire office to a new location when they realized there wouldn't be room for their servers in the new office.
They called Ntiva to help them migrate to the cloud in time for the move.
"Their help desk is very responsive … they worked their tails off to get us moved to the cloud in a timely manner. We were under the gun. They came up with a great solution, quickly."
— James Yount, President and Senior Managing Director
Jackson Clinics, a physical therapy practice, was quickly acquiring new locations to keep up with demand. However, each new location had its own servers and IT systems in place which made it difficult to collaborate across locations.
Ntiva helped them consolidate all their data in a cloud database while maintaining HIPAA standards.
If you'd like to learn more about how Ntiva can help you grow your business while cutting the cost of IT, book a consultation today.
5 Other Managed Service Providers
Accenture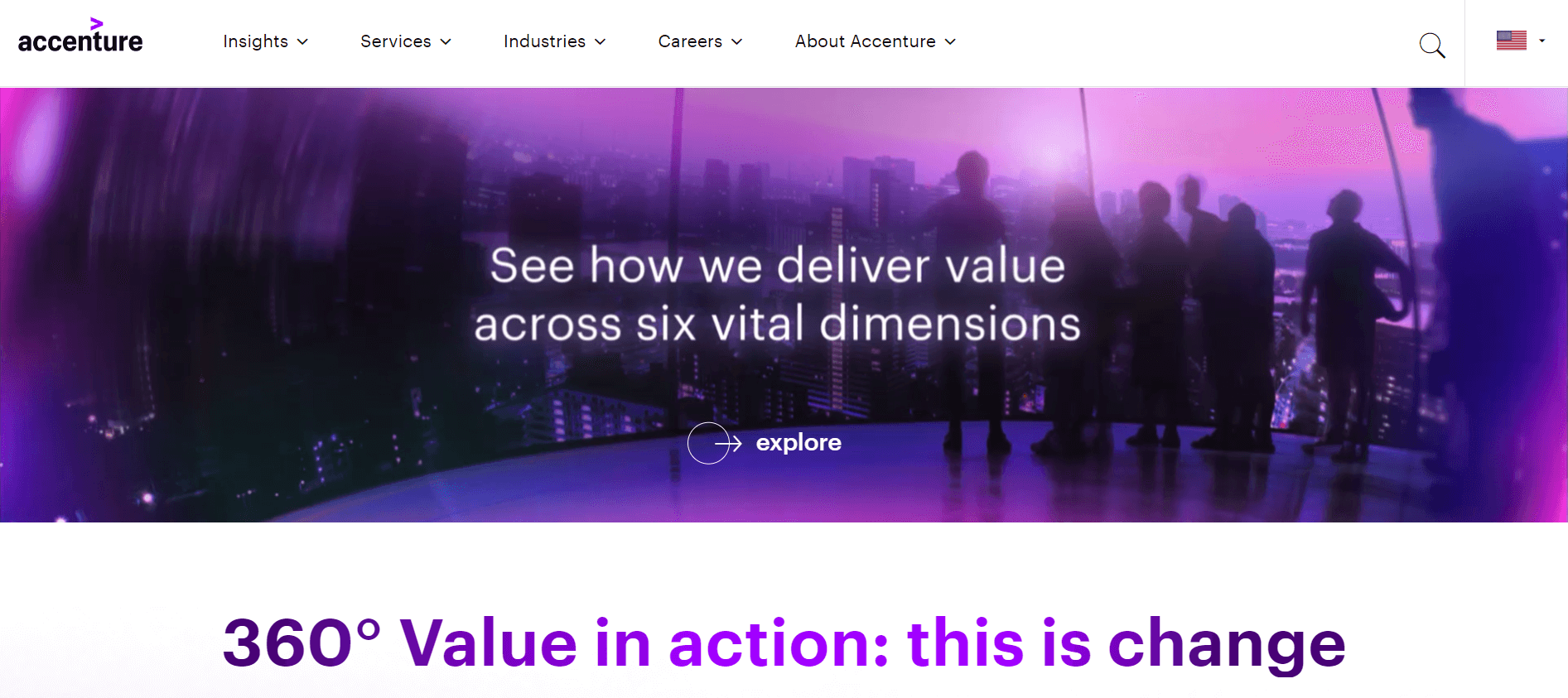 Accenture specializes in digital transformation for large companies.
Their services include:
Cloud infrastructure.
Cloud operation strategy.
AI and automation.
Application services.
Business cloud strategy.
Zero-based transformation.
Finance consulting.
Avanade

Avanade was built by Microsoft and Accenture to provide support for Microsoft products, including Azure infrastructure.
Their services include:
Analytics and AI.
Business applications.
Cloud and application services.
Microsoft cloud managed services.
Workplace modernization.
Cloud migration and security services.
Cloud Direct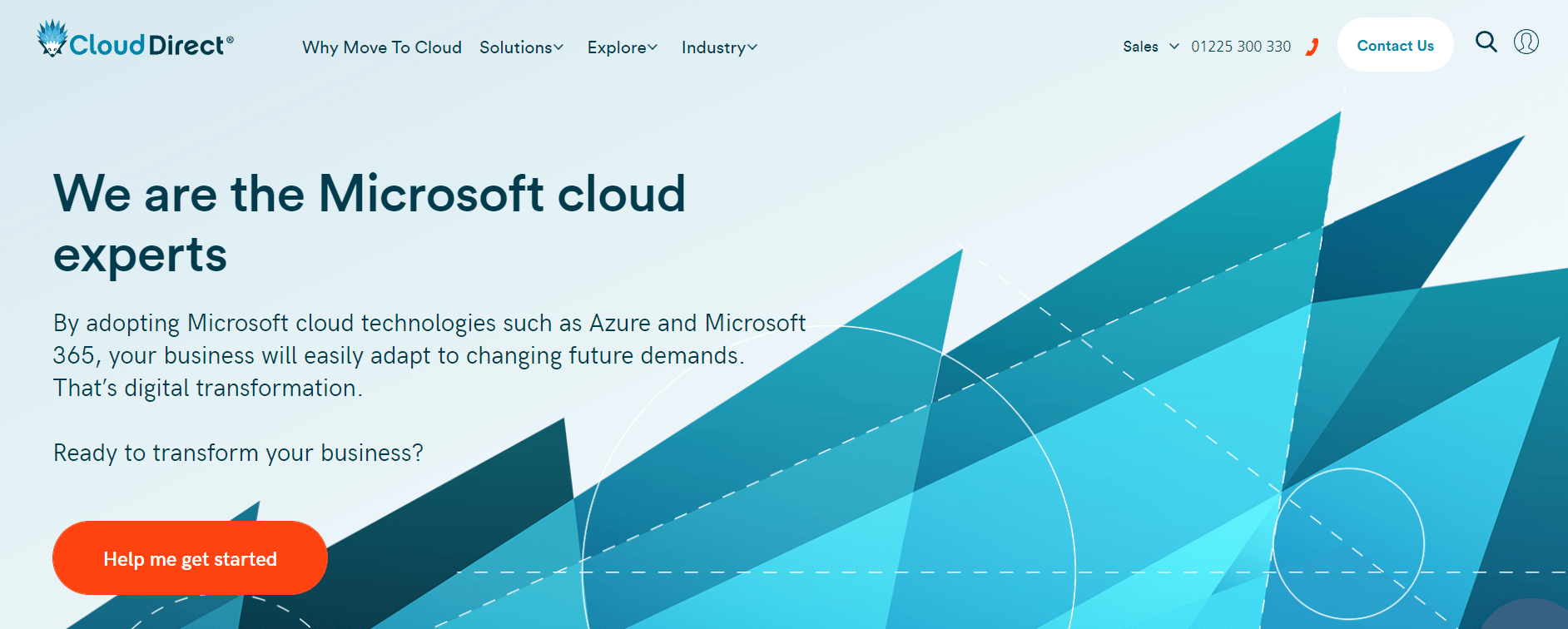 Cloud Direct is an Azure expert MSP with expertise in migration to Microsoft cloud platforms.
Their services include:
Azure migration and managed services.
Azure cloud optimization and modernization.
Microsoft 365 managed services.
Adoption and change management.
Security management.
PC Connection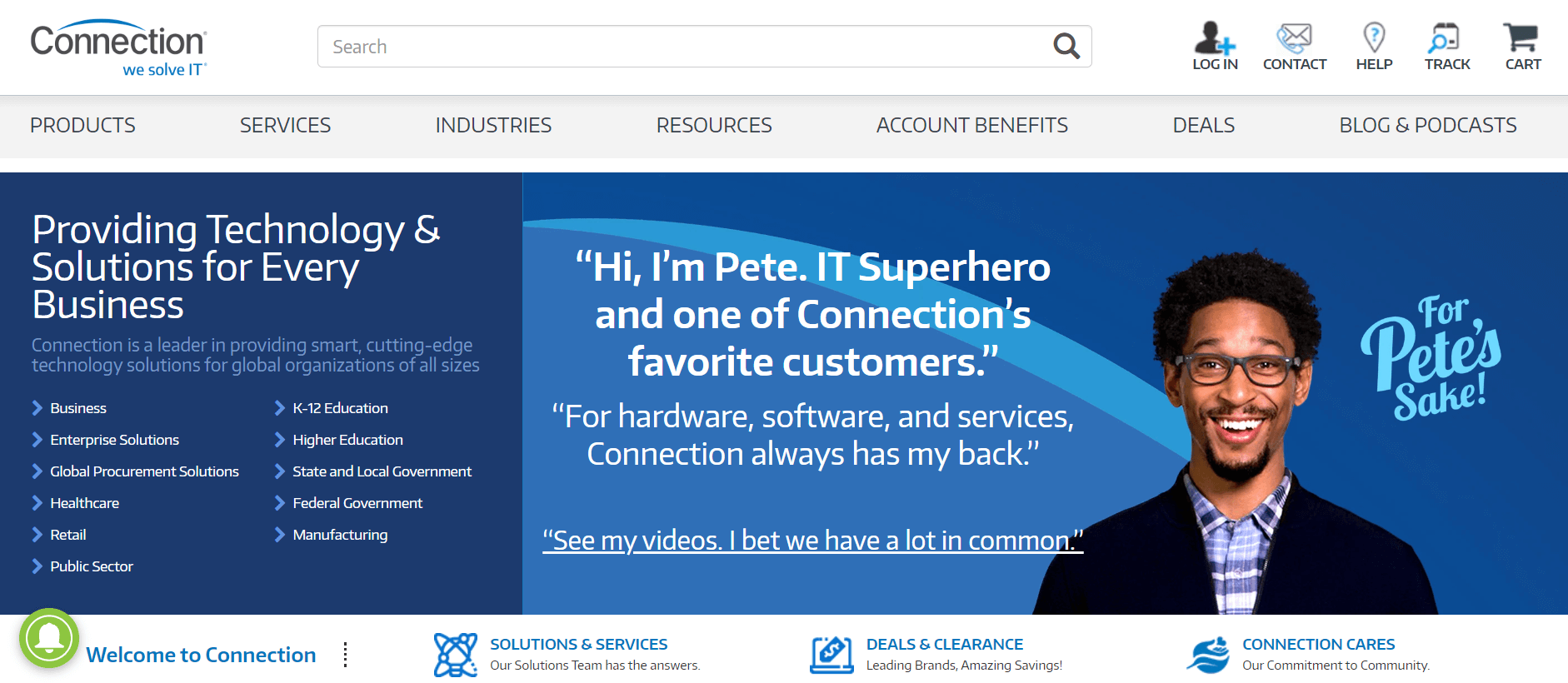 PC Connection is an MSP whose specialization is in managing PaaS (platform-as-a-service) solutions (e.g., Microsoft, AWS, Google).
Their services include:
Data center transformation.
Lifecycle management.
Global IT procurement.
Digital signage.
Cybersecurity.
Softchoice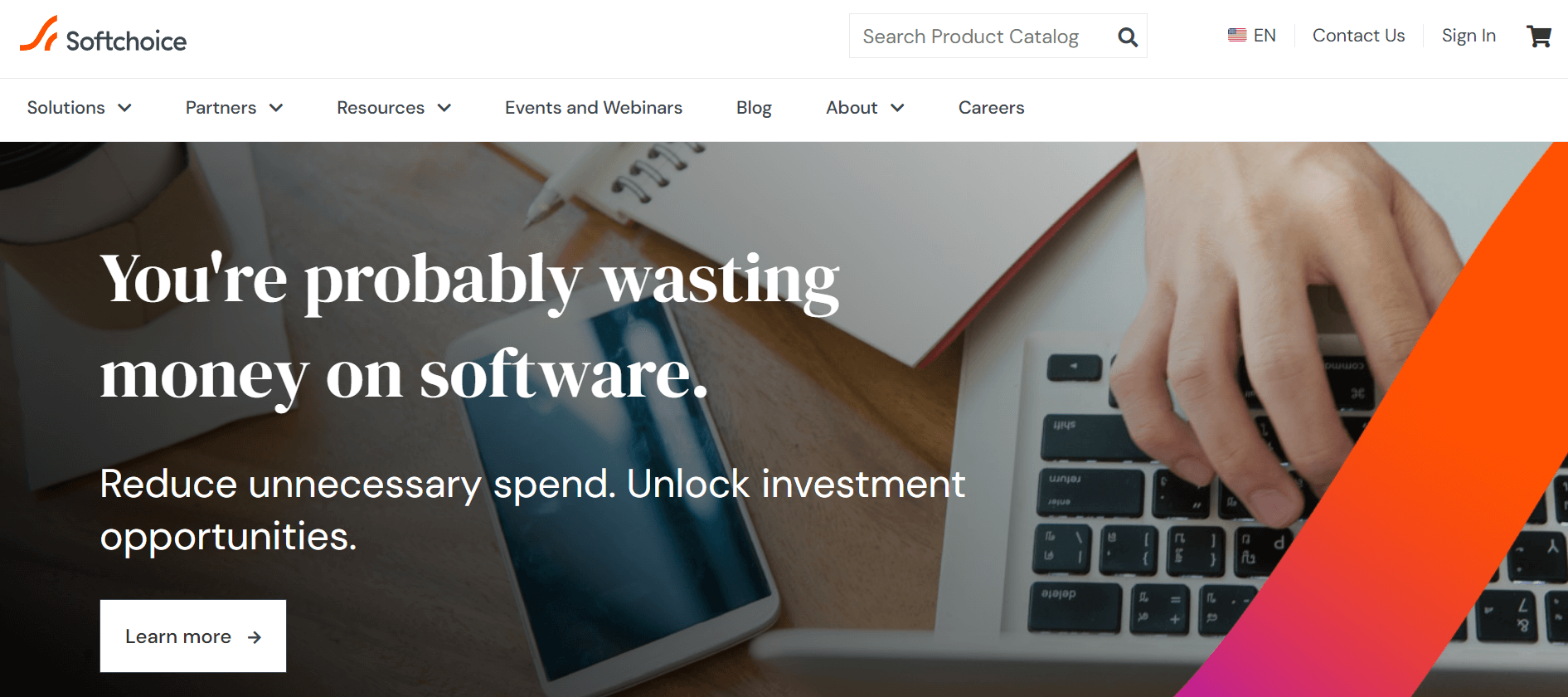 Softchoice is an Azure partner that specializes in cloud solutions and IT asset management.
Their services include:
Hybrid cloud management (i.e., private and public cloud environments).
Management and security for Kubernetes.
Support for multiple cloud service providers (CSPs) including AWS, Google and Azure.
Access management.
IT procurement.
Hardware, software, and licensing management.
DevOps.
Whether you're looking for just Azure support or a full suite of IT services, Ntiva can help. We've worked with companies in many different industries to grow their business with technology and meet compliance requirements. Book a consultation to learn more.
Want to learn more about Managed IT Services for your business? See Ntiva's Managed IT Services.
Managed IT Services and Support
Managed Backup & Disaster Recovery Service
IT Support for Employee Onboarding & Offboarding
IT Help Desk Services and Support
Managed IT Procurement Services
Network Monitoring & Management
Managed Remote IT Support Services