How much does it cost to completely outsource your IT services? This can depend on many factors, including how your business and your MSP operates.
In this article we'll take a look at what exactly "outsourced IT" means, what it costs, the benefits, and the different business models you can choose from.
Generally, you can expect to pay an average IT support cost of between $80.00 to $150.00 per month per user. In some cases, an outsourced provider could offer device-based pricing (a calculation of the number of workstations and mobile devices they are supporting) but in most cases-and here at Ntiva-the per-user pricing is standard.
For starters, having access to strategic technology expertise is a huge factor for fast growing businesses. Add on better risk management, round-the-clock IT support and industry compliance management, to name just a few, and it sweetens the deal even more.
The majority of businesses that choose to outsource their IT needs do so in order to save money (see below for the comparison costs), but there are many other benefits as well!
Table of Contents:
What is the Average Cost of IT Support Services?
Outsourcing Your Entire IT Department
How to Budget for Outsourced IT
What is Outsourced IT?
Outsourced IT is the practice of outsourcing some or all of your business technology needs to a full time third party expert, commonly called a Managed Service Provider (MSP), IT Services Provider or IT Consultant.
The types of service packages you can get from a provider can vary greatly, from an ad hoc hourly rate support team (sometimes called "break-fix") that is there when you need it, to monthly fee-based recurring service contracts that provide everything from help desk to network monitoring and management to vCIO-level strategy.
There are literally thousands of MSPs across the U.S. of varying sizes and service offerings, so it's important to choose the IT service provider who you feel can be a true partner to your organization.
What is the difference between Outsourced IT vs Co-Managed IT?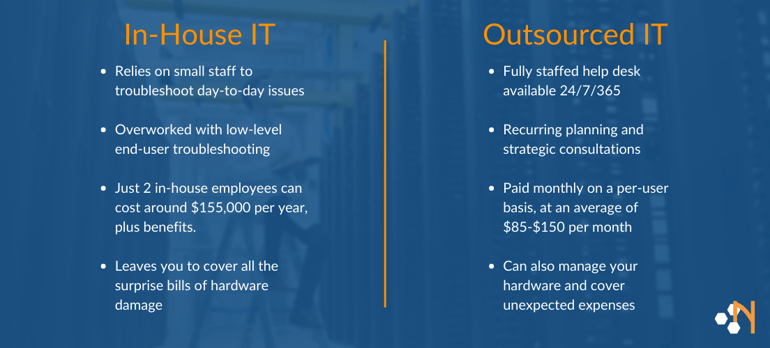 There are 2 basic models of outsourced IT which need to be considered before looking at pricing.
Fully Outsourced IT
Fully outsourced IT typically means that an organization had decided not to have an IT team in-house, and instead outsources all of their IT to a third party provider, commonly referred to as a Managed Service Provider (MSP.)
Everything from remote support and help desk services, troubleshooting, security monitoring, backups, software updates and more are provided by the MSP. Servers may also be stored and managed by the MSP at an off-site data center, as well as the offer of totally managed cloud services.
Other services can include IT budget planning, vCIO services, special projects, and more. Need help managing your third-party application vendors? Trying to figure out how to qualify for cyber insurance?
All this can and should be provided by your IT service provider.
The bottom line is that an MSP should be considered your strategic technology partner, who keeps your entire network and technology stack up and running around the clock, and is available for strategic consultation as needed.



Co-Managed IT
Co-managed IT provides businesses with the ability to outsource IT tasks that the internal IT team does not have time for, or does not have the skill set to tackle.
In short, the organization has an existing information technology staff but is looking for assistance.
Services can include off loading routine computing system work such as updates, back ups, security monitoring and even help desk to free up internal resources.
Or the opposite, where basic staff is in place to run the day-to-day, but the business now needs specialized talent, such as 24x7 cyber security monitoring, that may not be available in-house.
In addition to dramatic cost reduction and increasing efficiency, businesses can benefit from access to technology experts who are in the trenches day after day with similar organizations, and are in the best position to give guidance.
Larger operations may shift to a co-managed IT environment for several other reasons as well.
Co-managed or supplemental IT can help bolster an overworked internal IT department, allowing them to focus on core services, provide specific services and skill sets that don't make sense to invest in, or access specialty services such as the time and talent of a Virtual CIO (vCIO.)
Before we take a deeper look at the various options for providing IT support to your business, below is a quick chart which shows you a simple cost comparison between maintaining an in-house IT team vs. outsourcing your IT to a third party provider.
What is the Average Cost of IT Support Services?
The average cost of IT support services varies depending on a number of factors, including how large your organization is, the complexity of your IT systems, and what your specific needs may be.
For the comparison table below we're using four examples:
Organization A with 50 people - Basic Plan (Ntiva SSP Complete)
Organization B with 75 people - Basic Plan (Ntiva SSP Complete)
Organization C with 75 people - Advanced Plan (Ntiva SSP Compliance)
Organization D with 125 people - Advanced Plan (Ntiva SSP Compliance)
Note that these are just rough estimates! There are many other considerations that will come into play when it comes to choosing the business model which is right for you.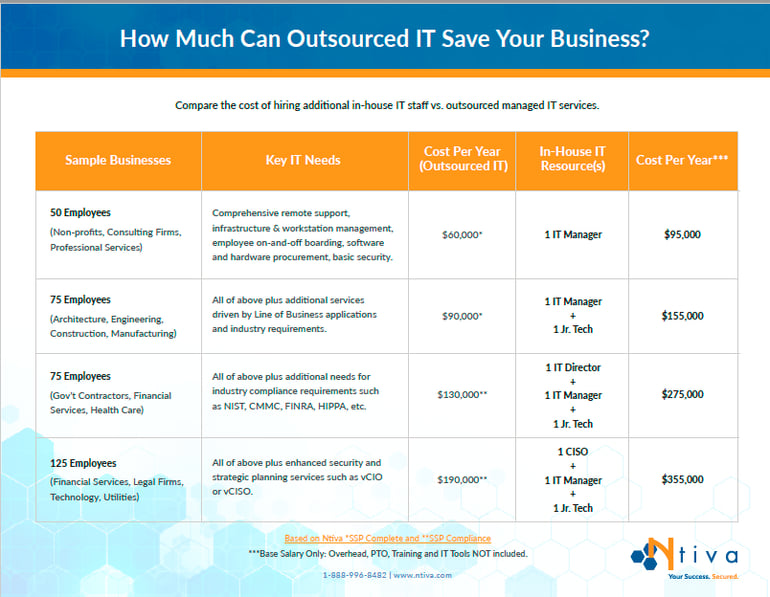 Option 1: Keep Your IT Team In-House
Internal IT departments may seem like the best option to keep your business running, with someone always available in the office to keep everyone's printers running and passwords up to date.
But, this method often comes at a serious cost, depending on where your business is located and what your needs may be.
The average desktop technician generally commands an average salary around $50,000 per year. The primary role of this entry-level IT employee is to update and maintain hardware and software while handling small troubleshooting issues.
IT managers are paid anywhere from $80-150,000 per year , depending on their seniority, to take responsibility for core business IT systems and ensure that they are aligned with your business strategy. A seasoned IT manager will handle high-level tasks and ensure that the organization's IT infrastructure is prepared for future growth and industry standards, amongst many other tasks.
Of course, the most common problem is that many businesses can only afford one IT manager to handle all levels of IT operations for the entire company.
If you're tasking your IT managers or directors with desktop technician level troubleshooting on a day-to-day basis, you're not getting the greatest benefit from your IT investment.
If you're tasking your lone junior technician with more responsibility they can handle, you're likely in for some unpleasant surprises, especially when it comes to cybersecurity.
Pros: IT staff visible and easily accessed (at least during office hours) and are intimately familiar with the IT network layout and existing applications.


Cons: High overhead costs. Usually understaffed for the number of employees. Higher level technicians are unable to concentrate on business strategy and are bogged down by day-to-day troubleshooting. Expertise in specific areas such as security is likely lacking. If there is a sole IT manager, sick days and holidays are a problem.
Option 2: Outsource Your Entire IT Department
When some people see the words "outsourced IT," "remote help desk," or "cloud computing" they get nervous.
After all, isn't it always best to have the IT guy stand behind you at your desk to fix that computer glitch?
The answer, for almost all basic IT issues, is a resounding NO.

The benefits of outsourced IT can be huge!
With the help of remote assistance software, most common problems such as a broken printer, slow computer, or forgotten password can be easily taken care of in minutes by your MSP.
These types of issues don't require anyone on-site, and can actually save time and money by having remote technicians take over immediately. You can pick up the phone and be connected with a help desk support technician no matter where in the world you are at any time, and for any reason.
Occasionally you will want or need on-site support. This can easily be arranged through your MSP, whether you need weekly support, an occasional visit for a special project, or when there is an issue that simply can't be fixed remotely.
The number one reason businesses move to outsourced IT is the need to technical expertise, as technology continues to become more complex and change at a faster rate.
It's almost impossible to get the breadth of expertise you need to stay competitive, and it's not cost effective to build and manage it yourself.
That's where Managed IT Services can really change the game, letting you take advantage of economies of scale that only an MSP can offer.
Pros: Access to 24x7 extended team of experts, network monitoring, security and support with no sick days or holidays. Reduced risk due to higher IT staff volume. Faster resolution times than overworked in-house IT teams. Access to deep expertise such as managed cybersecurity, industry compliance and vCIO services. Can have large cost savings, especially for small-to-mid sized businesses.


Cons: You need to choose an MSP who offers superior communication processes and customer service. Limited or patchy communication leads to frustration and ultimately overall dissatisfaction with the service. It is helpful to have at least one resource internally who is responsible for working with your chosen MSP.
Option 3: Co-Managed IT
Having an internal IT manager and an outsourced IT service provider brings the best of both worlds to your business, and most larger organizations have begun to realize this.
Co-managed IT can free up your IT team to let them refocus on your top priorities, such as creating strategies that empower your employees to be more productive, and assuring systems are aligned with business goals.
IT leaders should be exploring ways that mobile apps, collaboration technologies, and cloud computing can be leveraged to drive greater productivity and profitability, but this is difficult to do when your team is bogged down with routine maintenance.
Asking experienced professionals to do remedial tasks doesn't contribute to job satisfaction. This also leads to overall office frustration, because your employees can't work around broken technology while they wait on the office IT guy to come around!
The combination of having experienced IT managers to guide your organization into a stable IT environment for the future, while also having dozens of help desk technicians available all day, every day leads to a productive and successful IT department for any size business.
Pros: Experience the best of both worlds. Increase the productivity of your internal team. Outsource the tasks you don't want to do in-house, and still maintain control and direction over your environment. Or, take advantage of expertise you don't have to help you with strategic initiatives.


Cons: Can be too costly for smaller organizations to maintain in-house resources as well as pay for outsourced IT assistance.
What Does the Average In-House IT Team Cost?
At a minimum, any organization with more than 20 or 30 employees will require one "Tier 1" help desk technician to handle day-to-day troubleshooting, and one IT manager to handle larger administrative issues and business processes.
If we average out salaries, having just those two roles would range from about $150,000 to $200,000 per year, and that may not even include PTO, insurance, and other overhead costs for a team of two to fully operate and maintain a small-to-medium business IT infrastructure.
Of course, the number goes up as you continue to grow your business. Two people simply won't be able to keep up with an office of 75+ employees in the long term. Another Tier 1 help desk technician will be needed, and all overhead will go up.
These averages also don't include necessary continued training expenses for the IT employees, internal hardware replacement expenses, and emergency funds for any immediate IT needs.
How Much Does it Cost to Outsource IT Support?
There are many questions that people ask IT service providers, but questions surrounding IT managed services pricing models is at the top!
This number becomes a bit trickier to estimate, because every serviced business has very different needs. In general, most organizations start with a basic service package of help desk, remote monitoring, updates, procurement, server management software, basic cybersecurity protection, and more.
Others may have more complex needs, including advanced cybersecurity requirements, cloud hosting, dedicated on-site support and dozens of other technical requirements.
The average Ntiva client pays between $85-$150 per user per month, depending on the service package chosen for the organization, and the number of employees.
In an average 50-person organization with no on-site servers, and using an average cost of $100 per user, this would cost around $60,000 per year.
There may be additional one-time charges for emergency on-site visits or strategic business objective planning sessions, but the savings compared to an overstretched IT team of two are massive.
Moving forward, the only additional cost of future growth in the company would be per user, plus of course any new projects that need to be implemented as the years go by.
How to Budget for Outsourced IT Service Provider Costs
Budgeting for IT costs with a reputable MSP shouldn't be difficult. Ntiva offers a per-user fee (we don't charge per device, as most users have multiple devices) so you'll know exactly what your monthly bill will be.
However, there are some shady tricks to watch out for when dealing with an IT service provider.
Hourly block fees – Some low-cost MSPs may attempt to simply charge a minimum number of hours per month to small businesses. You may believe you're paying less by only purchasing 40 hours per month of service, but the provider will go out of their way to charge extravagant fees once you go over the pre-purchased hours.


Flat fees – $1,000 per month for unlimited support sounds fantastic, until you realize that your initial $1,000 fixed fee doesn't cover on-site support, rushed response times, delivery fees, or hardware setup fees. Flat fee providers will nickel and dime you for all they can.


Any fee structure that isn't "PER USER/PER MONTH" – Generally speaking, all reputable IT service providers will charge your business in a per user/per month format. Paying one price per user gives you the peace of mind knowing that anything the user needs is taken care of, including drive space, technical support, and security monitoring. This is the safest way to avoid overpaying and surprise fees.
With a per-user setup, and detailed monthly breakdown of your account, you'll know exactly what you're paying for, and be able to plan accordingly for future growth and expansion.
A respectable IT service provider will work with your organization's vision and current IT infrastructure to give you a competitive advantage and provide the best possible service at the best possible "per-user" price.
If you're a larger organization, the combination of an in-house IT manager with an MSP may be just the ticket to propel your business to greater heights at a reduced cost.
If you're interested in learning more, and are worried about your current team struggling to keep up with your business needs, click the image below to learn more about what outsourced IT can do for you!