Are you in control of your technology stack, or is it controlling you?
Keeping your tech stack running smoothly is essential to the success of your business. It frees your team to focus on generating value, not getting stuck doing repetitive tasks.
In 2023, more than two-thirds of organizations will outsource some of their IT management services. There are many reasons for this, but a driving factor is the continual adoption of new technologies. In addition, many companies need help with the growing and increasingly complicated tech stacks required to run their businesses.
If you want to improve your existing technology stack and continue to adapt to changing technology trends and opportunities, consider working with a managed IT service provider. The right managed IT provider can help you increase productivity at the lowest possible cost over a set period of time.
That's why many companies have turned to IT management services to lighten the load.
What are Managed IT Services?
IT management services provide an organization with the means to implement and operate the information technology underlying the processes and systems supporting the organization's activities.
And in our particular context, we're talking about outsourced managed services delivered by third-party providers.
Services include oversight of network and data communication operations and covers IT-related policies and procedures for running and maintaining the organization's information technology (IT) infrastructure.
Some, or even all the software, along with hardware such as servers, storage devices, network equipment etc. can be delivered and maintained remotely by a managed IT services provider.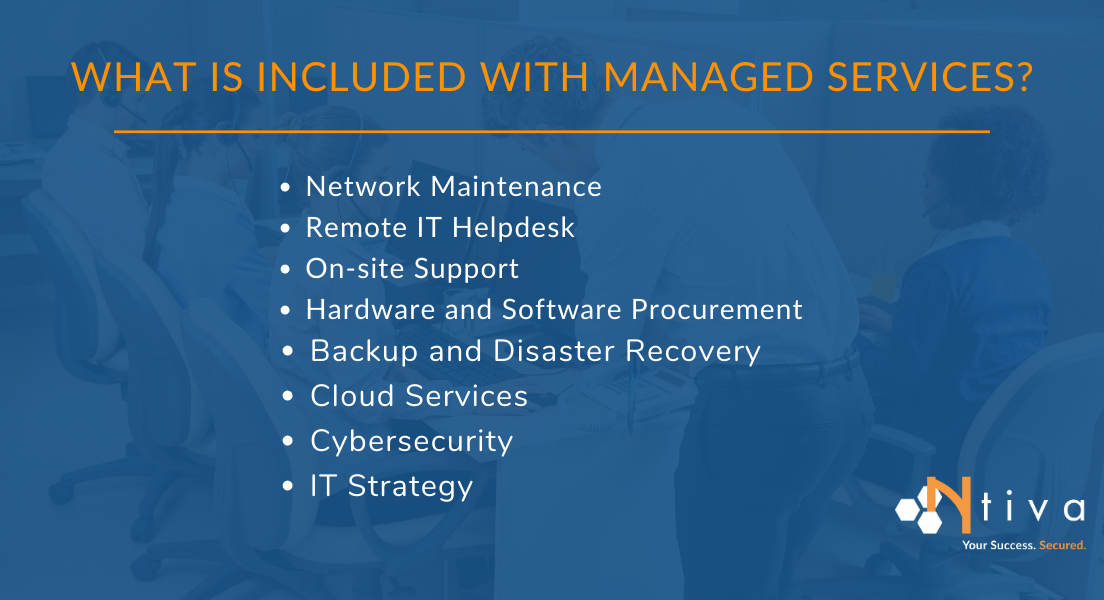 What is Included with Managed Services?
It depends!
Managed service providers might deliver just a single extra capability to an IT department, take some day-to-day tasks off an experienced team's plate, or provide a totally outsourced team.
Every business is different, so managed IT services include whatever combination of offerings a business might need:
Network maintenance
Cloud services
And more...
IT Managed Services Have the Expertise & Efficiency You Need
As we said, organizations always adopt new technology, but unfortunately, it's getting hard to find qualified and experienced employees to manage it.
There's an emerging talent gap with highly skilled IT jobs, and studies have suggested that 60% of employers need help to fill specialized IT vacancies. With an expected global shortage of skilled workers in IT, talent is becoming scarce, so recruiting people for top IT jobs will become trickier and more expensive.
To make this talent gap even more challenging, the technologies we use every day have become increasingly specialized. It used to be the case that businesses could get away with hiring a generalist IT staff who, (at the time), was capable of building, managing, and troubleshooting everything. But now, IT systems have grown much more complex, so you need individual teams with expertise in cybersecurity, cloud computing, networking solutions and other functions.
Against that backdrop, outsourcing with a managed service provider may become your quickest and most cost-effective route to finding the right talent (and avoiding the security and performance issues that not having them in your corner can cause).
A talented IT support team usually has the stats to back up their skill sets and service agreements. Here at Ntiva our recent (as of January 2023) customer stats read as follows:
An average phone call to the Ntiva help desk is answered in less than one minute.
97% CSAT-customer satisfaction based on ticket resolution.
70% of service issues are resolved on the first call.
77% of tech issues are resolved by a single engineer; no need to keep explaining your issue to a new technician who doesn't know the background of your concern. But if a more senior or experienced engineer is needed, they are always available on the Ntiva team!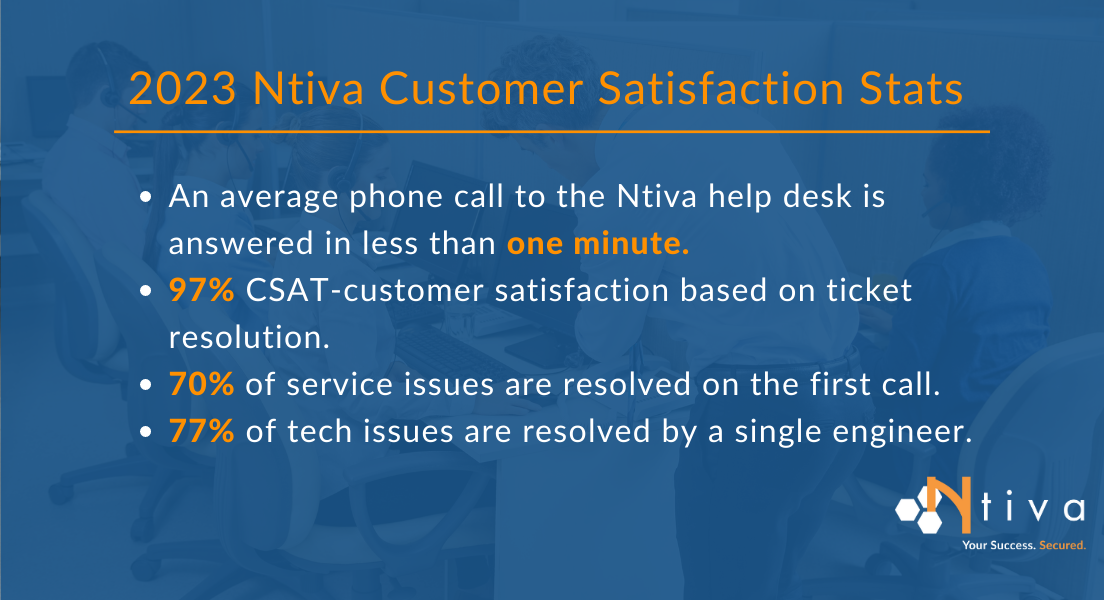 Experience and Expertise Saved the Day for this Ntiva Client
The benefit of having a large, experienced IT support team was demonstrated when a regularly scheduled onsite visit with a Ntiva client turned into a mini-emergency needing escalation.
One of the tasks scheduled for that day's onsite visit was adjusting a VPN connection that was no longer syncing with the client's database application.
As it turned out, this task was more complicated than either the engineer or the client expected; the existing firewall connection was no longer compatible with their database vendor's application, and the vendor could not assist with finding a solution.
Without a swift resolution, the client (a local union office supporting health, employee, and retirement benefits) would risk significant downtime.
This issue required an experienced firewall engineer to properly configure the system, so it could be tested and verified with the vendor and the end user. And this needed to happen asap!
Within 30 minutes of the ticket escalation, the issue was resolved by the Ntiva professional services team. They were able to properly configure the settings of the VPN tunnel, verify the S2S connection, and test the sync with the client and the vendor online.
An issue that could have been a days-long disaster for the client, requiring the procurement of new equipment, was resolved with a closed ticket in less than an hour.
The client was thrilled: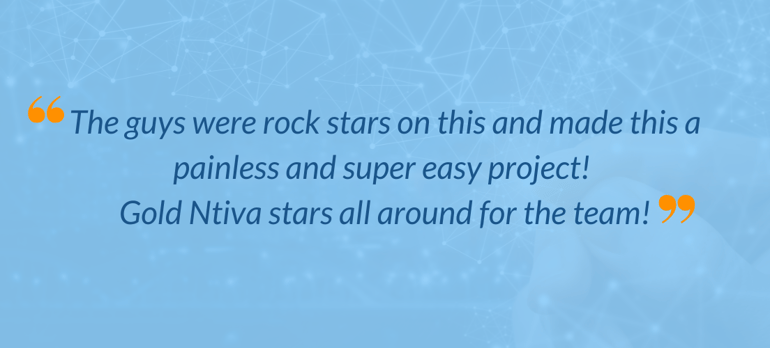 This is why working with an outsourced IT solutions provider gives you access to the people best qualified to manage these tools and processes cost-effectively.
How Do You Choose the Right Managed Service Provider?



With many thousands of companies out there you are spoiled for choice, so knowing what yardsticks to measure by offers objective comparison.
Size
One consideration is size.
The vast majority of managed service providers are small with revenues ranging from $500K to $3 million with 80% managing under 2,500 desktops. Small size often means that many automation tools are too costly for these MSPs.
Ntiva manages over 20,000 desktops and has the scale to invest in new technologies and people which lowers the cost and improves the accuracy of services we provide.
Response Time
Another consideration is response time.
Two key questions are how quickly does a MSP solve critical problems and, secondly, are they also available in a hurry for addressing smaller issues.
At Ntiva our average hold time is less than 5 minutes because our Service Desk is staffed with fully trained technicians so callers do not have to wait while a phone receptionist hunts down a qualified expert.
Reputation of Caring
A third consideration is; does the MSP have a reputation of looking out for the best interests of their clients?
This means focusing on building long-term relationships instead of short-term gains from selling products or services not yet needed. In addition, a question to ask is how does the MSP handle inevitable mistakes?
At Ntiva we have established a culture of problem-solving where it's encouraged to bring errors out into the open so that they can be documented and avoided in the future.
How Much Do Managed Service Providers Cost?

Again, it depends, but working with a managed service provider will likely be a lot cheaper than the losses your business experiences from the effects of downtime.
A managed service plan makes your IT expenditure predictable, as it's usually billed per month, which simplifies budgeting.
As a for-instance, Ntiva's managed support plans start from as little as $57 per user per month (based on 250 users). Features include a 24-hour remote service desk offering expert IT advice, advanced troubleshooting for systems, networks, and apps, software installations and removals, enhanced email security, phone systems support, workstation preparation, network monitoring and management, backup and disaster recovery, training, and more.
Managed services are scalable, so you're free to add optional extras such as cloud-based software solutions, compliance-as-a-service, IT consulting on projects and more.
Managed IT Services Can Unlock Your Business Potential
Managed IT services could be the key to unlocking the full potential of your business. Contact Ntiva today, and we'll be happy to talk to you about the services mentioned here and others tailored to your needs. In the meantime, check out our case studies to see the ways we've helped real Ntiva clients succeed!