Around two-thirds of organizations now use some form of outsourced IT management services. There are many reasons for this, but a driving factor is the continual adoption of new technologies. Many companies are grappling with taller and more complicated tech stacks that are required to run their business.
With more software and hardware to keep up and running, cybersecurity threats to mitigate, and software to be patched and tested — to name only three items in a long list — internal teams may reach the point where they find themselves spending more time on keeping the technology humming than they do on strategic initiatives.
That's why many companies have turned to IT management services to lighten the load.
What are Managed IT Services?
IT management services provide an organization with the means to implement and operate the information technology underlying the processes and systems supporting the organization's activities.
And in our particular context, we're talking about outsourced managed services delivered by third-party providers.
Services include oversight of network and data communication operations and covers IT-related policies and procedures for running and maintaining the organization's information technology (IT) infrastructure.
Some, or even all of the software, along with hardware such as servers, storage devices, network equipment etc. can be delivered and maintained remotely by a managed IT services provider.
What is Included with Managed Services?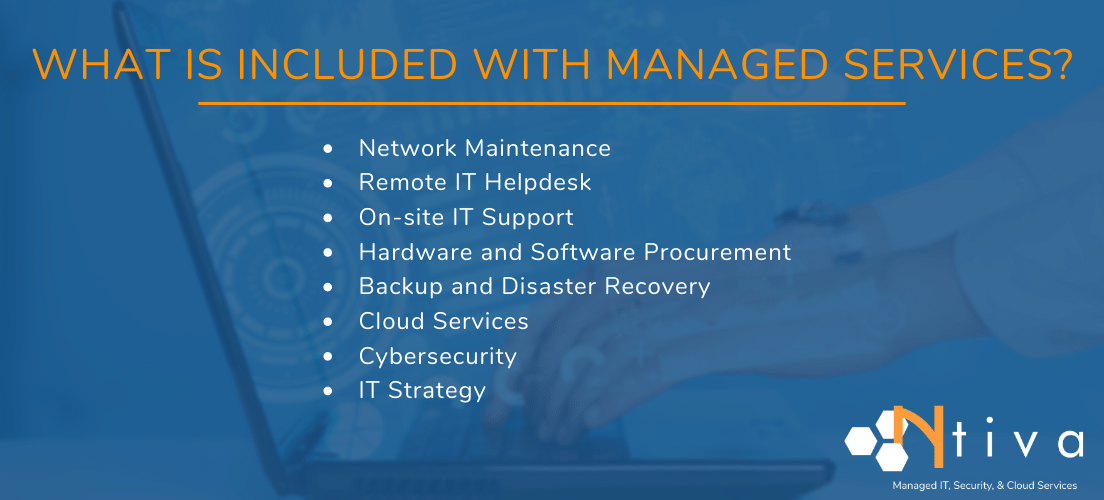 It depends!
Managed service providers might deliver just a single extra capability to an IT department, take some day-to-day tasks off an experienced team's plate, or provide a totally outsourced team.
Every business is different so managed IT services include whatever combination of offerings a business might need:
Network maintenance
On-site IT support
Hardware and software procurement
Cloud services
Cybersecurity
IT strategy
And more...
Managed Services Have the Right Talent

As we mentioned, firms adopt new technology all the time, but unfortunately, it's getting increasingly hard to find employees who are qualified and experienced enough to manage it.
There's an emerging talent gap with highly skilled IT jobs, and studies have suggested that 60% of employers are finding it hard to fill specialized IT vacancies.
Experts have warned of a global shortage of 4.3 million skilled workers in the technology, media, and telecommunications sectors by 2030, which doesn't bode well.
Talent is becoming scarce, which means recruiting people for top IT jobs will become trickier and more expensive.
Against that backdrop, a managed service provider may become your quickest and most cost-effective route to finding the right talent (and avoiding the security and performance issues that not having them in your corner can cause).
The other challenge is that technologies have become increasingly specialized.
It used to be the case that businesses could get away with hiring generalist IT staff who at the time were capable of building, managing, and troubleshooting everything.
But now, each area has grown exponentially more complex, so you now need individual IT teams for Cybersecurity, the Cloud, networking, and other functions.
Again, a service provider gives you access to the people best qualified to run these functions in a cost-effective way.
What if My Business is Too Small for Managed IT Services?

Most small to medium-sized businesses are already paying for things like anti-virus software, backup solutions, cloud storage and cloud-based software, so it could make sense to use a third-party managed services provider to consolidate and proactively manage everything that you're currently paying for.
Even if your IT department already has the technical capacity to handle maintenance, monitoring, upgrades, and support tasks, it's worth thinking about whether it's the best use of their talents.
Could they be spending more time working on more innovative projects that help your business goals instead?
How Do You Choose the Right Managed Service Provider?

With many thousands of companies out there you are spoiled for choice, so knowing what yardsticks to measure by offers objective comparison.
Size
One consideration is size.
The vast majority of managed service providers are small with revenues ranging from $500K to $3 million with 80% managing under 2,500 desktops. Small size often means that many automation tools are too costly for these MSPs.
Ntiva manages over 20,000 desktops and has the scale to invest in new technologies and people which lowers the cost and improves the accuracy of services we provide.
Response Time
Another consideration is response time.
Two key questions are how quickly does a MSP solve critical problems and, secondly, are they also available in a hurry for addressing smaller issues.
At Ntiva our average hold time is less than 5 minutes because our Service Desk is staffed with fully trained technicians so callers do not have to wait while a phone receptionist hunts down a qualified expert.
Reputation of Caring
A third consideration is does the MSP have a reputation of looking out for the best interests of their clients?
This means focusing on building long-term relationships instead of short-term gains from selling products or services not yet needed. In addition a question to ask is how does the MSP handle inevitable mistakes?
At Ntiva we have established a culture of problem solving where it's encouraged to bring errors out into the open so that they can be documented and avoided in the future.
How Much Do Managed Service Providers Cost?

Again, it depends, but working with a managed service provider will likely be a lot cheaper than the losses your business experiences from the effects of downtime.
A managed service makes your IT expenditure predictable, as it's usually billed per month, which simplifies budgeting.
As a for-instance, Ntiva's managed support plans start from as little as $57 per user per month (based on 250 users). Features include a 24-hour remote service desk offering expert IT advice, advanced troubleshooting for systems, networks, and apps, software installations and removals, enhanced email security, phone systems support, workstation preparation, network monitoring and management, backup and disaster recovery, training, and more.
Managed services are scalable, so you're free to add optional extras such as cloud-based software solutions, compliance-as-a-service, IT consulting on projects and more.
Examples of Managed Services

Let's take a look at what managed IT services can include.
Remote Support Services Desk
Not all expert IT support service desks are created equal. When you're looking for a service provider it's worth asking whether your staff will be speaking to a human who's on the same continent, a call-handler, or some kind of automated support services bot. The most ideal situation is having US-based support services experts available by phone around-the-clock (which is what Ntiva offers).
Remote IT support
This is more of a troubleshooting service for day-to-day end-user problems—the most common sort—things like network connection problems, lost passwords, or uncooperative printers. Since your service provider will have full remote access to your network and systems they can find the IT problem and fix it.
On-Site Support
Some things are best dealt with in-person of course, which is one reason why you might want to make sure that your service provider has a physical presence in your state.
An Ntiva technician will go out in person to fix problems that can't be sorted via remote connection, and on-site maintenance visits can also be scheduled to help ensure it doesn't get to that stage. This is the preferred approach. When you're auditioning managed service providers it's worth asking whether they take a break/fix approach or a proactive approach. Prevention is better than cure.
Server Management
Constantly keeping legions of servers with their operating systems and software packages up to date is no mean feat, but it has to be done. Updates are released to improve functionality and protect against malware and data breaches. Since networks are designed to connect the business with the world and the data it looks after is so valuable, intrusion attempts happen all the time.
Regular updates keep servers running securely, and regular maintenance ensures that they handle workloads efficiently and effectively. A managed services provider can take on this crucial responsibility for you.
Network Monitoring and Management
A network has a lot of moving parts and more and more businesses are totally dependent on them. Managed IT services monitor and manage network components like routers, firewalls, and switches. A lot of the workload can be handled by automated systems that pick up and report on device and connection failures.
Cybersecurity
Keeping a business network safe from the ever-increasing threat of cyberattack is a 24/7 commitment that's made harder if you lack the most up-to-date resources to handle it. Managed IT services can give your business enterprise-level defences on tap, including training, endpoint security services, threat detection and response, data encryption, two-factor authentication, active monitoring and response, and auditing.
Backup and Disaster Recovery (BDR)
Businesses are generating more files, folders, images, spreadsheets, and databases across physical and virtual machines than they ever have before. Today's businesses rely more than ever on that data just to function, so backups and disaster recovery are essential to avoid the worst.
Businesses also have data protection obligations to themselves, their customers, and often to official oversight bodies too. With these factors in mind, managed IT services providers will be able to specify the right solutions and integrate them with your current infrastructure. Solutions could include on-site backup to disk, tape, or the Cloud, whatever is most appropriate.
Microsoft Applications
If your business runs Microsoft applications like Office 365, Azure and SharePoint, or intends to migrate, then managed IT services can help you select the most cost-effective products and plans, help you migrate from your current solution, and offer continuing management.
Procuring Hardware and Software
If you decide to keep your technology stack in-house rather than outsourcing it (or combine onsite and Cloud), a managed IT service provider can still help you to evaluate, purchase, and install everything. Setting up an entire system can often be a very complex and time-consuming process, so an IT service provider can guide and assist you with design, installation, maintenance, and upgrades.
Mobile Device Security
The coronavirus pandemic has accelerated the shift to remote working, so more staff than ever have begun introducing their own devices to their employers' networks. They may be excellent productivity boosters but they are not always as secure as they should be, and cybercriminals know that. Your managed IT service provider should be able to help you evaluate appropriate mobile device security solutions and policies.
Cloud Services
Cloud computing is seen as one of the most cost-effective ways to accelerate business growth. The cloud is designed to give organizations on-demand access to an almost limitless pool of computing power, networks, applications, and storage, but migrating all or part of your infrastructure to the Cloud takes expertise. A managed IT services provider can take on and manage the whole design and implantation process.
Ask your managed IT services provider about Cloud Back-Up and Disaster Recovery, Cloud Virtual Server Hosting, Data Center Hosting / Colocation, Cloud Hosted Desktop (DaaS). They may or may not provide them but Ntiva does. We can demystify each solution and explain why they may or may not be the best thing for helping your business grow.
Managed IT services could be the key to unlocking the full potential of your business. Contact Ntiva today and we'll be happy to talk to you about the services mentioned here and others tailored to your needs. In the meantime, check out our case studies to see the ways we've helped real Ntiva clients succeed!