Most small-to-medium sized businesses rely on a relatively small IT team to keep their tech up and running. Typically, these employees know the ins and outs of every piece of the network. This makes it especially difficult when one of them leaves your organization unexpectedly.
When an IT employee leaves the company, with or without notice, it can make things very challenging for the organization.
It's bad enough losing any valuable employee, but when you lose an IT resource it's even worse, as there is a distinct shortage of IT talent across the U.S.
And when it's a high-level technician or your lone "IT guy" that's leaving, it can make your situation seem absolutely impossible.
We've put together the five things you should do as quickly as possible in the event of an IT staffing change, and a few things you should have in place already.
Five Things To Do Immediately When Your IT Guy Quits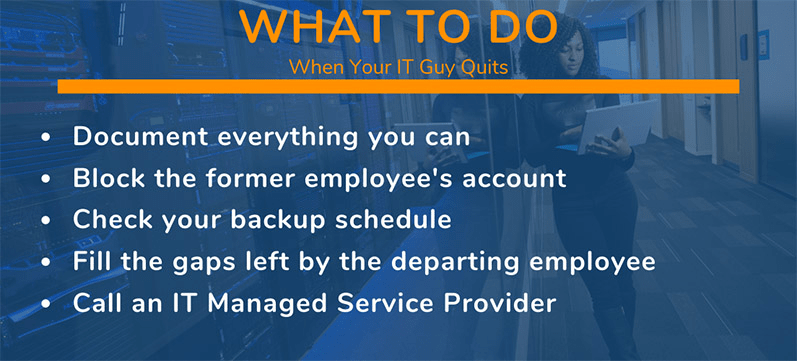 1. Document Everything You Can - Now Not Later!

IT employees keep track of things that their non-technical co-workers might not even know exist. Trust us, unless there is a constant push to keep every piece of knowledge documented, things will slip.
We've seen countless situations where a former systems administrator walked out unexpectedly, and all administrative accounts were locked down because no one else in the company knew the passwords!
This type of info, including administrative passwords and the process for changing those passwords, needs to be documented and updated every time there is a change.
Do a small IT self-audit when you can. Routinely check on the following items.
Can all members of your IT team:
Locate and restore backups?
Change passwords?
Login and update all company software?
Access/maintain/repair current hardware?
Monitor network alerts?
No point in the IT process should be left to one employee.
Even if it's just a brief absence, things can fall apart without that one person. Your IT guy shouldn't have this weight on their shoulders, and your business shouldn't rely on the guaranteed 24/7/365 availability of one person.
2. Block the Former Employee's Account

No matter how strong a relationship with a former employee, their access to your company's data must be blocked IMMEDIATELY. This includes any generic login, personal login, or VPN/IP address they may have used previously.
Change the passwords of all administrative accounts they had access to. Disable any email forwarding they may have setup to their personal email accounts. Remove any VoIP phone call forwarding.
This may seem like a harsh thing to plan for, especially if they're a current employee in good standing, but a rogue IT administrator can bring your business to a complete halt. Have a plan, just in case.
Think of (and document) every digital access point into your organization. Any departing employee will need to have access removed from each of these. This may be as simple as disabling their account in active directory, but usually there are multiple pieces of third-party software that need to be individually modified as well.
3. Check Your Data Backup Schedule
Whether you use on-premises or cloud data backups, you absolutely must have some sort of routine. This process, including time, frequency, and any necessary actions has to be documented. This ensures that any IT employee can step in and continue the data backup process as scheduled.
If possible, before the employee departs, it may be worth creating an additional manual backup, just in case of accidental or malicious file deletion. This is especially true if you're using cloud IT services that allow for frequent backups, as there are no limitations so there is no reason NOT to do this.
Keep in mind, however, the days of requiring a person to manually go through your entire business network and backup all data are over. This can and should be automated, and ideally, the backups should be stored in multiple locations.
Maintaining multiple backup locations is a bit of a stretch for a small to medium-sized business. This is why cloud backups have become so valuable - you'll always be able to access your data, no matter what kind of digital, physical, or natural disaster strikes.
Pro Tip! You might also want to consider creating a true business continuity plan that offers MORE than just simple data backup.
<<Learn More! Read our e-book: Understanding Backup and Data Protection>>
4. Work With the Remaining IT Team to Fill Any Gaps
As a non-IT employee, you may not know the exact role of each worker on your IT team. But your IT employees certainly do! Work with them to understand the rankings and specific tasks each employee has. Make sure there is at least one layer of overlap avoid that bottleneck.
If you're a small business, you may only have one or two IT employees. If this is the case, you may need to call an IT consulting company for temporary maintenance or restructuring of your network. The consultant will also be able to help you with advice on how to improve your existing infrastructure, as well as assist with any projects or plans the old team just never seemed to have time to do.

An occasional check-in of your IT infrastructure, including hardware, software, and employees is necessary. If this seems overwhelming, you may need help from external IT audit. This is a worthy expense in the long run, giving you the peace of mind that your current setup will survive your company's future growth!
5. Call an IT Managed Services Provider
What if every single one of the steps above could be avoided? What if you never had to worry about an IT employee taking time off, getting sick or leaving the company?
This worry-free situation is exactly what a Managed IT Services Provider (MSP) can provide with 24x7 IT services and support.
Your small in-house team of one or two people could be augmented with hundreds of knowledgeable IT professionals who are on call around the clock - no vacations or sick leave to worry about. An MSP will work with you to streamline your business IT needs and improve efficiency across the entire organization.
Managed IT provides you with services such as:
Workstation and server management
On-site and remote support (help desk)
24/7 availability
Backup and disaster recovery
Network monitoring and management
Hardware and software procurement
If you're interested in learning more about how Managed IT Services can help your business, click the image below to schedule a call with one of our knowledgeable techs!