All businesses want to run a tight ship. You want to make sure there are just enough employees to keep things running smoothly, without having to deal with the struggles of over-staffing. But your IT department is an area that is critically affected by staffing levels, and a shortage can negatively impact the entire company.
How do you know when there's simply too much on your IT team's plate?
We've put together five common complaints we've heard from organizations with overworked IT staff. Your pain points may not be exactly the same, but there are a few common themes to look for.
Five Signs You've Outgrown Your Small IT Staff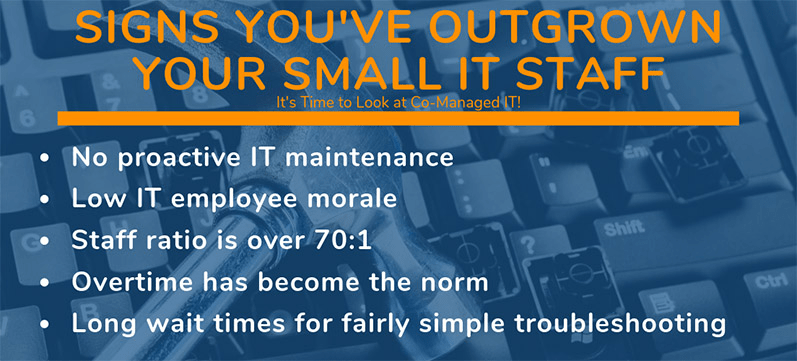 1. You Don't Hear from Your IT Team Until Something
Goes Wrong
Proactive IT maintenance is absolutely key to having your business perform at a consistently high level, not to mention secure from hackers who take advantage of outdated environments.
The average small IT staff is going to be hard pressed to keep up with regular maintenance items like software updates, patches, and security scans if they're busy putting out common technical "fires", such as common end-user computer problems, all day every day.
As an example, a well-staffed IT team will have scheduled software updates and they will send out that schedule to everyone in the office to alert employees to the updates. But if you only see or hear from your IT team when something is broken, they're probably overwhelmed - and you're business has probably outgrown your current staff.
You need to either hire more resources, or consider getting help by outsourcing specific IT functions to a third party such as a Managed IT Services Provider.
Want to learn more about the cost of outsourced IT services? Read more here!
2. The IT Guy Tries to Hide in His Office
Low IT employee morale is a key sign that the team is overwhelmed. Everyone wants to do a good job, but if your team just can't keep up with demand no matter how hard they try, it's very demoralizing.
Put it this way - if the IT guys never come out of their server room or office, you can bet something is wrong.
They can't possibly risk walking around the office, because they know they'll have to deal with small emergencies that they don't have time for. Things like a faulty keyboard can't be addressed when you're trying to keep a network up and running.
If that's the case, it's time to consider outsourcing some of the routine IT functions that might be bogging the staff down, preventing them from working on more important tasks.
One of the most important tasks that often gets dropped, either due to time or lack of expertise, is a cyber security strategy.
In this day and age, not having the proper cyber security protection in place to prevent cyber attacks is considered negligent. You need to have an expert on staff to deal with today's environment.
If you don't, hire an outside party or take advantage of virtual Chief Information Security Officer (vCISO) services, an affordable way to get outside expertise on a part-time basis.
3. The Employee to IT Technician Ratio is More than 70:1
70:1 has become the new "standard" for IT team balancing, according to many sources. But this is a tricky problem to put an exact number on.
On paper, this means you would have 70 employees for every Tier 1 Technician. These are the guys and girls who put out those immediate fires during the day, like the Wi-Fi connection that is down, or desk phone that won't dial, or the infamous "blue screen of death" on a PC.
But that's just for help desk functions. If your sole IT guy is overwhelmed with end user support, everything else gets put on the back burner, which is not an ideal scenario from a business perspective.
This means your team may need multiple IT people with varying skill sets, but how do you possibly to fill all those roles?
That's when its time to google "IT companies near me" and find a trusted consultant who can take a look at your environment and come up with a strategic plan that matches both your needs and your budget.
4. When Overtime Becomes the Norm - And It's More Costly than IT Consulting Services!
If overtime pay is needed on a consistent basis to maintain your business IT needs, you absolutely need to look at getting outside help. Your employees deserve normal work hours, and you deserve a network that is consistent and secure.
You can be sure that if overtime IS the norm, you're not only paying thousands in over-time, your IT employees are tired and stressed. This creates the perfect storm for mistakes to be made.
In our experience, the most common scenario is being bogged down performing basic but time-consuming IT maintenance tasks that likely would be much more cost-effective to outsource.
The flip side is that even if there are a few spare hours in the day, your small team might not include the kind of strategic resource you need to create a long term technology plan.
Many companies get stuck in the rut of maintaining existing - and often outdated - technology, and don't have the time nor talent to improve the business with new solutions and ideas.
One way to overcome this challenge is to consider hiring a Virtual CIO (vCIO) who can step back, take a look at your environment, and recommend the best path forward.
A seasoned vCIO has had the advantage of seeing hundreds of other companies struggling with many of the same challenges as yours, and knows which technologies are best for solving specific problems.
5. You're Still Waiting on That Printer to Be Fixed...
This one is pretty straightforward, and maybe the most obvious problem of an understaffed IT department.
You submitted a trouble ticket last week about your printer not printing. It's not the end of the world, you can walk to the other end of the office and print, but it's still frustrating.
If your office is staffed sufficiently, a simple issue like this should be addressed within a day or so, and resolved fairly quickly, depending on the actual root of the problem.
Waiting days for solutions isn't conducive to a successful business, especially when we all rely on technology every single day of our lives.
Whether it's co-managed IT, a part-time Virtual CIO, or a full-blown recurring services from an IT Services Provider, your business can find a way to allow for successful infrastructure planning along with taking care of those day-to-day issues that inevitably pop up.
Do any of those 5 challenges sound familiar?
If these problems are popping up around your office, you might need to have a serious internal discussion about the possibility of an affordable IT service provider helping out with the team.
Finding a great partner can allow the business to save money, have happier internal employees, increase cyber security protection, and even save money when compared to overtime rates.
If you're interested in finding out more about working with an IT Consultant who can help you with your strategic technology planning, and/or recurring managed IT Services to supplement your staff, click below to schedule a free consultation.