As businesses evolve, they sometimes come to a point where taking on an IT outsourcing service makes more financial and logistical sense than managing all IT in-house.
In-house teams might have a more intimate knowledge of a company's operations, but if your business hits a growth phase it can be a real challenge to scale IT services.
When an in-house team gets swamped, instead of being proactive they are often forced to adopt a break/fix mindset as a fall-back position, leaving your company both underserved and even worse, vulnerable to security threats.
That's where IT outsourcing comes in, typically delivered by what is called a Managed Service Provider or MSP.
Does Outsourcing IT Save Money?
According to a Gartner report, outsourcing IT services to an external provider can potentially lower your information technology operating costs by 19%-29%.
However, reduced cost is not always the end goal, and of course cost savings can vary widely depending on your needs.
There are many benefits to outsourcing, including increased efficiency, reliability and security - all of which ultimately translate into cost savings.
But the truth is that technology changes so fast and has gotten so complex, especially when it comes to cybersecurity, that many in-house IT teams are hard pressed to develop the range of expertise that is required to keep up.
If you've recently come to the conclusion that outsourcing some or all of your services to an external IT service provider is going to deliver cost savings, unburden your existing team, increase your security and/or help your business grow and compete - then read on.
How To Tell If An IT Service Provider Is The Best
So how do you go about finding the right IT outsourcing company?
You could try searching on trusted tech comparison marketplace G2. It's good for researching software and IT services and it features searchable customer reviews of 238 outsourcing teams and companies at the time of writing.
But while a search here might uncover a diamond, ratings are subjective and the filtering functionality is limited, so you can't sort by 'top-rated outsourcing services in Alaska", (if that's where you happen to be) for example.
Other directories are available, and of course you can also use the major search engines to look for outsourcing services near to your location.
But, you'll still need a way to do your own filtering.
Here's criteria for what any trusted IT service provider should be able to do for you: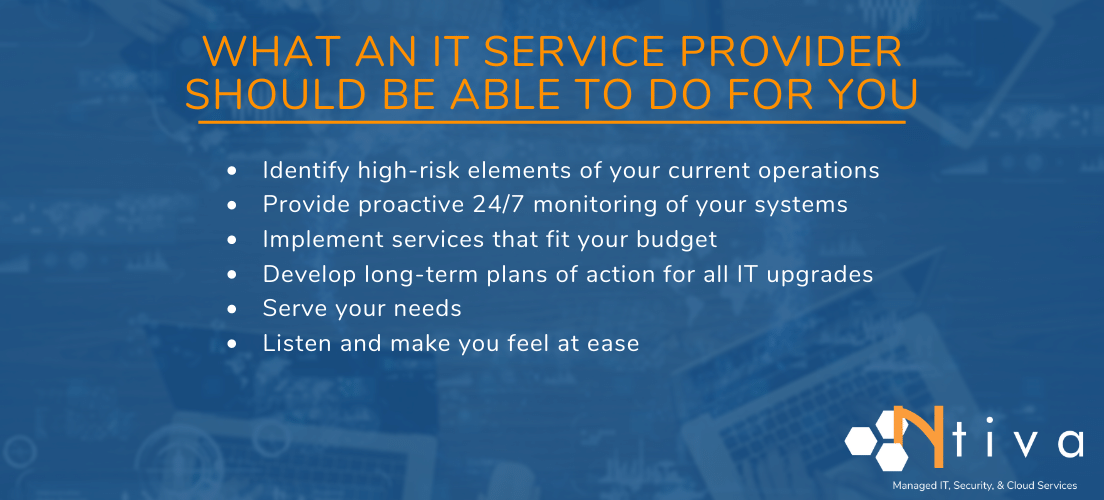 Identify high-risk elements of your current operation and business process that demand immediate attention
Provide proactive 24/7 monitoring of your systems, no matter your time zone
Implement services that fit your budget and your needs
Develop long-term plans of action for hardware, software, and support upgrades
Serve your needs
Listen/make you feel at ease
LEARN WHY NTIVA IS A TOP MANAGED SERVICES PROVIDER
Questions to Ask Your Outsourced IT Provider
That's the overview, but now we need to think about due diligence. Here are some helpful questions to think about when you're assessing IT providers:
Is their company culture going to be a good fit with yours? Don't just think for the short term.
Company history, years in business, unusual peaks or troughs in activity? Any notable disputes or legal trouble?
Are they financially sound with decent market share? Any looming or potential claims that could hurt finances?
Are they organized by industry or contract value? Which parts of the business handle outsourcing – are they local or international?
How are their resources like data centers and staff distributed?
Are they experts in the technology used by businesses like yours?
How many years of experience do they have with transitioning employees?
Have they installed many new systems?
Do they usually partner with others to offer services?
Are they impartial or do they have relationships with preferred third-party vendors?
What Information Technology Services Will You Be Outsourcing?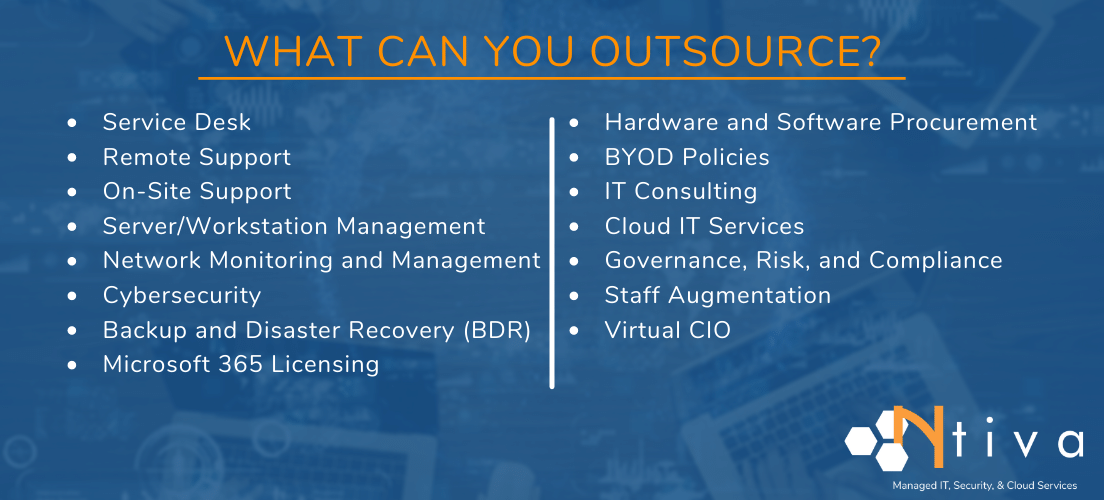 The next thing to consider is what services you will be in your outsourcing contract and whether your chosen provider has the capacity and experience to deliver them for you.
Below are some typical functions and questions to ponder.
Service Desk
A US-based 24/7 service desk staffed by trained technicians can handle IT issues and solve the majority of them there and then. Make sure you understand exactly who is on the help desk, the hours they are available, and where they are located.
Remote IT Support
Most should be able to deal with end-user issues like Internet connection problems, lost passwords, slow machines, login problems, etc. However, they also should be able to handle software installation, quality control, cloud services, advanced troubleshooting and most importantly, cybersecurity services. In short, if it keeps your staff up and running, it's important.
On-Site Support
Some issues can only be solved by on-site technicians, so is your outsourcing provider able to send someone when necessary? Do they offer on-site support plans?
Server and Workstation Management
Can your outsourcing company guarantee that they'll keep your servers and workstations running optimally and keep your business safe from cyber-attacks? They'll need to keep your information systems optimized and stay on top of regular security updates and patches.
Network Monitoring and Management
A good outsourcing provider will be able to manage your network 24/7. They'll offer automated systems that can make sure that routers, firewalls, switches, and other equipment are working fault-free, too.
Cybersecurity
Cyber threats are omnipresent and relentless. Both large companies and small companies are potential targets but few have the resources to fend off attackers alone. That's why you can't accept anything less than 24/7 cybersecurity protection from your IT outsourcing provider.
Backup and Disaster Recovery (BDR)
When disaster strikes, you need a plan B. Your outsourcing company should be able to help you select, install, and manage the right backup and disaster recovery solution for the day when you need to haul your business back from the abyss.
Microsoft Office 365 Software Licensing
Is your outsourcing provider a Microsoft Gold Partner? The company you choose should have solid experience with Office 365, Azure, and Sharepoint, and be able to help you with migration from your current setup, providing ongoing management, and round-the-clock service desk assistance.
Hardware and Software Procurement
Finding the right software and hardware for the job is a job in itself. Your outsourcing company should have the knowledge and skills to identify the right hardware and software for your business, and understand licensing, installation, maintenance, upgrades, and more. If they're sizeable enough they may have the bulk-buying power to pass on savings to you.
Bring Your Own Device and Mobile Support
Mobile security is a big risk. Your outsourcing company should be able to create a BYOD policy and mobile device management solution (MDM).
IT Consulting
Choose an outsourcing provider who can offer IT strategy and planning, budgeting, assessments, security risk assessments, and more to give you the strategic vision to shape your business.
Cloud IT Services
Can they handle everything from partial to full migrations of your information technology data and applications to private or public clouds, plus management?
Governance, Risk, and Compliance
Can your outsourcing provider relieve the burden of meeting HIPAA, FINRA, PCI-DSS, NIST, CMMC, and ISO standards?
Staff Augmentation
One of the main benefits of outsourcing services is that you can potentially get access to world-class information technology staff and outsourced workers without having to recruit them or retain them at the kind of pay levels that in-demand professionals will expect.
And, you don't have to worry about the skills that they have going out of date. IT is a volatile sector where software and hardware skills are constantly changing.
Outsourcing part of a project to an expert team or individual could see it realized faster and more cost effectively than your team could manage.
Virtual CIO (vCIO)
When you don't have the budget for a full-time CIO, can your outsourcing provider offer a vCIO to step in with strategic leadership when needed?
The Top Six Managed Service Providers
Here are six of the best in our opinion. Surprise! Yes, we are at the top of the list, but since we know ourselves better than anyone we hope you'll forgive us for blowing our own trumpet.
We've gone from a standing start in 2004 to now ranking among the CRN top 500 managed service providers in the USA.
We also climbed more than a hundred places between 2019 and 2020 on a list that's 20,000 MSPs long, and we won't stop improving.
We got to this level by sticking to the three core principles that matter most to our clients: response, accuracy, and care.
Is it objective? Well, the other five managed services companies were directly below us on the industry-respected 2020 CRN list and we look forward to replacing them with some names that are even further up the list when the 2021 update comes out.
Local IT Outsourcing Services By State
Naturally, we think that outsourcing services to us would be great for your core business, but maybe you'd prefer to find one that's closer to you geographically.
Here are a few suggestions of companies for each US state with outsourcing models that can help you succeed no matter where you are.
It's not a wide range and we don't have the capacity to evaluate them all, but now that we've given you some pointers on what to look for and what to ask, you're equipped to make a more informed decision about who makes it onto your outsourcing services provider shortlist.
Alabama
Alaska
Arizona
Arkansas
California
Colorado
Connecticut
Delaware
Florida
Georgia
Hawaii
Idaho
Illinois
Indiana
Iowa
Kansas
Kentucky
Louisiana
Maine
Maryland
Massachusetts
Michigan
Minnesota
Mississippi
Missouri
Montana
Nebraska
Nevada
New Hampshire
New Jersey
New Mexico
New York
North Carolina
North Dakota
Ohio
Oklahoma
Oregon
Pennsylvania
Rhode Island
South Carolina
South Dakota
Tennessee
Texas
Utah
Vermont
Virginia
Strategic Solutions of Virginia
Washington
Washington D.C.
West Virginia
Wisconsin
EO Johnson Business Technologies
Wyoming