We love talking to our clients every day. From prospective buyers to the users that have been with us since the very beginning, they all have questions. This week, we've compiled the most frequent questions we receive in one place.
Take a look below, and if you don't see the question you've been dying to know the answer to, let us know. We'll be happy to answer!
What Do IT Service Companies Do?
There are many alternate names for IT service companies, including IT services provider, Managed Service Provider, strategic it consulting, and other variants. And of course, they come in all shapes and sizes! You can check out the top IT companies of the year as listed by cio.com, keeping in mind these are the top 10 global companies, not suitable for most small-to-medium businesses.
But whatever you choose to call a service provider who offers IT services and support, they typically offer the same range of services, give or take.
Primarily, an IT Service Provider keeps your entire business network up and running. From daily troubleshooting of end user problems, to server management, cloud data storage, network infrastructure planning, cyber security and much more, a good IT Service Provider can handle all your technology needs.
When you hire a Managed IT Service Provider, you're handing over all of your technology challenges to a team of certified experts. Instead of having one or two overworked in-house IT employees running around trying to solve every small problem, you can have a fully-staffed remote team just one call away, on-site support as needed, and access to specialists who can help with your strategic IT planning and budgeting.
You also have the the option of completely outsourcing all of your IT, or supplementing your current team with additional tech expertise that you simply don't have in-house.
How Does Your IT Managed Services Pricing Work?
IT Managed Services pricing can be confusing, but our managed IT pricing model is pretty easy to understand. We use a simple, per-user pricing structure. This makes your monthly bill easy to predict and allows for simplified planning when it comes to the future growth of your business.
Some providers will hide their pricing until the last minute, or will use flat hourly rates that will quickly add up to far more than you expected. When it comes to pricing, always be wary of anything that's not billed on a per-user basis to avoid unnecessary surprises.
Our per-user pricing structure covers unlimited troubleshooting, updates, and maintenance needed for each person in your company, no matter how many devices they have. This also includes procurement, new employee set up, and much more.

Do You Support "XYZ" Application?
Thanks to our Windows-based platform, we can confidently say that we probably support your application. From something as simple as Adobe to HIPAA compliance standards to your proprietary Windows-based state tax software, chances are we've dealt with it before and can host and troubleshoot it without any trouble.
And don't worry if you're a Mac or Linux user, our IT experts are experienced with all of today's popular operating systems. If your machine is giving you trouble, or if you're just curious about some new software, we can help get you up and running regardless of your current operating system!
What's Your Typical On-boarding Timeline?
The on-boarding process can seem daunting to any business, but with an experienced IT Service Provider, it can be a relatively painless procedure. Of course, setting up your network for remote hosting and troubleshooting will take time, but our implementation managers have streamlined the process to maximum effect.
Generally speaking, your on-boarding with Ntiva will take 30 days. Once the initial setup is complete, you'll have full access to our help desk support while we tie up any loose ends behind the scenes and make sure your IT experience is as seamless as possible.
How Long Have You Been in Business?
Ntiva celebrates 15 years in 2019! We were officially founded in 2004 by our founder and CEO Steven Freidkin. Ntiva is now over 200 people strong, and has grown almost exclusively through referrals and our unwavering focus on our core values.
Focusing on customer service first
Managing every client dollar as if it were our own
Hiring, developing, and retaining the very best people
We know that technology is a crucial part of every business, and having the right technology in place is more than a competitive advantage – it's critical to growth and success!
We understand the importance of keeping your business operating at full throttle, and employ experts who know their stuff and are excited to put that knowledge to work to make your business better.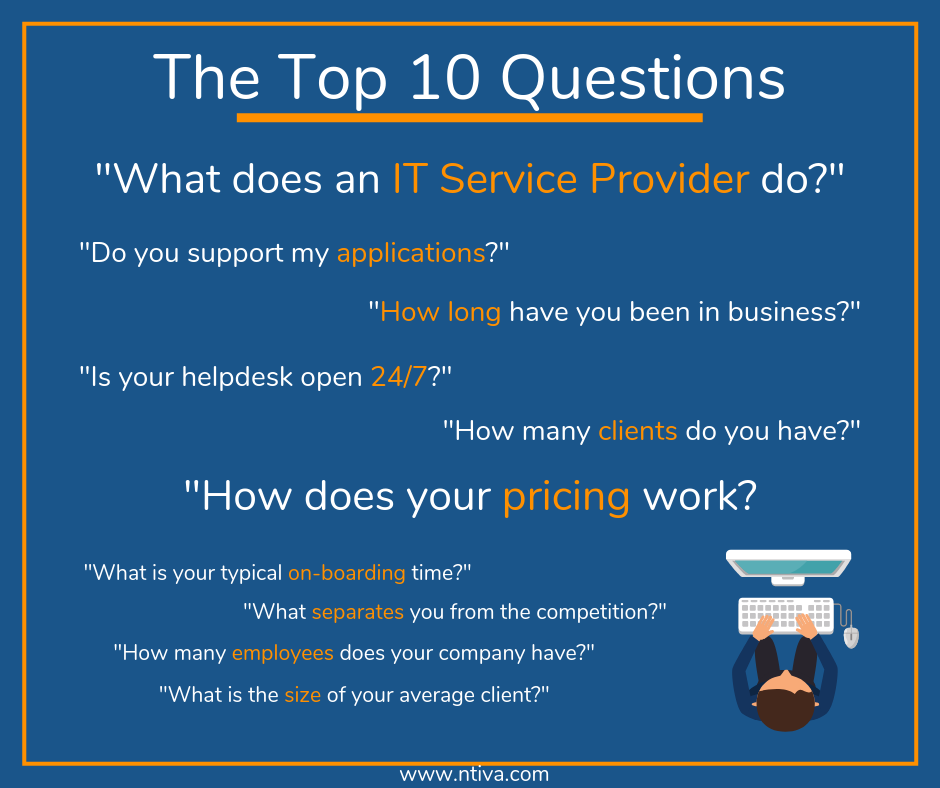 How Many Clients Do You Have?
We are a relatively large MSP with over 1000 clients. This means we have IT solutions for just about every industry out there. Healthcare practices, legal firms, government contractors, accounting firms, mortgage companies, nonprofits…we've got the experience to handle anything your organization needs.
From SMBs with 10 employees to large organizations of 200+ workers, we're proud to offer everyone the same detailed and goal-oriented support they need.
There's nothing more valuable in the tech industry than experience, and with our 15+ years and huge bank of talent, we've solved complex problems for an extremely wide variety of clients with very different needs.
How Many Employees Does Your Company Have?
Thanks to multiple MSP acquisitions in 2018 and 2019, we are just over 200 employees and are growing every day. We hire only the best employees, and focus on developing and growing their skills once they're retained.
With one of the largest help desks in the industry, we're always available to help with your issues, no matter how large or small. We're also proud of our world-class Account Managers, whose main focus is keeping your experience pleasurable, and connecting you with the right people when you need strategic assistance.
Whether helping your current in-house IT team, or just helping get your small business off the ground, our staff is well-versed in all types of IT situations, and they know how to help you get the most out of your tech budget.
What's the Size of Your Average Client?
Our client size varies wildly, as does the industry they're in. With that being said, the average client size is around 50 - 70 employees.
Small firms of all sorts come to us and use us as their entire IT operations team. We thoroughly enjoy creating strong and meaningful relationships with these clients and know that their budgets can be tight, so pride ourselves on spending every client IT dollar like it was our own.
We also support many companies who are large enough to already have an in-house IT team, but who are looking for extra help to maintain daily IT operations, in order to free up their staff for more strategic projects.
The flip side of this is larger companies who have junior and mid level support staff that can take care of the day to day maintenance, but need specific expertise such as cyber security that they simply don't have in-house.
Is Your Help Desk Open 24/7?
Absolutely! 24 hours a day, 7 days a week, 365 days a year. No matter where you are or what time of day it is, our team is ready to help. When you sign on with Ntiva, you're getting the help you need whenever you need it. We operate on your schedule.
Internet connection being difficult first thing in the morning on Saturday? We've got you covered. Printer not cooperating on Tuesday evening? Just let us know, and we'll get it fixed.
Note that at Ntiva, we let YOU prioritize the problem. While other providers may offer a response time based on the severity of the problem, if its an emergency to you, its an emergency to us.
And when you call in you will always get a trained technician, as opposed to having your call answered by someone who simply puts you in a queue to wait for someone who can actually help you.
What Separates You From the Competition?
Plain and simple: our employees.
IT Service Providers are a dime a dozen these days, with everyone promising the most network up-time, the best data backup and recovery, and the fastest cloud speeds available. But honestly, most of them use the exact same technology, with the exception of the smaller providers who may not have access to sophisticated or automated solutions.
But you aren't guaranteed good customer service. Response, accuracy and care are our watchwords!
From our IT service desk technicians all the way to our executive team, we all know that the customer experience is the top priority. A server is a server, but the technician helping you with it is a variable, as is the help desk team whom your employees will rely on day in and day out.
We know this, and we make sure to only hire the absolute best people to work with you every day.
Read more here on the Ntiva Difference: Response, Accuracy and Care!
We get new questions every day, but these are the ten most common. It doesn't matter if you're an Ntiva client or not, if you've got an IT-related question that we didn't get to in this article, feel free to reach out to us!