As much of the global workforce continues to work from home, many business leaders are wondering if 'going to the office' will ever be the same. New tools and processes are still being rolled out as we speak to support this migration, and Microsoft SharePoint is often top of the list.
Almost overnight, the ability to digitally collaborate has become a critical success factor for many organizations.
Team collaboration for remote workers is one of the top items that businesses are looking for right now, along with improved cybersecurity practices.
According to Microsoft, "Empowering employees by enabling a digital and collaborative workspace has quickly become a fundamental factor that determines the digital transformation pace of a business."
Microsoft SharePoint, often defined as a Content Services Platform (CSP), is a critical element and is central to this transformation, providing a wide range of solutions including:
data storage
document management
team collaboration tools
project management tools
and much more!
For many organizations, SharePoint is a compelling choice as a CSP. A multi-year Gartner 'Magic Quadrant' recipient, SharePoint is used by over 400,000 organizations and has over 100 million monthly commercial active users, so not too shabby!
Related Reading: How To Get MORE Out of Your Microsoft 365 Investment
What is SharePoint?


SharePoint is a website-based collaboration system that allows team members to share files and data, communicate, and work together on tasks or projects.
Fully integrated with Microsoft 365, SharePoint is widely used for document storage and management. It is highly configurable, however, and can be deployed for a wide range of applications.
(*Note that Microsoft officially changed the name of Microsoft Office 365 to Microsoft 365 on April 21, 2020.)
SharePoint users can create their own Intranet (internal website) with minimal design experience. Depending on their purpose, these can be personal sites, team-based sites, or general, company-wide websites.
SharePoint also provides organizations with the ability to control information access and use automation to simplify workflow processes across teams or the broader enterprise.
Why Use SharePoint?

There are pros and cons to using SharePoint, but, just like Microsoft's OneDrive, it's arguably one of the best tools out there for consolidating information and improving communication across your company.
Related Reading: The Difference between SharePoint and OneDrive
With more employees working from home than ever right now, a well-built Intranet is a vital component for far-flung teams, and SharePoint can easily fit that bill.
Remote team collaboration is at the very core of Sharepoint, making content very easy to find, share and update in a secure manner, no matter where you are located.
SharePoint integrates well with many of the Microsoft tools you're probably already using, it can scale up or down to suit a business of any size, you can easily brand it, and the cloud-based service (SharePoint Online) is very cost-effective.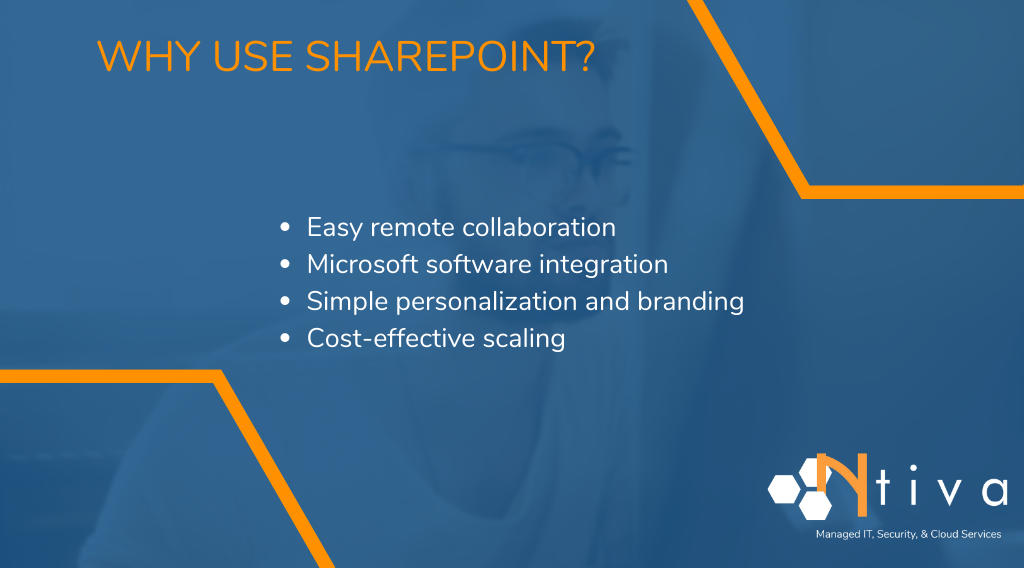 However, many companies have a grand vision of what SharePoint can bring to the table without understanding that without the right expertise, they will miss out on the true value.
For starters, while the out-of-the-box SharePoint templates have a great number of components that you can use, they aren't suitable for every business strategy.
Additionally, even if the templates are used, they typically are not utilized correctly when it comes to content types, metadata tags, workflows or other productivity enhancing features.
The truth is that customization of SharePoint can be complicated and take a fair amount of work for it to be truly optimized for your specific business processes.
If you don't have a qualified specialist on staff, you will most likely want to use a third-party IT consultant or other expert who can help you with your SharePoint site.
But before we go any further, the first thing you should know is there are two different versions of SharePoint, so let's take a look at the differences.
SharePoint Server Versus Online - What's the Difference?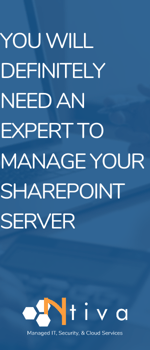 SharePoint is available in either local (server) or cloud-based (online) versions. While they offer very similar feature sets, each provides unique customer benefits.
SharePoint Server is a locally-hosted platform that organizations can deploy and manage using their own hardware infrastructure. With SharePoint Server, companies are responsible for most aspects of the platform, including active directory, server architecture, and file storage.
SharePoint Server provides greater autonomy and flexibility over design and architecture than its cloud-based counterpart, and some organizations will prefer the more hands-on security approach it offers.
You will definitely need a qualified expert to configure, install and manage your SharePoint server!
SharePoint Online is a cloud-based service hosted by Microsoft. Businesses of all sizes can subscribe to the standalone SharePoint Online offer, or gain access as part of a Microsoft 365 plan.
SharePoint Online offers many benefits that are particularly attractive to small businesses:
No management of architecture, servers or other resources

Simple integration with the full suite of Microsoft Office products (Exchange, Word, Excel, etc.)

Comprehensive security features and a simple, single sign-on process

Charged on a per-user license basis — only pay for what you need

Access to all the latest SharePoint features, with all updates managed by Microsoft
SharePoint's Top Ten Features

Now that we've looked at the two different platforms, let's take a walk through the top features you should know about.
Here are the top ten features of Microsoft's latest software release, SharePoint 2019:
SharePoint Home Screen. The reorganized home page offers a common look and feel with Microsoft 365, and provides all the sites and news relevant to the user in a single location.


SharePoint Modern Communication Sites. Communications sites are created to broadcast news, reports, or information to multiple teams or across an entire organization. SharePoint provides the user with the option of using a blank website or easy to use 'topic' or 'showcase' templates.


Modern Team Sites. SharePoint teams sites let users connect and share relevant information, applications, and other content. Team members can store data, share and collaborate on files, and manage information lists. Users can easily see and access links to important files and applications, and use the activity feed to view recent site activity.


Modern Libraries and Lists. SharePoint 2019 has improved libraries and lists functionality to provide more efficient means of organizing, uploading, and managing files. Integration with Microsoft's OneDrive also facilitates document uploading and sharing.


User-Friendly Web Page and Site Creation. Traditional web-authoring tools can present a steep learning curve and lead to human error. The SharePoint 2019 interface is simple and intuitive, allowing users of all technical abilities to create content quickly and easily.


Enhanced Sharing Experience. SharePoint 2019 makes it easy to share SharePoint content with external users without providing them with a SharePoint license. SharePoint 2019 now offers all the flexible sharing capabilities found in Office 365.


Improved Integration With OneDrive. SharePoint 2019 provides fast, reliable file synchronization with OneDrive Sync Client, with support for both personal and team sites.


SharePoint Mobile Application. SharePoint's mobile app allows user to perform most critical SharePoint tasks, including:

Find SharePoint sites — view listings for sites that users are following
Document management — access, view, and share Office, PDF, and other documents
SharePoint People feature — this screen provides access to contacts and their profile pages and allows users to create and manage their contacts
Flexible site views — switch between full-screen and mobile views



Support for Hybrid Environments. Allows organizations using both the cloud-based and on-prem versions of SharePoint to integrate the two, providing seamless functionality and data access. SharePoint Server Hybrid is ideal for companies wishing to gradually transition their premises-based SharePoint services to the cloud.


Integration With PowerApps and Flow. Many organizations use these two applications to automate workflows and create custom applications. SharePoint brings business processes, team documents, and data to the same site, allowing users to create and launch flows directly from SharePoint lists.
8 Steps to Creating a SharePoint Site

Now that you know the SharePoint basics, let's move on to how you can create your first SharePoint site in just a few steps:
Select Your SharePoint Site Architecture. Before building your SharePoint site, you should decide what it will be used for and how it may evolve over time. There are several considerations:
Number of site collections. SharePoint defaults to a single data collection, which may meet the requirements of many smaller organizations. If your site will support several projects or departments, you should look at organizing your data into multiple collections.

Ease of navigation. Can users intuitively store and locate information?

Limit user options. Too many content type choices can make your site difficult to use and lead to user errors.

Choose a simple folder structure. Many folders or a complicated structure can make locating information difficult and time-consuming.
Decide On Your Site Components. SharePoint lets you choose from a number of modules to include with your site. Here are some possible options:

Library. To store your documents and other data
Tasks. Used to assign responsibilities to individuals and track their progress
Announcements. For posting important information or news across teams or to the entire organization
Calendar. To set and manage the schedule, meetings, or events
Notes. Used to provide additional information around events or key activities
Contacts. Stores emails, phone numbers, and other employee contact information
Create Your SharePoint Site. You can create your site from the SharePoint homepage by clicking 'Create Site.'


Choose Your Site Type and Options. The most common choices are Team sites (for collaboration) and Communication sites (for information broadcasting).

Each site type provides you with configuration options. For example, Communication Sites can use a Topical, Showcase, or Blank design.

Topical is generally used if the site will contain a lot of text and images, while Showcase is typically for more image-centric information (e.g., a product display page). The Blank design allows you to build and format your site with complete flexibility.
Give Your Site a Title and Add a Site Description. When you choose a title for your site, SharePoint will confirm that it's available, then generate a site email using that title. Next, use the description box to provide a brief synopsis of your site's purpose.


Set Privacy Options. You can choose between private (for team or group members only) or public (anyone in the broader organization).


Add Members. Populate the names and emails of the people you want as site members.


Click 'Finish.' Your site is complete!
How to Customize a SharePoint Site

Once you've created your SharePoint site, there are many ways you can customize it to add functionality or change the look and feel to reflect your company's brand.
Change the Theme. SharePoint allows you to choose a default 'Modern' theme, select a 'Classic' theme, or create a custom theme that aligns with your company branding. Each option provides a high degree of customization, including colors, fonts, and general layout.
To change the theme:
On your site, click Settings and then click Change the look > Theme.
Change the Logo. You can replace the SharePoint theme logo with your own company logo or message.
To change the logo:
On your site, click Settings and then click Site information.
Under the site logo, click Change.
Browse and select the new logo, click Open,
and then click Save.


Customize the Site Header. Change the font, size, or background of your site header.
To change the site header:
On your site, click Settings and then click Change the look > Header.
Select either the Standard header layout or the Compact option, which moves all header content to a single line.
Click Change to add a site logo.
Select a header background to change the background color of your site header.
Click Apply to save your changes.
Include a Site Footer. SharePoint footers are often customized for branding purposes or to aid navigation control. The site footer feature is only available on communication site pages.
To add a site footer:
On your site, click Settings and then click Change the look > Footer.
Toggle the Footer visibility switch to On to add a footer to your site.
Click Upload to add your logo image to the footer. The image is automatically resized.
To add a name for your footer, toggle the switch to On and enter the name.
Click Save to save your changes.
After you've added a footer to your site, you can add a link or label to the footer. Click Edit in the footer on the right side.
Add Pages. Create additional pages and copy existing layouts or create a customized design.
To add and publish a page:
Go to the home page of your site.
Select + New, and then select Page.
Alternatively, you can go to an existing page, select + New, and select Start from a blank page. Or, you can choose Copy of this page to create a new page that has the same web parts and content as the existing page.
Choose a page template to start with.
Add a page name in the title area. A page name is required to save the page.
Add web parts (see below).
Hover your mouse below the title area, and you'll see a line with a circled +.
Click + to add content like text, documents, video, and more. You can also add sections and columns to a page.
When you're done editing, click Save as draft to save your changes and close edit mode. Your audience won't see the page until you publish it. Only people with edit permissions on your site will be able to view
When you are ready for your audience to see the page, click Publish.
Add or Customize Web Parts. Web Parts are the building blocks of your site and are used to improve the user experience of your SharePoint page. Web Parts allow you to add text, images, video, and other content to your page. Examples of web parts are: Bing maps, Call to Action, Image Gallery, and Newsfeed.
To add a Web Part:
Go to the page where you want to add a web part.
If the page is not already in edit mode, click Edit at the top right of the page.
Hover your mouse above or below an existing web part, and you'll see a line with a circled +.
Click + and you'll see a list of web parts to choose from. To easily find the web part you're looking for, start typing in the Search
Alternatively, click Expand to show a larger view of web parts by category. You can also sort the web parts in this view.


Conclusion — Additional SharePoint Resources
After getting started with SharePoint, you'll probably want to learn more about how you can use it to improve communications and collaboration within your organization.
If you decide that you have the expertise in-house, spend some time doing your research first.
Here is a list of some of the most popular and effective SharePoint training and information resources available to get you started!
If you're interested in developing a custom SharePoint environment, but don't have the in-house resources to do so, reach out to us and we'll be happy to discuss how we can help you!