Cloud migration has seen widespread global adoption over the past few years, but our recent shift to remote working has forced companies to lean on cloud services and applications more than ever.
While many small businesses were slow to adopt cloud services, 94% of enterprises were already using cloud services to lower costs, simplify operations, and roll out applications faster.
We expect that trend to continue, as businesses of all sizes are re-evaluating what portion of their workforce will continue to work remotely.
However, while the benefits of cloud migration are compelling, small businesses must do their homework to ensure they can achieve those benefits while minimizing the associated risks.
A detailed understanding of all costs — legacy and cloud — will help establish the return on investment and identify priorities.
A documented and well-resourced plan can keep the migration on-track and on-budget and choosing the right cloud partners can mean the difference between success and failure.
What is Cloud Migration?


Cloud migration is the process of transferring applications and other IT processes to a cloud computing environment.
For small businesses, this typically involves migrating applications and data from premises-based, 'legacy' infrastructure (e.g., servers) to centralized cloud services hosted by a vendor or cloud provider.
Legacy hardware and software present a challenge for many companies — they are often expensive to maintain, difficult to upgrade, and may not be eligible for manufacturer support.
Migrating applications and data to the cloud offers small businesses a consumption-based, 'pay-as-you-go' model that provides maximum flexibility while minimizing capital spending.
The Benefits of Cloud Migration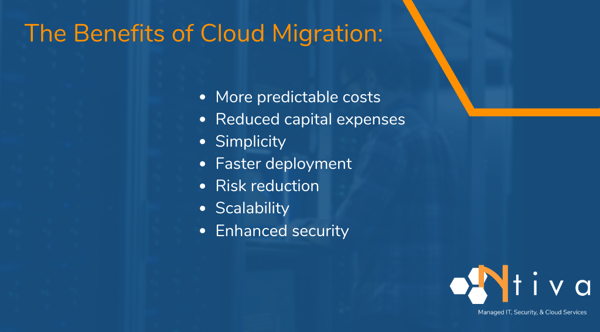 Small businesses are adopting the cloud at a rapid pace, most with an eye to the bottom line.
Microsoft found that 59% of SMBs using cloud services reported significant productivity benefits from IT, and 82% saw reduced costs after adopting cloud technology.
For many small businesses, the benefits of moving to the cloud extend well beyond cost savings and productivity:
More Predictable Costs. While cloud migration can reduce costs, it's not always the case, and the picture can be unclear. IT teams need to compile a detailed snapshot of both cloud and legacy costs (e.g., licensing, hardware, maintenance, and real estate) to make an accurate cost comparison. Cloud costs, however, are much more predictable than their legacy counterparts. They scale linearly based on user-count and features, so it's easier to forecast and budget for cloud expenses.
Reduced Capital Expenses. Traditional applications require the purchase of licenses, servers, and other hardware infrastructure. With OPEX-based cloud services, companies can preserve capital or use it for other strategic initiatives.
Simplicity. Many small businesses are hard-pressed to implement and manage premises-based applications and the associated hardware infrastructure. By moving applications to the cloud, companies can reduce or eliminate servers and other hardware and outsource most tasks (e.g., monitoring, upgrading, reporting, troubleshooting) to the cloud provider.
Faster Applications Deployment. Beating the competition to market is mission-critical for most companies. Cloud applications can be quickly evaluated, rolled out, and scaled — often in a matter of weeks — while deploying legacy apps typically requires lengthy hardware procurement and staging cycles.
Risk Reduction. Running applications on aging hardware platforms can be risky. Once older equipment nears 'end of life,' manufacture maintenance may be limited or even canceled. Also, older infrastructure may not be able to support application upgrades. Cloud solutions, however, provide customers with the latest software versions, including critical updates and security patches — all running on current hardware platforms.
Scalability and Right-Sizing. Many companies need to quickly scale applications up or down to support new product lines or meet seasonal requirements. Cloud-based solutions have the flexibility to easily grow or right-size to meet ongoing business requirements.
Enhanced Security. Protecting applications and sensitive data represents a large, ongoing investment for small businesses. Specialized security resources are scarce, and recruiting can be time-consuming and expensive.
Cloud providers take a rigorous approach to physical and cybersecurity. By spreading security costs across their customer base, they can provide updated tools, 7x24 network monitoring, and physical segregation, making them less vulnerable to security breaches than businesses supporting their own premise-based infrastructure.
According to Jay Heiser, Gartner's Research Vice President, "CIOs need to ensure their security teams are not holding back cloud initiatives with unsubstantiated cloud security worries. Exaggerated fears can result in lost opportunity and inappropriate spending."
Cloud Migration Risks and Challenges
In 2019, global IT provider Unisys reported that 37% of senior executives surveyed said that "they'd failed to capture notable benefits from their cloud computing project."
To achieve the best results from cloud migration, companies should understand the most common cloud migration pitfalls and how to avoid them:
No Clear Plan or Strategy. Not every application can — or should — be transitioned to the cloud. A detailed migration plan will help identify and prioritize applications representing the greatest reward and the least risk. For example, apps like Email, Sharepoint, email, and the Office Suite are used across the organization and relatively simple to migrate to the cloud. They are also not as sensitive to downtime if unexpected challenges are encountered during migration.
Potential Data Loss. It's critical to back up all data before migrating. While it's a rare occurrence, files may be lost or corrupted during the transition process. With full backups, any missing files can be restored. Many cloud providers provide comprehensive backups and secure storage as part of their migration services.
Lack of Visibility and Control. Migrating applications to the cloud can result in a lack of visibility and control over infrastructure, policies, and performance. Cloud partners typically provide monitoring tools, alerts, and comprehensive reporting to their customers, and most offer performance SLAs as well.
Cloud Security. Perhaps the most common objection to migrating applications to the cloud is a perceived lack of security. Data center executives disagree - a panel of industry experts concluded that the cloud is generally more secure than premise-based enterprise infrastructure.
Unlike most small businesses, security and compliance are core competencies for cloud providers. Most providers employ several layers of physical and cybersecurity and use third-party auditors to certify their security processes.
While cloud services are more secure than most premises-based solutions, end-users are still the weak link in the chain. Gartner states that "through 2022, at least 95% of cloud security failures will be the customer's fault." IT leaders can minimize cloud security risks by implementing and enforcing strict policies on cloud use and data protection.
Read up on the best ways to improve cloud security here if you would like more information!
The Steps to a Successful Cloud Migration
Moving applications and workloads to the cloud is a complex, resource-intensive undertaking. Planning, prioritizing, and making informed decisions every step of the way are critical to a successful transition.
Here are the essential steps to achieving a successful cloud migration: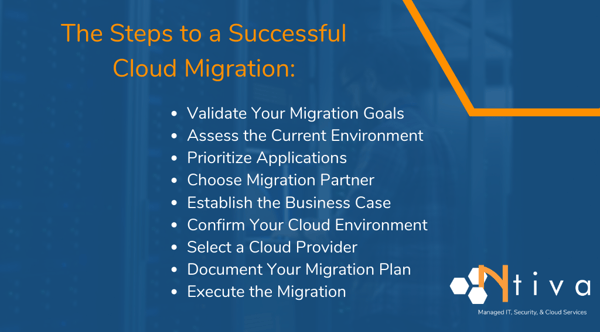 Validate Your Migration Goals

It's crucial to understand your organization's goals for moving to the cloud. Are cost savings or capital preservation key considerations?
Are you looking to roll out and scale applications faster, or is mitigating the risks associated with legacy infrastructure the primary driver?
Cloud migration represents a significant investment in time and resources.
All stakeholders must agree on the desired outcomes, and processes should be in place post-migration to measure and report out on results.
Assess The Current Environment
A complete audit of the current environment will help set the transition priorities:
Applications. What applications are in place, and which are mission-critical? Apps that are proprietary or heavily modified may need to remain on their current platforms. However, applications that have both on-prem and cloud-based versions can often be easily migrated and require a minimum of user training.
Infrastructure. How old are current hardware and software assets? Does the manufacturer still support them? Does hardware have the performance capabilities to support future software upgrades?
Costs. What are the total costs of the current environment? These include licensing, maintenance, and other considerations like hardware upgrades, power, and real estate.
Resources. What in-house resources are available to support cloud migration? Does the team have the necessary technical skills? What are the capabilities of current vendors?
Prioritize Applications
Most cloud migrations should prioritize applications that represent the greatest reward and the least risk.
Applications that can be re-platformed are attractive targets. Non-critical applications are the least risky and should always be migrated first. Email, Sharepoint, and Microsoft Office are excellent examples of applications that are easy to move to the cloud.
Choose a Migration Partner
Selecting the right cloud migration partner is a critical decision for most small businesses. Each partner has unique skills and resources, and it's important to find a partner that best aligns with your company's requirements.
Here are several key considerations when choosing your cloud partner: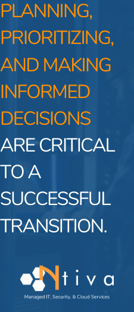 End-to-end methodology. Can the partner provide a documented roadmap and methodology for the entire cloud migration? Can they show how they've used this methodology in previous projects?
A proven track record and references. How many cloud projects has the partner executed successfully? Do they have reference accounts in your industry or clients with infrastructure or application environments similar to yours?
Contracts and SLAs. Are contracts clear, and do they provide your company with a viable means of termination? Are SLAs well-defined?
Vendor standing and certifications. What levels of vendor certification does your partner hold? Do they have cloud technology-specific certifications?
Establish The Business Case
Very few business leaders would support a cloud migration without a positive business case. Small businesses should have a clear picture of the potential return on investment (ROI) for migrating each application.
Cloud services are often viewed as expensive, but cloud costs are 'loaded' — they include all cloud provider expenses like staff, maintenance, electricity, and real estate. When calculating the ROI for cloud migration, it's critical to build a similar, complete cost picture of the current legacy infrastructure.
Confirm Your Cloud Environment
Most small businesses will look to public cloud providers like AWS, Microsoft, or Google to host their cloud migration. Public clouds are highly flexible, cost-effective options, but offer less end-user control and may 'lock in' companies to a particular vendor.
Private cloud services are only accessible to a single client and can be maintained onsite or at a third-party data center. They are more suitable for highly-regulated organizations (like banks or healthcare companies) that require greater control over their data. Private cloud options usually involve a greater upfront investment and higher ongoing costs.
Select a Cloud Provider
Selecting the right cloud provider often comes down to which applications you're migrating to the cloud. For example, if you're transitioning Microsoft applications, Microsoft's Azure may be the most compatible and provide the most cost-effective licensing options. There are, however, other important considerations:
Security. Each provider will include certain IT security features with their basic service while offering others at an additional cost. It's important to understand your specific requirement versus what each vendor provides.
Compliance. Similarly, if your business has regulatory compliance requirements like HIPAA or GDPR, consider a cloud platform that helps you achieve those standards.
Service Levels. Almost all cloud providers will offer SLAs. A detailed contract review will help determine which is the best fit for your business.
Cost. It's critical to understand all aspects of your cloud pricing, including upfront costs, usage pricing, and any available volume discounts.
Document Your Migration Plan
Many small businesses look to their migration partners to help craft the detailed migration plan. Integrators will typically customize a proven roadmap that includes:
The order in which applications will be migrated
Metrics to determine if the migration is successful
Responsibilities — who does what?
A detailed activity timeline
Required resources
A breakdown of what processes will change as a result of the migration
Technical and end-user training required
Execute the Migration
When planning is complete and all resources are in place, it's time to begin moving applications to the cloud. Here are the key steps necessary to deliver a successful migration:
Back up all servers and data. All data should be backed up to multiple cloud locations to ensure recovery in the event of a mishap.
Set up the cloud environment. Preparing the cloud infrastructure involves provisioning, connecting, and testing all storage, database, and computing components
Migrate data and applications. This is a complex, step-by-step process to migrate and test each server, database, and application. It's critical to thoroughly document each step of the procedure.
Validate and test. Migration isn't complete until every application has been tested to ensure full functionality. Data must also be checked to confirm it us fully intact and secure.
Post-Cutover — The Final Steps
Once applications have been moved to the cloud, there are other important steps that will help maximize the migration's success.
Employing cloud monitoring tools (either directly, or through the cloud provider) will help identify and remediate any technical or performance issues. A robust problem reporting and tracking system is an essential complement to the monitoring process.
Creating a post-cutover dashboard can help track essential metrics like application performance, costs, and user satisfaction. This dashboard will serve as a valuable communications tool when conducting stakeholder updates.
Can You Afford NOT to Consider Cloud Migration?
Cloud migration is not without risks, and many small business leaders may be tempted to slow-play their cloud initiatives. These delays, however, can put their companies at a significant competitive disadvantage:
They're paying too much. Legacy applications and maintenance costs could be diverting resources from other strategic initiatives.
Ineffective capital spending. Companies may be investing in new hardware and software to maintain an aging legacy platform — an approach that rarely pays off.
Inability to scale. Many businesses need to quickly roll out and scale new applications. This is often difficult, or even impossible, with legacy infrastructure.
Security vulnerabilities. Outdated software and unsupported platforms are attractive targets for hackers and cybercriminals.
Dell reports that companies that invest in big data, cloud, mobility, and security enjoy up to 53% faster revenue growth than their competitors.
In 2016, Gartner predicted that 'by 2020, a 'no-Cloud' policy will be as rare as a "no-internet" policy is today.' Today, as small business leaders seek every competitive edge, many will be looking to the cloud.
If you're interested in making the move to the cloud, reach out to us for a free assessment from our IT experts!