The benefits of cloud computing and IaaS (infrastructure as a service) are pretty clear-cut: It offers flexibility, the connection of the remote workforce to the physical office, and the ability to pay only for what you use.
The biggest issue companies face is choosing which platform to weave into their current networks. Even if you've spent time researching the three leading cloud platforms (Microsoft Azure, Amazon Web Services and Google Cloud Platform), you might still be unsure about which is the right fit for your business needs.
At Ntiva, we have experience working with every kind of cloud platform out there. We've assisted large and small companies with cloud selection and integration tailored to their businesses. If you already know which cloud service you plan to use and are looking for a cloud specialist to assist you with migration, click here.
But if you are still trying to decide, we're here to help. We've broken down the features, pros and cons of Azure, AWS and Google Cloud. These three platforms have the same core functionality, but they're each suited for different business challenges and needs.

Microsoft Azure
You should choose Azure if:
You already use Microsoft 365
You've made security a top priority for your company
You're a small-medium business trying to move to a cloud/hybrid setup with Microsoft 365, SharePoint, Azure Active Directory and Windows Virtual Desktop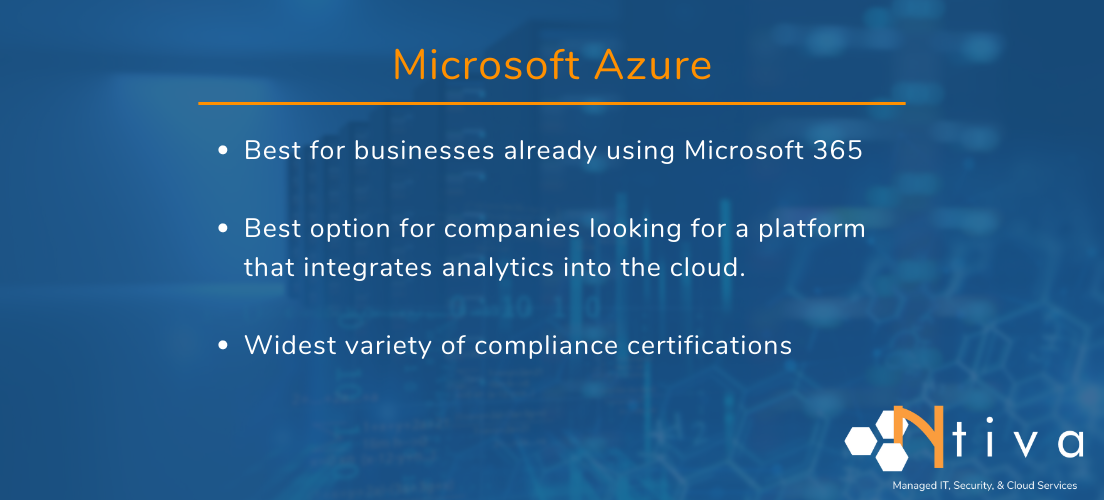 Microsoft Azure combines IaaS and PaaS, so businesses don't have to seek out two platforms, making it a popular option for companies searching for a cloud as a way to deeply integrate their services. In addition, Azure has applications for AI and machine learning, DevOps, Integrations and more.
At least 90% of Fortune 500 companies around the world use Azure, but should you? In our experience leveraging Azure for our clients (especially in govcon), here are our observations:
Why Azure Might Be Right for Your Business
Businesses that are currently growing and want to scale their cloud platform as they grow without extra work should invest in Azure. Azure assists with creating apps that can continue to run perfectly with five or 5 million users. On top of that, businesses who anticipate using a hybrid cloud model should opt for Azure.
Out of the big three, Azure offers the best hybrid capabilities and can connect your on-premises database and public cloud efficiently and consistently.
Azure is also the best option for companies looking for a platform that integrates analytics into the cloud. Microsoft's program takes its cloud a step further by offering BaaS (Backend-as-a-Service), machine learning, bots and cognitive APIs.
Microsoft has an excellent reputation in the tech world, and its cloud platform is no different. Azure offers the widest variety of compliance certifications as well as a high level of cloud-wide security with programs such as the Security Center, Azure Information Protection and Azure Sentinel. Azure Elasticity assists in scaling cloud resources to save your business time and money.
The cloud platform won't break the bank, either. Microsoft offers a pa-as-you-go model for Azure users. It's also an excellent choice for businesses already familiar with Microsoft applications or who don't know every little detail about technology.
Why Azure Might Be Wrong for Your Business
Microsoft doesn't offer much customer service for any of its products, including Azure. If you have Azure-familiar IT techs on staff, then you should be fine in the face of any issues. If not, you'll want to look into purchasing a technical support plan for Azure, ranging from $29-1000.
The other main complaint from Azure users is random outages that leave businesses without access to their servers. Depending on the pace of your business needs, this may be a deal-breaker.
Amazon Web Services
You should choose AWS if:
You want a system that caters to developers
You're a startup or smaller company
You need to create solutions quickly and cost-effectively
You want an innovative and cutting-edge platform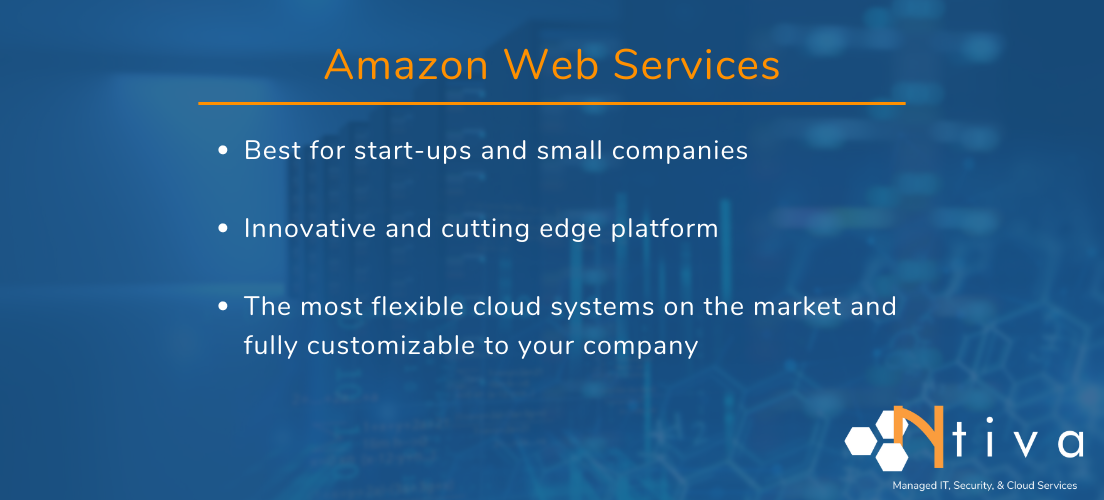 Established in 2002, Amazon Web Services is the oldest provider on the cloud market. AWS gained recognition as the most user-friendly platform in 2018 and ranked the highest in its completeness and ability to execute vision against its competitors.
AWS is mobile-friendly and allows you to develop and optimize mobile apps. AWS provides managed services for your infrastructure, opening the door for you to focus on other business tasks. Additionally, integration with other database services such as Oracle, MySQL, and DynamoDB is effortless with AWS.
Why AWS Might Be Right for Your Business
AWS has been around the longest, allowing it to fine-tune its offering to solve most business pain points. AWS also has an efficient recovery system that protects businesses from losing data in a crash.
Global enterprises should lean toward AWS simply because the platform allows for the most significant reach. No matter where your business goes, AWS is right there with you. AWS's vast range of offerings makes it extremely popular among tech and software companies.
AWS is one of the most flexible cloud systems on the market and is fully customizable to your company. AWS is an excellent option for businesses that are looking to convert to a cloud-only system.
Why AWS Might Be Wrong for Your Business
The biggest drawback with AWS is its inability to work well with a hybrid cloud setup. According to previous customers, there are numerous hoops to jump through to get AWS working in tandem with your on-premises platform. AWS does offer specific services for hybrid cloud-based platforms, but previous users say it's better to use a different service altogether.
Google Cloud Platform
You should choose Google Cloud if:
You want an open-source platform
You want the ability to integrate with AI
You want to use machine learning technologies
You want a platform geared toward the education sector
You have data-driven customers
You're a startup or an individual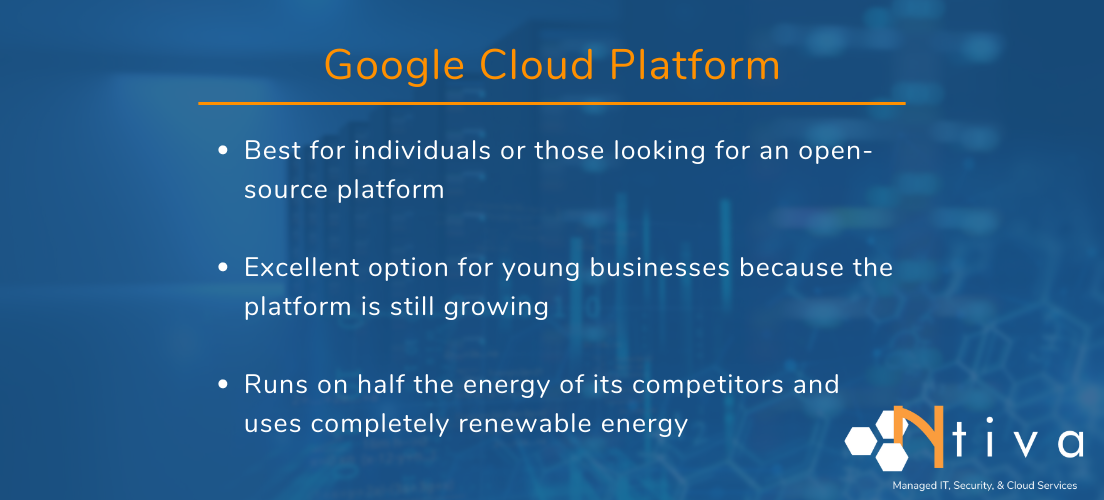 Google Cloud Platform was created to provide businesses the opportunity to build and publish applications easily. This solution has steadily gained traction over the last few years and is an excellent option for companies that already utilize Google services. Google's public cloud technology fully integrates with your Workspace to give you a seamless business experience.
Google Cloud provides insights with add-ons such as Bigtable, Dremel and MapReduce, making it easier for you to process and analyze large amounts of data.
Why Google Cloud Platform Might Be Right for Your Business
Google Cloud is an excellent option for young businesses because the platform is still growing. Google's platform is still learning how it can improve the experience for users, and the designers do everything possible to make using the system feel like second nature. Google Cloud also offers the lowest prices out of the big three cloud platforms.
Platform users also have access to an extensive library of guides from Google on how to complete simple and complex tasks. It's a fantastic option for those who are still learning how to take advantage of the technical side of business.
Google's security is unparalleled, and the cloud system meets a wide variety of compliance standards.
Google Cloud offers the Google Kubernetes Engine (GKE) as a hosted staging environment for in-cloud app development. If your business needs to make detailed apps that myriad users can use, the GKE automates, deploys and runs your programs.
If your business makes a conscious effort to be environmentally friendly, Google Cloud is your best option since it runs on half the energy of its competitors and uses completely renewable energy when it can.
Why Google Cloud Platform Might Be Wrong for Your Business
Google Cloud Platform has the smallest number of features, so it's essential to ensure that it has the parts you need before committing to it. Additionally, it is still finding its footing when dealing with the enterprise market, so your brand may require an established cloud system.
Other Cloud Platforms
If you're not quite ready to migrate to a major cloud platform because of your current budget or scale, there are a few alternatives to consider. Oracle, Alibaba Cloud, IBM, and Tencent Cloud are all smaller-scale options for your company's initial cloud conversion.
Oracle Cloud Infrastructure (OCI), for example, is a major contender for companies with on-premises systems who want to move servers to the cloud and set up a remote workspace for workers to access from anywhere securely. Even though OCI isn't one of the big three, it is one of the most frequently used platforms by Ntiva's customers. Small companies to booming enterprises take advantage of OCI's system.
Managing Cloud Migration with Ntiva
Our cloud specialists are ready to help you integrate your cloud platform of choice into your current system. For more information, look through our Guide to Migration or set up a consultation.