Almost every business you can think of is using public cloud services for many of their critical business applications. We're all familiar with Google G-Suite, Microsoft Office 365, Salesforce, Dropbox, Adobe, QuickBooks and many more!
Cloud Security Tips
But is your cloud data safe?

Every business has a ton of very sensitive data in the cloud, more than ever before.
There's no question that the public cloud service providers that you're familiar with, such as Amazon, Google and Microsoft, offer a more secure environment than you could ever hope to with your on-premise servers.
However - even though cloud service providers are terrific when it comes to protecting your data, what they CAN'T protect you from is when that data leaves the cloud to interact with other systems.
And this is happening in your company on a daily basis, as employees access, download and transfer all that data from all sort of devices in all sorts of places to all sorts of people.
Security breaches are rarely caused by poor cloud data protection - they're caused by humans.
Stolen log-in credentials, disgruntled employees, accidental deletions, insecure wi-fi connections and other employee mishaps are the reason that your cloud data is at risk.
But there are ways you can reduce your risk!
What is Cloud Security?
Cloud cybersecurity is simply the software and hardware you use to keep your cloud-stored data safe. It has become one of the keys to keeping your business not just healthy, but also competitive in the modern business environment.
As we've seen the security landscape evolve, the security needs for all businesses have changed. Cloud security monitors and protects the data stored in the cloud, along with the accounts used to login and gain access to the data.
Why is Cloud Security So Important?
Without cloud security, you're risking all of the data you use, and ultimately the integrity of your business. Why would a client continue to work with you after their data was stolen thanks to your lack of security?
There's also the unfortunate statistic that 60% of breaches involve vulnerabilities for which a patch is available but not applied. You need to have a team constantly monitoring for potential threats, and making sure that your systems are always up-to-date.
Here are the 6 best ways you can improve cloud security:
1. Deploy Multi-Factor Authentication (MFA)
The traditional username and password combination is often insufficient to protect user accounts from hackers, and stolen credentials is one of the main ways hackers get access to your on-line business data.
Once they have your user credentials, they can log into all those cloud-based applications and services that you use every day to run your business.
Protect yourself with multi-factor authentication - also known as two-factor authentication - to ensure that only authorized personnel can log in to your cloud apps and access that sensitive data.
MFA is one of the cheapest yet most effective ways of keeping would-be hackers from accessing your cloud applications. In fact, most security experts will tell you that its now considered negligent if you DON'T implement MFA.
If you want to learn more about exactly what MFA is, take a look at our data sheet to get all the details.
2. Manage Your User Access to Improve Cloud Computing Security
Most employees don't need access to every application, every piece of information, or every file.
Setting proper levels of authorization ensures that each employee can only view or manipulate the applications or data necessary for him or her to do their job.
Assigning user access rights not only helps prevent an employee from accidentally editing information that he or she isn't authorized to access, but also protects you from hackers who have stolen an employee's credentials.
If an employee who has access to EVERYTHING gets tricked by a phishing email and inadvertently provides their log in information - well, now the hacker has the keys to all your kingdoms!
If you don't have the in-house time or talent to do this yourself, be sure to work with a qualified IT consultant to help you get this set up properly.
You can also explore on-going management of all your cloud IT services by signing up with a Managed Service Provider who can completely take the burden of user access and management off your plate.
3. Monitor, Log, and Analyze User Activities With Automated Solutions to Detect Intruders
Real-time monitoring and analysis of user activities can help you spot irregularities that deviate from normal usage patterns, e.g., log in from a previously unknown IP or devices.
These abnormal activities could indicate a breach in your system so catching them early on can stop hackers in their tracks and allow you to fix security issues before they cause mayhem.
There are many solutions that can help you out with this, starting with automated 24/7 networking monitoring and management and moving up to advanced cyber security solutions such as:
Every business has varying needs for different levels of cyber security services, so be sure to get a third party risk assessment before making any large investments.
4. Create a Comprehensive Off-boarding Process to Protect against Departing Employees
When employees leave your company, make sure they can no longer access your systems, data, customer information, and intellectual properties.
Since each employee would likely have access to many different cloud applications and platforms, you need a systemized deprovisioning process to ensure that all the access rights for each departing employee are revoked.
Again, if you can't manage this internally, don't hesitate to outsource this task to someone who knows how to properly set up, implement and maintain this process.
5. Provide Anti-Phishing Training for Employees on a Regular Basis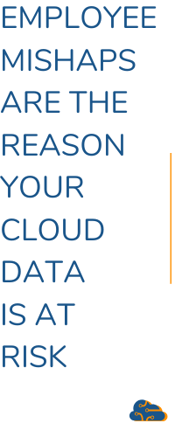 Hackers can gain access to secure information by stealing employees' login credentials through social engineering techniques such as phishing, spoofing websites, and social media spying.
As an example, the rapid expansion of Microsoft Office 365 has made it a very attractive target for hackers - more and more threats are emerging, specifically the frequency of phishing attacks.
Offering ongoing training is the best way to prevent employees from falling victims to these scams and compromising your company's sensitive data.
Keep in mind we said "ongoing" - phishing training is not one and done, it's a continual process that needs be managed by someone within the organization in order to make it effective!
6. Consider Cloud to Cloud Back Up Solutions
There are legitimate risks associated with any cloud application suite or platform.
As mentioned, the odds of you losing data because of your cloud provider's mistake is very low - but losing that data due to human error is high.
Let's use Microsoft Office 365 as an example.
If an employee should accidentally delete data, a hacker obtains an account password and corrupts the data, or a rogue employee cleans out his inbox and folders - there is nothing Microsoft can do past a certain time period.
Note that most cloud providers, including Microsoft, do store deleted data for a short period of time, including your Office 365 data.
But be sure to check with your cloud provider to determine what this time frame is, and if there are fees to restore that data (when possible to retrieve it.)
Companies that must abide by strict regulations or are concerned with being held liable due to missing or corrupted data, are turning to cloud-to-cloud back up solutions.
There are many of these solutions on the market today that can help protect you, so check in with a reputable IT consultant to determine which solution is best for your business.
Minimize Your Cloud Computing Security Risks
In general, cloud computing is a much more cost effective option and it's definitely more secure if you take the right precautions.
Following industry best practices in selecting, installing, provisioning, and managing cloud services can help you get the most out of cloud computing, while still maintaining a high level of security to protect your sensitive data.
Experienced IT professionals can help you design a comprehensive cloud computing strategy that ties all the pieces together, and even provide ongoing management to make sure you're protected.
Cloud Computing Security Issues and Solutions
If you're interested in learning more about cloud computing solutions in general, take a look at our Go-To Guide: The Pro's and Con's of Cloud Migration which will provide you with additional information.