If your organization owns a fleet of Apple devices, you need a safe and efficient way to manage those devices, with a tool for updating software and device settings, monitoring compliance with organizational policies, remotely wiping or locking devices, and plenty more.
To manage your Apple devices, you must understand the difference between a managed device and a supervised device.
Apple device supervision gives your organization full ownership of your users' devices and access to powerful tools and controls. If you want to have maximum control over all your Apple devices, the sooner you have supervision in place, the better.

Here's why, and how.
Don't want to read the article? Watch the full recording below.
Be sure to register here for the "Ntiva Live: Apple for Business" webinar series!
Apple Device Supervision
Supervision gives your organization additional control over your Apple devices, whether they are Macs, iPhones, iPads or Apple TV devices, allowing you to restrict how these devices are used. You can disable AirDrop, for example, as well as prevent access to Apple Music and place devices in Single App Mode.
You can discover which of your devices are supervised by going into Vision-Bot and looking at each device. Supervised devices have a little "supervised" tag. That tag is binary: A device is either supervised or it is not supervised.
Before Big Sur, Macs were only supervised if they were in Apple Business Manager. But starting with Big Sur, all Macs that are enrolled in an Apple management system like Ntiva's are technically supervised.
Supervision for iOS devices vs. macOS
If your devices are not in Apple Business Manager, you don't have all the benefit options of management. That's a bit of a gray area when it comes to managing macOS. However, it's a lot more black and white when it comes to iOS. With iOS, your devices really must be supervised to receive all the benefits of the Apple management ecosystem.
Benefits of Apple Device Supervision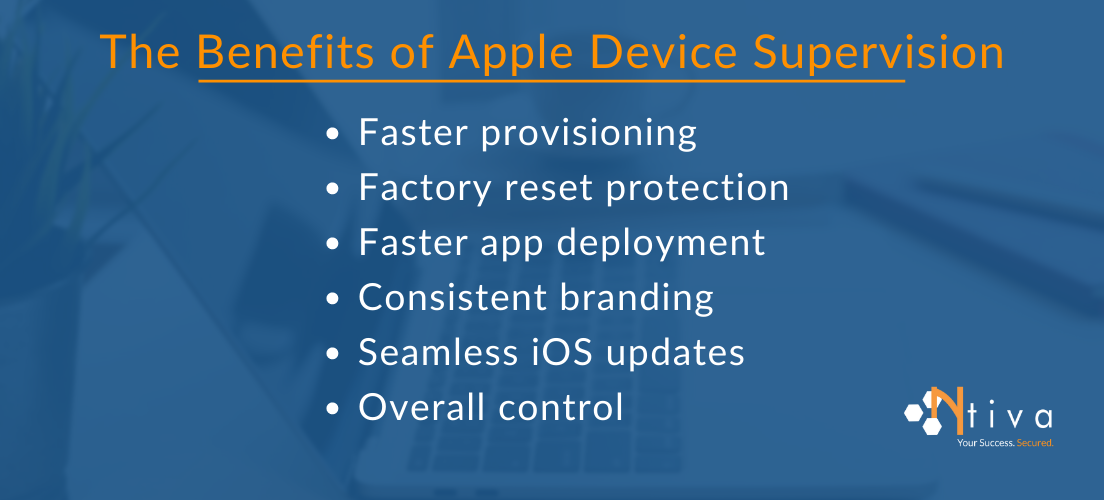 Supervision is the best way to manage Apple devices. Supervision is designed for business use, allowing enrolled devices to be further configured with a Mobile Device Management (MDM) solution. In this way, supervision offers a number of benefits.
Speedier provisioning: For one thing, supervision accelerates provisioning as part of Apple's zero-touch deployment process. Devices can be purchased and shipped directly to your users while automatically enrolled into your MDM solution.
Factory reset protection: Another benefit of supervision is that you can easily — and remotely — lock a device or erase a device to enforce Factory Reset Protection.
Faster app deployment: Supervision gives you the power to pre-load business-specific applications on devices. It also lets you push applications to devices at will.
Consistent branding: Supervision gives you control over the look and feel of the home screen on all devices, letting you design home screens to reflect your corporate brand.
Seamless iOS updates: Supervision puts you in control of iOS updates. You push updates to devices remotely whenever you want so that your devices remain as up-to-date and secure as possible.
Control: The bottom-line benefit of supervision is control. Your organization is given all the power of MDM — while still respecting user privacy. This granular level of control helps keep your devices secure, and your employees safe.
Getting iOS Devices Supervised
There are two ways to get an iOS device supervised:
1. Automated Device Enrollment/Zero-touch (the preferred method)
2. Manually, through Apple Configurator
Using Apple Configurator is a lot of effort. It requires you to physically have the device, erase it, and connect it to a Mac running Apple Configurator, to manually enroll the device into Apple Business Manager.
This is only necessary if you've missed the opportunity for Automated Device Enrollment. Plan and prepare for zero-touch to save you time. However, if you bought devices using an Apple authorized business account within the last few years, you might still have a chance to get those devices attached to Apple Business Manager or Apple School Manager.
Things Your Organization Can Control on Supervised Devices

The basic idea behind supervision is that you, as an organization, legally own a device. This means you can do anything you need to do with that device. Here are some of the things you control:
Push a Wi-Fi profile to a device
Help a user download an app
Lock a device into Single App Mode
Turn off the ability to open the App Store
Turn off the ability to open Safari
Access the internet only on approved Wi-Fi networks
Prevent users from removing installed apps
Prevent users from connecting USB devices to a device
Prevent users from using AutoFill Passwords
Prevent users from receiving prompts to pick a saved password from iCloud Keychain or third-party password managers
Prevent users from using their Apple devices to set up and configure other Apple devices
How Ntiva's Managed Apple Services Help
At Ntiva, we specialize in supporting businesses that have fleets of Apple devices. One of our services is Automated Deployment and Management. We deliver over‑the‑air updates for supervised iOS, iPadOS, macOS and tvOS devices. We push critical updates to all your employees to ensure they have the latest security features on all their devices.
Our team has advanced training in deploying, managing, and supporting Apple devices using Apple Business Manager and our powerful mobile device management tool, ensuring the security of your workforce.
Learn more about Apple Management solutions from Ntiva.