The security landscape has changed — for both Windows and Apple environments. Not a day goes by without yet another news headline announcing a severe cybersecurity attack.
While only the major hacks on large institutions get covered, the truth is small-to-medium businesses (SMBs) are just as likely, if not more likely, to get hacked, and your Apple devices – especially those owned by your employees but used day in and day out – are likely one of the most significant vulnerabilities that you may be overlooking.
That's why Apple Mobile Device Management (MDM) tools that are specifically built to support the Apple environment are so important in today's work-from-home environment.
Cybercrime is Big Business and No One is Immune (not even Apple)

Why are smaller businesses at such great risk?
They typically don't have anywhere near the level of cybersecurity protection that their larger counterparts have and therefore are much easier to hack.
Most people now understand that cyber-attacks no longer come from just a guy in his basement trying to make a few dollars.
Hacking is big business!
Cybercrime is now powered by large, well-funded organizations that use Artificial Intelligence and machine learning, amongst other tools, to wreak havoc in considerable ways.
The types of attacks we see today do not differentiate between Apple and Windows - and most Apple devices are either not adequately managed or not managed at all.
Apple Enterprise Management is Essential for Remote Working
Cybersecurity has been made even more challenging with our recent switch to remote working.
As most analysts predict that a good percentage of workers will continue to work from home, mobile security should now be at the top of everyone's priority list.
Gone are the days of securing a corporate network and implementing strict security protocols from a centralized data center. Smartphones and tablets rule the everyday workspace in our new cloud-based world.
What does this new model mean from a technology standpoint?
It means that most businesses will want to re-think and re-imagine their technology infrastructure, workflows, and, most importantly, their mobile device security.
IBM has recently published a 2020 report which shows that more than half of employees use personal laptops, computers, and mobile devices for business operations.
Unfortunately, a whopping 61% of them say their employer has not provided any tools to secure those devices, even though they hold more than just personal data.
Many personal devices accessing corporate data are iPhones, iPads, and Macs — the consumer's chosen platform.
Are Apple Devices More Secure?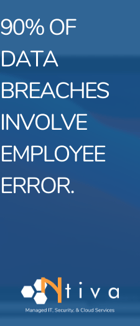 Most people think that Apple devices are "more secure."
While it's true that macOS is inherently more secure than other platforms, no platform is invulnerable. However, by far, the most significant vulnerability is the end-user — your employees.
Most malware gets on our machines (all machines) by end-users clicking on a link or downloading a file.
This clicking is how the vast majority of cybercrime occurs, with most estimates stating that 90% of hacks and data security breaches now occur through employee error.
What MDM Does Apple Use?

For security and privacy reasons, Apple has taken away some of the access that IT traditionally had to Apple devices. This change means that most monitoring, managing, and securing tools used today to manage Apple devices are no longer sufficient.
When organizations apply solutions designed for non-Apple operating systems, they fall short. They often leave IT and users vulnerable to security threats, high-cost breaches, or merely poor experiences and inefficiencies.
Generic bring your own device (BYOD) policies were never enough, but now they require even more customization. This failure for tools to keep pace with Apple is especially true with the release of macOS Big Sur and iOS 14.
The only way to get a minimum base-level of Apple support is to adopt the new Apple ecosystem that requires three foundational items:
Purchase your product directly from Apple or a

preferred device enrollment reseller

.

By planning ahead and purchasing from a preferred reseller, your organization validates its authorization to manage and secure the devices.




Connect your authorized purchasing channel to your

Apple Business Manager

Apple Business Manager is a web-based portal that works seamlessly with your mobile device management (MDM) solution to automate device deployment, purchase apps, and distribute content, and create Manage Apple IDs for employees.



Apple itself does not offer an MDM tool, but Apple-focused MDM solutions such as Addigy or Jamf are purpose-built to centrally manage the combination of apps, corporate policies, and certificates on your Apple devices, giving you the protection that other solutions can no longer provide. If you're using these platforms, it's best to have an all-in-one monitoring software like Vision-Bot to ensure your entire Apple environment is working as it should.

How to Best Protect Your Apple Investment with MDM

Companies that invest in premium Apple technology for their workforce expect the best in IT services and support.
If you don't have the internal know-how, it makes sense to outsource part or all of your Apple mobile device management needs to a third party such as a Managed IT Services Provider, but only if they have Apple-certified technicians on staff.
Ntiva specializes in helping businesses with both Windows and Apple technology. However, unlike a Windows-only service provider who tries to shoehorn Macs into a Windows workflow, we have invested in Apple-native tools, processes, and people to make sure you are properly supported and secured around the clock.
What to Look For in An Apple Managed IT Services Provider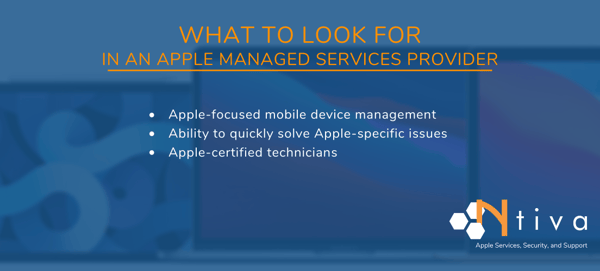 If you're running an organization with more than a few Apple devices (Macs, iPhones, iPads, and Apple TVs), you need to work with an Apple-based managed service provider. They have the skills to secure the devices your employees are using, rather than throwing generic security protocols onto every device
Supporting Apple devices with tools built for Windows won't work in the end.
Here are the three key things to look for in an Apple IT support provider:
Apple-focused Mobile Device Management.

Most people are aware that the business world is predominantly Windows-based. Apple devices make up only a small percentage, although that is rapidly changing. Ensure your provider uses a 100% Apple-focused MDM software solution such as

Addigy

, which is considered in the top echelon of Apple management solution tools.




Ability to Quickly Troubleshoot and Solve Apple-specific Issues.

While an MDM tool such as Addigy provides massive volumes of essential data, it can also make it difficult and time-consuming to identify and fix simple problems quickly.
At Ntiva, we developed a proprietary Apple device portal called Vision-Bot to simplify Apple devices management by drawing attention to problem areas. Vision-Bot delivers powerful filtering, search functions, and visual reporting to make it much faster for anyone to identify issues while enabling support teams to resolve issues more quickly and proactively. Additionally, we provide full access to VisionBot for clients who want additional insight and transparency to their device data. See below for an example of the monitoring capabilities in Vision-Bot.

Apple-Certified Technicians.

There are far more technicians that understand a Windows environment than Apple, let alone a mixed environment. Having access to Apple-certified technicians means that problems get resolved faster and done right the first time. Apple-certified consultants can also help you identify the best technology for your business, provide strategic advice, and deliver on-going guidance and training as required.
Don't Take a Chance with Your Apple Cybersecurity

If your business has moved to a remote model with an abundance of Apple devices, or if you've noticed an uptick in the number of Macs or iPhones around the office, you need to protect your corporate data, software, and hardware with the right IT partner.
Interested in working with a team of true Apple experts with the right tools and the knowledge and support skills you need? Click below to learn more!
Want to learn more about Apple Enterprise Support? See Ntiva's Apple Enterprise Support and Management Services.