Not too long ago, it seemed like Apple and Microsoft were simply oil and water. Thankfully those days are long gone!

I'm happy to report that Microsoft has done a phenomenal job lately building apps that perform well on Apple products. This hasn't always been the case — certainly there have been frustrations in the past — but today, those of us using Macs in a Microsoft workplace can enjoy the best of both worlds.


This development is the result of the work Microsoft has done unifying their code base, which has put their Apple environment apps on par with their Windows equivalents. This work also allows Microsoft Office apps to run very effectively on Apple devices from Macs to iPhones and iPads.

While there are a few exceptions out there (Microsoft Access is only available for Windows), we're going to focus today on tips for using those Microsoft apps you're most likely to need in the workplace, like Outlook, Word, Excel, and PowerPoint.

Let's dive in!

Don't want to read the article? Watch the full recording below.
Be sure to register here for the "Ntiva Live: Apple for Business" webinar series!

Some Tips for Using Outlook on a Mac
If your organization uses Microsoft Outlook as your primary email provider, you have a couple of options. In an ideal world, it would be nice if everyone used Outlook online. Just like Google expects you to use their email via your web browser, Outlook offers certain benefits when you access it on the web. That's especially true for Mac users, who will only be able to access certain features online.
But if you're like me, you prefer using the Mac version for desktop. One new feature it offers is a default delay when you send out an email. This gives you a buffer of up to 20 seconds to cancel a send, allowing you to double-check the recipient, the content, attachments, or anything else that you like. If you, like me, are the kind of person who likes to be sure about what you send, this new feature will help you breathe a bit easier.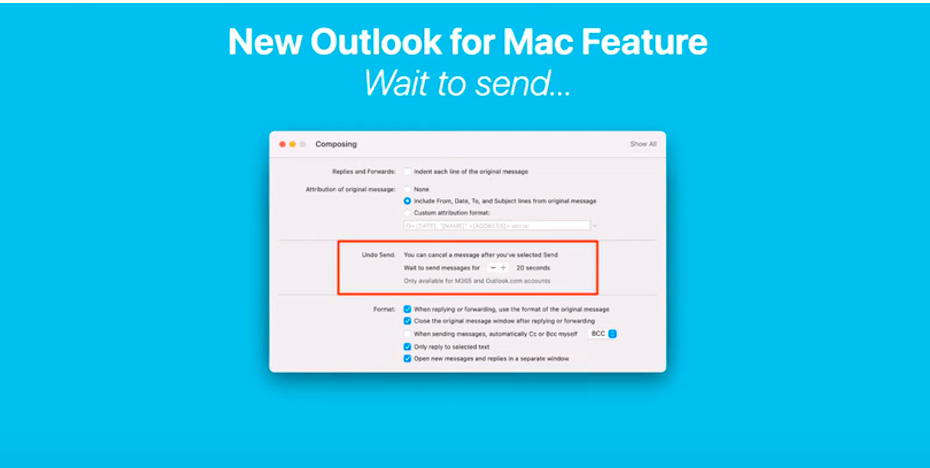 Cleaning Up Outlook on Your Mac
While I think the desktop Outlook app is great overall, it does have some small disadvantages compared to accessing Outlook online. One that stands out is that cleaning out your inbox is much more efficient and faster online. Deleting emails through the desktop client — especially a significant number — can be a tediously slow process. If you need to purge your inbox, I recommend you do it online.

Once you've deleted your messages, you'll want to empty your trash. To do so, go into Settings > General > Storage, then select your deleted items. You can also determine how far back you'd like to delete — 3 months and older, 6 months and older, or up to 12 months and older.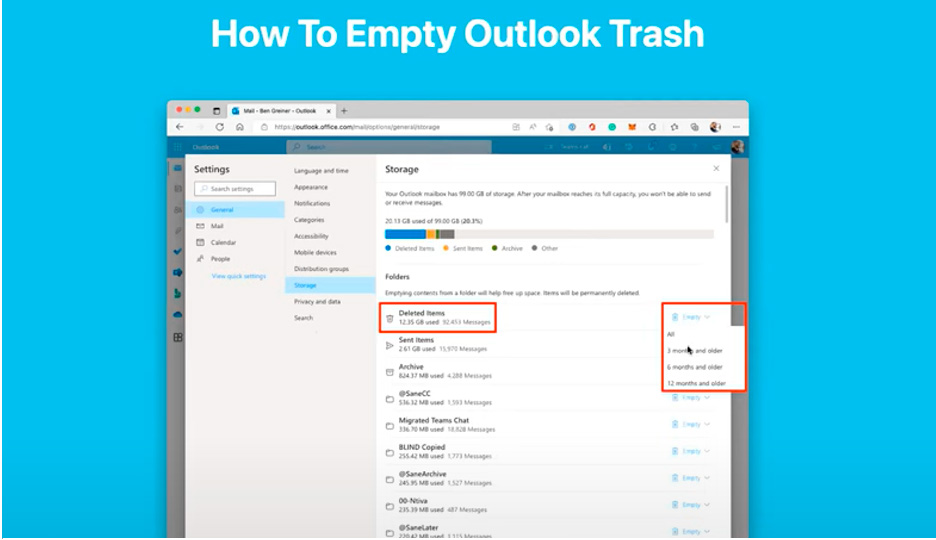 Old vs New Outlook
Outlook allows you to switch back and forth between the old and new clients. When you do, however, you end up creating two separate databases.

To clean this up and bring the two into sync, you'll need to select Tools in the old Outlook client and then click Accounts. There you'll find a button that says, "Free Up Space." Clicking this button will delete the old Outlook. (If you don't see this button, either you've already gone through this process or you're using the new Outlook client!)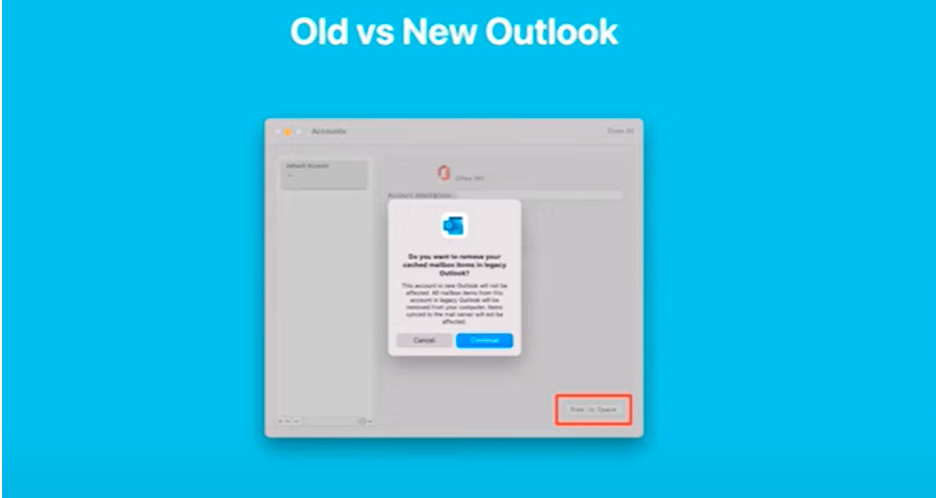 Once you complete this process, you'll receive a notification that you're signing out of Outlook. At this point, make sure you don't close Outlook or shut down the computer until Outlook is fully signed out. This process can take a long time, but it's important you don't interrupt it.
How to Get the Most From Microsoft Teams on Your Mac
Microsoft Teams is another popular app that has become a communication staple in many workplaces. Beyond its chat functions, which are very similar to Slack, it also allows for real-time collaboration through a suite of Microsoft apps. You can add or remove these apps from Teams, which means you can really customize it in a way that serves your organization.
On my team, some of the apps we found especially useful were Microsoft OneNote, SharePoint and SharePoint Pages, and Teamwork: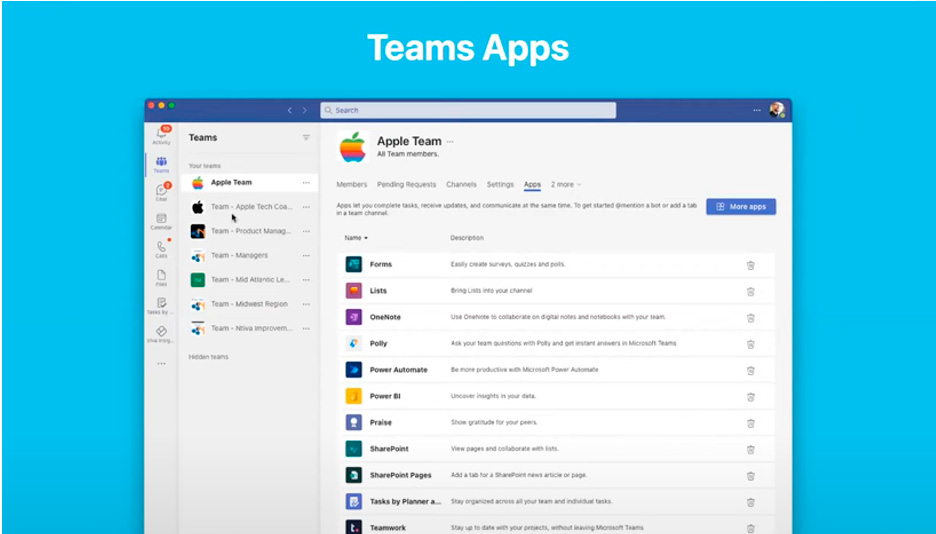 These are the apps that work well for us, but I'd encourage you and your team to spend time exploring your options to choose what works best for you. It's a great way to maintain easy access to messages, your calendar, and your files in OneDrive.
Using Microsoft SharePoint as an Internal Resource
Most Microsoft 365 subscriptions will also give you access to SharePoint. SharePoint is what powers OneDrive, the cloud file share you know from Mac OS, and you can think of the relationship between the two this way: OneDrive is your personal drive, and SharePoint is the drive shared across the whole company.

One of the nice things about SharePoint is that it's very easy to build on. With a drag-and-drop, WYSIWYG interface, it's easy to build, share, and iterate on a SharePoint site with your whole team. I'm by no means a designer, but SharePoint made it easy for me to build out this Apple resources page for sales and account managers: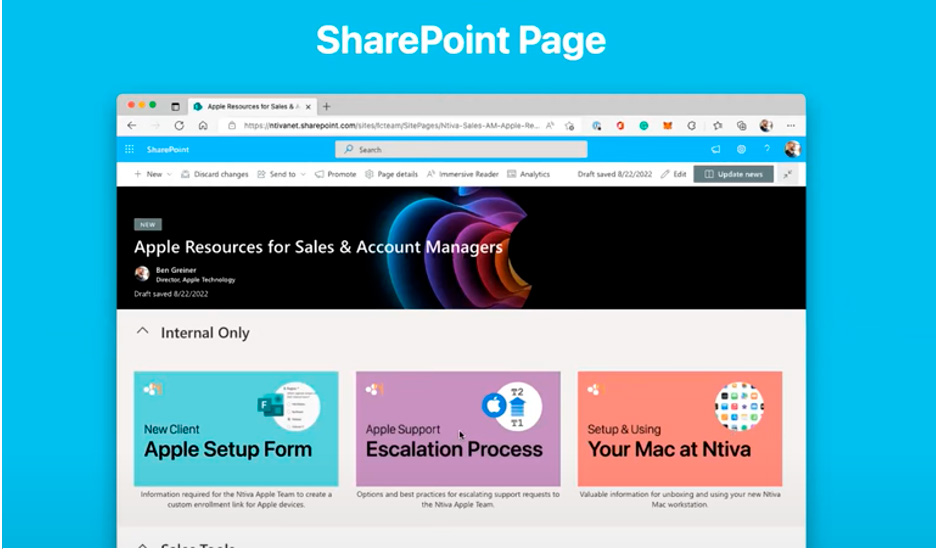 SharePoint, like many Microsoft apps, offers all kinds of features for you to explore. These sites aren't public facing, so you should feel free to experiment until you've got things just how you like them. No need to worry about getting things perfect the first time — there are so many features in Microsoft Office for Mac that you can't explore them all in one sitting.


And maybe that's the best note to end on. Microsoft 365 apps for business are powerful tools, but at first blush, they can feel overwhelming. No matter which ones you've installed on your Mac, the best way to get the most from them is to give yourself time to try things out and make new discoveries.