The global COVID-19 pandemic that hit in 2020 upended IT budgets, as teams scrambled to properly secure vast numbers of work-from-home setups. But now IT leaders are starting to emerge from crisis mode and are taking a good look at where their budgets will be most effective in 2021.
The 2021 State of IT report by Spiceworks Ziff Davis (SWZD) paints a picture of massive IT transformation.
The pandemic drove businesses to adopt digital workflows, optimize business operations, enable remote workforces and in general, innovate quickly to meet the needs of the "new normal."
We believe that many of these changes will be permanent and will continue to influence tech purchases in 2021 and beyond.
Based on this study and our experience helping hundreds of clients make a faster-than-planned digital transformation, we've put together a concise summary including:

Trend 1: IT Spending is Increasing
SWZD indicates that despite stagnant business revenue, IT spending is generally expected to evade any cuts: 80% of businesses in North America and Europe expect year-over-year tech spending to stay the same or increase.
This optimism is shared by IDC, who has indicated that total IT spending is projected to increase by 8% in 2021 compared with 2020.
This increase is being driven by a number of factors:
Small and mid-size businesses (1-999 employees) are increasing their total IT spend to meet changes in business operations caused by COVID-19. This includes investing more to upgrade outdated infrastructure.


Mid- to enterprise size businesses (1,000+ employee company size) are increasing their IT budgets to support their remote workforces, including security initiatives for the new work-from-home model.


Around 38% of US companies witnessed productivity gains during remote work, and a whopping

84% of businesses

anticipate that working from home will be a permanent fixture after the pandemic, according to new data released by Pulse Secure and Cybersecurity Insiders.


Trend 2: Cloud is Leading the Way in Budget Increases



Businesses aren't just increasing their IT budgets in 2021. They are also reallocating where they make their investments during the budgeting process:
Cloud spending is up: At least 35% of organizations have either already migrated workloads to the cloud due to COVID-19, or plan to do so. This trend is especially noticeable in the enterprise space, where cloud-enabled backup/recovery, productivity, and security are so vital.


Managed Services spending is up: This budget item continues increasing the most in hosting, storage/backup, hardware support, enterprise software management, security, and cloud infrastructure.


Hardware spending is down: The percentage of IT budgets devoted to hardware dropped significantly in the last two years, from 35% in 2019 to 31% in 2021. But this trend does not affect all hardware. Spending on desktop and on-premises servers is down, while spending on laptops and mobile devices to support remote workers is up.
Trend 3: COVID-19 is Driving Business Transformation

The SWZD report revealed that an amazing 76% of businesses plan on making long-term IT changes as a result of COVID-19. A great deal of these changes will be around enabling work-from-home workers, with an emphasis on security, collaboration and access to data and productivity apps.
During 2021, worldwide IT spending is increasing as organizations are also adjusting how they transform their business processes.
Plans to adopt 5G, hyperconverged infrastructure, edge computing, blockchain technology, AI and other emerging tech have dropped significantly in 2021.
Global IT spending is deprioritizing cutting-edge features in favor of more pressing needs—namely supporting a remote workforce.
Ntiva's Recommendations for IT Budgets in 2021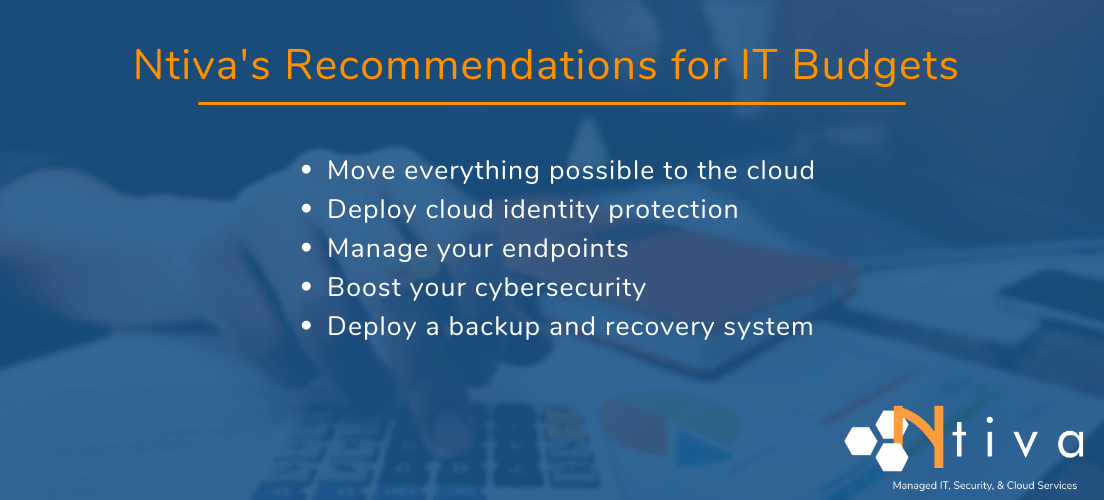 At Ntiva, we recommend business leaders prioritize these particular initiatives to carry you through 2021 and beyond.
Recommendation 1: Move everything possible to the cloud
The first step in supporting a hybrid workforce (one comprised of in-office workers and work-from-home workers) is to move as much as possible to the cloud.
Related Content: Cloud Migration Strategy for Your Remote Workforce

Recommendation 2: Deploy cloud identity protection
The cloud is the new​ edge of your network because everyone is at home, logging in to cloud apps and services. Because employees are no longer protected by your on-premises firewall, it's crucial to enforce multi-factor authentication (MFA).
Users should be prevented from logging in until they enroll in MFA.
Additionally, IT should set processes in place to automatically lock down accounts and require users to reset their credentials after "risky sign-in" events (a user logging in from North America and from Russia within 10 minutes, for example).
Related Content: Identity and Access Management in the Cloud
Recommendation 3: Manage your endpoints
During 2021 and beyond, many of your users will continue to work from home. Don't lose sight of endpoints that aren't checking in with your corporate office, including personal devices.
Related Content: BYOD Policy Template, and Endpoint Detection and Response
Recommendation 4: Boost your cybersecurity
Cyber security is more critical than ever before, with so many employees using personal devices over home or often public wi-fi networks. Securing your remote workers should be a top priority!
Related Content: Guide to Remote Work Security
Recommendation 5: Deploy a robust backup & recovery system
Prepare for the inevitable loss of data that comes with so many workers working remotely outside your corporate firewall, coupled with the unprecedented amount of cyber attacks that threaten your business. Every single organization, regardless of size, needs a robust, cloud-based backup & recovery system in place.
Related Content: Cloud-Based Backup and Recovery
Three Predictions for the Future of IT Spending

IT's role will change over the next 12 months and in the following years as digital transformation continues to expand.
Here's what we anticipate:
IT departments will be tasked with addressing new security concerns, enabling more seamless communications between physically distant coworkers, migrating workloads to the cloud, and updating disaster recovery plans to account for new scenarios.


The remote workforce will create new pressures, including endpoint device security, vulnerability management, detection/alert, security incident response, and identity management.


There will be significant growth in the adoption of employee security training tools within the next two years. These include anti-ransomware solutions, hardware-based authentication, breach detection systems, cloud workload protection, and security solutions powered by artificial intelligence.
Remote (and hybrid) work arrangements are here to stay, and this new way of working in digital business will require organizations to keep investing in IT, if they hope to maintain their productivity and their security.
If your organization needs to reduce IT costs, increase IT security, or boost business efficiency, let's talk. We are experts in IT cost management and budget planning! Ntiva offers Managed IT Services, Cybersecurity Services and IT Consulting for today's technology-dependent businesses.