Every day thousands of businesses are moving to cloud-based phone systems. Read on to learn the differences between on-premise and cloud-based business phone systems, the benefits and drawbacks, and a comparison of top hosted voice providers.
Almost every business wants to know what the best business phone system is, as phones are still a critical part of their IT infrastructure.
According to call tracking and analytics provider Invoca, 65% of customers prefer to contact companies by phone, and 42% of people make a call to a business at least once a week, so voice calling is certainly not going anywhere soon.
Business phone systems are in the midst of significant evolution, however, and choosing the right type of system can leave many small business leaders confused.
While traditional, on-premises systems still dominate (accounting for an estimated 70% of sales, according to the Gartner Group), sales of cloud-based, hosted Voice-Over-IP (VoIP) solutions are forecast to grow by double digits through 2023.
The case for cloud-based phone systems, also referred to as hosted VoIP, is compelling. Reduced capital costs, faster deployment, support for remote workforces, and application integration — these are just a few of the benefits promised by hosted solutions.
Still, to determine if a cloud-based phone solution is right for your company, it's essential to understand both the benefits and risks of both cloud vs. on-premise phone systems, as well as what you should expect from leading manufacturers and providers.
On-Premise vs. Cloud-Based Phone Systems

Traditional telephone systems utilize on-premises equipment to connect all telephone extensions and link them to the public telephone network via PSTN or ISDN lines. Today's on-premises systems can also access VoIP (voice over IP) services via the internet to reduce the cost of long-distance calls using PSTN lines.
Customers often purchase these 'legacy' telephone systems at a significant capital cost, and these systems are typically expensive to maintain and upgrade. Integrating other communications technologies such as video, instant messaging, and mobility features with legacy telephony solutions is often not possible.
Customers with large, single-site implementations, however, or those that require a high level of control over their telephone infrastructure, may be best served by traditional voice systems.
Cloud-based telephony solutions use the internet to connect the extensions on the network. They are typically hosted by a provider that delivers support, upgrades, and integration with other communications services, all included in a monthly fee.
Cloud-based systems are particularly attractive for companies with remote offices or an off-site workforce, or firms who are expanding quickly and are looking to eschew capital spending in favor of predictable, scalable operational costs.
Benefits of Cloud-Based Telephony

Small businesses are faced with a delicate balancing act to remain competitive. Most need to preserve capital while pursuing digital integration adopting analytics, and managing a remote, highly mobile workforce. For many small businesses, the benefits of cloud-based telephony solutions align very well to these challenges:
Lower, more predictable costs.

Cloud-based voice systems require minimal capital investment and offer customers a predictable, subscription-based pricing model that scales on an as-needed basis. There's also evidence that cloud systems are less expensive:

VoIP provider 8x8 Inc.

found that businesses that switch to the cloud save an average of 30-75% in both direct and indirect costs.

Ease of implementation and management. Most small businesses have limited resources to implement and manage their telephony infrastructures. The leading cloud-telephony providers offer an umbrella of support services, including design, implementation, ongoing technical support, and upgrades.
Rollout speed and scalability. Unlike traditional voice systems, cloud telephony solutions require a minimum of provisioning and equipment deployment. They can be scaled quickly in response to business requirements, even across multiple sites (e.g., a branch rollout).
Enhanced collaboration. Many small businesses need to collect and share a vast amount of information across different platforms, including voice, text, and video. This collaboration must be seamless, even across geographies or with suppliers and third parties. Cloud-based communications can provide device-independent (computer, tablet, smartphone) voice calls, conferencing, texts, file sharing, and web meetings.
Applications integration. To support multi-platform collaboration, cloud-based solution providers have made significant investments to integrate a wide range of CRM and productivity applications into their platforms. Customers can leverage contact information and other data from applications such as Gmail, Outlook, and Office 365, Oracle Cloud, and Salesforce.
Security.

According to CNBC

, the average cost of a

cyberattack

for businesses of all sizes averages $200,000. As telephony converges with other platforms and integrates sensitive company and customer data, premises-based systems have become more vulnerable to security breaches. Security is a top priority for leading cloud-telephony providers, with most holding multiple security certifications such as

HIPAA and FISMA.

As well, many providers maintain redundant SSAE 16 and ISO 27001-audited data centers that are protected by multiple layers of electronic and physical security.
Top Concerns About Cloud Phone Systems
While hosted communications solutions are well past the 'early adopter' stage, many small business customers still have lingering concerns about cloud-based telephony.

Potential cost increases.

Most businesses will find it difficult to justify migrating away from a legacy telephony system if the business case doesn't add up. While pricing for hosted solutions is generally straightforward, it's essential to capture all legacy system costs to make an accurate comparison. Those costs can include maintenance, hardware and software upgrades, network facilities, and on-staff expertise.

Migration challenges.

Migrating from a stable, legacy voice environment to a cloud-based solution presents a risk, however small. Companies should minimize that risk by ensuring their host provider has the experience and resources to successfully complete the migration, and ensure they have a comprehensive plan of record in place before beginning.

Poor call quality.

Network provisioning and stability can significantly impact call quality. Many leading providers offer service level agreements (SLAs) that guarantee uptime as well as call quality. Customers should beware of low-priced options that don't specify these assurances in writing

Inadequate support. Migrating away from a traditional, premises-based voice system often means businesses won't be able to rely on in-house support resources or legacy supplier relationships. It's essential to examine the support capabilities of both the cloud supplier and the managed service provider (if you're working with one) to ensure they're a fit.
Comparison of the Top 4 Hosted VoIP Providers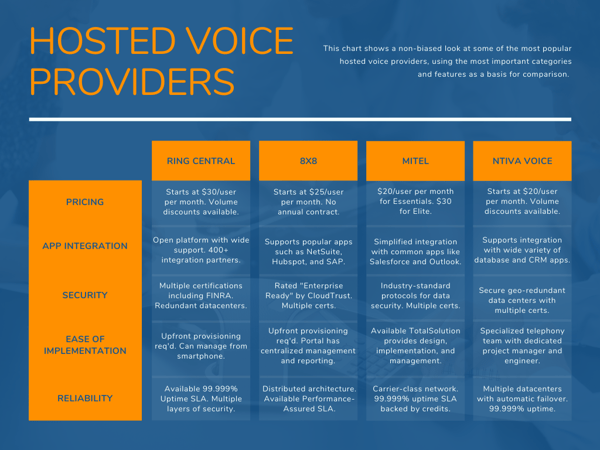 There are many comparisons of the best business VoIP providers in 2020, but we've narrowed it down to four providers that we've had extensive experience with, including our own service which is called Ntiva Voice.
Mitel vs. RingCentral vs 8x8 vs Ntiva Voice
In 2019, Mitel topped Frost & Sullivan's list of highest growth hosted IP Telephony providers.
RingCentral made the news with its acquisition of small business contact center provider Connect First.
And 8x8, a Gartner Magic Quadrant UCaaS leader for 7 consecutive years, received the prestigious TechTarget award for cloud communications solutions.
Although brand new to the game, Ntiva Voice has been crafted from the best features of each of the other top brands, and also features a robust and award-winning support team.
While all highlight ease of implementation, it's important to note that none are typically 'plug and play.' Significant provisioning can be required, depending on configuration complexity and the number of sites involved. Networks may also require tuning post-cutover to eliminate any connectivity issues that may occur.
Each of these 4 leaders operates redundant data centers, boast secure platforms, and hold multiple security certifications. Similarly, all offer excellent performance and uptime SLAs.
Finally, all of these providers make significant investments in application integration, incorporating a wide range of productivity, CRM, and specialty business applications into their platforms.
Companies may ultimately choose their provider based on specific application requirements or based on how a particular feature set is implemented.
Often, however, customers will evaluate the skills, resources, and experience of a preferred integrator when choosing a cloud-telephony provider. On-going support and management is key to a great experience!
4 Questions to Help Determine if Cloud Telephony is Right For Your Business

Migrating from a legacy premises-based telephone system to a cloud-based solution is a major undertaking. Not every business will achieve the same degree of benefits — and for some, the business case may not yet exist.
Here are four areas to explore to determine if there is a positive business case for moving your business to a cloud-based communication solution:
Do the numbers add up?

As mentioned previously, it's crucial to conduct a detailed comparison of legacy and cloud-based telephony costs. This is especially true if the majority of capital investment for the legacy system is already complete. What are the real costs for both options moving forward?

Is the legacy system viable?

If the current premises-based system is functioning efficiently, there may not be an immediate need to replace it. Are all hardware and software elements supported by the manufacturer? Are software upgrades, security patches, and replacement parts still readily available?

Will a cloud system provide a competitive advantage? Do you anticipate significant growth or expansion into multiple locations?

Will your business benefit from a platform that unifies all communications, such as voice, video, and text? Are you operating a contact center? Is there a requirement to integrate other CRM, sales, or productivity applications into a single platform?

Does your current system meet the needs of your workforce? Highly mobile employees, remote teams, and staff that works from home all have specialized requirements. Does your team frequently use conferencing or video? Do your employees use multiple devices (laptops, tablets, smartphones), and do you encourage 'BYOD' (bring your own device)?

How to Choose the Right Cloud Voice Provider
While most of the leading cloud telephony providers offer a range of services, many businesses choose to procure their telephony solutions through an integrator or managed service provider.
Integrators can bring significant value to the table — local technical resources, industry-specific knowledge, broader lifecycle services, and better technical support.
Here's what to look for when evaluating an integrator or managed service provider:
Full lifecycle services.

Integrators should offer services ranging from discovery, design, network configuration to project management, implementation, and post-sales support.

Applications integration. Can the provider integrate the sales, CRM, and business applications needed to run and optimize the business?

Live, local support.

Integrators typically provide a customized and more personal support experience to their customers. Often the integrator team has dealt with the same customer on several occasions and is familiar with the customer's technical environment. Does the integrator have available 24/7/365 level one and two technical support?

Training capabilities.

Can the integrator provide onsite and online user training?

Technical experience.

Does the integrator have a deep 'technical bench,' and is the team certified by the cloud-telephony provider.

Industry expertise.

Can the integrator demonstrate a track record in relevant industries or business segments (e.g., small business)?
The Ntiva Voice Solution
Much more than a phone system, Ntiva Voice provides a broad family of integrated telephony and business communications services designed to give your business a competitive edge.
A cloud-based alternative to traditional, premises-based phone systems, Ntiva Voice is built using Netsapiens award-winning unified communications technology and offers services ranging from basic telephony to collaboration, call center, mobile applications, and CRM integration.
Reliable and secure
Telephone communications are a critical part of your business. Hosted in redundant, highly-secure Class 4 data centers, Ntiva Voice is designed and maintained according to industry best standards for secure, high availability (HA) computing facilities. The result? '5-9's' reliability that delivers maximum uptime and ensures business continuity, even if your building loses power or your ISP fails.
Local, knowledgeable support
Ntiva's team of technical experts will architect, implement, and optimize your Ntiva Voice telephony solution. Ntiva provides 7x24, dedicated telephony support delivered by live, local, 'telephony trained' support representatives.
How Ntiva Voice can benefit your business
Does not require in-house telephony expertise or a third-party service company for maintenance or system upgrades.

Offers predictable monthly costs based on users and features.

Significantly lower implementation costs compared to deploying an on-premises system.

Redundant, secure data centers with '5-9's reliability' ensure business continuity, even in 'building power-down' situations.
If you're interested in working with the best support team, engineers, and dedicated account managers, reach out to us to learn what Ntiva Voice can do for you!

Want to learn more about Communications Management for your business? See Ntiva's Business Phone Systems Solutions.