Few of us could have predicted what has happened over the past two years. While technology always changes at a dizzying pace, nothing prepared us for the crazy fast transition to remote and hybrid work.
This global event literally forced companies to speed up their digital transformation efforts, in order to continue doing any business at all.
But what's next? What technologies should business leaders focus on to ensure they not only get back to "normal", but continue to grow and succeed in this new environment?
I spoke to a panel of IT experts to find out what they see as the critical tech initiatives that businesses should be looking at in 2022.
This report reveals the five key areas that our experts felt not only represented the biggest opportunities for business, but are grounded in practicality and are in reach for the majority of organizations.

TABLE OF CONTENTS
Navigating Business Challenges in 2022
Five Best Tech Investments for Business Success
Tech Trend 2: Business Intelligence
Tech Trend 5: Remote Digital Communities
Navigating Business Challenges in 2022
We're in a volatile time, to say the least.
Businesses around the globe are still weathering headwinds including the pandemic, related economic shock waves, environmental challenges, social unrest and rising cybercrime.
Some of the most common challenges that business owners report include:
Being resource-strapped due to pandemic shutdowns – many sectors are still recovering
Juggling support for remote work VS hybrid work VS back to the office
Dealing with worker shortages, also known as 'The Great Resignation'
Figuring out how to retain existing employees, including increased wage demands
Meeting new expectations from customers for a "digital-first' experience
Making operations as efficient and cost-effective as possible given escalating inflation
Guarding against cyber-crime which has become a huge challenge for every single business
While technology can't assist with every item on the list, it is certainly key to solving many of these challenges.
Businesses have already begun significantly investing in various technologies, as is illustrated below in Salesforce.com's Small and Medium Business Trends Report.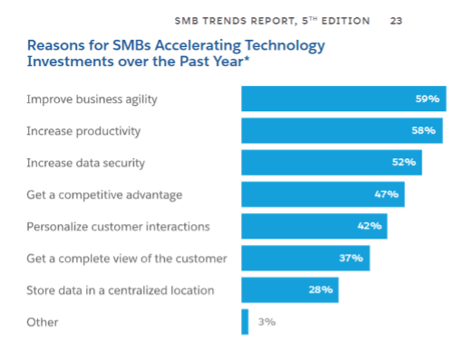 In order to help you figure out exactly how and why you should tackle these challenges, we've narrowed it down to the key areas that we feel businesses should either start to - or continue to - invest in.
Executive Summary: Five Best Tech Investments for Business Success
1. Automation
Businesses should look to new digital tools, apps, and services to remove as much friction as possible from business processes, taking advantage of automation.


2. Business Intelligence (AI and Productivity)

Tools that measure the health of the business and identify opportunities for improved productivity can help businesses quickly make data-driven decisions.


3. Cybersecurity
Companies need to move from basic cyber protection to cyber resilience – learn the difference because this is a key area!


4. Cloud Computing

The right technology infrastructure can help companies manage remote employees while taking advantage of more secure, centralized capabilities.


5. Remote Digital Communities
As distributed teams replace the cubicle farm and the water cooler culture dries up, businesses need to revamp their culture to support remote workers.
2022 Tech Trend 1: Automation
Back in the day, building a better product or service was the key to being successful. Now, almost everything has become a commodity.
For businesses to grow and compete, they need to focus on building better and more efficient workflows, which means automating as many processes as possible.
By automating mundane and repetitive tasks, you not only speed up the time it takes to perform the tasks, but you can also free employees up to take on more interesting and satisfying work.
If businesses were responsible for developing these digital technologies themselves to enable all these capabilities, it would be a heavy lift! But the good news is that the early adopter days are over.
Big businesses were the first to purchase and therefore fund the creation of tools, apps and services that remove friction, and now others can reap the rewards with similar solutions.
Think of cloud-based, friction-less, out of box but customizable technologies like Salesforce, ServiceNow, Zendesk and HubSpot. They provide department-focused capabilities that automate discrete functions and accomplish them more quickly and efficiently.
Now, not all types of work are suited for artificial intelligence automation, but where the work is straightforward, common software applications can handle repetitive tasks (that no one really wants to do anyway), reduce 10 process steps to three, and elevate employees to function at higher levels.
John Ryan, Fractional CMO for Authentic Brand, summarizes his thoughts on business automation:

The average small business might think such automation is out of reach, but many of these workflow tools, like email marketing platforms, customer support chatbots and automated text messaging solutions, are now affordable and easily customizable.
As John points out: "This take on automation is an important part of a growth mindset, and ultimately it will help the majority of businesses and their employees operate at higher, and more satisfying, levels."
2022 Tech Trend 2: Business Intelligence
When business owners can quickly assess the health of their business, they're better positioned to make data-driven decisions versus shooting from the hip.
Our expert Davin Neubacher, GM of the Mountain West region here at Ntiva, sees a real hunger for business intelligence and analytics. Using tools such as BrightGauge and Microsoft Power BI, Davin currently provides his clients with custom reports on the ways his IT services are meeting their needs.
These reports can cover everything from service ticket reviews to service level agreement statistics, all presented in a dashboard like format.
After seeing these results, clients were asking if they could do something similar in order to help identify trends that would show the actual health of their own organizational processes.
Davin discusses what he has been seeing with his own clients:

These dashboards and other business intelligence capabilities that started with the big companies, who had the resources and saw the value, are now widely available to businesses with smaller budgets, as CIO Magazine explains:
"The drive to make it possible for just about anyone to get useful information out of business intelligence tools has given rise to self-service business intelligence… Self-service BI tools enable organizations to make the company's internal data reports more readily available to managers and other nontechnical staff. Among the keys to self-service BI success are business intelligence dashboards and UIs that include pull-down menus and intuitive drill-down points that allow users to find and transform data in easy-to-understand ways."
One hurdle that businesses may need to overcome to capitalize on the business intelligence trend, is finding a way to make their data ecosystem work together through consolidation of data or integration using tools like Power BI from Microsoft or BrightGauge, as mentioned above.
Ultimately, the upfront work is worth it - these insights can identify where a business needs to improve or automate, removing friction from their operations and becoming much more efficient and competitive.
2022 Tech Trend 3: Cybersecurity
Accenture defines cyber resiliency as the ability to stop more attacks, find breaches faster, fix breaches faster and reduce breach impact. This is much different from basic cybersecurity protection.
While cybersecurity focuses on protecting data, cyber resilience is an entire framework that builds cyber protection and resilience into every part of the business.
And unfortunately, no one is immune!
With enterprise businesses becoming tougher nuts to crack, more and more cybercriminals are trying their luck with smaller businesses: A Verizon report found 43% of cyber-attacks target small businesses.
The entire cybersecurity topic can be overwhelming to resource-strapped businesses, with many not knowing how to protect themselves adequately.
To make matters worse, we are all inundated with news on the latest security breaches, coupled with endless emails from well-meaning vendors attempting to push their products. It becomes so much noise, sometimes it's easier to bury your head in the sand.
As Matt Willis, Regional Director of Operations at Ntiva emphasizes, most companies have STILL not implemented what they should when it comes to cybersecurity protection:
At the same time, external demands for cybersecurity are becoming more stringent and are not going away any time soon. As an example, the new security requirements for subcontractors of the U.S. Government are having a trickle-down effect on other businesses.
The Department of Defense's Cybersecurity Maturity Model Certification (CMMC) Program is the prime example.


Ted Brown, Ntiva's Director of Products talks about the stringent cyber rules which are starting to trickle downstream:
Cyber insurance firms are also tightening up their requirements for coverage. Many businesses are reaching out to us for help to figure out exactly what it is they need to have in place should the worst happen, and they need to submit a claim.
Those that are lagging in the basics of setting up two-factor authentication or getting up to date with software patches should hope that it is only a compliance auditor or a cyber insurance agency that calls them out … and not a ransomware demand!


Matt talks about the impact of NOT being on top cybersecurity best practices:
2022 Tech Trend 4: Cloud Computing
When the pandemic is well and truly over (touch wood), the hybrid office will remain.
We know that the world has changed, and some employees will continue to operate remotely either all or part of the time.
For 2022, the technology implication means transitioning from an "emergency" remote state to a new normal, meaning that businesses need to look at how their technology ecosystem is governed.
In most cases, the cloud is an integral part of this process.
Consider the following practices and technologies for a distributed environment:
Single sign-on: Cloud-based governance offers unified access control from a single point for governance over users. This enables controlled access for employees with one login and password for almost all of their business apps.
Ntiva's Ben Greiner, Director of Apple Technology and Ted Brown, Director of Products, describe the importance of single sign on and cloud-based governance for both Mac and PC environments:
Virtual application pools: This capability allows businesses to configure different levels of security for different applications on a web server.
Company polices: These may need to be updated to manage corporate BYOD policies and apply some level of corporate governance to employee-owned devices operated in remote settings.
Low or no touch deployments: To offer support and service to remote employees, businesses should be prepared to ship PCs and laptops in a "ready to go" state straight to the house.
Listen to Ted describe his vision for low touch deployments of PCs and Macs:
2022 Tech Trend 5: Remote Digital Communities
Remember doing all of your meetings face to face? Going out to lunch to work through a difficult conversation? Having a quick collaboration or update around the watercooler? Grabbing a drink with a colleague after work?
The sense of community and free flow of ideas are two of the losses many leaders fear from a 100% remotely distributed workforce.
We don't think you can ever replace that kind of connection with online collaboration tools, but the reality is that even as some of these behaviors return, the workplace has permanently changed.
Remote work is here to stay, pros and cons notwithstanding.
This means businesses need to figure out the best way to facilitate an online community for their employees.
There are tools many of us are already using, including Zoom, Microsoft Teams, Slack, SharePoint and others.
But the trick is consolidation, adoption and training.
It doesn't work well when everyone is using different tools. You need to choose and double down. Make sure your ecosystems work together and it's easy for people to find information. Make sure your IT team is on board and ready to support all requirements. Make sure your staff is trained.
Perhaps most importantly, managers and leaders need to start sharing more information than ever to keep people engaged and connected.
We're experiencing a huge shift in the way we work, and getting everyone on the same digital page is absolutely one of the key pillars for a successful business in our rapidly changing world.
Frank D'Sliva, Solution Architect at Ntiva elaborates:

Bottom Line: Will Your Tech Help You Grow in 2022?
No one has a crystal ball for what this year will bring, but businesses that are strategic about identifying their areas of focus and implementing improvements, are far more likely to be successful.
There is little doubt that 2022 will see a wide range of emerging technologies as the pandemic subsides, or at least becomes more manageable.
But there are plenty of tech solutions that are available NOW that you should be doubling down on.
Now is prime time for businesses to capitalize on these business opportunities to become more successful than ever, and not just survive but thrive in 2022 and beyond.
We recognize that not every organization has the internal talent to sort through the strategic decisions that need to be made, nor implement some of these new initiatives.
Do not hesitate to reach out to Ntiva or other reputable Information Technology consultants to help you figure out your next steps!
Interested in learning more? We'll be covering these trends and others that emerge this year in our monthly webinar series, so feel free to join in: