Changing IT service providers used to be a nightmare. We're talking a time-consuming, costly, labor-intensive, frustrating pain in the you-know-what.

But not so anymore. With advances in technology, almost the entire move can be done remotely. All you need is a little planning, and your switch can be seamless—and painless.


The key to switching IT companies is to have a well-documented transition plan before you sign any contracts with your new Managed Service Provider (MSP) … or cancel any contracts with your current one.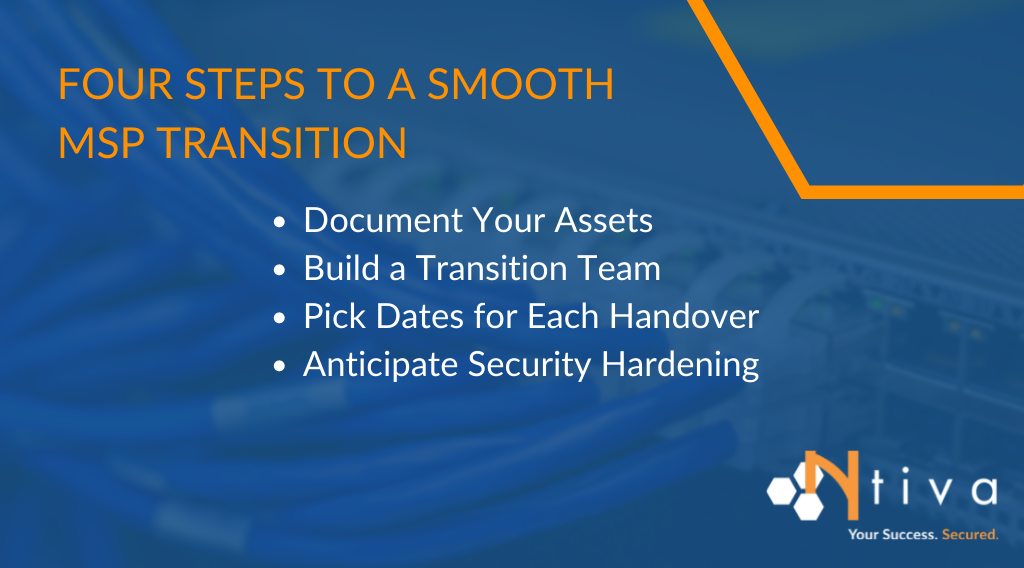 Here are the four steps to a smooth IT service provider transition:
1. Document Your Assets
2. Build a Transition Team
3. Pick Dates for Each Handover
4. Anticipate Some Security Hardening
Step 1: Document Your Assets
Inventory all your assets, including hardware, software, networking components, operating systems, data storage—all your IT assets, whether on-premises or in the cloud.
Next, compile a list of passwords to your accounts, support information for applications that you use, and a list of key company contacts, including email addresses and best-available phone numbers.
Documenting your assets ahead of time gives you enough runway to track down any missing information. Then, once you do find a new IT company, the switch won't be delayed because you're scrambling at the last minute to give your new provider passwords, or to tell them who's the point of contact for each area of your IT operation.
Step 2: Build a Transition Team
Assign one individual or one team leader to oversee your switch in IT service providers. This person will be your primary point of contact with the new IT vendor and will oversee all communication between your two companies so there are no opportunities for missed communication. This person is your source of truth and must never be left out of a transition discussion.
Your transition manager will also work with your company leadership team and IT management to mitigate risks, identify and resolve issues that affect the switch, keep an eye on the timeline and the vendor's progress in meeting milestones, keep all company stakeholders up to date on progress, and plenty more.
Step 3: Pick Dates for Each Handover
When companies switch IT service providers, they rarely switch everything at the same time. Changing vendors is not like flipping a switch. Most businesses today are far too complex for all IT systems to be handed over from one MSP to another all at once.
For this reason, you must pick dates for each handover.
Consider your backups, for example. If your new MSP is taking out your backup solution and putting in a new one, you must coordinate that between both MSPs. You must pick a date when you will ultimately switch backups and move to the new backup solution.
Another good example is antivirus. When is your current antivirus solution going to be removed and the new one put in? On what date, at what time, and in which time zone? Again, this requires collaboration between both IT service providers. (Usually, we're talking about a simple process of open and frequent communication between the two MSPs. Most of them in our industry do a really good job of communicating.)
Remember that the dates you pick are part of your contract with your new IT company. Your new provider is responsible for supporting you from a given date and time—and not before. So, make sure you overlap your two MSPs for a time. You need access to each team and their resources during the transition.
Step 4: Anticipate Some Cybersecurity Hardening
One of the first things your new MSP is going to do when taking over your account is change the locks. They will eliminate every possible way that your former MSP can access your networks, applications, control panels and more.
Depending on the size of your company and the size of your IT footprint, this may involve some effort and time commitment on your part. So, anticipate having to set aside some people and time to harden your security once your new MSP takes over.
How Ntiva Makes Your MSP Switch Easier
People don't typically look to switch IT companies if they're happy with the one they currently have. Maybe yours is hard to work with, or they aren't engaged enough, or they are too busy to look after you.
Either way, here's what to add to your checklist if you want a strategic IT partner who is easier to work with, including during the process of making the switch.
Documented onboarding process
At Ntiva, we have a documented onboarding process where we go through a two-phased approach. First is a non-technical onboarding session where we meet your team. We discuss how you want communication to flow, how to reach us, and so on.
This sets the foundation for the relationship. From there, we introduce dedicated staff to get you onboarded.
We assign you a project manager who runs your project and put together a statement of work. During this, we take a look at your environment, document the environment, and get all documentation up to date.
Having a documented onboarding process that's tested and proven ensures your transition happens smoothly.
Automation tools
Most of the work involved in switching IT companies is done remotely. At Ntiva, we roll out a variety of automation tools to deploy things quickly. This makes your transition easier and faster, and with fewer roadblocks.
For example, we use automation tools to push updates to your employees' devices remotely. Our automation tools give us the ability to push other products, such as security patches and antivirus updates, and to manage detection and response—all remotely and all automatically without having to touch a single workstation or bother a single employee.
Technology roadmap
Switching IT companies should be the start of a beautiful relationship. And for that relationship to work well, it needs a technology roadmap. At Ntiva, we collaborate with your team to develop a technology roadmap that captures your short-, medium-, and long-term goals, along with the method, budget and timeline for reaching each goal.
Switching IT Service Providers Can Be Easier Than Ever
Now, that's not to say every single service provider switchover is a complete cakewalk. Expect your change of IT service providers to be more challenging and to take longer if you:
Have outdated infrastructure that's no longer supported by software providers, requiring a more hands-on approach.
Have on-premises databases and physical infrastructure that you want to migrate to cloud.
Are in a rush and have to transition in days, not the 30-90 days that a switch typically takes.
Are unwilling or unable to spend time documenting your assets, building your team and planning your move.
Even if you are among those companies facing some hurdles, switching IT companies is nothing like the nightmare it used to be. We have well-honed onboarding processes, automation tools, and deep expertise in helping companies of all sizes—and IT landscapes—migrate from one MSP to another.
Ntiva can help you switch from your current IT services provider in the most seamless and hassle-free way possible. If you're interested in learning more, take a look at our recent guide which outlines how top business leaders have successfully outsourced part or all of their IT needs!