Your business may be small, but IT challenges can grow much faster than you anticipated.
The speed of change in information technology has never been faster. Hackers and other threats are growing by the week. Your budget is getting squeezed on all sides. And yet you are expected to use technology to advance your mission and maintain your margins.
Here are the top three IT challenges facing small businesses and small IT teams—and how to solve them.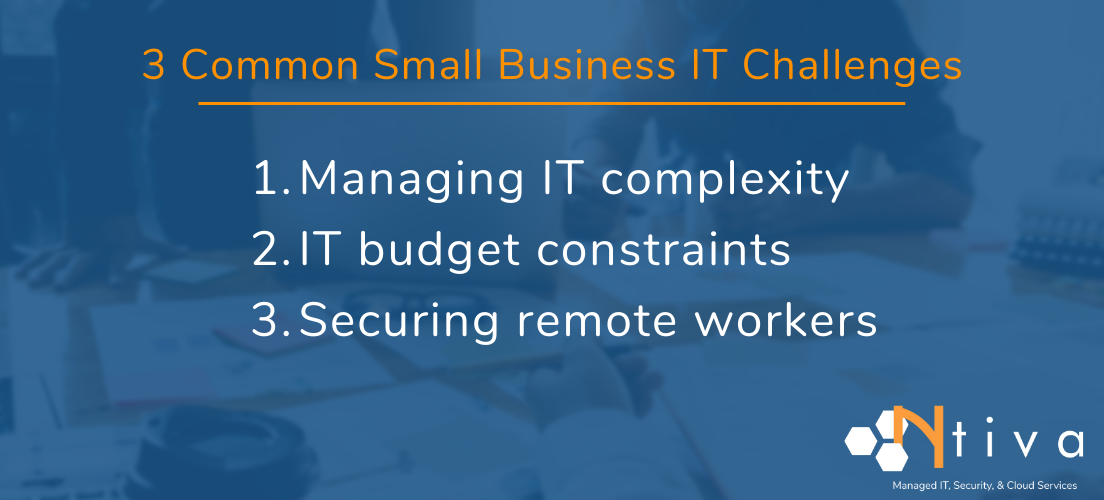 Challenge 1: Keeping Up with IT Complexity & Cybersecurity Threats
Cloud computing, mobile apps, artificial intelligence, big data, security threats, the Internet of Things. Today's pace of change is enough to make your head spin.
You're not alone: Studies indicate that 46% of business leaders say they need greater IT expertise, and a further 44% say their IT systems are now too complex for their teams to manage internally.
Keeping up is especially difficult for small-business owners, who must juggle multiple competing priorities just to keep the lights on.
One area of particular concern is the rapidly evolving sphere of information security. New viruses, novel types of malware or new ransomware are part of the day to day. No wonder so many small businesses are struggling to protect their data and assets against cyber threats and data breaches.
Solution: Learn, But Value Experience Over Education
Step 1: Learn.
The first step in keeping up with IT complexity and cyber threats is education. In particular, educate yourself and your staff about how to protect your business against cyber attacks. You must cover your skills gaps and learn how to guard yourself against the top four threats:
Theft (stealing sensitive information)
Extortion (ransomware attacks)
Disruption (denial-of-service attacks, for example)
Hacktivism (making a point, usually political)
Step 2: Value Your Experience.
The second way to keep up with IT complexity and cyber threats is to value your experience. You can't keep up through education alone—technology is advancing too quickly for that. Instead, you must examine your own reality and rely on your and your staff's on-the-job experience to recognize technology patterns and spot the problems that need to be solved. Education teaches you how to solve a specific problem.
But your first-hand experience, insights and intuition show you where you must focus your energy and budget.
Challenge 2: IT Budget Constraints
If your small business is typical, your IT workloads are increasing but your IT headcount and IT budget aren't.

The number of business applications you must manage is growing, launching IT-related projects is more complicated than before, and you are facing constant pressures to upgrade your old IT equipment and systems to meet today's challenges and new ways of meeting customer demands.
The last thing you need is a restricted IT budget, but that is quite likely what you have. After all, at least 37% of businesses say their IT budget is getting squeezed. These businesses must reduce the cost of their in-house IT support at the very same time that they need greater IT expertise. No wonder their IT teams are feeling overwhelmed.
Solution: Outsource IT with a Focus on ROI
An increasingly popular solution to overwhelmed IT teams and constrained IT budgets is to outsource part or all of the IT function, and to do so with an eye on generating a satisfactory return on your investment. Any function, service or role that you outsource should demonstrate a tangible ROI that justifies your investment.
Challenge 3: Securing Remote Workers
A staggering 61% of employees say their employers haven't provided the tools they need to secure the personal laptops and computers they are using while working from home.
Digital transformation has been cranked into high gear thanks to the current state of the world, but there is no excuse for leaving so much data vulnerable and unprotected.
If a portion of your employees are working from home or remotely, you must realize that they pose a serious security risk to your small business. The challenges of managing security in an ever-evolving remote working environment have never been greater.
Solution: Update Your Remote Work Plans, Policies and Procedures
The key to securing your remote workers is actually a couple of keys.
Update your remote work policies and procedures. Ensure that all your remote workers know what they can and cannot do when accessing your corporate networks from home. If you have a BYOD policy, make sure it is up-to-date. Also, prepare for the worst, and have a disaster recovery plan in place.


Conduct refresher training around spotting and preventing phishing attacks.


Partner with an MSP that has a 24/7 Security Operations Center to protect your workers and data against cyber threats—even when they and you are asleep.
You'll find some of these processionals at Ntiva, the Managed Service Provider that delivers proactive, managed IT services for organizations that cannot fail when it comes to security and compliance. If your small business needs to stay secure, productive and profitable, let's talk.