If there's one thing we've all figured out during our "work from home year," it's that no one is on the same page when it comes to the Microsoft 365 platform! Many companies are now taking advantage of features they hadn't used in the past, but there's always plenty more to learn.
Even though M365 applications such as Teams saw a huge upturn in use, a lot of us are still working like we did in the past.
We save files and folders to our local drive or desktop (instead of OneDrive or SharePoint)
We attach Word docs, powerpoints and Excel sheets to email instead of using secure links
We have no idea how to share those huge files we can't email with people outside of our organization (and no, you should not be using DropBox and other similar public storage options)
Many of us are stuck in our old ways, and need help utilizing all of the new features in Microsoft 365.
This is where Training as a Service (TaaS) comes in!
What is Training as a Service (TaaS)?

Training as a Service is a centralized cloud-based training center for all things Microsoft 365.
Accessible to everyone in your organization, Training as a Service offers a digital classroom with easy to follow instruction videos and training.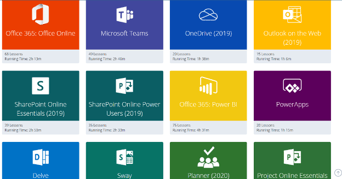 From Outlook to Word, Excel to PowerBI, all of Microsoft's Office software has dedicated training, quizzes, and review material available.
All of this is provided by highly skilled Microsoft MVPs, giving you the most accurate and insightful Microsoft 365 tips and techniques.
Training as a Service Key Features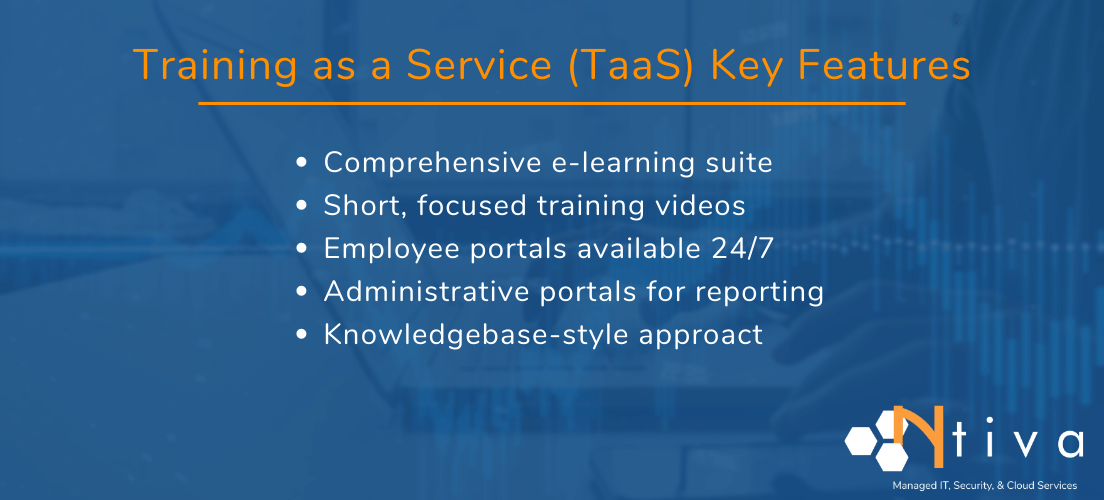 Training as a Service will take your team to the next level when it comes to digital efficiency, security, and skill.
When utilized fully, TaaS offers:
A comprehensive e-learning suite that includes training on Microsoft 365, cybersecurity, and other products.


Short videos focused on specific real-world tasks keep training relevant so that users can quickly apply what they learn in their everyday work.


Individual employee portals that are available 24/7, to keep track of progress and help motivate busy employees.


Administrative portals to control the entire e-learning experience from a central location, monitoring user activity, generating reports, and creating training assignments.


A knowledgebase-style approach, including content search functions, which allow employees to find the answers they need quickly.
Who Needs Training as a Service (TaaS)?

In our honest opinion, we believe every business can benefit from the "ClipTraining" platform, which hosts Ntiva's e-learning TaaS service.
When a business implements a new system, such as Microsoft 365, we all know that most people don't enjoy the change. More software to learn!
This initial frustration can lead to disengagement, and going back to the old systems we're familiar with.
ClipTraining helps make the transition easier, and allows users to become productive faster with its innovative teaching and evaluation tools.
Without a universal training method, your investment can end up becoming a waste of money, time, and effort.
Incorporating these training offerings into your IT roll-out can address any difficulties your employees might have in adapting your new 365 solution.

How Does Training as a Service Work?

With 24/7 access to their own personal employee portal, employees can take courses on any software you choose.
Our platform offers training on Microsoft 365, Windows 10, cybersecurity, and even some Adobe software.
Giving your employees the option to dip into online training courses, quizzes, and videos at their own pace ensures that they maintain their technical knowledge on the software that matters to YOU.

No need to worry about knowledge retention, either!
These classes will stay with employees as they navigate everyday working tasks. Tests built into the platform ensure that they have absorbed all the relevant information.
There's also no need to worry about employees being overwhelmed with too many options.
ClipTraining offers administrative monitoring, meaning you can assign courses to particular individuals or departments and make sure that everyone is completing their classes as needed.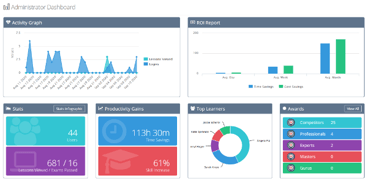 What Are the Benefits of Training as a Service?
While the most obvious benefit of TaaS is the immediate gaining of knowledge on software your business needs, there are longer term benefits to think of as well.
Higher Productivity
ClipTraining courses raise productivity in your employees by teaching them things they may never come across in the software they use every day, giving them new skills and capabilities
Time Savings
Focused training courses help get users up to speed quickly. They can fit them in during even a few minutes of downtime thanks to the short, task-based video format.
Faster Technological Adaptation
ClipTraining constantly updates its content as new products become available, creating a powerful learning platform that can help employees adapt as new Office 365 features emerge.
Employee Incentives
Gamification techniques including leader boards to keep employees engaged with enjoyable courses that constantly challenge them and push the envelope.
How to Get Started with TaaS

Getting started is easy!
If you are an Ntiva client, set up an exploratory call with your Ntiva account manager today, and we'll help you find the courses that your business needs.
Not an Ntiva client but looking for a trusted Managed IT Services Provider to support your business technology or help you with Microsoft 365 consulting?
Click below to schedule an appointment to discuss how we can help!