When it comes to selecting a data management tool, there's no shortage of platforms to choose from. Since the inception of the cloud in 2006, we've watched this market boom, with arguably the most popular platforms coming from Microsoft. But which tool should be used for what purpose?
Even though many businesses have moved to cloud-based Microsoft 365 subscriptions, most were not taking full advantage of all the features, including SharePoint and OneDrive.
Enter the pandemic of 2020, and all of a sudden Microsoft Teams, SharePoint, OneDrive and other cloud services became a lifeline for remote workers.
While SharePoint and OneDrive have many similar features - they are both intended to make it easy for organizations to store and share information - they are also different in many ways.
If you're wondering about these differences and hoping to learn which of the two is right for you, you've come to the right place! But let's start with quick definitions:
What is SharePoint?
SharePoint is a collaboration tool for businesses who want multiple users and teams to work on documents and other content at the same time. Although it is best known for team document management and storage, it is highly configurable and integrates with many applications. Many organizations use it as an Intranet, sharing common resources and applications, and taking advantage of advanced features such as search, notifications, conversation sharing, and more.
What is OneDrive?
OneDrive for Business is an online document/file storage platform meant for individual users. In essence, it replaces the traditional local "Documents" folder on your PC, letting the user access content from anywhere. Each user is given one terabyte of storage, so if for some reason the computer crashes or documents are lost, the user does not lose any information. Storing information on OneDrive has many benefits, including keeping folders clutter free, optimizing computer performance, and making it easy to manage all of your digital data in one central place. It is possible to share files and folders with other team members, if needed.

Deep Dive on SharePoint: The Perfect Solution for Team Collaboration
With Microsoft SharePoint, it's all about teamwork and building a stronger foundation for communication.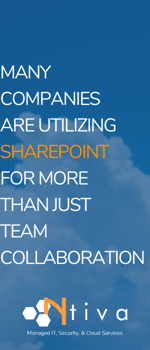 This is a collaboration tool used by both small businesses and major corporations that allows users to access important project information from any device.
Whether all team members are working under the same roof or they're spread across the globe, users can access and share documents with ease through a SharePoint site.
The homepage of each SharePoint site contains everything from calendars and to-do lists to project updates and notification settings. SharePoint sites will look slightly different from user to user since each team builds its own pages based on the preferences of the site administrator.
When a file is uploaded, it is given a "permission" level from the admin. In other words, team members don't have to ask for permission to access or edit each file that is uploaded.
With SharePoint Online, you're able to have multiple sites within one account, which is perfect for anyone working on several projects at one time.
SharePoint for Website Building
Many companies are utilizing SharePoint for more than just team collaboration, but also for building and maintaining the company website.
There's a CMS component to SharePoint that allows users to publish documents directly to the website so that they become available to customers and employees.
There's even an internal analytics tool for building custom apps through SharePoint.
When comparing SharePoint vs. OneDrive, there's no question about which one comes out on top for website building.
SharePoint is right for you if:
● You frequently share documents with others
● You need a collaboration tool for upcoming projects
● You'd like to publish documents directly to the company website
Learn More Here About How To Create A SharePoint Site!
Deep Dive on OneDrive: The Perfect Solution for Personal Projects
OneDrive is also used for team collaboration, but not nearly to the same extent as SharePoint. There are no "team" accounts in OneDrive, only personal ones.
However, this doesn't mean that you can't use OneDrive to collaborate with other team members.
It just means that you need to give access to specific team members when you save files to OneDrive by inviting others to either view, edit, or comment.
Once you've set the permission level, you'll then grant access by sharing the document through a secure link.
This method of file sharing works well if you're working with one or two team members, but it's not ideal for large teams that share files frequently. Think of it as an online filing cabinet, but only certain members of the team have the key to open the drawer.

In the comparison guide on Google Drive vs Dropbox vs OneDrive, you learned that OneDrive seamlessly integrates with other Microsoft Office tools like Word, Excel, and PowerPoint.
It's an amazing tool for Microsoft-heavy work environments, but just keep in mind that it doesn't allow for website content management like SharePoint Online.
OneDrive: Personal vs. Business
There are two unique versions of Microsoft OneDrive, Personal and Business, for managing cloud storage in one central location.
When you sign up for a Microsoft account, you are given immediate access to OneDrive personal account and handed 5GB of free storage for files, photos, and videos.
OneDrive for Business is specifically designed for organizations so that a company can provide employees with personal storage. However, it's managed by the company (not just by the individual user).
All team members who have permission can access the documents uploaded to the OneDrive business account.
Here's the interesting part - when you're using OneDrive for Business, it uses the SharePoint platform for document storage and team collaboration. It just doesn't offer quite as many features as SharePoint, especially in terms of marketing resources and CMS.
OneDrive is right for you if:
● You need a central location to store and access files
● You work in an Office 365 environment
● Your files are specific to you, or…
● You need a place to draft files before uploading to SharePoint
SharePoint vs. OneDrive: Which is Right for You?
Still unsure about which is right for you when deciding between SharePoint vs. OneDrive?
Let's do a quick recap.
With a OneDrive personal account, the user always remains in control of his or her account. This makes it the perfect online storage solution for personal documents or files that are shared among a select few individuals.
Although SharePoint is mainly marketed as a cloud storage management system, it's so much more than that. It enables content collaboration across the entire Microsoft 365 suite of services.
If you frequently work with others, using a SharePoint team site is the way to go.
But that doesn't mean you should completely rule out OneDrive. Both tools have helped businesses to improve the way they work, and many businesses use both platforms.
Do keep in mind that public cloud storage isn't the right solution for every business, so check with your IT specialist to ensure you choose the right solution with the right security protections.
Want to know what SharePoint and OneDrive can do for your business? Let our experts help you choose and implement these productivity-enhancing tools! Contact us today for a personalized consultation.