Your company is ready to take the next step in your digital transformation journey, but you're not quite sure how to get to where you want to go. You know that Microsoft Office 365 (now called Microsoft 365 or M365) is the next thing on the "to do" list, but you'll likely need a guide to help you get the most out of the experience.
That's where a team of IT professionals specializing in Microsoft 365 consulting can step in and assist you with your journey, either with a first time migration and/or with ongoing assistance to get the most out of your investment.
Companies turn to specialists in Microsoft 365 consulting services to:
Help them move their workflow over to Microsoft 365

Enable them to get the most efficiency and security out of their current Microsoft Office 365 implementation

Equip them to use Microsoft 365 securely from anywhere

Inspire them toward the adoption of superior workflow based on Microsoft 365 capabilities

Ensure that workflows meet or exceed industry and legislative compliance standards
What does a Microsoft 365 Consultant do?

Responsible for the effective delivery of tailored Microsoft 365 solutions, an experienced consultant is central to the correct implementation of the suite's apps and infrastructure.
Companies often begin looking for Microsoft consulting services when they don't have the appropriate resources and knowledge in-house, or realize they are not taking full advantage of the power of the entire platform.
The Microsoft 365 platform is constantly changing and evolving, so even after a successful migration to the platform it's very likely you'll need an expert who can continue to provide you with the latest updates and ongoing expertise.
A qualified Managed IT Services Provider, who offers recurring monthly services, is often your best bet when you're looking for long-term strategic guidance and support, as opposed to just a one-off project.
What are the most popular Microsoft 365 Consulting Services?
The word "consultant" doesn't begin to convey the role that our team of IT specialists play in assisting companies like yours with Microsoft 365.
Here's a short list of the most requested services Ntiva offers:
Microsoft Office 365 Assessment - To determine whether you are using the subscription and licensing that is best for your workflow, our consultants do a thorough review of your internal processes.


Microsoft Office 365 Migration - Often, companies moving to Microsoft 365 are either on an old, on-site version of the Microsoft Office Suite or one using one of the data storage and collaboration platforms we have listed above. The process of moving your data (emails, documents, spreadsheets, databases, etc.) from what you are currently using into Microsoft 365 environment is known as "Microsoft 365 Migration." This is a process that requires careful planning and execution by an experienced team - or data could be lost and/or corrupted.


Microsoft Office 365 Deployment - Although an individual user can buy a Microsoft 365 subscription and set it up on their home computer in a matter of minutes, deploying Microsoft 365 across an entire organization is a different matter altogether. With an increase in the scale of a Microsoft 365 deployment comes an exponential increase in complexity.


Microsoft Office 365 Optimization - The expert configuration of your Microsoft 365 environment and applications can be the difference between high-productivity and lost efficiency. Hiring a qualified Microsoft service team to configure, automate, and integrate your workflow and Microsoft 365 capabilities improves your chances of realizing your digital transformation goals.


Microsoft Office 365 Governance, User Management, and Security - Microsoft has built much of the needed governance and data security features into the platform. However, there is still a role that your IT specialist must play in regard to the specifics of your organization. User credentials must be managed and role-based data and workflow access must be set up and maintained.


Legislative and Industry-Standards Compliance - Microsoft 365 service professionals understand the hesitancy of some businesses to trust their compliant standing to a cloud-based infrastructure. To help alleviate these concerns, these IT specialists carefully review the client's responsibility to compliance standards such as HIPAA, DFARS, FINRA, etc., and configure/manage the M365 instance to adhere to those mandates.


Microsoft Office 365 Adoption - Employees are not always excited about learning new applications and ways of doing things. A Microsoft 365 consultant will be able to help your team to adopt and make the most of SharePoint, Power BI, PowerPoint, Word, Excel, Teams, Outlook, etc. This is accomplished by showing your employees how Microsoft 365 will make their workday easier and by providing training for them to feel comfortable with Microsoft 365.


Microsoft Office 365 Management and Maintenance - Business technology has to be continually monitored and cared for if it is going to support your always-on workflow. Your instance of Microsoft 365 is no different. Our team can provide security and operational monitoring, data backup monitoring, and incident response services to give you the best functionality and security out of your Microsoft 365 subscription.


VoIP Integration - VoIP (Voice over Internet Protocol) technology is used for business telephone and conferencing across all industries. Often, companies will require their IT system - especially their customer relationship management platform - to "talk" to both Microsoft 365 and their VoIP setup. Microsoft 365 consultants help build the necessary "bridges" between CRM, VoIP, and M365 to avoid time-consuming and repetitive manual processes.
What Draws Businesses to Microsoft 365?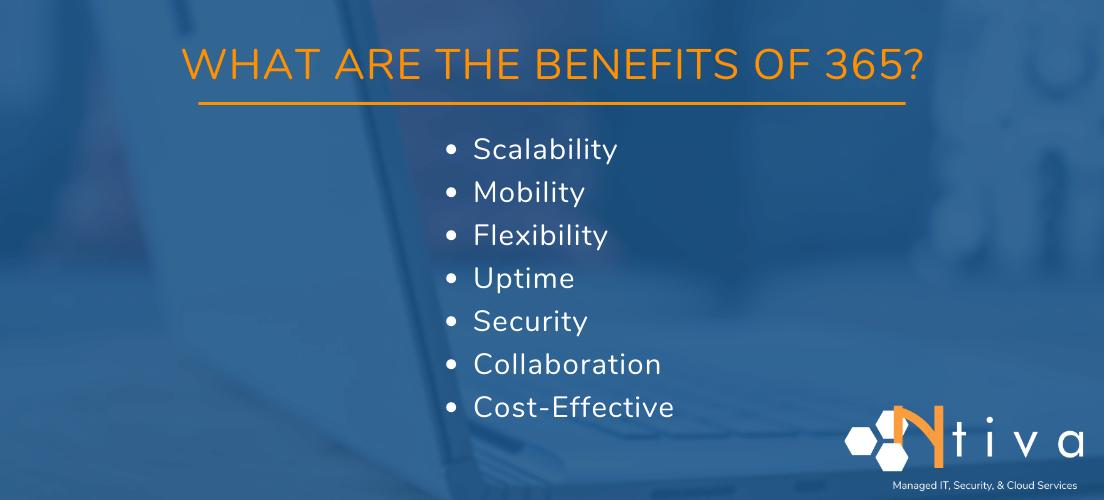 Although Microsoft 365 has downloadable apps that can work on your devices in similar ways to the old Office suite programs (Word, PowerPoint, Excel, etc.), most of the M365 benefits for your company are the result of the fact that the platform is cloud-based.
Therefore, the advantages of cloud computing are also advantages that can be leveraged by using M365.
Scalability - You can add or remove users within Microsoft 365 easily to reflect company growth or market fluctuations. This up-or-down scalability aids you in both cost of ownership and speedy provisioning or de-commissioning of Office 365 application and data access for workers.


Mobility - Nothing may be as front-of-mind for business owners seeking out the help of Microsoft 365 consultants as mobility. When your employees can get their work done from home, from the road, or from a satellite office, your business processes don't get roadblocked by location.


Flexibility - Business owners have learned the lessons of adaptability the hard way over the past year. When engaging with business consultants, flexibility is always a topic of major concern. Why? Because things - the market, consumers, capabilities - change, and you have to change with them or be left in the dust.


Uptime - Your company is likely part of the majority of firms that is tech-dependent and cannot tolerate extended periods of unplanned downtime. Microsoft 365 enables you to get more done with a 99.9% uptime track record.


Security - Because Office 365 is cloud-based and lives within Microsoft's cloud architecture, a lot of the necessary cybersecurity management is cared for on Microsoft's end. What IT security tasks are left to the client can be easily conducted by an Office 365 consulting firm. Taking care of data loss prevention, mobile device management, email encryption, and more is what our team does for our clients every day.


Collaboration - Microsoft Teams (part of the Microsoft 365 suite of applications) has revolutionized how employees get things done. Microsoft Teams allows all your staff to work on the same version of a file in real-time - even from different locations! This feature alone saves your employees the time and frustration of searching for and dealing with multiple versions of the same file. But that's not all of the pro-collaboration power of Microsoft Teams. Teams allows your employees to use direct messaging to save time, video chat to have virtual meetings, and even share a calendar. Microsoft Teams' new "

Together Mode

" is the latest step Microsoft has taken to make virtual meetings feel more like in-person events.


Cost-Effectiveness - The subscription licensing of Microsoft Office 365 is based on how many employees in your company use a computer to do their work each day. The subscription licensing model allows your company to move the expense from the CAPEX column to the OPEX column.
Summary

Microsoft is a company that is always pushing the boundaries of what can be accomplished with business technology. The crossroads of business technology capability and business process innovation is a place of profitability and competitive advantage.
As a Microsoft Gold Partner and a Microsoft Cloud Solution provider (CSP), our team of Microsoft 365 consultants is always evolving and refining our skills to bring the latest, tested M365 strategies to improve your workflow.
The proper configuration and leveraging of Microsoft 365 by your company can help accelerate growth, reveal new potential, and unlock creativity within your organization.
Click below to see how Ntiva can help your team get the most of Microsoft 365!
Want to learn more about Microsoft IT Support for your business? See Ntiva's Microsoft IT Support Services.
Managed Services for Microsoft 365
Microsoft OneDrive IT Services
Microsoft Sharepoint IT Services