Parkersburg, West Virginia is probably not a place many think of when it comes to tech jobs. Ntiva, a Washington, DC-based IT Services Provider, hopes to change that.
Ntiva has teamed with West Virginia University at Parkersburg to bring together the Ntiva Service Desk Academy at WVU-Parkersburg, a state-of-the-art remote service desk staffed by current students alongside longtime Ntiva employees inside the Caperton Center for Applied Technology, where those students attend classes every day.


Video: Interviews with the team behind the
Ntiva Service Desk at WVU-Parkersburg


Starting in the fall of 2019, the full-time students, chosen by the school, will be able to train with current Ntiva staff, who are also WVU-Parkersburg alumni, to obtain real-world knowledge and application of the skills they are learning during their classes.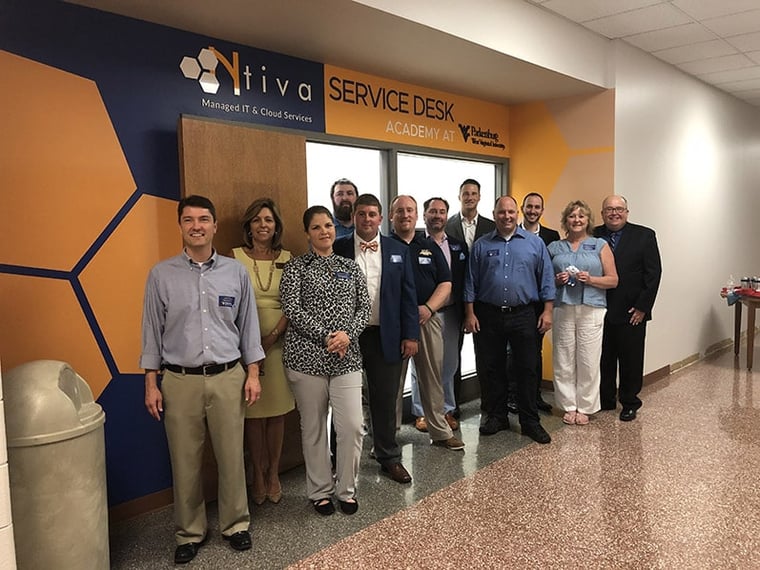 The students will be able to work up to 1,200 hours during their 18-month paid internship with Ntiva. After the internship has completed and an associate degree has been earned, the students will be able to interview for a full-time position within the company.
For Ntiva, the partnership with West Virginia's Learn and Earn program seemed to be a perfect fit. The program allows students to gain work experience while completing their degree programs, offering fair pay and unparalleled application of learned skills.
The Service Desk Academy will mainly focus on second-year students looking for an associate degree in the CIT program. Once completed, they can continue on to the bachelor's degree track while also being a full-time Ntiva employee.
Ntiva is a Fast-Growing IT Service Provider
As a growing IT Services Provider, Ntiva is always in need of top-quality, long-term talent to staff the 24/7 service desk. The skills learned through the CIT program at WVU-Parkersburg are exactly what is needed in Ntiva's fast-paced environment.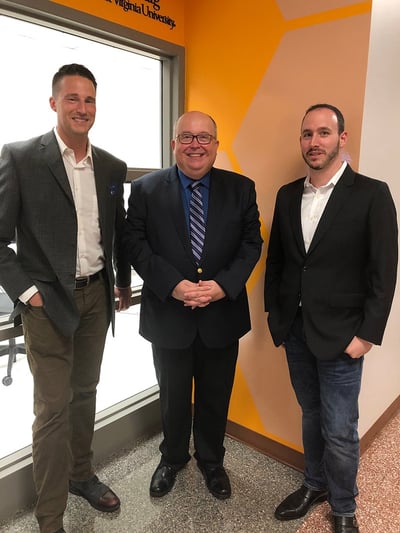 With recent news of Ntiva's Chicago-based acquisition, WVU-Parkersburg IT instructor Doug Rhodes sees plenty of promise in this venture. "Ntiva has the potential to make the Mid-Ohio Valley a technology hub between the East Coast and the Midwest."
The win-win nature of a program such as this seems special, and both WVU-Parkersburg and Ntiva leaders understand this. This is as-yet unknown territory, and both sides know the potential for expansion both in internships and remote locations are great.
The idea for the Service Desk Academy was the brainchild of Ntiva's own Josh Strahler, a graduate of WVU-Parkersburg. "We plan on working with student schedules to get them as many hours as possible in a real-life work environment. After 18 months, we hope to provide a real career track to a full-time Tier 1 position with Ntiva."
"To me, this is a no-brainer, says Ntiva COO, Chris Fridley. "When it was presented to me, I saw that we were helping to grow our service desk while also giving young people a career path that would allow them to stay in the beautiful state of West Virginia. We can also teach them our best practices, and they can have the opportunity to hit the ground running as full-time employees."
Steven Freidkin was proud to show the potential of the new WVU-Parkersburg space during the first tour. "Our core mission is to grow people and we believe that technology is a key accelerator. By investing in the Ntiva Service Desk Academy in partnership with the CIT Learn and Earn program, we're providing the opportunity for WVU-Parkersburg students to gain valuable technical skills in a real-world environment. This in-depth training will open up more employment doors for graduating students in the CIT degree program, who were able to take advantage of this internship."

The Proof is in WVU-Parkersburg's Alumni
Ntiva is no stranger to the Parkersburg area, with the first WVU-Parkersburg graduate being hired in 2007, and multiple current West Virginia employees having been with Ntiva for nearly ten years. "Our large remote presence in Parkersburg has been great for our retention," says Fridley.
Many current Ntiva employees are former WVU-Parkersburg students, giving Ntiva CEO Steven Freidkin proof of the winning education received at the college. "We've seen so many of our own employees come from this institution, and their impressive skill-set shows us the untapped potential of the CIT program."
WVU-Parkersburg's IT program ranked first in the state last year in the SANS Cyber FastTrack competition, which identifies cybersecurity talent in the US. This means the students graduating from the CIT program are well prepared for today's business technology environment.
Having seen the previous success with former WVU-Parkersburg graduates at Ntiva, the bar for incoming interns is high. With the new work space, the plan is to combine the past success of West Virginia-based employees with faster and more in-depth training. Being able to step into a real-world work environment just across the hall from their classrooms will give students a great opportunity.
The Service Desk Academy is a groundbreaking platform that will bring the brightest students a proven career path with the skill-set they need to succeed in the tech industry. With hopes for continued growth for both Ntiva and the Service Desk Academy, WVU-Parkersburg may become the archetype for a national model in the coming years.