With the way 2020 has been going, it's no surprise that more companies than ever have adopted remote work practices. While there are a lot of benefits to remote work, there are also some concerns, especially when it comes to cybersecurity.
There's definitely an increased risk of cyber threats, especially as companies are making the transition from in-office to remote. But all is not lost on the security front, and there are plenty of ways to boost your security to encompass the new Work-From-Anywhere reality that almost every business is embracing.
On top of obvious tasks such as enhancing email security protocols, implementing Multi Factor Authentication (MFA), and training employees on how to stay cyber-safe, one of the best ways to enhance your security posture - without spending a fortune - is to hire a virtual Chief Information Security Officer, or vCISO for short.
What is a vCISO?


To put it as simply, a vCISO is a security expert (or team of experts) who operates virtually. This outsourced expert or team specializes in developing goals, insights, and strategies to enhance cybersecurity throughout an organization.
A vCISO plays a very similar role to an in-house CISO, but it's a much more cost-effective alternative. Just like a virtual Chief Information Officer, or vCIO, most vCISOs are hired through independent IT consulting services and work on a flexible basis.
What Tasks Do vCISOs Carry Out?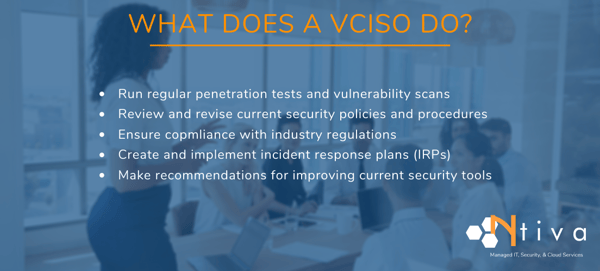 A vCISO helps to keep the IT infrastructure of a company protected by performing a few different tasks. Each of these tasks is meant to maximize your cybersecurity while also minimizing costs.
Here are a few of the main duties you can expect a vCISO to perform:
Running regular penetrations tests and vulnerability scans

Reviewing and revising current security policies and procedures

Ensuring compliance with industry regulations like HIPAA, PCI DSS, etc.

Creating and implementing incident response plans (IRPs)

Making recommendations for replacing/reinforcing current security tools and resources
Why Should I Hire a vCISO?
Whether a company is fully remote, partially remote, or not remote at all, hiring a vCISO can have a lot of positive impacts. Most companies will benefit from investing in virtual CISO services as opposed to the traditional in-house CISO role.
The companies that can benefit most from hiring a vCISO are usually trying to solve one of two problems, one being time and another being cost.
The "Time" Factor
Being short on time and not having enough hours in the day to hire a new CISO and train them for the job is a huge reason to hire a virtual expert instead. A vCISO can be hired quickly, doesn't need to be vetted or trained as extensively, and can show speedy results.
The "Cost" Factor
In terms of cost, it doesn't make sense for the budget to hire a full-time CISO if you're running a small or medium-sized business that won't benefit from having a security expert onsite.
If you're trying to slash the budget or just don't need full-time support, a vCISO might just be the solution.
The Benefits of Using a vCISO
The role of vCISO is seen across a lot of different industries - everything from technology to healthcare to manufacturing. One of the reasons for this is that the role of vCISO is extremely versatile, plus cybersecurity looks relatively similar across most markets.
But the main reason so many industries and companies are using vCISOs instead of recruiting someone permanent for an in-house is all about the benefits.
There are so many advantages that come along with a vCISO, with these 3 standing out most:
Security Expertise

More Opportunities for Learning/Training

Cost Effectiveness



Expertise
Good in-house CISOs can be hard to find, and once you find the one that seems like a good fit, who really knows if a candidate's resume is as accurate as it comes across.
With virtual services, you're basically guaranteed to be partnered with an experienced provider who has a long history of security expertise.
Even if one vCISO comes across a challenge, he or she has easy access to infinite resources and a fellow team of experts who can help come to a solution.
Opportunity to Learn
Hiring a vCISO should be seen as a learning opportunity for your in-house IT team or the rest of your staff. Since this person is an expert on cybersecurity, you'll be able to utilize that knowledge and experience to your advantage.
While the vCISO does the heavy security lifting, the rest of the team can observe and learn, which in turn will strengthen your entire IT infrastructure.
Cost
Did you know that the average CISO salary in 2020 was more than $220,000? Obviously not every company can afford to dish out that kind of money, but with a vCISO instead, they don't have to.
Since vCISOs aren't considered full-time employees, you'll be able to shave down the budget drastically with reduced payroll costs. Plus, there's no need to provide benefits since your vCISO is most likely working independently or through an IT consulting service.
At Ntiva, we understand that not all businesses can afford a full-time CISO. We also know that no business can afford to go without security, which is why we offer security expertise from a team of talented vCISOs to keep your business running smoothly, but more importantly, safely.