If there was ever a catalyst for adopting SOC-as-a-Service then 2020 was it - the year of the pandemic saw normal life upended.
The unrelenting creep of the virus between human hosts made working from home mandatory for many, and created a similar kind of threat for computer network users.
Cybercriminals probably couldn't believe their luck!
Workers and companies alike scrambled to orientate themselves during the switch to remote working, and in their haste, some left the door open to cyberattacks.
Ideally, every business making the switch would have had the 5 key basics for cybersecurity protection in place.
This ideally includes a security operations center (SOC) ready and waiting to handle threat detection and incident response, but this type of enhanced protection is beyond the budgets of many businesses.
Enter SOC-as-a-Service!
Any organization can now take advantage of remote security experts, along with cloud-based threat detection and response systems, at a fraction of the cost of an on-site setup.
So now that homeworking looks set to stay, could SOC-as-a-Service be the most cost-effective cybersecurity protection option out there?
The Managed Security Operation Center (SOC)
Remote working creates new avenues of attack for security threats. When laptops, tablets, mobile phones, and Internet-of-things devices connect to corporate networks, gatekeeping becomes a lot harder.
What Does a SOC Do?
Its software and hardware systems gather intelligence on and monitor the development of cyber threats to an organization's network(s).
Human security experts and analysts assess and prioritize threats, eliminate false positives and oversee the defensive effort against the most significant intrusions they see in real-time.
What is SOC as-a-Service?


SOC-as-a-Service is the outsourced version of an SOC.
A SOC-as-a-Service provider offers its customers both automated and human-curated detection and response in one package.
It offers advanced protection from security breaches without the need to pay for your own team of expert analysts on-site, and there is no need to purchase and maintain an equipped, permanently staffed building to put them in, either.
The SOC-as-a-Service provider manages and maintains its own cybersecurity control rooms, teams, equipment, and cloud-based tools for Windows and Mac.
This kind of managed SOC delivers 24/7 advanced monitoring and security services.
Managed Detection and Response (MDR)

With this kind of managed security, businesses of all sizes can afford threat detection and incident response but without the huge overheads.
It can be flexible too, so hybrid solutions are possible with co-managed options.
What is the Difference Between NOC and SOC?

NOC stands for "network operations center" and you may also hear it called a "network management center." Either way, it's a network monitoring operation.
An organization may use one or more of them either to manage multiple networks or to provide backup services in the event that one site becomes unavailable.
Along with network monitoring, NOCs can also keep an eye on social networks to stay ahead of the curve on potentially disruptive events. So, it's there to make sure the network is running optimally, but it doesn't have the same level of security resources as an SOC.
What are SIEM and SOC?

You may have heard of SIEM and SOC and wondered which to use, but you don't need to. A SIEM system provides the foundational technology of an SOC.
Security information and event management (SIEM) is a subfield within computer security, where the software uses security information management (SIM) and security event management (SEM) to identify threats.
This combination offers a live analysis of security alerts from software apps and network equipment.
SIEM comes in the form of software, appliances, or as managed SIEM. It logs security data from computers, servers, firewalls, intrusion detection and prevention services, databases, applications, switches, and routers to show who or what was responsible for different events and actions and analyzes them using rules from previously detected attack routes.
This kind of data helps to guide SOC team decisions. Dashboards allow human experts to analyze data and detect abnormal patterns and activity.
SIEM tools can find correlations between data, and aggregate data from different sources for further analysis. From this blizzard of data, the system can home in on potential security threats while reducing false positives.
SIEM Alone is Not Enough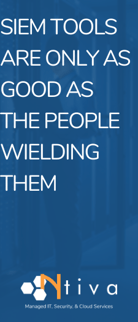 SIEM can't detect zero-day attacks (attacks that exploit vulnerabilities on the same day that they are discovered and before they can be patched).
SIEMs can only respond to what they've encountered before, so if there's a new kind of attack they won't have established the rules that allow them to respond.
SIEMs also don't have the common sense to prioritize attacks and they can't run autonomously.
Just like a paintbrush, SIEM tools are only as good as the people wielding them.
Why Use SOC-as-a-Service?

It's no longer possible for organizations to rely on traditional security measures like firewalls and antivirus software.
Threat actors have gone global, and some of them are even state-sponsored. In the face of such increasingly sophisticated and well-resourced foes, it's incredibly difficult to put up adequate resistance.
Global damage from cybercrime is projected to hit $6 trillion this year, and in 2019 the average cost of a data breach was $3.92 million – enough to cripple most smaller businesses, but even the bigger ones aren't immune. Equifax was breached in 2017 and the company is still paying off the $4 billion of total damages incurred by the attack.
So while a global skills shortfall is set to leave 3.5 million cybersecurity jobs vacant, the much-needed talent that's needed to combat these expensive threats is likely to be increasingly difficult to recruit.
With SOC-as-a-Service you have no such headaches.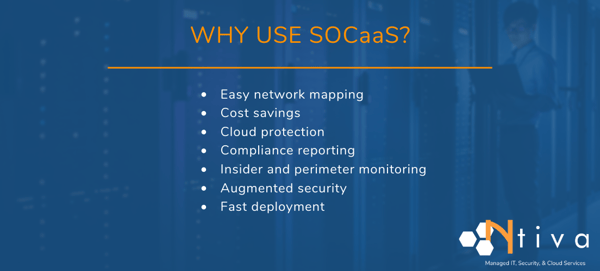 Mapping Your Network

A SOC-as-a-Service security team will map typical activity on your network to create a template of what's expected so that any deviations from the norm will stand out.
SOC-as-a-Service can fill in the gaps and weaknesses that often exist within a company's pre-existing security infrastructure, like a lack of a security awareness program, by taking a layered-approach.
This includes asset discovery, vulnerability assessment, endpoint detection and response (EDR), SIEM event correlation and log management, and network intrusion detection (NIDS).
With so few security engineers trained to deal with the most advanced threats, most businesses lack the kind of in-house talent needed to deal with them. SOC-as-a-Service puts these experts on tap, 24/7.
SOC is Costly and Complex

A traditional SOC needs access to all the environments within your organization in order to identify and deal with threats quickly. But when software and systems are divided across physical buildings and the cloud, the monitoring and detecting of advanced threats can be challenging.
As we mentioned, running a full-time team of security engineers is impractical for most organizations. It's time-consuming and it's been estimated that just managing an SIEM tool costs three times what you spent on buying it.
Cloud Protection

Any organization that's using cloud infrastructure and applications needs to ask whether its data security is adequate.
SOC-as-a-Service security analysts understand models for cloud-based security, and the platform can monitor configurations and activity for new threats and attacks around-the-clock in real-time.
Compliance Reporting

Meeting compliance standards such as PCI DSS, ISO 27001, SOC 2 Type 2, HIPAA and GDPR is essential, but potentially time-consuming. With SOC-as-a-Service your reporting commitments for controls, reporting, monitoring, log retention and more can be met a lot more easily.
SOC-as-a-Service Manages Insider and Perimeter Threats

With SOC-as-a-Service, a company is alerted to external threats the moment they appear, but security experts can also spot insider breaches too.
Industrial espionage has moved into the modern era, and cyber-theft by insiders requires just as much attention as external threats.
SOC-as-a-Service gives businesses protection against malware transferred onto a local system via USB drives and email attachments, immediately helping to contain it and improving your chances of identifying the malicious actors involved.
Augmented Security

With SOC-as-a-Service it's possible for customers' existing cybersecurity teams and remote SOC teams to monitor and work on threats using the same portal. With co-managed cybersecurity, limited internal expertise needn't be a limiting factor anymore.
Fast Deployment

Old style SOC setups can take several months to get up and running, but SOC-as-a-Service could have everything in place in as little as a month.
The deployment team handles installation, configuration, and threat modelling, creating custom rules and use cases to identify security alerts that fit the context of each organization.
Once it's live the network is actively monitored and protected by cutting-edge threat intelligence that is always up to date.
Constant Contact
SOC-as-a-Service offers 24/7 monitoring and its cybersecurity experts are available for both ad hoc contact and scheduled reviews. Having security services experts just an email, phone call, or instant message way is always reassuring.
SOC-as-a-Service with Ntiva

Cyber threats and attacks on businesses are growing more sophisticated every day, and even the smallest organizations can be a potential target for intellectual property theft, extortion through ransomware, simple cyber vandalism and more.
A single successful attack can destroy a company's finances and reputation; they may even sink the business, but reliable protection is too expensive for most. That's where Ntiva can help.
Enterprise-level cybersecurity is now available to SME-level businesses without the enterprise-level costs. Ntiva provides a wide range of advanced security solutions that can protect your business from the daily barrage of attacks, providing proactive protection around the clock.
Why not contact us today and set up an exploratory call to see how we can protect your business!