Are you getting the most out of Microsoft 365? Turns out most of us are NOT taking advantage of the many new features in this platform, and are still stuck in our old Office 365 days. The way we work has changed, so read on to learn more about building the modern workplace with Microsoft 365!
For those of you who don't know, Microsoft 365 is a subscription service that allows you to run your organization in the cloud, with the latest in productivity apps, security services and more.
Previously called Office 365, this new platform has come a long way, offering a bevy of additional tools including SharePoint, OneDrive and Teams - and that's just for starters.

Yet most of us are not getting the most out of this powerful platform!

We've written this article to help explain how Microsoft 365 has evolved, and how you can take advantage of it to help build the modern workplace you need for today's distributed teams.
Table of Contents
The Evolution of Microsoft 365
The Difference Between Office 365 and Microsoft 365
The Foundation for Modern Collaboration: SharePoint, OneDrive and Teams
VIDEO TUTORIAL: Modern attachments with SharePoint, OneDrive and Teams
How Does Microsoft 365 Protect Your Data?
But First...What IS the Microsoft Modern Workplace?

The Microsoft Modern Workplace is a concept based on the suite of Microsoft 365 apps and services that harness the power of the cloud, enabling today's hybrid workforce to work securely from anywhere.

The workplace as we know it today is evolving quickly, with distributed teams, new business models, and complex security issues.
This change in how we do business calls for new tools and processes!
So let's dive in to how Microsoft 365 has evolved to meet those needs.
The Evolution of Microsoft 365
Microsoft 365 used to be called Microsoft Office, a suite of office applications that launched in 1990.
Microsoft Office in those days consisted of Word, Excel, PowerPoint and Outlook—completely siloed point solutions that were installed on local computers and servers. Although these were all terrific applications, Microsoft was starting to face new competition from vendors such as Google.
One of the things that Google Workspace (formerly Google G Suite) provided was the ability to easily create, modify and share documents in real-time across co-workers and teams. With Google, users could get on a spreadsheet together, work on a document together, or build a presentation together – all stored and saved automatically in their cloud storage.
This could not be done with the old, siloed Microsoft suite – but that has all changed.
Today, Microsoft 365 offers a suite of innovative apps, intelligent cloud services, and world-class security, all on a single, integrated platform that is accessible from a simple web browser on any device from anywhere.
This has been a real game-changer for Microsoft.
There are many Microsoft plans you can take advantage of, but we'll be using Microsoft 365 for Business as our baseline to describe some of the features and benefits of the Microsoft modern workplace.
The Difference Between Office 365 and Microsoft 365
Even though many companies have made the move to Microsoft 365, most are only scratching the surface when it comes to truly taking advantage of the new platform.
It's easy to get stuck using old habits that we're familiar with from our Microsoft Office days, failing to utilize new features that will not only help with productivity, but keep us secure as well.
Here are four examples of what many of us still do today:
Saving Word, Excel and PowerPoint files on our desktops and laptops instead of saving them to the Microsoft 365 cloud, a much more secure option which includes autosave and version control.


Sending files back and forth as Outlook email attachments, trying to keep track of the latest version, instead of efficiently and securely collaborating on the same file in Microsoft 365.


Trying to email large files to external parties, without securing the document or the transmission method, instead of using shareable links that can be better managed.



Failing to take full advantage of

SharePoint

,

OneDrive

for Business and

Teams

which now work seamlessly together to provide secure document storage, collaboration, sharing and conversations.
These ingrained habits are completely understandable, but it's like using a mobile phone to only make phone calls. Yes, that was its original purpose, but it's since evolved to be capable of so much more.
Keep reading to learn how new features in Microsoft 365 can drastically change the way your team works, focusing in on SharePoint, OneDrive and Teams as the new, modern foundation.
The Foundation for Modern Collaboration: SharePoint, OneDrive and Teams
The average worker is now increasingly remote, collaborates with more people more often, and may work on different schedules than their colleagues.
Teamwork also extends beyond the boundaries of the organization, so tools are needed to securely collaborate outside the company as well.

Together, SharePoint, OneDrive and Teams can provide a secure foundation for this much-needed new digital workflow.

Hosted in a centralized cloud, these three tools are now managed under the same framework.
This means that your business data is not only easily accessible both inside and outside the company, but is now protected by first-class security.
Before we dive into each product, take a peek at this video for a great example of how these three products work together to enable safe and secure sharing of content inside and outside your organization:
Video Tutorial: Modern Attachments with SharePoint, OneDrive and Teams
What is SharePoint?
SharePoint is great for storing and organizing files in the cloud and making them easily accessible to a broad audience, both inside your company and out. You control ownership and permissions, and can decide who has access to what files and folder.
You can think of Sharepoint as replacing your old file servers or drives where you used to store your company documents, often only accessible via VPN when you weren't in the physical office.
People often get confused between SharePoint and OneDrive.
Essentially, OneDrive is meant for your personal storage and SharePoint is meant as a centralized repository for groups of people who want to share and collaborate.
Many workers often start drafting their documents in OneDrive, and when they're ready to share or to have others jump in with edits or comments, they move the file to a SharePoint team site.
With SharePoint, it's much easier to securely share your documents with both your co-workers and external teams.
Here's a good example:
In the past, if you wanted to share a document you had to access your company servers, download the docs, and then attach them to an email.
Sometimes the files were simply too large to send, sometimes the recipients email filter would block them, and in general this was a very un-secure way to send what could be sensitive information.
Now instead of downloading and emailing, you can simply embed the link to the file in an email to either internal or external colleagues. This is a much more secure method that lets you control who has access to what, along with other email security features that you can read about below.
With SharePoint as the center for all of your content, everyone on your team can now have easy access to files and folders for real-time collaboration. You can also enable people outside your company to have direct access to these files and folders as needed, making teamwork with partners and vendors so much easier.
SharePoint also enables other functions such as portals, news, pages, and lists, but for now let's just think of SharePoint as providing the content services for all your files in Microsoft 365.
What is OneDrive?
OneDrive is also an online document storage platform, but is primarily meant for individual users to store and manage their own content. You might want to think of it as the cloud version of My Documents - only much more secure and accessible from anywhere on any device.
Documents in OneDrive are private – until you share them. If you choose, you can share files individually and then work on documents with others at the same time, just like in SharePoint.
However, we recommend using SharePoint for that purpose and keeping OneDrive for your personal files and initial drafts.
You can also easily copy or move files between OneDrive and SharePoint, and even sync either OneDrive or SharePoint files to your computer, should you want or need to.
There are a ton of cool features in OneDrive – you might want to take a look at this video from Microsoft to learn pick up on some quick tips if you want to learn more.
Related Reading: Learn The Difference Between SharePoint and OneDrive
What is Microsoft Teams?
You can think of Microsoft Teams as the capstone of the modern workplace.
Teams is your hub for all your teamwork, fulfilling all your collaboration needs for a distributed workforce including chat, meetings, voice, video, and immediate access to all your content.
Teams integrates with Word, Excel, Powerpoint, OneNote, SharePoint and OneDrive, so now you have all the tools and information you need at your fingertips. Many people think that Teams actually provides an easier and more intuitive user interface to both SharePoint and One Drive.
In theory, you could live in Teams all day and have access to everything you need in your new workflow, bringing together conversations, notes, meetings and files in real-time, while safely archiving all of your data in the Microsoft cloud.
And don't forget, you can also collaborate with people who are not in your own organization by enabling 'guest access' in Teams.
Teams is a powerful tool chock full of features, so it pays to dive into some quick training to learn how to get the most out of this important application.
Video Tutorial:
Sharing the Modern Workplace with SharePoint, OneDrive and Teams
How Does Microsoft 365 Protect Your Data?
Microsoft 365 comes packed with built-in security services. The trick is discovering just how to take advantage of these built-in features - don't hesitate to reach out for help from your Microsoft consultant to learn how this is best accomplished.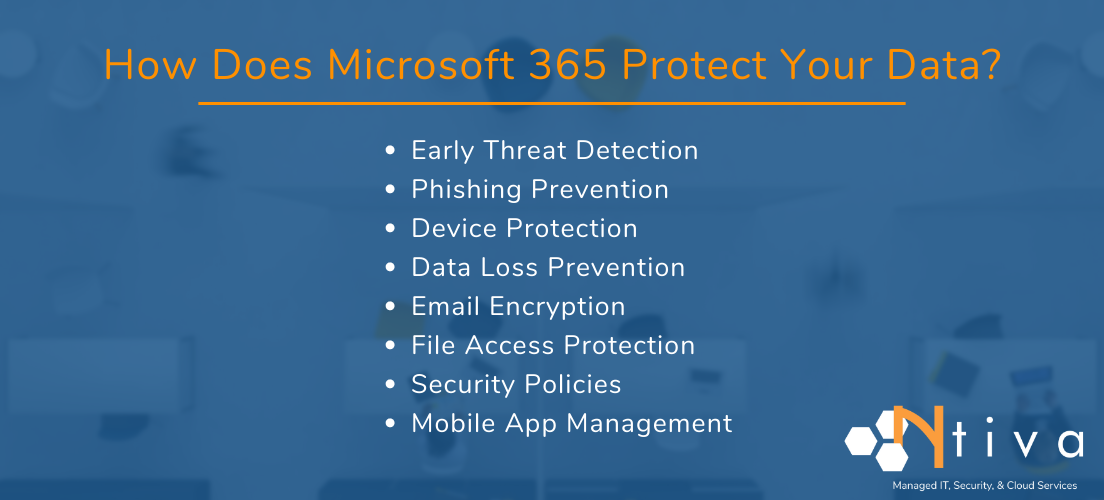 Here's a short list of some of the powerful security options in Microsoft 365:
• Detect threats early with Advanced Threat Protection (ATP) Safe Links and Safe Attachments that automatically scan and analyze email links or attachments.
• Prevent phishing attacks with built-in machine learning models and impersonation detection that quickly identify suspicious activity on email.
• Protect company devices with Multifactor Authentication (MFA) and Windows Defender to make it difficult for hackers to access information.
• Protect sensitive data from leaks with built-in Data Loss Prevention (DLP) that can automatically detect when an email includes sensitive information.
• Encrypt sensitive emails with one click to ensure that only the right individuals can access information.
• Control who has access to files with Information Protection that lets you apply restrictions to emails and to prevent data from ending up in the wrong hands.
• Control who has access to your data with Conditional Access to decide which devices can connect to business applications.
• Apply security policies like PINs or fingerprints to protect business data in iOS and Android devices. If a device goes missing, remotely wipe business information.
• Manage business apps with mobile device application management that lets you determine who has access to business apps on personal devices.
Summary of Microsoft 365 for Business
Microsoft 365 offers productivity, collaboration and communication solutions that keep your employees productive wherever they are and from whatever device they choose to use.
Designed to be a universal tool kit, Microsoft 365 can give your team members integrated and flexible ways to work on their projects and tasks.
· You can securely store and manage your own files from anywhere with OneDrive, sharing your files with other individuals as needed
· You can store company documents in Sharepoint and share with your team (internal and external) using robust permission management
· You can host online meetings, make calls, chat, share files, and collaborate on Word, Excel, and PowerPoint files in real time with Microsoft Teams
· You can take advantage of Microsoft's 365 built-in security features to help protect your critical company data
If you're like many businesses and enterprises, you may need some help to get the most out of Microsoft 365, including migration, implementation, configuration, training and ongoing management.
That's why Ntiva offers a suite of Microsoft 365 Consulting solutions – give us a call or send us an email if you would like some assistance!