All businesses have challenges when it comes to managing their IT budget, but budgets for IT support for non-profits and associations are even tighter. Here's how we helped this non-profit refresh their technology strategy and save dollars along the way.
Because of strict limits on resources, we often find that non-profits and associations tend to stick with whatever technology they have in place, even if it's years old. It seems easier and cheaper not to touch anything. This couldn't be farther from the truth.
Below we share the true story of how we helped a Washington DC nonprofit organization save A LOT of money on their monthly IT budget by following our strategic technology advice.
Before you scroll down, you may want to watch this short video on the "Top 5 Ways Non-Profits can Save Money on Technology" to pick up a few quick tips!
How Non-Profit Organizations Can Save Money On Technology - Watch The Video
New CFO Takes a Hard Look at the IT Budget
A well-established non-profit had been operating at a loss over the past few years, and had brought in a new CFO to right the ship.
He was astounded by how much they were spending on their IT, and brought in Ntiva as IT consultants to perform an evaluation.
There was an existing IT infrastructure in place that was overly complex and over-built for what they needed. When the systems were first implemented, it was likely that there was nothing else available and so at the time, it was the right way to go.
They had an expensive SAN (Storage Area Network) in place, complicated switching, and six server nodes running the highest level of VMware's hypervisor. Additionally, there were layers of software including Windows Remote Desktop Sever, Citrix and other third party management applications.
All this software and hardware was being managed with maintenance and support contracts directly from the third party vendors, which is a very expensive proposition.
The good news was that these systems had been working just fine for years. The bad news was they had a standing budget in place to update or replace it every 5 years, a mind boggling amount of money.

Newer Technology Was Deployed To Cut Non-Profit IT Expenses In Half
Although the IT environment and systems were working, it was essentially a design that could have supported about 5000 people.
It was simply not needed for the roughly 90 people in the organization.
There were a ton of features that simply weren't being used, they were paying for outdated software and associated maintenance on a recurring basis, not to mention dropping time and money on managing racks of internal servers.
The user experience was also way more complex than it should have been, which meant productivity suffered as well. This also made it much more difficult to attract and retain tech-savvy employees who were used to a more up-to-date environment, including the ability to work from home and access the corporate network from mobile devices.
The first thing we did was to peel back the excess that been built up over time and replace it with newer technology.
The main focus was to migrate off the outdated on-premise technology, and leverage cloud services which included far more cost-effective applications. As an example, Microsoft Office 365 is considered the go-to for most organizations, and provides a ton of easy to use tools.
The bottom line was we helped this organization cut their annual IT budget down from $1.2 million to $450,000.00 - not an insignificant amount!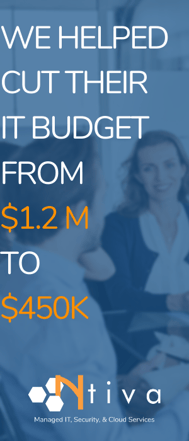 Signing Up For Managed IT Services
The CFO also did a quick calculation, and realized it was more cost-effective to outsource their IT services then to try and staff it in-house.
One look at Managed IT Services Pricing from a Managed Services Provider such as Ntiva, was all it took to convince him this was a much more budget-friendly decision.
Ntiva has worked with many non-profits and associations to figure out a better way to utilize their limited resources, enabling them to focus on their core mission instead of messing around with IT.
To learn more about how your organization can evaluate your IT planning and budget needs, download our latest E-book, The New Imperative for Non-profits: Strategic Technology Planning.
And be sure to contact us if you want to learn how we can help your organization streamline your IT costs!
Want to learn more about IT Services and Support for Nonprofits? See Ntiva's Managed IT Services and Support for Non-Profits.