No matter your industry, it's important that you have a solid IT game plan in place for staying safe against cyber threats. When forming any plan, the very first step is to assess. IT assessments come in many forms, but in this case, we're talking about assessing security risks to your company's IT infrastructure.
Most IT consulting services and tech professionals will tell you the same thing - that assessing risks early on is the best way to make educated decisions about your security while also staying within your IT budget.
So before you jump into action for keeping your network secure against phishing attackers, destructive ransomware ploys, or even just inevitable human error, perform an IT risk assessment so that you can make the most informed decisions without breaking the bank.
Now the question you're probably wondering is how? That's exactly what we'll be covering here, where we'll walk you through the ins and outs of an IT risk assessment and the steps on how to successfully perform one.
What is an IT Risk Assessment?

IT risk assessments, also called security assessments, involve comprehensively reviewing all major aspects of a company's IT infrastructure. That includes hardware, software, employee cybersecurity education, email security… It's basically anything and everything relating to information technology.
The goal behind this assessment is to identify any weak spots in the infrastructure that could be exploited by cyber attacks as well as general areas that could threaten the security of your network and the data within it.
Why is it Important to Assess Risk?

By now, you're probably aware that there are hackers out there who dedicate their entire lives to stealing personal info, confidential company data, and money that's not theirs.
This lifelong dedication to stealing your information is the main reason why it's so important to assess IT risks, and to do it fairly frequently. Performing regular IT security assessments gives you a better understanding of risks that may seem small now, but could end up breaking down the entire infrastructure if they're not addressed ASAP.
Yet another reason that risk assessment is so important is that it can help you to meet your industry's compliance regulations. We're talking about information laws like HIPAA, PCI, DSS, FISMA, SOX… maybe you even have to comply with multiple regulations at once.
Technically cyber security assessments are focused on security aspects and the risks involved with network breaches and attacks, but hackers aren't the only risk to your IT infrastructure.
There are also risks like hardware malfunctions and basic human error. That's why your assessment needs to cover all fronts. The main focus should be on how to stay secure, but it also needs to go over things like data backup and recovery solutions.
How to Prepare for Your IT Risk Assessment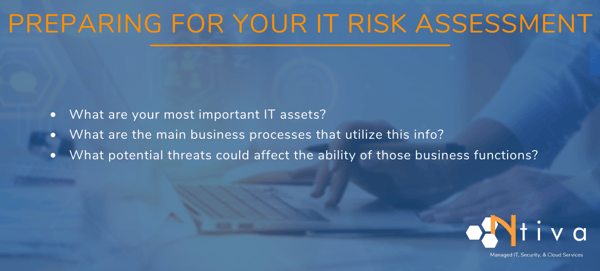 Before diving head-first into the risk assessment process, there's some preparation involved. The main thing you can do to prepare for a risk assessment is to make an IT assessment checklist (something like this) or some sort of IT risk assessment template to lay out the steps.
It's also important to ask yourself a few questions before getting started:
What are your company's most important information technology assets?
What are the main business processes that utilize this information?
What potential threats could affect the ability of those business functions?
Answering these questions will give you a better idea of the areas that need the most protection (and therefore also need the most assessing).
IT Risk Assessment: The 3-Step Process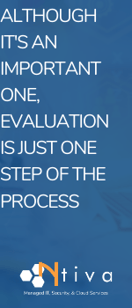 If you browse around and research IT risk assessments, you'll see that every source offers unique specifics and details on how to perform one.
But the general process of an IT risk assessment can be broken down into 3 main steps every single time:
Risk Evaluation

Risk Assessment

Risk Mitigation
Step 1: Evaluating & Understanding Your Data

Assessment and evaluation go hand-in-hand, and some people might even argue that they're the same thing. Although it's an important one, evaluation is just one step of the process.
The first half of the evaluation phase is all about understanding the critical resources that could be affected by potential threats and vulnerabilities. This is the part where you'll hone in on all the info, processes, and assets that are most important to your day-to-day business operations.
By doing this, it's easy to identify the components of your IT infrastructure that need the most protection. Once you've done that, the next step is to identify threats, weaknesses, and vulnerabilities that create the most potential risk.
A Quick Note on Identifying Threats, Weaknesses & Vulnerabilities
A threat is something that could negatively impact your business, like a cyber attack or a hurricane. A weakness or vulnerability, on the other hand, is a gap in the system that opens the door to a threat and allows it to harm you.
Since they're two very different things, it's important that you take a proactive approach to evaluating both. To start, you might perform a gap analysis to determine weak points in the system.
Step 2: Assessing Individual Risks

After evaluation comes the in-depth assessment phase of each individual risk. This is where you'll determine the chances of threats penetrating those vulnerabilities you evaluated in the last step. It's also where you'll figure out the severity of each threat.
Determining Possible Impacts on the Business
It's important to realize that not all threats are equal. Some may be more likely to happen while the chances of others could be minuscule. Some might only cause minor problems while others could be the end-all for your business operations.
This part of step 2 is where you'll determine the possible impact of each threat so that you can prioritize them (which comes next) and come up with your game plan to minimize risks.
Prioritize Risks & Recommend Controls
You've determined the possible impacts of each risk, now you need to prioritize them based on a scale of severity, likelihood, and impact. This will ultimately help you to recommend and establish internal controls to keep threats at bay and address weak points.
Step 3: Mitigating Risks

Now that you've evaluated, assessed, prioritized, and made your recommendations, it's time to mitigate. Risk mitigation is where you put it all into action and really start preparing to face a threat or tackle a vulnerability.
We won't go into too much detail on this since the actual steps involved with mitigation are based on the risk at hand. One example of this could be to implement an endpoint detection and response program to mitigate the risk of cyber-attacks on devices used across the company.
Document Results & Maintain Progress
To help you mitigate risks and maintain progress, the final step is to create a report of the entire assessment that describes each threat in detail.
This report should also include the specific assets at risk, the possible impacts, the likelihood of it happening, and the recommendations for how to control it.
The main takeaway here is that in order to reduce risks, you first need to know what those risks are, and the way to do that is through a thorough assessment. The good news is that a lot has changed in cybersecurity from a budget perspective, and it's now more feasible for SMBs to hire managed security services to help with IT risk assessments.
If you want more information, reach out to us and we'll help you figure out the best cybersecurity strategy for your business and your budget.