The world of IT support can be filled with confusing terminologies, and two commonly misunderstood terms are "Help Desk" and "Service Desk." Understanding the differences between these two can significantly impact how businesses support their users.
This article will explore the differences between help desk and service desk, and their pros and cons.
What Is a Help Desk?
The help desk is the go-to centralized support system for resolving user-reported issues. With the primary objective of providing technical assistance and troubleshooting problems efficiently, help desks are typically reactive, responding to specific user inquiries or incidents. This includes handling basic tasks such as password resets, software installations, and hardware troubleshooting.
Ultimately, the aim of a help desk is to restore normal user operations as quickly as possible.
What Is a Service Desk?
Service desks are more than just a reactive solution to user-reported issues. They offer a comprehensive IT service management (ITSM) solution that aligns IT services with business objectives.
Service desks proactively manage the entire lifecycle of IT services, including service request management, change management, problem management, and configuration management. By focusing on delivering quality services and enhancing the overall user experience, service desks can help businesses achieve end-to-end service delivery.


Help Desk vs. Service Desk
Help desk and service desk are two terms often used interchangeably, but they have distinct functionalities that should be considered when selecting an IT support solution.
Understanding the difference between these two types of solutions can help businesses navigate the ocean of IT support tools and choose a solution that meets their needs.

In a nutshell, a help desk is typically focused on break-fix (what ITIL calls incident management) while a service desk is built around the entire IT services lifecycle – which comprises 28 processes.
Regardless of the difference, both are designed to aid IT teams in communicating and supporting end users. The choice of which one a business uses ultimately depends on the size, needs, and maturity of the company and its IT infrastructure.



Help Desk vs. Service Desk: The Pros & Cons...
Help desks are great if you need ticket management and don't require a knowledge base or any other bells and whistles. They are also more cost-effective and simpler than service desks, which is great if your business model only needs basic support tools.

Keep in mind: if you are relying on a help desk software solution, all client conversations are centralized into one platform, which reduces the risk of security issues as there's less chance of human error or miscommunication. But this solution may come at a cost, as the help desk system requires its own infrastructure and will likely need updating and maintenance occasionally.

Relying on a simple help desk solution might also become tricky when dealing with complex IT issues such as a website going down; in that case, it is critically important to find out what caused the problem in order to prevent it from happening again. So, while a break-fix model would simply focus on getting the site back up and running, a service desk team would take the opportunity to learn more about what went wrong to improve their future processes.

This is where the difference between a service desk and a help desk becomes apparent, as they each have unique strengths and weaknesses.
For example, a help desk is great for handling simple requests from end users but might not be enough to handle complex IT problems, which could lead to frustrated customers.
On the other hand, a service desk is great for handling complex IT problems and can be more tailored to your specific business needs.
Here's a quick overview of the pros and cons of help and service desks that you might want to keep in mind: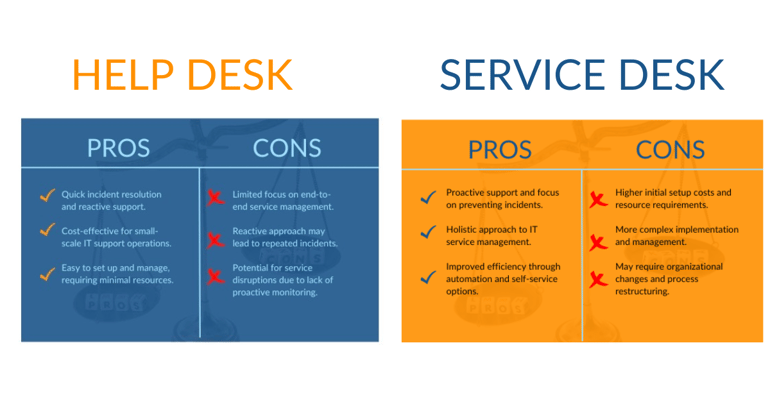 How To Choose Between Help Desk And Service Desk Options For Your Business
The differences between a help desk and a service desk may seem minor, but the correct terminology is crucial when you're looking to establish an IT support department. Incorrect usage can confuse your IT team, employees, and customers.


Ultimately, the difference is that help desks are reactionary and deal with break-fix issues, whereas service desks are designed for ITIL's IT Service Management (ITSM) framework and provide strategic services to address business process support.


Finally, deciding between a help desk and service desk solutions is up to you and how your IT team plans to scale your customer experience strategy. If you don't anticipate adding features like self-service, a help desk is probably the best choice.