All businesses want to run a tight ship. You want to make sure there are just enough employees to keep things running smoothly, without having to deal with the struggles of over-staffing. But your IT department is an area affected by staffing even more than the average!
How do you know when there's simply too much on their plate? How do you know when it's time to look at co-managed IT?
We've put together five common complaints we've heard around offices with overworked IT staff. Your pain points may not be exactly the same, but there are a few common themes to look for! Let's take a look at the five…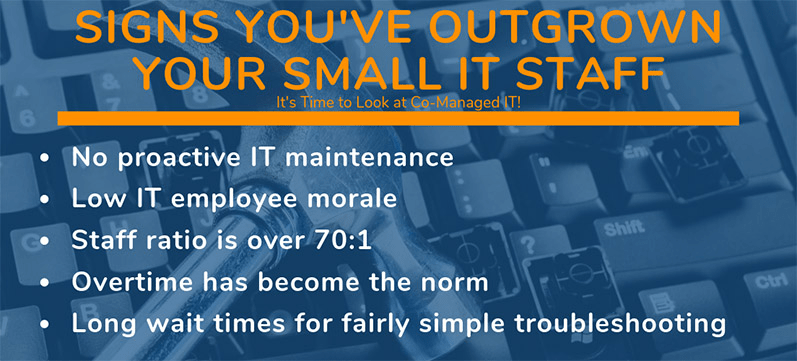 1. You Don't Hear from Your IT Team Until Something
Goes Wrong
Proactive IT maintenance is absolutely key to having a network that performs at a consistently high level, not to mention secure from hackers who take advantage of outdated software.
The average small IT staff is going to be hard pressed to keep up with regular maintenance items like software updates, patches, and security scans if they're busy putting out common technical "fires" all day every day.
A well-staffed IT team will have scheduled updates, and they will send out that schedule to everyone in the office. Communication is key to a successful and secure business.
If you only see or hear from your IT team when something is broken, you've probably outgrown your current staff. You need to either hire more resources, or consider getting help by outsourcing specific IT functions to a third party provider.
2. The IT Guy Tries to Hide in His Office
Low IT employee morale is a key sign that any business owner should take note of. While having too many employees can be its own problem, not having enough will kill morale quickly.
If the IT guys never come out of their server room or office, you can bet something is wrong.
They can't possibly risk walking around the office, because they know they'll have to deal with small emergencies that they don't have time for. Things like a faulty keyboard can't be addressed when you're trying to keep a network up and running.
Be sure to communicate with your IT team frequently. They will certainly tell you if they need more staff, and you'll be able to immediately detect if morale on the team is low!
3. The Employee to IT Technician Ratio is More than 70:1
70:1 has become the new "standard" for IT team balancing.
But this is a tricky problem to put an exact number on. After all, most SMBs don't have 70 staff members, but they do have that one IT guy who's stuck at the office 65 hours a week doing after-hours maintenance and putting out technology fires all day.
In an ideal world, you would have 70 employees for every Tier 1 Technician. These are the guys and girls who put out those immediate fires during the day, like the Wi-Fi connection that is down, or desk phone that won't dial.
This means your team needs multiple IT people, no matter how small they are. If you're going to grow for the future, you're going to need someone to work a full-time job on IT infrastructure planning.
A Virtual CIO may be worth looking into if you can't afford this role immediately. This IT consulting service can assess your business and be paid only for the hours you need to form a plan for the future, then retained again in the future as your organization's needs change.
4. 60 Hours Per Week is the New 40 Hours
As we said above, strategic planning is absolutely crucial to ensuring your organization's success into the future. If this kind of work isn't being done, or if it is but you're paying thousands per month in overtime, something needs to change!
If overtime pay is needed on a consistent basis to maintain your business IT needs, you absolutely need to look at co-managed IT services. Your employees deserve normal work hours, and you deserve a network that is consistent and secure.
Think of the security features your network may be missing, from multi-factor authentication to real-time vulnerability scanning. These things are a worthy investment for any organization, but they take serious time to implement, which is something your small team doesn't have.
In fact, outsourcing cyber security protection is one of the fastest growing services that is being requested, as businesses realize that they simply don't have the expertise or the tools to stay on top of the growing increase in cyber attacks.
5. You're Still Waiting on That Printer to Be Fixed...
This one is pretty straightforward, and maybe the most obvious problem of an understaffed IT department.
You submitted a trouble ticket last week about your printer not printing. It's not the end of the world, you can walk to the other end of the office and print, but it's still frustrating.
If your office is staffed sufficiently, a simple issue like this should be addressed within a day or so, and resolved fairly quickly, depending on the actual root of the problem. Waiting days for solutions isn't conducive to a successful business, especially when we all rely on technology every single day of our lives.
Whether it's co-managed IT, a part-time Virtual CIO, or a full-blown IT service provider, your business can find a way to allow for successful infrastructure planning along with taking care of those day-to-day issues that inevitably pop up.
Do any of these sound familiar? If these problems are popping up around your office, you might need to have a serious internal discussion about the possibility of an affordable IT service provider helping out with the team with co-managed IT services.
Finding a great partner to provide co-managed IT can allow the business to save money, have happier internal employees, increase security protection, and even save money when compared to overtime rates.
It's a win for everyone!
If you're interested in finding out more about working with an IT Managed Service Provider (MSP) who can supplement your staff, click below to schedule a free consultation!